Chelsea 0-0 Arsenal Premier League: match report, action as David Luiz sees red
Chelsea and Arsenal played out an entertaining draw at Stamdford Bridge as David Luiz saw red late on and Arsene Wenger's men might have had more.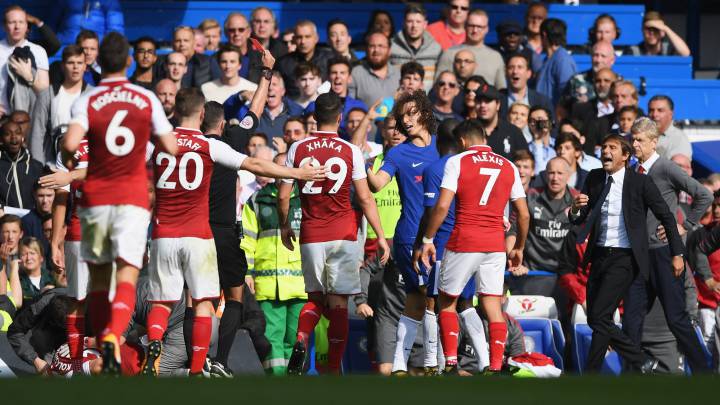 Chelsea 0-0 Arsenal: match report
Chelsea defender David Luiz was sent off for an ugly foul on Sead Kolasinac as Arsenal finally emerged unscathed from a trip to Chelsea with a 0-0 draw against the champions on Sunday.
The Brazilian saw red in the closing minutes at Stamford Bridge and he could have no complaints about his dismissal after lunging into a crude two-footed challenge on Arsenal defender Kolasinac.
It was the third sending-off for a Chelsea player in their last three meetings with Arsenal.
Victor Moses got his marching orders in last season's FA Cup final, while Pedro was dismissed in the Community Shield.
The Luiz flashpoint -- Chelsea's fourth red card this season -- was the most memorable moment of a hard-fought London derby that was high on perspiration but low on inspiration.
"We have great respect for officials, but it is strange to finish a third game in a row against Arsenal with 10 men," Chelsea boss Antonio Conte said.
"You need to see what happened before the tackle."
After losing on their last five visits to Chelsea, Arsene Wenger's side had the better of the few clear-cut chances.
But Danny Welbeck, Aaron Ramsey and Alexandre Lacazette all squandered good opportunities to hand Arsenal their first win at the Bridge since October 2011.
Luiz's moment of madness came too late for Arsenal to capitalise on their numerical advantage, so they had to settle for a first clean sheet at Chelsea since 2005.
"It was about mentality and a response from our last away game. We could have won it. It was an intense game," Wenger said.
It was another frustrating encounter with Arsenal for Conte's men, who were beaten in both the FA Cup final and the Community Shield.
Arsenal weathered an early storm before Welbeck wasted a golden opportunity when Hector Bellerin's cross picked out the unmarked forward, who couldn't adjust quickly enough to keep his header on target.
Wenger's men threatened again when Ramsey's pass left Marcos Alonso isolated and put Bellerin in behind the Chelsea defence.
Bellerin crossed low for Lacazette, but the France striker's shot was too close to Chelsea goalkeeper Thibaut Courtois.
Arsenal were sweeping forward with real purpose and Kolasinac tested Courtois with a stinging drive that the Belgian parried away.
The Gunners' rearguard remained as creaky as ever and Cesc Fabregas sprung their offside trap with a precise pass to Pedro, whose tame shot at Petr Cech let the visitors off the hook.
Encouragingly for Wenger, Arsenal were still picking holes in Chelsea's usually rock-solid defence.
They should have taken the lead just before half-time when Ramsey had only Courtois to beat after weaving his way past Cesar Azpilicueta and David Luiz.
However, Ramsey stabbed his shot against the far post before Lacazette somehow contrived to scuff the rebound over from close range.
Chelsea continued to lack a cutting edge after the break and Willian shot straight at Cech, then blazed over from long range as another attack petered out.
Shkodran Mustafi had the ball in the net for Arsenal, but the defender's header was correctly ruled out for offside.
As Chelsea's frustration mounted, Luiz shrugged off Alexis Sanchez -- on as a substitute -- and launched into a needless lunge on Kolasinac in the 87th minute. He was immediately shown a red card by referee Michael Oliver.
Chelsea 0-0 Arsenal: as it happened
90'+3' Full-time. Chelsea hang on for a point, it is fair to say. Arsenal unlucky but will also be strangely delighted with a point.
90'+3' Last few seconds now. Can Arsenal mount one last attack?
90' Free for Chelsea after a Kolasinac free is grabbed by Cech. 
89' Luiz and Kolasinac had a little nibble on a shoulder earlier and Luiz was all wound up. He couldn't simply leave it at that. Silly red card.
88' And now David Luiz is sent off for a red card. He takes Kolasinac out of it and the ref doesn't hesitate.
86' Fabregas absolutely launches a shot/cross across the penalty area. It takes a nick and goes wide. Corner but only after Fabregas protested.
84' Kolasinac has a cross blocked as Chelsea break but Arsenal win it back and Sanchez loses it again before Chelsea foul Arsenal and up the field the Gunners go again. Quite the thriller here for a 0-0 draw.
82' Game remains open. Chelsea know a draw wouldn't be a good result here and Arsenal are making chances on the break. Chelsea looking dangerous than they have too.
79' Hazard nearly goes all the way. He takes off and cuts back, waits until the shot is on and then strikes. Cech saves.
78' Elneny ready to enter the fray. 
76' Mustafi has the ball in the back of the net. He's off celebrating and it's called back for offside. No need for VAR for that one because he is a mile off too.
75' Bakayoko bundles Aaron Ramsey over now.
74' Sanchez takes on Kante and Moses and beats them all but is eventually fouled. He's not happy either but more frustration than anything else.
71' And Welbeck seems to have hurt his groin. He motions to the bench and that's his day done.
71' Sanchez tries to put Welbeck through but Luiz stands up well and wins it back before Kolasinac wins it back but loses out against Luiz.
69' Hazard replaces Willian.
68' And here it comes Eden Hazard stripping down as he is ready to come on.
67' No, that won't cut it for Chelsea. Willian tries a clipped ball towards goal and nobody even close. Change needed.
66' Alexis Sanchez replaces Lacazette. Just over 20 minutes to make a difference.
65' Morata is really unhappy after fouling Mustafi. He pushed him in the back and complains quite vigorously to the linesman. Booked.
64'   Moses with a lovely cross but Mustafi is perfectly positioned and he heads clear.
64'   Moses with a shot blocked. Then Fabregas tries a cross and it's blocked.
62'   Aother great chance for Arsenal. Kolasinac to Welbeck and he continues his run and receives it too. Kolasinac takes a touch too many and ends up putting it out for a goal-kick. Promising.
60' Willian heads for the line, cuts in and drives a striker over the bar.
58' Morata wins a free off Mustafi. The Arsenal defender has been immaculate today, to be fair.
55' Welbeck with a lovely piece of skill to put Monreal through as he pops the ball between two Chelsea players. It's too long for the full-back and Courtois gathers.
52' David Luiz kicks Koscielny in the head as he tries chilena.  Just a yellow. Re-opens the debate over Mane's red card all over again....
51'   Talk about forceful. Monreal ploughs into the back of Morata. Free to Chelsea. Silly from Monreal but it did stop a counter.
50'   Chelsea turning up the heat just slightly now. They've been more forceful with their passes. The change of Pedro has freed Fabregas forward and Bakayoko is sitting further back where Fabregas had been.
48'   Welbeck breaks with options. He is out left and his poor pass gets lucky, landing to Lacazette. His poor pass is not as lucky and it's picked.
47' Morata to Fabregas and on to Willian. He drives a shot low and at Cech but he saves easily.
46'   We are back underway in the London Derby. Pedro off for Bakayoko.
  Not sure we will see any changes for either side at the start of the second half. Quite evenyl poised even if Chelsea might feel like they should maybe be doing better. Arsenal became far more dominant as the game carried on... and had the best chance to go ahead. No massive threat from Chelsea after the first 25 minutes. We saw against Spurs though that they are quite capable of soaking up as much pressure as possible.
  And that's without Ozil and Sanchez? Doesn't make sense at all.
45'+2'   Half-time. Not a classic but pretty entertaining. Arsenal, unspurprisingly, proving every one wrong once again. This team can't find any form or logic in how they play.
45'+2'   Bellerin in behind the back and cross low. David Luiz foils Lacazaette who had made a perfect run to the front post.
45'+2'   Monreal with a backpass that arrives at speed as he is under pressure from Morata. He takes it on the chest with ease.
45'   Approaching half-time now and with no Alexis Sanchez on the field, Arsenal are looking very good still. Best chance has fallen to them and they've been dominant at times.
41'   Ramsey breaks through with a very neat run and he pokes it off the post. The rebound falls perfectly to Lacazette and he misses. What a chance that was!!!
40'   Arsenal more comfortable now as has been the trend after a spell of Chelsea possession.
38'   Moses whiffs at the clearance from the header and Koscielny pops one towards goal but it's more hopeful than anything else.
37'   Morata heads clear. Using his head for evil as well as good.
36'   Welbeck impeded by Azpilicueta as he tried to recieve a pass behind Chelsea's defense. Free in a promising position. 
35'   Welbeck makes a yard for himself and shoots. It looks good but its blocked in the end.
32'   Really nice strike from Granit Xhaka. He really makes Courtois think about that one but it just drifts wide.
31'   Fabregas eventually gets one in from the left, with his left and never really looks comfortable, but it's a nice cross and David Luiz just cant reach it.
28'   Bellerin fouls Alonso now as he tries to make a move down the left. Hardly any threat from that area as of yet.
25'   Slight lull in the game now as both sides feel each other out. Chelsea with more of the ball but that has been swinging back and forth from the start.
23'   Morata with another header. Same source of delivery as Moses puts it on his head. It was always going over the bar though.
21'   Pedro clean through on goal. He hesitates, hesitates again and eventually just as he is caught by a defender, hits it straight at Courtois.
20'   Kolasinac goes a slightly alternative route as instead of cross, he drives a shot towards Courtois and forces a save from the Belgian. Arsenal looking more dangerous recently.
18' Straight up the other end and Monreal and Pedro go in for the ball and Pedro comes off worse as he holds his knee.
17'   Bellerin down the line again and Alonso in no-man's land. Cross and Lacazette gets a shot away. Courtois saves.
16' And now Alonso and Bellerin take off in a race for a through ball. Bellerin wins, crosses and Welbeck heads just wide. Nice header too.
14' Moses with a nice move down the right and Koscielny forced to header clear. 
11' He was offside but ball comes in from the right and Morata nearly heads it home. Just inches wide. He wasn't in a superior position to the defender and didn't have a run at Cech but he is just so good in the air.
10' After a delay, Moses continues but not convinced he is moving at full speed.
7' Lacazette tripped by Moses but it looked accidental and it also looks like Moses could have really hurt his knee. He's still down and 'tapping out' on the turf. Not looking good as his foot stayed in the ground and he knee went another direction.
5' Strange corner as it is taken short and Fabregas continues to the end line where he is kept onside and he drives a shot towards goal. Another corner.
5' An identical break by Willian and this time he finds Morata but the defensive positioning from Arsenal is better and he is forced to turn back. Arsenal conceded the corner in the end.
3' Willian again on the counter and it ends up with Pedro cutting in on his right. He drives low and hard at Cech, who gathers it calmly.
2' Kolasinac attempts a clearance and Moses blocks it, makes a run towards the endline and crosses. Cech gathers but Morata, and his ever-so-accurate noggin were lurking.
1' Willian breaks and Morata has made a lovely run to his right but the Brazilian can't find him.
1' There we go! After a slight delay, Morata and Fabregas tip off.
We are ready to get underway at Stamdofrd Bridge. 
And therein lies the key match-up to watch. It has to be Bellerin on the right versus Marcos Alonso on Chelsea's right. The Chelsea Spaniard has been in excellent form and Bellerin is seen as the future right-back for Spain while Alonso, who has not featured in Julen Lopetegui's plans just yet, might be doing enough to get a nod soon enough. Doubt there'll be too much marauding runs from Alonso with the speedy Bellerin to watch for.
So, we have some inside intelligence (cough, Twitter.com, cough) but it is probably a 3-4-3 as opposed to a 3-5-2 from Wenger today as he is certainly trying to counter the formation that won Conte the league last season. It is Kolasinac on the left of a 4-man midfield and Iwobi (he was throwing me off) is in a 3-man attack.
  Alexandre Lacazette is settling in nicely to life in London but he says, "I'll have to get used to going from sunshine to cold rain in a matter of seconds! I'm enjoying myself at the club. Everything is going well with my team-mates, the coaching staff and the medical team. I'm really happy." Well, the Frenchman will be delighted to hear that today's forecast in London is "mist and possible fog patches clearing during the morning leaving sunny spells and showers, some of these heavy, especially towards eastern areas, where there is a risk of thunder. Feeling warmer for most with light winds."
Wing-backs are all the rage these days. Maybe Wenger is trying to counteract Chelsea's threat by overloading one side, but we shall see.
And Chelsea's XI is a little bit more predictable: Courtois, Azpilicueta, Luiz, Cahill, Moses, Kante, Fabregas, Alonso, Willian, Morata, Pedro.
Here is, in fact, Arsenal's team news: Cech, Bellerin, Koscielny, Mustafi, Monreal, Kolasinac, Ramsey, Xhaka, Iwobi, Welbeck and Lacazette.
No sign of fear from Arsene Wenger as he look to be deploying a 3-5-2 with Bellerin and Kolasinac as wing-backs and Monreal on the left of the back three. We think? This is quite interesting from Wenger. Or else a 4-2-3-1 but where would Kolasinac fit in then? Strange one... but what we can confirm is that those eleven players named will start somewhere on the field! 
Morata also spoke out about the unsavory chants from a small section of Chelsea fans and requested that the fans eradicate these offensive songs.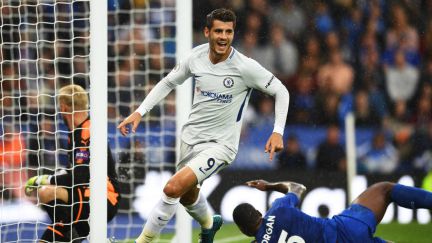 New Chelsea striker Alvvaro Morata gave a very frank and forthright interview this week where he talked about his move to life in the Premier League and how leaving Real Madrid was bitter-sweet.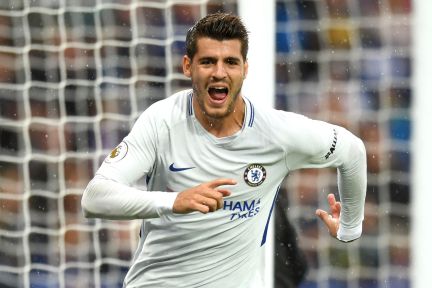 Hello and welcome to our build-up and live coverage from Stamford Bridge as reigning champions Chelsea face North London rivals Arsenal with a kick-off at "the Bridge" starting at 14:30 CEST.
Chelsea-Arsenal: live stream online preview
There is still plenty to figure out in this season's Premier League, as you would expect after a handful of games, but two sides with increasingly worrying and soothing aspects to their season so far face each other on Sunday at Stamford Bridge - kick-off at 14:30 CEST - looking for answers during a brief but difficult spell.
To make matters more interesting, it's a London derby and with the likes of Manchester City and Manchester United setting the pace atop the table, neither Arsenal or Chelsea can afford to lose. It might come down to a matter of how well you perform against the bigger clubs and how much damage you can inflict on them when points are being tallied at the end of the season.
As Chelsea manager, Antonio Conte, says: "This is a massive game when you play against Arsenal. The same against City, United, Liverpool, Spurs. There are six top teams and when you play it is a massive game. We have to fight and play against a rival."
Chelsea
After a mini-meltdown to start the season, which saw them lose against Burnley with two men sent off, Chelsea have regained a slice of the form that took them to the Premier League title in Antonio Conte's first season in charge.
After a summer of discontent, the last thing they needed before the transfer window shut was a loss to start the season. They have responded well and in a world of football that is growing increasingly frentic and fickle, a run of good results has largely forced the unhappy Conte and unstable squad narrative to die down. Wins against Spurs, Everton, Leicester and a thumping of Qarabag in their Champions League return have certainly not hurt.
Conte, however, is uninterested in the plight that Arsenal find themselves in, "I don't care about Arsenal's situation, I care about Chelsea's," Conte said in his pre-match press conference.
"They will solve their problems, we will solve ours."
Conte also believes that if his Chelsea side keep their discipline, they can win. "I hope to finish the game with 11 players, because in the last two games, FA Cup final and the Community Shield, we finished two games with 10 men," he said. "I hope this. Then during the game I think the best [team] wins."
The Italian almost has a full squad to chose the starting 11 and subs from as Eden Hazard works his way back from a broken ankle and Gary Cahill returns from suspension he picked up against Burnley. New signing, Danny Drinkwater, will miss the game and won't be able to play until October.
Potential line-up: Courtois, Moses, Azpilicueta, Luiz, Rudiger, Alonso, Kante, Bakayoko, Pedro, Morata, Hazard.
Arsenal
Arsenal, a team in seemingly perpetual melt-down, have more to be concerned about. They started the season with a victory but fell to Stoke and Liverpool - in appalling circumstances. On top of that, they missed out on the Champions League this season and their star player wanted out before the end of the transfer window.
Even when things do go right on the field, there are problems on the terraces as thousands of Cologne fans appeared outside the stadium having bought home fans tickets with an hour delay to the game. Arsenal released a statement saying, "Following last night's UEFA Europa League match with Cologne we would like to stress that fan safety was always our paramount concern and informed all decisions made," as they plan to launch a probe into what happened.
Jack Wilshere came on for Arsenal in that Europa League game in what was his first appearance in an Arsenal jersey for close to 13 months and while Francis Coquelin and Santi Cazorla remain out along with a healing Callum Chambers, Wilshere will be looking to break back into Arsene Wenger's plans. Theo Walcott also hobbled off with a calf injury as an assessment of his injury is expected soon.
Potential line-up: Cech; Mustafi, Monreal, Koscielny; Bellerin, Kolasinac; Xhaka, Ramsey; Ozil, Sanchez, Lacazette.
Chelsea-Arsenal live stream: betting
Fancy Nacho Monreal to bag the first goal at Stamford Bridge? A opener from the Spaniard pays out at 41/1.
Follow the live coverage match of Premier League between: Chelsea-Manchester City