PSG-Lyon live online: how it happened, goals and match report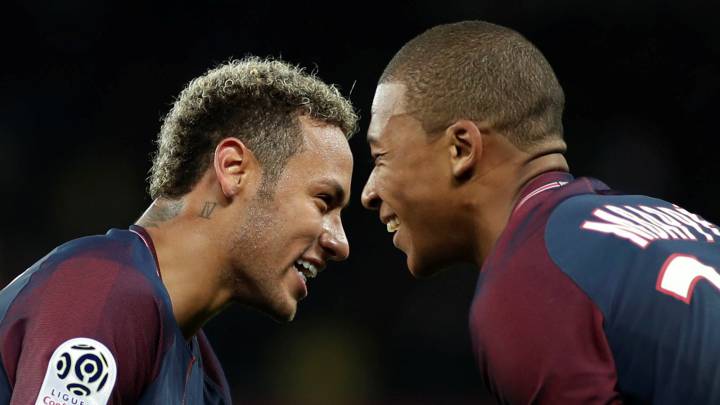 Another win for PSG and once again as per last week's game against Metz one could say the Parisian side rode their luck as they ultimately saw off Olympique Lyon to maintain their 100% record in the 2017/18 Ligue 1 campaign.
The first half saw Lyon defend strongly and hit the home side on lightning counter attacks with Traore and Mariano looking lively going forward for the visitors. PSG looked jaded and failed to find a creative spark to outfox the well drilled OL rear-guard.As the half wore on Lyon naturally tired after their high tempo pressing and harrying game.
The second half started with PSG dominating proceedings and it felt like a matter of time before the home side broke through the deadlock.
The pivotal moment in the clash came in the 68th minute as the impressive Ndombele thundered a long range shot off the PSG crossbar. Ten minutes later PSG were ahead after Le Celso pulled the ball back and Cavani with assistance from Lyon defender Marcelo broke the deadlock. The Uruguayan also squandered a penalty after an impressive save from Lopes pushing the ball onto the bar. As the clock ticked down Mbappe made sure of the points, latching onto a through ball from Neymar to fire home with the assistance of a Morel deflection to keep the Parisian side marching on. Credit to Lyon for pushing Emery's side all the way and giving PSG their "first game" of the 17/18 campaign.
PSG vs Lyon: live
90'+2' FT PSG 2-0 Olympique Lyon 
90'+2' The second PSG has been attributed to Morel as an own-goal as the match official calls time on the action. 
90'+1' PSG fans have been tremendous tonight with non-stop chanting....PSG march on but Lyon will certainly push for a Champions League place. 
90'+1' 2 minutes of time to be added
89' Cavani tries a back heel from a delivery from Yuri. The score-line is cruel on Lyon who have been excellent opposition for the Parisian side tonight. 
88' PSG 2-0 OL
85' The teenager breaks onto a Neymar ball as a kind ricochet sees the ball nestle in the back of the Lyon net.... 
85' Mbappe makes it 2 for PSG !
85' A hint of tension apparent between Neymar and "El Matador"...work ahead for Emery !
84'  Paris Saint-Germain's Edinson Cavani celebrates scoring their first goal

83' Great debate between Cavani and Neymar over who was to take the spot kick .... Cavani won this bout !
80' Silva carded, Mendy also carded for the penalty for PSG.
80' What a save for Lyon, decent strike from Cavani too...Can that spur OL back into life with just ten minutes remaining at "Le Parc"  
79' Mendy fouls Mbappe and the home side have a spot kick...Cavani to take .... and Lopes palms the ball onto the cross bar ...what a save .... 
77' Lo Celso looking bright since his introduction and it appears that Lyon's Marcelo was the last player to touch the ball for the PSG goal.
PSG 1-0 OL
74' Assist from Lo Celso crossing back from the byline.... Great technique from "El Matador" with a deft touch to beat Lopes. Cruel on OL.  
74' Gooooooooooooooooooool Cavani taps home just as Lyon were on top....
74' Just over 15' to go and as 0-0 games go it's been a belter. If pushed I'd say Lyon deserve to be ahead ....
70' Double change for PSG .... Kurzawa off and Yuri on. Draxler also off and Lo Celso takes his place.
70' Change for OL as Ndombele (best player for the visitors) leaves with Martins on   
69' Lyon again as Areola comes to the rescue with a Lyon header. Les Gones playing with added confidence as PSG are somewhat on the ropes  
66' Lyon almost break the deadlock as Ndombele fires a 100% rocket and it almost breaks the PSG crossbar... Excellent strike from the No.28
66' Still no sign of PSG perforating the Lyon defensive line ...as Lyon break but Cornet finds himself alone...  
65' Discreet and difficult evening for Lyon's Mariano. Always tricky being the lone target man in a game like tonights.... 
64' 64'63 /37 % possession stat in favour of the home side 
62' Mariano off for OL, Maxwell on
62' PSG corner....Neymar swings the ball in and Cavani fires at the breaking ball.... first chance of the night for "El Matador" ...high & wide 
57' PSG break via Neymar and Mbappe and only great intervention from Marcelo saves the day for the men in white.
53' The Brazilian stands over the ball....strikes and forces an excellent save from Lopes.  
53' Card for Fekir as he trips Neymar right on the edge of the area. Neymar danger zone !
53' Lovely ball play from Mbappe as he loops the ball through to Neymar ... ball easy for Lopes in the OL goal but what confidence from the teenager!
51' Fekir breaks for the visitors and from an acute angle forces Areola to save well.  Better from OL.
50' Lyon struggling to get onto the ball with total domination from the Paris based outfit
48' PSG looking sharp with crisp passing and movement. Foul for the home side in shooting range ... Neymar over the ball....strikes into the wall.   
46' Neymar seems to have a problem with one of his fingers.
46' Off we go ....
OL booed as they take to the pitch with Neymar the last PSG player to take to the pitch.
Calvin Harris is on the PSG half-time play list... Can Lyon maintain their intensity? It was apparent that the Parisian side were creeping more into the contest as the game evolved with a home goal the likelier  
Lyon's French head coach Bruno Genesio gestures as he shouts instructions to his players from the touchline during the French Ligue 1 football match between Paris Saint-Germain (PSG) and Lyon (OL)

Here's how the Ligue 1 Conforma table looks at present, the draw moves Lyon into 4th

 Paris Saint-Germain's Julian Draxler in action with Lyon's Mouctar Diakhaby 

45' No added time as Ruddy Buquet calls time on proceedings. Great 45' of football with PSG slowly but surely edging their way back into the game after early OL domination.  
44' First card of the night for Motta tripping Fekir.
44' Neymar fires on target and Lopes saves well. Great chance for PSG as Lyon tire.... 
43' Alves assit again and Cavani header which drifts wide. Am sure you've all seen Cavani's headed goal agianst Celtic .... if not track it down and enjoy !
39' Another fine delivery from Dani Alves, launching a long range delivery into the danger area.    
37' PSG starting to pile on the pressure as Lyon appear tired after their early exertion. 
36' ...just as PSG create some danger with great work from Dani Alves pulling the ball back from the by-line wbut no player in a navy shirt able to strike the ball on target.
35' Cavani discreet this evening too but credit due to the Lyon defensive line. PSG lacking a creative spark tonight.  
33' Draxler tumbles in the OL area and appeals ring out for a penalty. Mr. Buquet waves the protests away...correct decision.
30' 30' gone in a blistering contest at the Parc des Princes. Beautifully poised game with PSG facing their most difficult opponent of the season so far.
29'  Fekir tries his luck from long range but fails to get enough purchase on his effort.
27' Man to man battles: Neymar 0-2 Tete for Lyon.
25' Mbappe breaks away and Lopes in the Lyon goal is quick to react clearing the danger. Slight defensive lapsus from the Lyon rear-guard there
24' OL win a corner and whistles rain out from the PSG fans, the move comes to nothing....
23' Discreet from this man so far tonight....

21' Parc des Princes completely rocking now with both sets of fans in raucous mood and in fine voice
18' Former French President Nicolas Sarkozy before the match

16' Possession: PSG 65% - 35% OL
16' Neymar almost finds the target from a corner kick as the PSG fans end their protest and a wall of noise rings out from the stands.  
14' OL win a dangerous freekick as Raibot upends Ndombele... Mariano to take .... poor from the former Real Madrid player ...no accuracy and the ball drifts wide.
13' Lyon's Nabil Fekir in action at Le Parc tonight

8' Little so far from Neymar as Lyon maintain their intensity.  All the noise coming from the travelling fans.
8' Lyon again as Depay breaks into a good shooting range and fires a fierece drive straight into Areola's arms. Great start from Lyon, totally undaunted by the Parc des Princes atmosphere.
5' Great effort from Traore for Lyon whipping a left footed shot at the PSG goal. Just after OL have a shout for a penalty as Ndombele is taken down on the edge.  
5' OL fans ahead of the Paris St Germain vs Olympique Lyonnais clash at The Parc des Princes, Paris

2' Tonight's game certainly the sternest test PSG have faced this season in Ligue 1. They steam-rollered Amiens, Toulouse and St Etienne already at home and are fresh from their 0-5 rout over Glasgow Celtic in the Champions League.   
Off we go at Le Parc... Lyon kick off 
PSG top the table with 5 wins from 5. OL unbeaten and lie in fifth place. A classic not just in French football but in European football awaits ....

The teams take to the field... PSG in their traditional dark blue with red stripes. OL in classic all white as smoke fills "Le Parc".  
Hearing that the PSG hard-core fans will hold a 15' silent protest after the club refused to admit a banner they deemed unsuitable

Mr. Ruddy Buquet is our match official at the Parc des Princes this evening with kick-off just 4 minutes away  
A chilly 12C in the French capital this evening with just a 5% chance of rain. Ideal conditions for the players and fans. 
  Naymar Jr. warms up as ko looms in Paris

The PSG line-up suggests Emery believes the 4-2-3-1 that was deployed in that last Ligue 1 match against Metz to be more suitable for tonight's opponents that the 4-3-3 he used in Glasgow midweek. 
In the 2016/17 campaign, the Paris giants won both home and away against Lyon, by the same scoreline, 2-1. With the incredible summer additions to the team, there is a clear expectation of a home win tonight. But Lyon will be looking to Fekir and ex-Real Madrid striker Mariano to add to the four goals they have both scored in Ligue 1 this season so far; the same tally as PSG's Neymar.

Emery's PSG are the other team unbeaten this season after five games while Bordeaux have won three and drawn three of their six (they played and won in Toulouse on Friday night).
Memphis Depay, in less than half the games, has already equalled the number of goals he scored at Manchester United and almost doubled his assists.
One of the risks of putting much of your egg collection into one footballing basket is that those fragile things can break. PSG will be hoping that their new stars in Neymar Jr and Kylian Mbappé don't do what Barça's Dembele did last night. 

Interesting editorial comment last week from AS Director Alfredo Relaño looking at how Javier Tebas (President of LaLiga) refuses to let the PSG summer transfer splurge move away from the current agenda demanding UEFA intervention.

Video: PSG first team coach Unai Emery previws tonight's game at Parc des Princes and warns of Lyon's youthful threat

Hello and welcome to our build-up and live coverage from Parc des Princes (Paris) high flying Paris Saint-Germain welcome Olympique Lyon with kick-off at 21:00 CEST.
PSG-Lyon: live online preview
Who in French football can stop the PSG juggernaut? Traditional rivals Olympique Marseille? The Mediterranean coast based side are still in a state of flux with new signings settling in and currently languish mid-table. What about current champions Monaco? Despite seeing the core of last season's side, coach Jardim has managed to get his side playing well and indeed until last weekend's slip up away to Nice the side from the principality looked Ike the team "most likley to".
So what about tonight's opponents Olympique Lyon? A recent power house in French football bagging seven Ligue 1 trophy's in the 2000's? Maybe...."Les Gones" remain unbeaten in the current campaign and may have found a replacement for star striker Lacazette in Real Madrid recruit Mariano Diaz.
Recent history between both sides in the French capital strongly favours a home win with PSG overcoming OL in their past six encounters at Parc des Princes with one having to go back to 2015 for the last time the side from the capital dropped points against the Lyon based outfit.
PSG
PSG are in rampant form at present inflicting Scottish title holders Celtic to their heaviest ever home defeat on Tuesday with a 0-5 win in Glasgow. Their domestic form has been equally as impressive with five wins from five and with a daunting goals scored column of 19 strikes.
Neymar Jr. has been joined by new signing Kylian Mbappe and the pair have linked up perfectly with Uruguayan international Edinson Cavani in forming a trident that strikes fear into the defensive line-up's of French sides all over the country.
Angel Di Maria and Javier Pastore are still struggling with injury but Adrien Rabiot is in the 18 man squad for tonight's clash. The suspended Verratti is the other major absentee for the Parisian outfit.
When asked about tonight's opponents in the pre match press conference, Unai Emery was quick to point out the virtues of OL. "Lyon lost some key players, but bought some young players who can improve. They're a team that plays good football, has a lot of possession and has quicker transitions from defence to attack".
Lyon
After two straight opening victories in Ligue 1, Lyon have stumbled a bit and have won just once in their last four outings -- 2-1 at home to Guingamp. However, with Nabil Fekir, Memphis Depay, Mariano Diaz and Bertrand Traore, this young team still possess the firepower to hurt PSG.
Olympique head coach Genesio speaking to the media ahead of the trip to the French capital claimed: "We cannot go there as 'victims'. "They (PSG) are one of the best teams in Europe at the moment. Over the whole season, no team can compete with PSG but in one match, it is possible.
"We are a team of competitors. It's a match where we have everything to gain.''
PSG-Lyon: betting
Fancy PSG winning at the interval with Olympique Lyon turning matters around at the Parc des Princes and snatch a full-time win? That option pays out at a handsome 67/1.