Barcelona save 10 million euros this year after Dembélé injury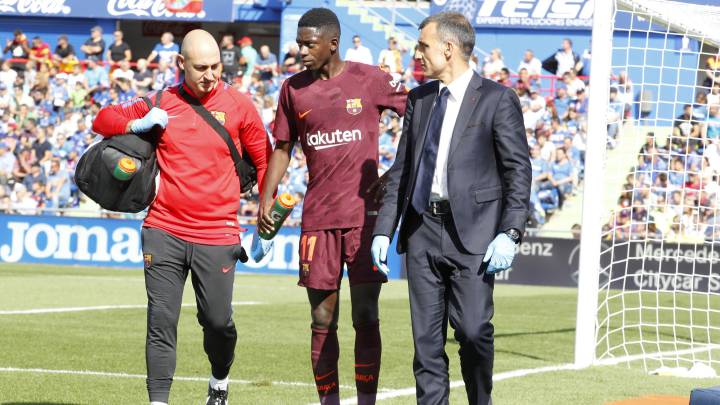 The injury Barcelona's Ousmane Dembélé suffered against Getafe will keep him out of the game for about four months and this will prevent him from playing 50 games this season, and this is linked to a payment clause in the huge summer transfer from Borussia Dortmund.
Barça delay 10 million-euro payment
Far from being positive news for the player, the club or the fans, the Catalan giants can benefit from the injury, financially at least. By missing the 50-game target, they will save 10 million euros this season. Dembélé is not expected to return to competitive action until 2018 and, therefore, will not have enough games remaining – even if Barça were to make the finals of the Copa del Rey and Champions League - to fulfil that particular clause. According to a source at Borussia Dortmund, speaking with the German newspaper Bild, the clause specifies that Barça will have to pay 10 million euros when the player reaches that number of meetings.
Very achievable targets set in Dembélé contract
With news confirming that the injury has no long-term consequences, it is likely only a matter of time until the French youngster reaches this milestone, one of several very achievable objectives stated in the contract. As each of them are ticked off, the original 105 million euros will be quickly inflated to the full amount, although spread out over time.
Dembélé in Finland for surgery
The French winger, who made his league starting debut, suffered a ruptured tendon in his hamstring in the 25th minute of the match at the Coliseum. Dembélé is now in Finland, where he will undergo surgery with Dr Orava, one of Europe's most recognised specialists in this field.