Benzema: "Scoring goals isn't everything for modern strikers"
Karim Benzema renewed with Real Madrid until 2021: "Being a striker means participating, giving assists… I understand the criticism but I have a different vision of football".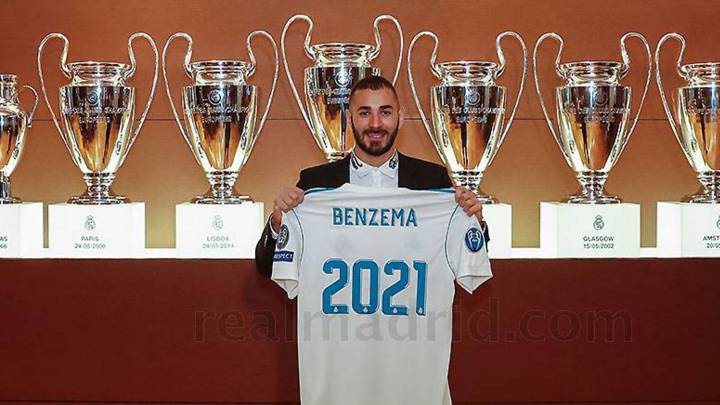 Karim Benzema signed a contract extension which will keep him at Real Madrid until 2021 this morning then joined Emilio Butragueño to give a press conference in the Santiago Bernabéu press room. Butragueño extolled the French striker's virtues with his opening speech as he addressed the player directly: "You are now a part of Real Madrid's history. You arrived in 2009, and during your eight seasons with the club you have scored 181 goals. You are the eighth top goal scorer of all-time in club history and Madrid's fourth top scorer overall in the Champions League. Here, at the club of your dreams, you have won 14 major trophies. We are very happy with this new contract extension and we wish you the very best. Congratulations at this wonderful news".
Immediately after Butragueño's words, the player, who was accompanied by his father and brother for the occasion, answered questions from the media.
Benzema thrilled with new Madrid deal
How do you feel with this new deal? "Very happy. When I look back, I realize how time has passed so quickly. I'm very proud of my career at Real Madrid. I'm going to continue working hard so that we can win more trophies because I am at the best club in the world. I always want to win silverware. That's why I made a continued effort to be at my best for the team".
How is you injury? What is the team's problem when playing at home? "I'm training hard to get with the team as soon as I can. I can't give you a date but I will be back soon. As for our home games, we haven't had a good start but nothing is wrong - it happens to all of the great sides. I have faith in the team, we're fine and we are working hard together. We're seven points off the lead. The most important thing is that we remain united; last season we won a lot of trophies and we are Real Madrid. We'll put things right in the next game".
Criticism "is normal" at a club like Real Madrid
Does criticism affect you? "Affect me? It's just the way it is, it's part of my life; criticism allows you to reach a higher level in what you do. I'm still here, I know how things are. At this club we receive a lot of criticism but that's ok. I'm here to do my job and that's that. When people criticize me it's usually because they expect more from me. I look for ways in which I can give more".
Do you think Madrid need another striker this season? "It's not for me to say whether we need another striker or not, that's a question for the boss. When I am not able to play, Cristiano can play as a centre-forward and we have other players who can too. We can play in various different systems - 4-3-3, with two up front or in a rhombus formation; it's all down to the system we play. People are talking about strikers because recent results haven't been good but we have a great team".
Retiring at Real Madrid is Benzema's dream
Do you plan to retire at Real Madrid? "I love football and I'd like to retire here because there is no other club like Real Madrid. If you enjoy football, you have to work hard to stay here. Real Madrid will be my last club.
"The national team? I am a competitor, a footballer and I love it when I get called up - as every player does. When you see your team mates with the national team and you are not with them... that's quite difficult for someone like me. I have to work hard so that I can win my place back".
Struggling to score: "It depends on how you see football. Being a striker isn't just about scoring. You have to participate in the team's moves, open spaces, give assists… I can understand the criticism, but I have another vision of football. Of course I want to score more goals but the most important thing is the team and sometimes I have other duties to fulfill. A modern-day striker needs to be a good passer of the ball, have movement, score goals and create them for the rest of the team".