DORTMUND - REAL MADRID
Bosz: "Real Madrid are not vulnerable"
Peter Bosz says he loves to watch Real Madrid play and since Zinedine Zidane has arrived, he has brought a lovely style of play with players with excellent technique.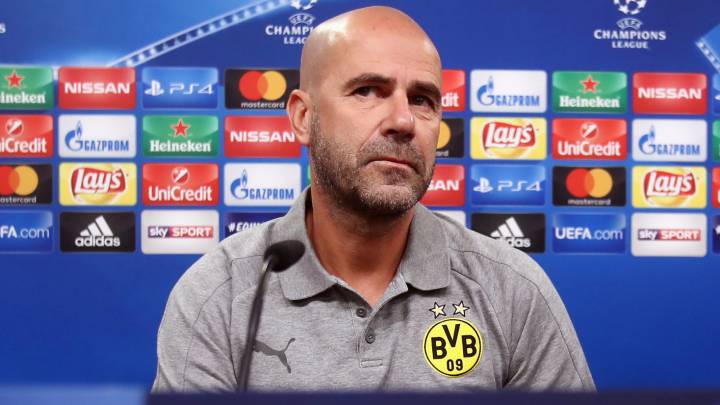 Borussia Dortmund manager, Peter Bosz, spoke at the press conference ahead of his side's game against Real Madrid on Tuesday night in the Champions League at Signal Iduna Park.
A serious test: "For me, it's not a test. We are in good form, they are an extraordinary opponent and I am happy for the game to be here."
Spanish teams in Europe: "Spanish teams have dominated quite a bit in Europe, mainly Barcelona Real Madrid and Atletico. They play at a very high level but it is difficult to evaluate how the Germans fared because it is my first year here. Everything can change this year. Bayern have been an excellent represenatative in the Champions League and we can be too and this year can be a lot different."
What do you like about Zidane's Real Madrid: "I really like to watch Real Madrid. They play nice football with players that have excellent technique. Ever since Zidane arrived, they have played like this and it is pleasing to see."
Good moment to play Real Madrid with injuries: "I don't believe that they are vulnerable with injuries. We have some injuries too and we still manage to play our brand of football. Real Madrid's squad is very big and those injuries can be overcome. I don't think they are vulnerable because of that."
Aubameyang in good form and Real Madrid's strikers off: "I don't agree. Cristiano has not played much this year but he is extraordinary and he can score goals. The rest of the attackers are the same. I don't believe there is any difference."
The inexperience of Dan-Axel Zagadou: "He is prepared. He has shown that in the Bundelisga. I am very pleased because his position is not on the wing but he has done very well. The team has also helped. We need him and we need him there. Despite his age, he has done well even though he is not in his natural position."
Is it possible to keep up their style against Madrid: "Sure, it's possible, but we have to execute very well. If we do it poorly, it's going to go poorly. It all depends on that...."