Zidane: "I believe in what we are doing and the players I have"
Zidane spoke about Dani Carvajal's freshness and ability to recover, LaLiga being the best in Europe and how they are trying to score more goals.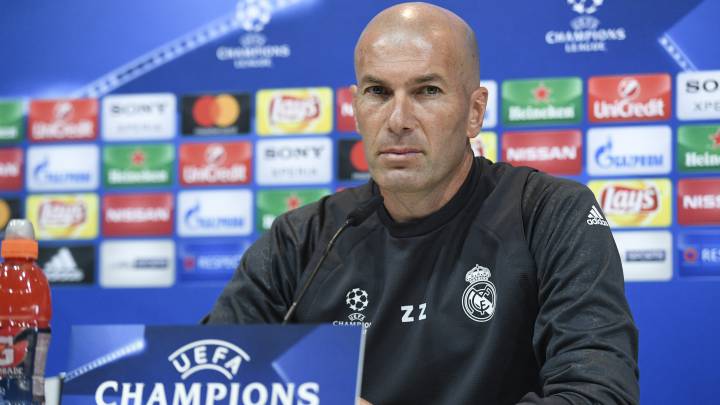 Zindedine Zidane spoke ahead of Real Madrid's trip to Germany where they will play Borussia Dortmund at Signal Iduna Park.
Current form. "We are good. We arrive on the back of a victory and we are happy to be able to play in the Champions League in a lovely field that breathes Champions League! We are prepared for the game."
Why can't Real Madrid win at this ground: "It's difficult to play in any field but it's true, we have never won here and it is a challenge for us. We come here to this pitch to win. Here, they live and breathe Champions League football and football in general and I want to see a good game of football."
Kroos: "He's with us, and it's important that he's okay. We know how important he is to the team."
Casemiro: "He is an important player. He gives us balance between defense and attack and he has done a job similar to that of Deschamps or Makelele. What he has done has surprised nobody. He has confidence and every year he keeps getting better. He always wants to give his best."
Against Alaves, it was no a brilliant moment, can you change it against Dortmund? "Every game can be a turning point and every three days you have to show it. I don't talk to my players about the brilliance of a game. Now, it's another game, another competition and we want to play well."
Chance to change recent scoring record: "I hope that's the case. It's what we want. The most important thing is to create the chances and when you look at the game against Alaves and only score two goals, we can't be happy with that return. At the end, the difficult thing is to create these chances and I believe in what we are doing and in the players I have. Tomorrow, we have a chance to change this. But it means nothing, because if we score goals tomorrow, we have to come back and keep doing it again at the weekend. In football, you always have to show you want to win the game. We will continue with our work and tomorrow is a good situation to be in."
Winning the Champions League again: "We know we have to prove it once again, it is not going to be easy but we want to have a go at the challenge. We want to go as far as possible. Firstly, we must pass the group stages and then we go from there."
Not being able to close out games: "We are confident in what we are doing. When you play in Vitoria (against Alavés) and you are in the 90th minute at 2-1, you can always have doubts. But with us, no. It was a difficult match but every three days, every year, every game keeps getting harder."
Carvajal not being rotated: "I am not worried. We have Achraf and he can do a job for us. Nacho, too, can play in that position. I am not worried because it's the start of the season and Dani is a healthy player who recovers quickly. This is important. When you live a healthy life and you know you are going to play every three days... and you are 25, when you are this young, you recover quickly."
On referees: "I am not here to talk about referees. It's a difficult job and I only think about getting ready for the game."
Surprised by the question: "No, because you ask the questions as you should. That's football and we try to do as well as we can everyday but our opponents are doing the same, getting better every day. You see that in Europe, in Spain... for me, the Spanish league is the most difficult, in Europe, I don't see the game being as difficult as in Spain."



Champions League
*Update 25 de septiembre de 2017



Champions League
*Update 25 de septiembre de 2017