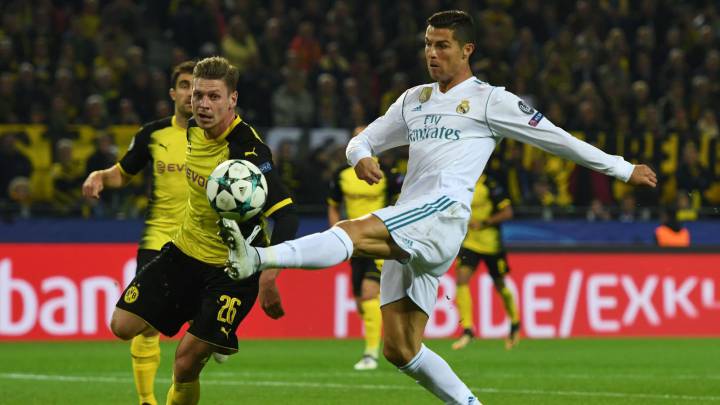 Borussia Dortmund 1 - 3 Real Madrid: match report
Cristiano Ronaldo scored twice in his 150th European match to secure victory for Real Madrid against Borussia Dortmund. Gareth Bale also scored for the visitors, while Pierre-Emerick Aubameyang netted early in the second half to give Peter Bosz' side momentary hope.
Madrid had never won in Dortmund, losing three and drawing three of the six previous meetings between the two sides. Yet the hosts played with an accommodating style, a high defensive line that provided space for Bale and Ronaldo to exploit.
The focus was on the reigning LaLiga and Champions League champions after a stuttering victory away at Alavés at the weekend. There was no lack of rhythm in Germany as the game began at a frenetic pace.
Dortmund deployed a high press, pressurising the Real Madrid defenders deep inside their own territory. The fatal product of that approach, from the home side's perspective, was vast space in behind the defence, which the intrepid Madrid attack exploited from the start.
Dani Carvajal was the first white-shirted player to stretch his legs in the space that the gung-ho Dortmund players had left unoccupied. The right-back is the only Madrid player to have played every minute of every match so far this season, but he showed no sign of fatigue as he raced on to a through ball after ten minute. He careered in to the box, chopped inside on to his left foot, and forced Roman Bürki in to a smart save at his near post.
Carvajal may not have made the initial breakthrough, but he provided a superb assist for Gareth Bale to open the scoring in emphatic fashion. The Welshman watched Carvajal's cross all the way on to the instep of his left boot, and he guided it in to the top corner on the volley.
Dortmund were unlucky not to have been awarded a penalty minutes before the opening goal, when Sergio Ramos appeared to handle the ball on the line as Maximilian Philipp's cut-back edged towards the far corner.
The home side appeared blunted by that two-pronged early blow. They had not conceded in their first five Bundesliga matches this season, but Gareth Bale stung the palms of Bürki once again before Bjorn Kuipers blew for half time.
Cristiano Ronaldo had been anonymous in the first half, drifting out to the right to make himself available, but unable to affect play when his team-mates found him. The first half of his 400th Real Madrid game was forgettable, the second half was incisive.
Raphael Varane made an acrobatic goal-line clearance in the first minute of the second half, as the game remained entertainingly hectic. Yet a coolness descended over the Signal Iduna Park as Ronaldo scored Madrid's second with a clinical move. Kroos threaded a pass to Bale on the left, he strode forward and centred the ball for the Portuguese to stab in to the net.
The two-goal lead only lasted for five minutes. Neat interplay on Dortmund's left culminated in Gonzalo Castro swinging a teasing cross in to the six-yard box, where Aubameyang was waiting to poke in a goal for the home side.
The match continued in swashbuckling fashion until Ronaldo popped up again to seal the victory. With ten minutes remaining, the 32-year-old latched on to Luka Modric's through ball and fired a fizzing effort inside Bürki's near post.
Real Madrid and Tottenham lead Group H with six points apiece, with the meeting between the two in the next round of fixtures a mouth-watering prospect. Dortmund are keeping APOEL company at the bottom of the group, and the Germans' chances of progression already appear slim.
Borussia Dortmund 1 - 3 Real Madrid: as it happened
90'+4' Full time. 
90'+2' Sokratis has a speculative effort from 30 yards, and it almost deflects in to the path of Aubameyang. The striker's tired legs can't quite reach it, and Navas claims. 
90'+2'   Ramos comes close to adding real gloss to Real's victory. His diving header from Kroos' corner is well saved by Dortmund's Swiss 'keeper. 
90'+1' Dani Ceballos replaces Modric.
90' There will be three minutes of added time.
90' Piszczek almost turns Modric's low cross in to his own net, but it trickles wide of the near post as he tumbles over the body of Bürki. 
89' Asensio thrashes his way through the centre of the park, with a burst of pace taking him away from Sokratis and in on goal. The Mallorcan's final touch is too heavy, and Bürki's dashes off his line to block the ball with his legs. 
88' Nacho heads clear with Aubameyang lurking, and Piszczek tries an ambitious header from outside the box as the ball falls from the sky. It dribbles wide. Dortmund look a little devoid of ideas. 
85' Gareth Bale hobbles off with a touch of cramp, but Lucas Vazquez was already prepared to replace him. 
84' That goal from Ronaldo takes him up to 109 in European competition. 
83' Yarmolenko curves a sweet, inswinging ball to the six-yard box. Aubameyang makes contact, but heads the ball in to the ground and Navas clutches it in to his midriff with ease. 
79' GOL GOL GOL! Ronaldo has his second on the counter attack! Modric threads the ball through to him, and deep inside the box, he launches a shot in at the near post. It wsa well struck, but Bürki will be disappointed to have not adjusted his positioning. 
78' There's last-ditch defending galore here. It's Dahoud's turn to come to the rescue of his team, with a sliding tackle to prevent Gareth Bale charging through on goal. 
76' Both side make a change. Asensio replaces Isco for Real Madrid, Pulisic replaces Götze for Dortmund. 
75'   The Isco classic. He picks the ball up on the left, shimmies inside past his marker, and hits a shot through the defender's legs to the near post. Bürki reacts well to keep it out with a strong right hand. 
72'   Sergio Ramos tries to dribble out from the back, loses the ball, and is lucky that Dahoud is on a different wavelength to his team-mates and threads the ball straight through to Navas. 
70'   Ronaldo pops the ball out to Carvajal on the overlap. He gets to the byline and with the 'keeper committed, tries to find Bale at the far post. Piszczek nods clear in the middle of the six-yard box, but Real Madrid come knocking again. Isco works space on the right side of the box and whistles a shot just over the crossbar. 
67' Half of the Dortmund fans think they've scored... but it's in to the side netting from Aubameyang, who got a deft touch on a cross but could not direct it towards goal. 
65' Real Madrid have a vociferous penalty shout emphatically waved away by the arms of Bjorn Kuipers. Bale was the player who went down, but it was a brilliant tackle by Sokratis. Moments before, Nacho had slid in with a perfectly-timed scooping tackle just as Götze was ready to pull the trigger. 
64' Smart covering play from Casemiro to prevent Aubameyang galloping free on the counter attack. 
63' He has only just come on, but Wiegl has already been booked for a foul on Ronaldo. Kroos delivers the ball from 35 yards, but it doesn't rise over the first Dortmund head.
62' Yarmolenko skips down the right, and twitches on the ball, as if he's about to burst inside. Instead, he threads the ball to Castro, who can't gather the ball and Navas claims. Up at the other end, Gareth Bake sends a low header straight at the middle of the goal, where Bürki is waiting. 
61' Double change for Dortmund. Weigl and Dahoud replace Sahin and Toljan. 
60' An acrobatic clearance from Ramos prevents the ball running through to Aubameyang on the penalty spot. The ball comes back to Dortmund, and Yarmolenko whips a shot towards the near post. Keylor Navas gets down well to smother the ball. 
59' Sergio Ramos grapples with Toprak at the far post, as Isco chips a ball towards them. A little too much contact, says Kuipers, and he awards the home side a free-kick. 
57' Sahin catches Carvajal on the knee out on the right touchline. Kroos swings in a typically-inviting delivery, which Nacho nods in to the arms of Bürki. 
56' He's looked dangerous in attack, and he can defend too. Toljan with a crucial headed clearance at the far post, with Gareth Bale closing in behind him.
54' GOL GOL GOL! Dortmund have one back, and it's Aubameyang with his 13th of the season, poking Castro's tantalising cross in to the bottom corner from close range. Attractive interplay between Toljan, Götze, and Castro in the build-up. Their movement was too much for Madrid.
53' Omer Toprak goes in to Bjorn Kuipers' book. 
49' GOOOOOOL! Cristiano Ronaldo turns in Gareth Bale's cross from eight yards out. Lovely ball from Kroos in the build-up to free the Welshman, and his cross laid it on a plate. 
48'   Isco feigns to cut inside from the left, but instead plays a neat reverse pass towards Ronaldo. Bürki slides along the ground to claim the ball at the feet of the Portuguese. 
46' Excellent clearance from Varane, deep inside his own six-yard box, to prevent Yarmolenko's headed cross finding Aubameyang. That was a genuine goal-saving intervention from the Frenchman. 
46' Ronaldo back to Modric, and the second half is go. 
The teams are back out for the second half. 
Things aren't quite falling in to place for Cristiano Ronaldo this evening. He's still in search of a goal on his 400th appearance for Madrid.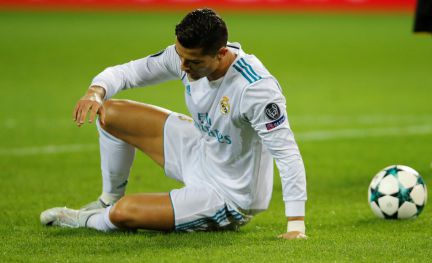 Here's more on the early handball shout against Sergio Ramos. It looks like he's a very lucky boy...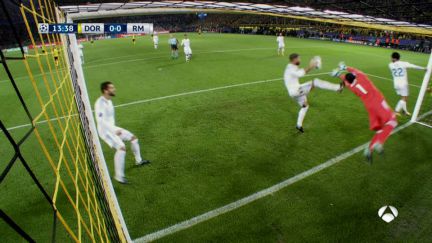 Elsewhere in the group, Harry Kane has scored to put Tottenham ahead in Cyprus. It's 0-1 at half time. 
45'+1' Half time.
45'+1' Toni Kroos curls an inswinging corner to the edge of the six-yard box, where Sergio Ramos meets it with no yellow shirts around him. The captain glances his header wide. Had it been the 90th minute, you just know he would have buried it. 
45' There will be one minute of added time. 
44' Ronaldo tries to cut in from the right and shoot twice in as many minutes. The first one is blocked by Toprak. He drags the second effort wide of the near post after a neat give-and-go with Isco in the box. 
43' Götze rolls the ball to Toljan, who is scampering around him on the overlap. The full-back swings an inviting cross in with his right foot, but Ramos watches it all the way and heads clear. 
40' A corner to Dortmund bobbles around in the box before Philipp inadvertantly knocks the ball behind with a miscalculated bicycle kick. The home side are closing out the first half on top. 
39' Dani Carvajal is booked for tangling with Philipp, who was trying to make a late burst in to the box. Luka Modric also receives a booking for infringing in the wall. Or perhaps for dissent, it isn't clear. Either way, Aubameyang slams the free-kick in to the wall. 
38' Aubameyang recives the ball on the half-turn in the box, swivels, and pokes the ball against the outside of the post. His blushes are spared by the linesman raising his flag. He looked to be in line with Carvajal, the last defender. 
36' Yarmolenko flicks the ball back to Nuri Sahin, and the former-Madrid man has a dig from 30 yards. It rises high in to the fluttering flags that dominate the lower section of the 'Yellow Wall'. He winces and raises a hand of apology to his team-mates in the box. 
33' Casemiro gives the ball away sloppily in midfield, and Götze plays the ball in to Aubameyang. It looks for a second like he'll be able to shoot one-on-one from inside the box, but Casemiro nips in to clear. Great awareness from the right-back to sniff out the danger. He has been Real Madrid's best player so far. 
30' Aubameyang has a half-sight of goal, twisting and turning on the edge of the box. Ramos watches his every move and blocks the shot. Well defended. 
29' Gareth Bale is harshly booked for failing to have his elbow under sufficient control in an aerial challenge with Sokratis. One of those 'well how else is he supposed to jump?' fouls. 
25' To momentarily draw attention away from this frenetic match, the co-commentator here in Spain has an identical voice to ex-Wales rugby international Jonathan Davies. It's mildly disconcerting. Anyway, as you were. 
24' Bale stretches his legs again. He wins a footrace with Sokratis in the left channel, and fizzes a shot at goal from a narrow angle. The effort had plenty of grunt behind it, but Bürki was well positioned and able to pat the ball on to the ground to take the sting out of it, before collecting at the second attempt. 
22' Madrid look well in their stride. Any pre-match nerves are now well settled, and tactically, the visitors appear to have the upper hand. They're picking through the Dortmund press with relative ease, which is granting Bale, Ronaldo, and Isco a lot of space when the ball does come up to them.
20' Ronaldo and Bale are combining nicely. The former crosses to the latter from out on the right flank, but it's a smidgeon too high. The Dortmund defence are struggling to deal with the two of them drifting out wide. 
18' GOL GOL GOL! Gareth Bale scores a gorgeous, gorgeous goal. Carvajal crosses to the Welshman from the right, and he cushions a side-foot volley in to the top corner. Superb technique. 
17' Ronaldo tries to cushion Isco's cross down for Bale in the box. A nice idea, but Sokratis reads the plan and intercepts the ball. 
14' Sergio Ramos clears the ball off the line, and there are strong claim of handball. Yarmolenko floated the ball in from the right, and it goes over the head of Aubameyang in the centre. But Philipp is arriving at the far post and he hooks the ball back across goal with a swish of his left foot. A combination of Navas and Ramos scramble it clear, but the question is: with what part of his body? I think Borussia Dortmund can count themselves unluckly not to have a penalty.
11' Madrid are rampant, there is so much space behind the Dortmund back line. This time, Ronaldo tries to sqaure the ball to Gareth Bale in the box, but Piszczek scampers back to poke the ball out for a corner, which the home side clear. Dortmund need to drop a little deeper. With the pace of Bale, they're inviting problems on themselves.
10' Carvajal misses a fantastic chance for Madrid! The buckaneering right-back found himself in acres of space on the flank. With team-mates waiting for the ball in the centre, the ex-Leverkusen man instead chose to chop inside Toprak and shoot low to the near post. Bürki was equal to his shot. 
9' Modric sets Isco free down the left. He cuts back on himself, inside Toprak, and floats the ball across to Ronaldo. The Portuguese tries to come inside and shoot on his left foot, but yellow shirts crowd him out. 
7' Bürki scurries out once again to meet a through ball aimed towards Ronaldo. The Dortmund 'keeper is 'sweeping' nicely. The flipside of Dortmund's high press is that they leave that sort of space in behind. 
6' As expected, Borussia Dortmund are pressing very high up the pitch. The Madrid defence are finding it difficult to pick through that first line of yellow shirts. In terms of tactics, it's a clear 4-3-3 for the home side, with Yarmolenko and Philipp flanking Aubameyang. 
5' Yarmolenko is wincing on the turf after a firm 'welcome to the game' tackle from Nacho. Dutch referee Bjorn Kuipers whistles for a foul, but Nacho will receive no further punishment. 
3' Toljan is already asking questions of the Real Madrid defence down the left flank. He skips clear of Carvajal and flashes a ball across goal. Navas dives out and misses, but Sergio Ramos is waiting behind him to clear. 
2' Real Madrid have settled in to possession in the first 90 seconds or so, illiciting a barrage of whistles from the home crowd. Cristiano Ronaldo almost sneaks on to a long ball, but Bürki is alert to the danger, and ventures out of his box to head clear. 
1' Off we go! Aubameyang rolls the ball back to the Dortmund midfield to get the match underway.
  The teams are out on the pitch and it's a lively atmosphere in Dortmund. Handshakes and associated niceties are done, and we're ready to go. 
  Real Madrid XI: Navas; Carvajal, Ramos, Varane, Nacho; Casemiro; Kroos, Modric; Isco; Ronaldo, Bale.
  Borussia Dortmund XI: Bürki; Piszczek, Sokratis, Toprak, Toljan; Götze, Sahin, Castro; Yarmolenko, Aubameyang, Philipp.
  With five minutes until kick off, a reminder of the two teams... 
  Mario Götze, back at Dortmund after a spell with Bayern Munich, has warned Real Madrid that his side are in a rich vein of form....
   "It's another game, another competition and we want to play well," mused Zinedine Zidane in his pre-match press-conference. 
  This is what Peter Bosz had to say about his opponents: "I really like to watch Real Madrid. They play nice football with players that have excellent technique." 
  Here's the full run-down on the Borussia Dortmund vs Real Madrid team news. 
    Dortmund manager Peter Bosz, a summer arrival from Ajax, became the first debut coach in the history of the Bundesliga to have gone more than five matches without conceding a goal. For a coach who is not generally associated with defensive football, it's an impressive streak. 
Cristiano Ronaldo will play his 150th match in European competition this evening, drawing him level with former Liverpool stalwart Jamie Carragher. The Portuguese has eight matches to go to draw level with Raúl. 
Jeremy Toljan will occupy the left-back spot for the home side. The 23-year-old impressed for Germany Under 21s as they won the European Championship this summer, earning him a move from Hoffenheim. Toljan contributes well to the attack, so Carvajal must be aware to that threat, and Casemiro will have to think about covering the right side of the pitch. 
Borussia Dortmund's loss to Tottenham in the first round of fixtures has imbued this fixture with added significance for Peter Bosz' side. They can no longer accept two draws against Real Madrid in the knowledge that they will amass more points than Spurs in the other games. 
Bjorn Kuipers will be the referee this evening. Here he is leading his team of officials on to the pitch.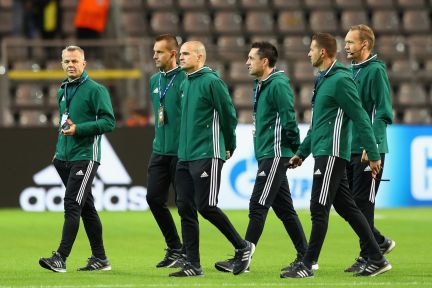 Dortmund are likely to field a 4-2-3-1, with Castro and (ex-Real Madrid) Nuri Sahin holding the midfield. Yarmolenko, Götze, and Philipp will float around in attack behind lead marksman Pierre-Emerick Aubameyang. 
  Borussia Dortmund XI: Bürki; Piszczek, Sokratis, Toprak, Toljan; Götze, Sahin, Castro; Yarmolenko, Aubameyang, Philipp.
There is no room for Marco Asensio in the Real Madrid team. It looks like Isco will occupy the 'No. 10' role behind Gareth Bale and Cristiano Ronaldo. Nacho continues at left-back in the absence of Marcelo and Theo Hernández.
Real Madrid XI: Navas; Carvajal, Ramos, Varane, Nacho; Casemiro; Kroos, Modric; Isco; Ronaldo, Bale.
TEAM NEWS!
Marc Bartra, formerly of Barcelona, has warned Real Madrid that he and his Dortmund team-mates will take them on "man-for-man". 
Real Madrid will be cheered on by around 2000 travelling Madridistas in Germany. Many of those are from the various club peñas across the continent. 
Pierre-Emerick Aubameyang is the man-in-form for Borussia Dortmund. The striker is razor sharp with 12 goals in nine matches this season, including a hat-trick in the recent 6-1 win over Gladbach.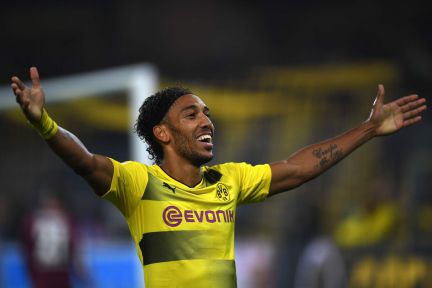 Real Madrid have never beaten Borussia Dortmund in the Signal Iduna Park. In the six matches the two team have played there, Dortmund have won three, and three have ended as a draw.
Dani Carvajal is likely to occupy the right-back berth for Real Madrid. The 25-year-old has played every minute of every match for Los Blancos this season, the only player to have done so. With 18-year-old Achraf, talented but inexperienced, as his back-up, Carvajal is likely to continue as one of the few Madrid players immune to rotation. 
Borussia Dortmund ran out 5-3 winners over Real Madrid in the UEFA Youth League this afternoon. Baeza Pérez, Dani Gómez, and Martín were the scorers for Guti's side. The 40-year-old achieved admirable results with Madrid's Juvenil A (Under-19) side last season, and has made no secret of his desire to manage the first team in the future.   
He may have drawn a blank in his two LaLiga appearances so far this season, but Cristiano Ronaldo is "in his element" in the Champions League, says today's Diario AS front page (below) - particularly against German clubs, who have been on the end of 23 goals by the Portuguese in 20 Real Madrid appearances in Europe's premier club competition.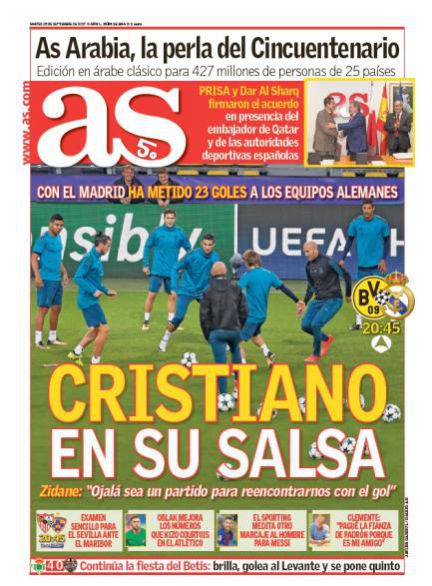 Hello and welcome to our build-up ahead of our live minute by minute coverage of Borussia Dortmund vs Real Madrid. The action from the Signal Iduna Park gets underway at  20:45. 
Dortmund v Real Madrid: Champions League preview
Real Madrid head back into the Champions League where they hope to leave the suspect LaLiga form behind them. They travel to Borussia Dortmund's Signal Iduna Park to take on the current Bundesliga leaders at 20:45 CEST.
The home side have never lost at home against Real Madrid with Zidane and co. coming in search of their first win following three lossss and three draws since their first visit back in 1998.
Borussia Dortmund latest news
Peter Bosz moved from Ajax to Borussia Dortmund in the summer having led a young side to the Europa League final. All signs point towards similar success after his first couple of weeks in the job in the Bundesliga. He insists, however, that Real Madrid are not vulnerable despire their questionable league form and injuries.
Bosz has his side playing attacking, high-pressure football, which sees Dortmund lead the Bundesliga with a two-point cushion after Bayern Munich's slip-up against Wolfsburg on Friday night with Hoffenheim in hot pursuit too. Dortmund hammered Borussia Mönchengladbach 6-1 to ensure there was no mix-up as to whether they would be putting in a title challenge or not. They lost 3-1 to Spurs in their first game but need to straighten the ship and Mario Gotze sent out a warning to their opponents on Tuesday night saying, "we are in really good form and playing at home".
Julian Weigl made his first start in four months having recovered sufficiently from a broken ankle but won't start given his lack of game. Bosz will also be without Marc Bartra, however, along with Sebastian Rode, Marco Reus, Raphael Guerreiro and Marcel Schmelzer.
Probably line-up: Bürki; Piszczek, Sokratis (c), Toprak, Zagadou; Castro, Sahin, Götze; Yarmolenko, Aubameyang, Pulisic.
Real Madrid latest news
Zinedine Zidane is taking it one game at a time and while he appreciates that Real Madrid have not been taking their chances, he says "I believe in what we are doing and the players I have".
Real Madrid beat Alavés at the weekend but did so under some pressure as they failed to put the game to bed at 2-1. Ronaldo still hasn't scored in his return to action in the league but as Ronaldo says, "the Champions League is Real Madrid's competition" and is an entirely different beast altogether.
Toni Kroos trained with the group on Monday and looks set to start despite missing out on the trip to Vitoria at the weekend.
Meanwhile, Zidane has no fresh injury concerns with Benzema, Kovacic, Theo and Marcelo continuing in their respective recoveries.
Probable line-up: Navas; Carvajal, Varane, Ramos (c), Nacho; Kroos, Casemiro, Modric; Isco, Bale, Ronaldo.
Dortmund vs. Real Madrid live stream online: betting
Spaniard Marc Batra to open the scoring in Dortmund pays out at 34/1.
Place your bet on BVB - Real Madrid here.



Champions League
*Update 25 de septiembre de 2017



Champions League
*Update 25 de septiembre de 2017