Sporting 0 - 1 Barcelona: match report, goals, how it happened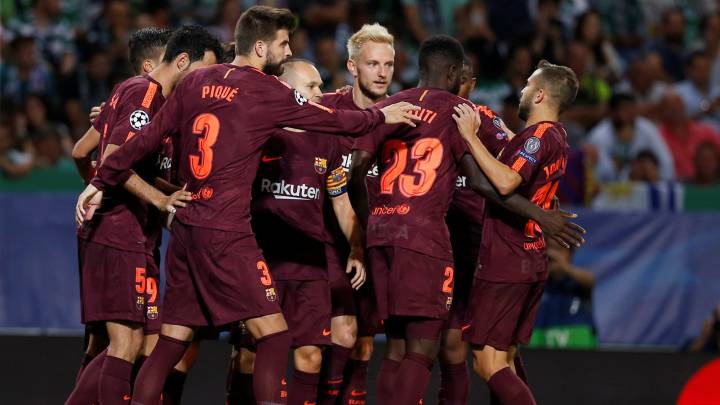 Sporting Clube de Portugal welcomed FC Barcelona in matchday 2 of the 2017/18 Champions League to the Estadio Jose Alvalade in Lisbon. With two teams facing each other that had both started the season in fine form, an exciting, high-intensity match was hoped for, with goals a plenty. This was partially lived up to.
Sporting press and close out Barça space
The game moved from end to end with both Jorge Jesus and Ernesto Valverde clearly confident in their respective sides causing problems for the opposition's backline. Sporting came into this with 16 goals in the opening seven league game while Barcelona had delivered 20 in just six. As it turned out, goals were not to be in plentiful supply on a night that would be decided by a single, and scruffy, own goal.

The Lions were at it from the start. A high tempo, matched by the intensity of their fans, and a regulated press that at opportune times pushed on as far as to hurry Ter Stegen's clearances but rarely too much to leave them stretched behind. This press closed off several of the gaps that Barça's creative players so often take advantage of and they hunted in packs as the Catalans moved into the final third.
Scruffy own goal the difference
Barça's quality was not completely stifled, though. Iniesta and Messi were still able to pick the lock of a heavily guarded door but on relatively few occasions. And when they did, and the offside flag stayed down, cover was quickly across to snuff out the danger. Both Coentrao and Mathieu had previous with the blaugrana; both excelled in key moments for their current club.

The goal, when it came, was scruffy and unnecessary from Jesus' perspective. One of several free-kicks had been cheaply given away and there should have been enough bodies in green and white to clear the inswinging delivery. A slight flick on from a leaping defender caused confusion and Luis Suárez added to that, but the ball bounced off Sebastian Coates who couldn't react quickly enough to stop it drifting past the wrong-footed Rui Patricio.
Barça did enough for three points
Chances came and went at both ends, with the visitors, unsurprisingly finishing the match with over 60% possession, but neither team were able to put the chances they had away. Some will say this was a lack of clinical edge in front of goal on the night, which is true, however credit must also go to both Patricio and Ter Stegen for second half saves when it looked more likely a goal would come. Barcelona were not at their sharpest but did enough and will be delighted to come away with three points that mean they top Group D and are in a great position to stay there.
Sporting vs Barcelona online: how it happened live
  Thank you for joining us tonight for our live coverage. It was a pleasure to have you here and we'll be back very soon with yet another. Match report will be up soon.
90'+3' Final whistle blows. Barcelona go home with the three points and maintain their 100% record in 2017/18.
90'+3' Last minute chance for the hosts to get something here with a free kick to deliver well into the packed penalty area. A good delivery needed, a good delivery not produced. It's away...
90'+1' Sporting still going for this but Barcelona have closed up shop and spaces are limited.
89' A chorus of 'Cristiano Ronaldo' goes around the stadium. as the board goes up with three added minutes.
89' Final change for Barça as Suárez leaves and Vidal comes on. Seeing it out is all that matters now for the Spanish giants.
88' At 0-1 this game can still slip away from Barça and Sporting get another strike away from Fernandes. Straight at the keeper.
85'   Second change for Barça as Andre Gomes replaces Sergi Roberto.
85'   What a chance for Paulinho to finish it all off. Suárez intercepts in the middle of the park, Messi then rolls it into the path of the overlapping Brazilian but he can't beat the onrushing Patricio one-on-one.
81'  78'   Barcelona get some more controlled possession and try to build slowly as the clock ticks towards three points. But Sporting continue to get numbers in to the key spaces and toe the ball away at critical moments to start a break. Those breaks though are not getting far enough up the field to cause problems.
78' Captain Iniesta goes off for new signing Paulinho. Shoring it up time from Valverde?
78' More pressure for the Lions as the ball is lifted from deep on the right into the area and Dost heads down to the waiting William Carvalho who can't shape his body around it and skies over.
76' Again Sporting create a chance and Bruno Fernandez (once again) pulls the trigger. Could have caused problems for Ter Stegen but it's blocked before it gets to him. Oooohhhhs fill the Lisbon evening air.
75' Fabio Coentrao is off, replaced by Jonathan Cristian Silva
75' You can feel the crowd grow in hope again that their boys could get something out of this. 
73' Great chance for Sporting. They catch Barça sleeping and Fernandes is given a strike on a plate. Ter Stegen stands big and blocks.
72' Twinkle toes Messi dances along the edge of the area before laying the ball off to Rakitic who doesn't react in the instant he needed to for it to remain a threat. 
70' Are Barça trying to coax their hosts onto them to give themselves more space at the other end? The last few minutes suggest that could be the case.
66' Semedo is Barça's first name into the book after his miscontrol created a 50/50 that he was second to. Huge cheers for the ref with no hint whatsoever of sarcasm.
66' Sporting are building on their minutes in the Barça final third and a ball into the mixer from Coentrao on the left sees Ter Stegen fly out with a punch clearing the threat.
63' More whistles as a free kick is given to the visitors in a dangerous position, fairly central outside the area. Messi steps up and curls it over the wall and over the bar. It was Sergi Roberto who was tripped as he burst towards the box.
60' The home team and supporters are feeling rather hard-done by at the moment with every decision appearing to go against them. Acuña tries to out-manoeuvre Semedo deep on the left but a few nudges and the midfielder loses control and the ball runs out of play. No foul given, probably right.
55' Coates now the sixth booking for Sporting and it looked a soft one. He stretched to knock the ball away from Suárez in a nothing area of the pitch and the striker grimaces enough for the ref to buy it. 
55' What a tackle from Mathieu! Messi looked to be in and about to shoot but the impressive ex-teammate sweeps it away just in time.
53' Sporting scream 'penalty' but nothing given. Dost seemed to be being held by Rakitic at the back post (the Barça player not even looking at him). Seen them given. Cue more shows of displeasure from the masses.
52' Barça try to build some pressure to kill off this game while the feelings are raw but Iniesta and Messi can't find a way through the crowd.
51' The boos and whistles in the stadium make it clear that they're not happy with the man in the middle.
49' Incredible how the noise in the stadium drops a notch after a situation like that. A few niggly fouls by the frustrated Lions lead to Piccini seeing yellow.
47'   Goooooooaaaaallll!! Barça take the lead from the resulting free kick. Swung in from way out on the right and it's missed by eevryone and bounces in past Patricio off teammate Coates under pressure from compatriot Suárez. Scruffy but they all count.
47' Foul by Acuña didn't look like much but replay shows his arm caught Semedo in the face. Card shown
46' Barça hold on to the ball in their own half from the kick off but pressure put on them by Fernandes forces the error and Sporting almost create a chance.
And the second half is underway
OK, that's the teams back out onto the field, Suárez and Messi having some under the hand conversations.
Jesus will be disappointed to have lost the mobile Doumbia who had to go off just before the break. It'll be interesting to know what he said to his new player after his dive resulted in a booking and caused the injury.

Sporting will come out to the same noise in the stands and will aim to keep the pressure on. They worked hard and denied a lot of space and time for their illustrious opponents. Messi, among others is still finding the holes though...

Both sides will go into the dressing rooms content with their first 45 minutes but the message from Valverde will be to tidy up in the final move. The visitors have moved the ball around nice enough, and had a few 'almost' moments that based on recent games they should have done more with.
45'+1' And there it goes. Entertaining enough without too many clear cut chances. The home fans whistle the departing officials feeling hard done to on a couple of decisions but the ref has not really put a foot wrong.
45'+1' The pace has dropped in the last minute or two as the players consider the whistle...
45' We'll have an extra two minutes of time in this half.
42' Doumbia off, Bas Dost on. That dive seems to have hurt more than his pride.
42'   It took Doumbia a couple of  minutes to get back to his feet - possibly hoping the ref would forget or be sympathetic if he was hurt - but the game gets back underway and Messi almost opens the scoring. Silky feet to skip passed the first defender before his shot is blocked by a diving Coentrao. He loved that!!.
37' Martins collects on the right and rolls one perfectly into the path of the onrushing Doumbia who looks to break into the box. A challenge from the side by Piqué has the striker flying to the deck but as he slowly gets back up it is him who is shown the yellow. More simulation than a NASA training programme.
35' After a passage of play in the middle of the park, mainly with the visitors in control, Iniesta is fouled wide on the left and Messi has the chance to deliver into the danger area. Into the crowded box it goes and Piqué does well to head it back across goal and it's nicked away just in time before anyone can knock home. Close
31' Sporting get a chance to stretch the play down Alba's flank but as it comes to Martins he miscontrols and it's out for a throw. 
30' The free kick from Battaglia hits the wall and Barça look to break. Sporting get back smartly and slow up the play.
29' Two fouls on Sporting players in quick succession: Busquets then Piqué stop breaks from the middle of the park. Free kick awarded for the second in a more dangerous situation...
27' Two quick chances fall to Barça and their number 10 at the heart of them both. First he picks up an Iniesta pass in front of the Sporting area and feeds it into Suárez' path. His left foot strile is saved. The rebound is picked up by the Uruguayan on the left of the area and he drifts it in for Messi to head straight at Patricio.
26' The resulting pressure sees a cool bit of skill from Semedo but as he steps out of his area calmly, Coentrao slices him down. 
24' Corner to Barça comes to nothing and Patricio gives everyone a little breather as he takes his time over the free-kick which he then launches all the way through to Ter Stegen
23' Both teams are happy to press right up to the opposition keeper to make it as uncomfortable as possible. Gelson Martins is playing too much for the home team's perspective in his own half but it's tough when Jordi Alba needs to be tracked.
19' The home fans are keeping with the pace of this game and the cheers rise as Bruno Fernandes cuts inside from the right, shifts the ball onto his left and lets fly. Pique stands strong in the box to block it off some part of his body. A stinger.
17' End to end stuff at the moment. Messi feeds Jordi Alba as he breaks around the defence and he rolls it across the area for Suárez to tap in. The Uruguayan must have seen the offside flag up for his teammate as he slides it wide.
16' Sporting then move it forward nicely and Piccini cracks one from around 25 yards. Ter Stegen lifts a hand but just to point it over the bar. Nice strike!
15' Suárez gets a whiff of the Sporting goal as the ball breaks to him just outside the area but his right-footed strike sails over.
12' That pressure has won the ball back well and Sporting hold on to it for a good 30 seconds or so (that's a decent amount of time in the current style of their play!) Battaglia now has a chance to create some danger after a Piqué foul. A few high headers hint at danger but it never really looked like coming to anything.
10' Barça with around 60% possession but Sporting working hard to close down the spaces, sometimes pushing into the opposition half but mainly aiming to frustrate around the halfway line.
8' 8' Sporting almost pay from a corner which is swung in from the right and almost finds the inside of the back post. Patricio will say he had it watched out all the way.
6' Gelson Martins into the book 
5' The Catalans have a bit of pressure relieved as Sporting sit back momentarily and this allows them to put in Messi behind the home defence and with a run in on Patricio...flagged offside before he pulls the trigger. Not sure about that one, must have been close.
4' Some nice play by Gelson Martins gets Sporting moving down the right and they almost fashion a chance before its smothered out by Busquets.
2' Iniesta is then almost played in down the inside left channel but it's played away to safety 
1' Barcelona get some early touches and Doumbia trips Semedo to give them control
We're off! Sporting get us going...
Nélson Semedo comes back into the side in a trip back to his home town. He's already shown he's a solid player at the back for Valverde and can prove it further here.
Champioooooons League anthem rings out as the teams line up (lots of whistling during that) and the players politely welcome each other to the game. Photos, captain handshakes and we're almost ready to get this game going.
Just over five minutes to go and the green and white scarves are being held aloft as the fans sing Sinatra's 'My Way'. Impressive sound!!
It was great to hear the Franz Ferdinand classic 'Take me out' as the player's warmed up on the pitch. If they weren't already mad for this game then that shoudl have sorted them out.

Several Barça fans have made the relatively short trip across Spain to a very welcoming Estadio Jose Alvalade. It's a balmy 23 degrees in Lisbon and they're in for a fun night in a city of fado and fine wine. 

Barcelona seem to enjoy Portuguese opposition in the Champions League. The Catalan side have never lost to a team from the western Iberian country and few expect them to change that stat in the next few hours. A reminder that in the last meetings between these sides, in the Champions League group stage, Barcelona had an 8-3 aggregate win. More telling was the 2-5 reverse in Lisbon...although maybe even more telling is that the games took place in 2008! Tonight we expect goals, but not a one sided game.
So Coentrao starts for the home side against a familiar foe and new signing Seydou Doumbia starts ahead of Bas Dost up front. For Barcelona the surprise starter is Sergi Roberto who takes his place somewhere along the line with Messi and Suárez. We'll see when both teams take to the field what the actual formation will be.
  I hear your interest growing in the club that you may have heard referred to as 'Sporting Lisbon' in the past. Thanks to social media and a more informed footballing fraternity Sporting are getting their correct name back on an international stage. Guess what? We wrote a whole piece about it not that long ago, so go impress your friends. Sporting Clube de Portugal #NotSportingLisbon. Interestingly, their opponents Barça tonight also went through a name change, although football coverage was a bit different back then.

For those of you who are not following the Portuguese league - there's a lot of football out there so we understand - Sporting Clube are sitting second, just two points behind leaders Porto. They were enjoying a fine 100% run until the weekend's 1-1 draw with Moreirense (no laughing matter some amateur humourists might say!) and suggestions were made, and quickly denied by the manager, that their collective eye was looking towards tonight's clash. That draw was even thanks to an own goal.
LaLiga leaders Barça go to Lisbon fresh from making it six wins out of six in the league at the weekend, beating Girona 3-0 in the Catalan sides' first ever top-flight meeting; Sporting, meanwhile, were held to a 1-1 draw at Moreirense that left them two points behind early pace-setters FC Porto.  

Both teams go into tonight's matchday two clash having won their openers two weeks ago: hosts Sporting survived a late, late fightback in Greece to beat Olympiakos 3-2, while Barcelona exacted some measure of revenge for their last-16 exit to Juventus by comprehensively seeing off the Vecchia Signora 3-0 at the Camp Nou. 
Welcome to our live online coverage of Sporting Clube de Portugal vs FC Barcelona in matchday 2 of the 2017/18 Champions League. Kick-off at the Estadio Jose Alvalade in Lisbon is at 19:45 local time (20:45 CEST) Wednesday 27 September 2017, and we'll be building up to it throughout the day.
Sporting vs Barcelona online: match preview
Beautiful Lisbon is the setting for this second group game between the two sides that have already claimed three points and both managers know that another win would put them in a great position to qualify for the knockout stages.
Sporting latest news
The Champions League three-point start for the Lions beating Olympiakos 2-3 in their own back yard had continued their excellent start to the season. Not until last weekend – in a 1-1 draw against Moreirense – had Sporting dropped points and manager Jorge Jesus denied that it had anything to do with thoughts of the Spanish giants coming to town.
"I don't think the game against Barcelona weighed heavy; the fact we played poorly in the opening 45 minutes wasn't to do with that. After the break, we were fighting again, and we could have gone 2-1 up," he said after the draw.
Positive news for Jesus is that he has no injury worries ahead of what will be by far and away their toughest test of the campaign. Striker Bas Dost and supporting Gelson Martins are looking good with four and three goals respectively. Add to their threat the five goals in seven games from midfielder Bruno Fernandes, plus a noisy home support, and we have the recipe for a very interesting night. Barça will start favourites but will be guilty of negligence to take their opponents too lightly.
Barcelona latest news
Sitting pretty at the top of LaLiga after six games, with a surprising seven points between them and expected title rivals Real Madrid, Barcelona will arrive in good spirits for this match in Lisbon.
Ernesto Valverde's team have notched up six league wins out of six, to go with the most impressive result this season, a 3-0 victory over Juventus in their Champions League opener, and the new manager has been encouraged with strong performances from fellow new recruits Paulinho, Nélson Semedo and the returning Gerard Deulofeu. The latter has a chance to stake a claim for a regular starting birth alongside Luis Suárez and Lionel Messi in the forced absence of record signing Ousmane Dembélé.
Goals have been in plentiful supply both at home at away with a combined total of 23 for and 2 against in the seven games. Sporting will do well to keep their net unbothered for the full 90 minutes. One of the main reasons for Barça's success in front of goal has been the scintillating early form of their continued talisman, Messi, who has 11 goals to his name. Quieting the Argentine genius will surely be part of Sporting's plans, but that's a tough ask and often just provides others with more freedom to have an impact. On the potential that another man-marking job will be imposed on the mercurial number 10, Valverde agreed saying:
"Messi being man-marked is something that can happen. But it's also certain that it will create openings for us to take advantage of."
Sporting Clube vs Barcelona Live stream online: potential line-ups
Sporting Clube XI: Patrício, Piccini, Coates, Mathieu, Coentrao, Carvalho, Rodrigo Battaglia, Fernandes, Acuña, Martins, Dost
Head coach: Jorge Jesus
Barcelona XI: Ter Stegen; Semedo, Piqué, Umtiti, Alba; Busquets, Iniesta, Rakitic; Messi, Suarez, Deulofeu.
Head coach: Ernesto Valverde
Sporting Clube vs Barcelona live stream online: betting
As expected, Barcelona are backed strongly by the bookmakers despite it being an away game with them almost 3/1 ON to win. If you're looking for some better value for your euro, why not consider Sporting to have a hard-fought half-time lead but the Catalans to come through in the second half? That wager would turn 10 euros into 160 euros.
Place your bet on Sporting vs Barcelona here.