Benzema shows off new luxury car just days after minor collision
The French striker appears to be pleased with the new silver coloured Mercedes-Benz SLR McLaren Stirling Moss Edition.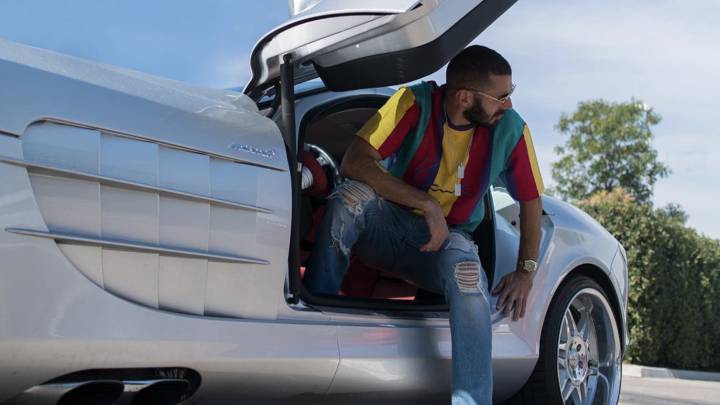 Real Madrid striker Karim Benzema has a new car and has been showing off the vehicle on his social media accounts.
The luxury sports-car is a limited edition named after legendary British driver Sterling Moss with only the owners of a Mercedes-Benz SLR having access to acquire one of the 75 limited edition vehicles which cost over 750.000€. The car can go from 0 to 100km/h in just 3,5 seconds and has a top speed of 350 km/h.
Madrid accident
Just last Friday Benzema was involved in a minor car collision close to the Spanish capital's Adolfo Suárez Madrid-Barajas airport. The Real Madrid striker's car (an Audi RS6) collided with a Nissan Note on the M-13 motorway (close to Paracuellos del Jarama) with the incident occurring just before 19:00 CEST.
Spanish traffic police were called to scene to ascertain the damage suffered by both vehicles as an ambulance crew checked the physical condition of both drivers and confirmed that neither individuals of the implicated vehicles displayed any physical injuries. The traffic police proceeded to carry out a preliminary roadside alcohol breath test which proved negative for both the French striker and the driver of the Nissan.
Previous
Benzema is currently undergoing rehabilitation after suffering a hamstring injury on September 9th in the home game against Levante and is hoping to to resume light training at Valdebebas next week.
This is the latest installment in a series of road side incidents that the Lyon born player has been involved in since moving to Madrid. In 2009 he collided with a fence at the residential Urbanización de La Finca. Just days later whilst on holidays on Reunion island a Lamborghini crashed after swerving to avoid a Porsche which the Madrid striker was driving at the time in an apparent 'race'. Benzema has also been fined for speeding on the island of Ibiza and in Madrid where he was caught travelling at 200 Km/h on the M-40 motorway.