Fuenlabrada hoping to derail Real Madrid's Copa del Rey campaign
The Azulones are one of the classic sides in the Segunda Division B. Cata Díaz and Jordi Codina feature in their ranks. Then there's their stadium, the Fernando Torres.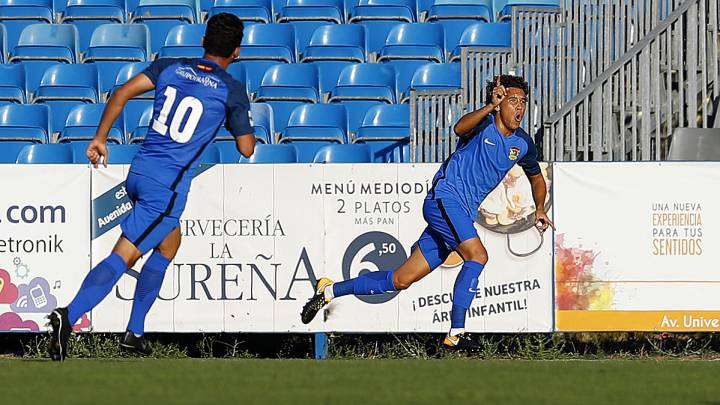 Fuenlabrada will take on the capital's more venerable rivals Real Madrid in this year's Copa del Rey Round of 32. It's a challenge of giant proportions for modest Fuenla, from the satellite town of the same name in south Madrid - one akin to their big dream, of one day gaining promotion to Spain's second tier, the Liga 1|2|3.
Fuenlabrada on the rise since 1975
Relatively, the club has come a long way since it was founded in 1975 and playing week in, week out at the old Aldehuela stadium — a million miles away from their modern, Fernando Torres Stadium - named after the district's most famous son, which was inaugurated in 2011. Unlike Real Madrid, Fuenla even have a women's team - a team who are doing spectaculraly well; CFF Fuenla were promoted to the Preferente Division after a maiden season in which they didn't lose a single match.
Since 1995, Fuenlabrada have alternated between the Segunda B (sixth is their best finish in the category) and the Third Division - their last spell in the division was in 2012. Five years on, Fuenlabrada remain the humble, working class club they have always been but the team's competitive capacity underwent a transformation after local businessman Jonathan Praena took over as president and owner in 2015.
Morientes' short-lived spell as Fuenla coach
Praena boosted the club's budget and made the first big name signing, bringing in ex-Real Madrid striker Fernando Morientes as coach in June 2015. Results didn't come for Morientes who was sacked after just a few months in charge and made way for Serbian coach Josip Višnjić. He lasted as long as Morientes and was replaced in October 2016 by Antonio Calderón who remains in the post to this day.
Calderón took the helm when the team was hovering in no man's land in the middle part of the division's Group II table. In a matter of weeks a miracle was taking place - the coach has implemented his high-pressing, passing style and the results were beyond their wildest dreams. Calderón guided Fuenla to their first promotion play-offs in club history.
The team which took on Villanovense for a place in the Liga 1|2|3 was formed by players seasoned in the Segunda B such as Dioni, Paco Candela and Cervero alongside younger talents such as Luis Milla (son of the former Barça and Real Madrid midfielder), Diéguez and Yaw. The adventure was short-lived - Villanovense won 1-0 home and away, scoring two penalties.
Fuenlabrada renew their squad
Coming so close to what would have been an historic promotion was a huge blow but at least it served to promote a new sense of optimism around the club. Fuenla are flying this season, having won their last three league games and beat CD Calahorra away from home in the last round of the Copa. The team trails leaders Celta B by just one point in Group I of the Segunda B.
Some members of last year's squad remain - such as Milla, the team's captain, Dioni, Yaw, Paco Candela. Cristobal, Juanma, Rubén Sanz and Pol. One of the reinforcements of the summer was former Getafe, Atlético de Madrid and Boca Juniors centre-back Cata Díaz who, at 37, is a first choice in defence. Another familar name is ex-Real Madrid goalkeeper Jordi Codina, who is second choice to Pol in the league and Calderón's first choice in the Cup which means he will be facing his old club in the Round of 32 ties on 25th October and 29 November.