Las Palmas boss Pako Ayesterán: "I hope we're up to the task and able to guide the club to safety"
Newly-appointed UD Las Palmas coach Pako Ayestarán was presented on Thursday and will face Barcelona in his first game in charge, at Camp Nou on Sunday.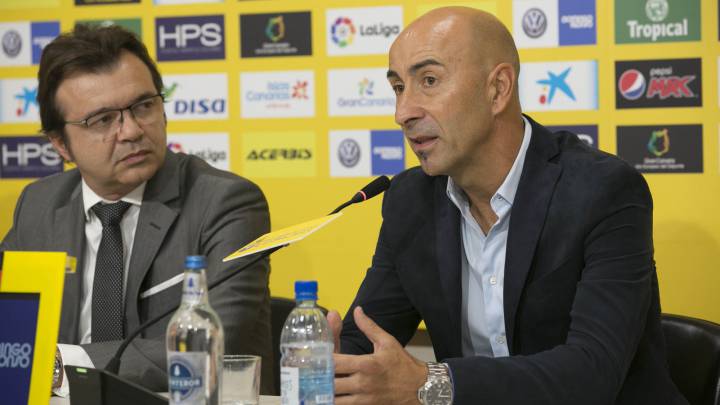 Pako Ayestarán was presented as new coach at UD Las Palmas on Thursday evening, along with members of his coaching team David Caneda and José Viela. Ayesterán has previously held coaching positions at Valencia and Santos Laguna but is more known for his hugely successful stint at Maccabi Tel Aviv, guiding the team to an unprecedented league, State and Toto Cup treble as well as his time as Rafa Benítez's right-hand man at several clubs including Valencia and Liverpool. He takes over the reins at Las Palmas following the surprise departure of Manolo Márquez, whose short-lived spell came to an end on Tuesday. Curiously, another member of Benítez's technical team at Liverpool, Paco Herrera held the Las Palmas job briefly at the start of the 2014/15 season.
Ayesterán to address Las Palmas' defensive issues
A baptism of fire awaits Ayesterán, whose first game in charge of the islanders is against Barcelona, at Camp Nou on Sunday. He comes into the job with the team in 15th place in the table with just two wins from six - against Málaga and Athletic Club in Weeks 3 and 4.
Pako began by thanking the club and board for placing their faith in him and continued: "In the interviews I have done while I was out of coaching, I was usually asked what kind of team I was looking to coach. What I want is to be at a club where people genuinely believe that I am the adequate person for the job because that conviction erases any doubts and fears. Conviction is what allows you to survive and what enables you to get where you want to be", he explained, adding, "It's not easy for people who love football to be out of the game and we are convinced that Las Palmas is the right place for us. Years ago, my big dream was to be at Valencia, which I did; and also work in the Premier League which I also achieved at Liverpool. Now, the feeling is similar to be here at Las Palmas. It's a special club for its particular style of football and coaching here was on my list of priorities".
It costs nothing to believe, says Ayesterán
Ayesterán explained that he hopes to implement an associative, passing style while making the team versatile enough to easily switch from a 4-3-3 to other formations. "The system we prefer is more positional, focusing on our strengths but more than anything we want the players to feel comfortable on the pitch".

As for his debut on the bench against Barça this Sunday, he said: "We could have let these next couple of days pass and start working seriously during the international break, but we have time to begin organizing the team's defence and our attack so that we can at least give ourselves a chance against Barça. These kinds of game are a challenge - the kind that everyone likes to have. It's a wonderful stage to make our debut and hopefully unity will see us through and the players are well organized on the pitch. We have to have belief and that's what we are going to try to do. It's going to be difficult but you always get an opportunity. We'll see if we are capable of coming away with a result".





LaLiga Santander
*Update 28 de septiembre de 2017