Guardiola knows who Bayern's new coach will be, and approves
Luis Enrique, Louis van Gaal and Thomas Tüchel are the favourites to replace Carlo Ancelotti as head coach of Bundesliga giants Bayern Munich.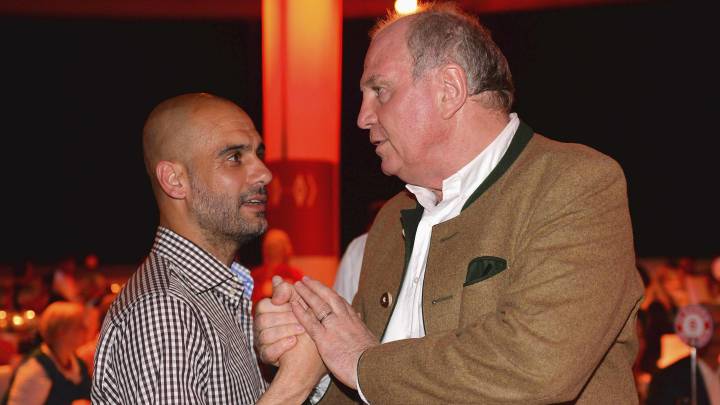 Pep Guardiola has been let into what at the moment is the best kept secret in Germany: the identity of Carlo Ancelotti's successor as Bayern Munich head coach.
Hoeness discusses new appointment with Pep in Munich
The former Bayern boss, now in charge of Premier League club Manchester City, is currently in Munich to attend Oktoberfest, and on Tuesday had lunch with Uli Hoeness at an Italian restaurant, where the German champions' president took the opportunity to discuss the Bavarians' new appointment.
"He [Pep] had promised me that he'd come to Oktoberfest every year," Hoeness revealed to the newspaper Abendzeitung. "It was a meeting between friends, but of course we also talked about professional matters. I told him who we were going to appoint in the coming days, and he was in favour [of the choice]."
Luis Enrique, Van Gaal and Tüchel in frame for Bayern job
Among the candidates rumoured to be set to replace Ancelotti - who was sacked last week after Bayern's 3-0 Champions League defeat to Paris Saint-Gemain - are two names that Pep knows well from Barcelona: Louis van Gaal and Luis Enrique. Indeed, all three coincided at the Camp Nou during the Dutchman's first spell as Blaugrana coach.
However, the favourite in Germany is former Borussia Dortmund boss Thomas Tüchel, a coach who is a keen disciple of Guardiola's methods and who the Catalan also knows well, having previously been spotted enjoying tactical tete-a-tetes with the 44-year-old at a popular bar in the Bavarian capital.
Bundesliga
*Update 4 de octubre de 2017