Spain 3-0 Albania World Cup 2018: match report, goals, action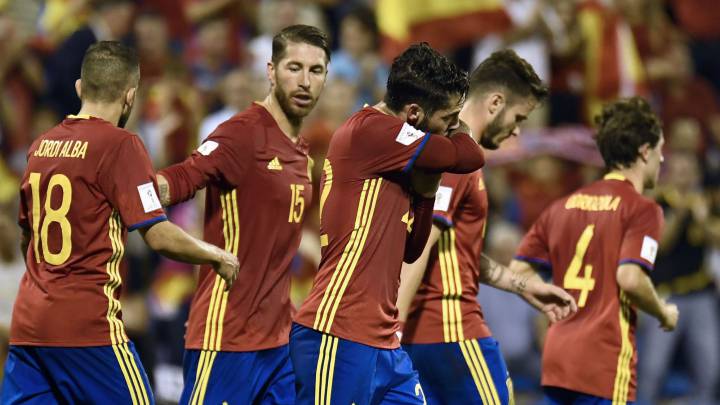 Spain 3-0 Albania: match report
Spain can officially start to looking for accommodation in Russia for the summer of 2018 after putting paid to Albania with an emphatic first half display. Despite the controversy surrounding the game, the team and various members of the squad and their political views in the build-up, Spain looked as well-drilled and incisive as ever in the game that finally sent them on their way to the World Cup.
Julen Lopetegui opted for Rodrigo to lead the line following an impressive start to the league season with his club. He has scored four in seven games for Valencia so far and it took him just 16 minutes to open his account for Spain.
He took down a chipped Isco pass in the box, and sent it back across his body on the half volley. It was unorthodox but effective and caught Etrit Berisha off guard in Albania's goal.
Just eight minutes later and Isco had made it two. A lovely move involving Piqué,Silva, the mightily impressive debutant Odriozola, Koke and finally Isco as he drove to the roof of the net.
Thiago drove a header to the back of the net from Odriozola's perfect cross and Spain had not one but two feet in Russia. There was no looking back from a three-goal lead with Spain playing such attacking and convincing football.
The second half involved chances for Spain but they failed to truly convince that they weren't content with the lead. Rodrigo came close twice and might have done better as he snapped at his two chances set up nicely by Silva and Koke.
The biggest news from a far tamer second half was Piqué, the figure at the centre of debate in Spain at the moment, was booked and will miss the trip to Isreal on Monday.
Andres Iniesta, Sergio Busquets and Alvaro Morata were all missing from Lopetegui's starting team but this game proved that those knocking on the door can both get them to Russia and will be capable of some fireworks if given the chance once they're there.
Spain vs Albania live stream online: latest news
90'+2' Then he blows it up! Spain through to the World Cup.
90'+2' Ooooh, Asensio swings his left at it and it's tipped over. Or at least it looked like it was. Ref says goal kick.
90'+2' The free is just killing time for Spain.
90'+1' Saul with a nutmeg as he breaks free. Ateji then shoulder checks him as he passes him. Free to Spain in a position that looks a little too far out from goal.
90'+1' Two minutes to be added on.
88' Isco ruled out for offside.
85' Spain really comfortable with their lead now. Nothing Albania can do either. 
83' Odriozola trying to make some kind of an advancement down the right but he is shown the endline and that's it. Falls over as the ball goes out of play.
80' Late addition, Artiz Aduriz replaces Rodrigo. 36 years young.
76' Saul the latest to go close. Asesnio finds him in the centre of the penalty area, unmarked. The midfielder strike wide. 
74' Asensio on for David Silva.
73' Sadiku drives over after Latifi's shot is saved by De Gea. It was straight at him but he didn't flinch. 
72' Silva out wide to Isco. He sends a cross towards goal but it turns into more of a shot and bounces off the crossbar and over. Goal kick.
70' Straight up the other end and Hysaj pulls back Rodrigo as he tries to break. Booked. Isco whizzes the free over the bar.
69' So unlucky. Ball arrives in to substitute Sadiku and he heads off the post. Looked like De Gea was beaten if it was on target. Albania just can't catch a break.
67' Corner for Albania and it's straight to De Gea.
64' Silva booking. He had a clip at Grezda late. 
61' Spain taking the foot off the pedal now for the moment. Seems 3-0 a comfortable enough lead. Struggling to break down Albania further.
59' Piqué is taken off for Nacho. The whistles ring out but the cheers can be heard too. He will miss the game against Isreal on Monday after his yellow card.
59' Ajeti heads wide from a corner.
57' Albania want a penalty for a handball from Alba. Ref waves it away and so does Alba.
55' Rodrigo again. He snaps at the shot. Silva to Koke and the Atleti man played him through. 
52' Silva plays Rodrigo through. He makes a move to get on his left but strikes and Berisha saves. 
49' Pique booked.
49' Alba down the left. A lovely ball into Koke. He heads and Berisha saves. great chance but Koke didn't put enough on it. 
49' Long ball to Odriozola. He plays it inside to Silva, who slips, recovers and gets a shot away. That's blocked and Isco strikes but doesn't make clean contact. 
47' An early yellow for Grezda as he takes Jordi Alba down. The Barca man not happy and jumps up to let him know.
46' We are underway for the second half.
  Two changes for Albania at the break as Panucci tries to affect the game. Sadiku replaced Balli and Memolla is replaced by Agolli. 
45'+1' Corner comes in, De Gea saves and the referee blows for half-time.
45' Piqué has his pocket picked and gives it away to Grezda. He squares and Sain recover. Piqué really not happy and thinks he was pushed. He's lucky too because he tried to grab the Albanian but failed. He would have given away a penalty and probably have been sent off.
43' Ramos fouls Grezda after a good spell by Spain. 
42' Ball comes into Memushaj from Grezda. He has to make contact and most likely scores if he does but he misses completely. 
39' Odriozola with a lovely cross (copy and paste), Rodrigo peels away and heads just over. Nice move.
38' Xhaka drive a shot over from outside the box. Ball arrived in and Ramos headed to the Albanian. 
34' Spain cutting through Albania here. Silva again. he sends it out wide to Alba who sends a shot back towards goal but ultimately wide. Rodrigo thinks he could have turned that one home at the back post! Alba was thinking of 4-0 with his name on the scoresheet.
33' Silva with a through ball you'd only see on FIFA. Rodrigo through at an awkward angle. Berisha gets down, makes himself big and saves. Silva sends it over from the rebound with a header. 
31' Alba down the left and another dangerous ball low and to the front post. Rodrigo can't wrap his foot around it and Ajeti gets something on it corner.
29' Balliu crosses and Memushaj takes it down but Spain put it out for a corner. Albania take it short. Shot off by Memushaj from out on the right. Wide.
27' Kace booked now for a foul on Jordi Alba. An elbow to the face, no less.
27' Just before the goal, Llullaku hit the crossbar with a header. Then Taulant Xhaka was booked for pulling back David Silva.
25' Odriozola with a lovely cross and Thiago buries the header.
24' What a finish. Piqué to Silva. He takes it forward and plays an easy pass to Odriozola. The Real Sociedad man lobs it over two Albania players and back to Silva, who gives it to Koke and then to Isco, who drives it to the roof of the net.
22' Corner for Albania and Memushaj puts it out of play! 
20' David Silva turns on a dime and shoots with his left. Wide at the near post. 
17' Ramos heads a Koke free towards goal. Berisha palms over and Spain should have a corner but a free is awarded to the defender Ramos was climbing on.
15' Rodrigo makes no mistake this time! He scores his first ever goal for Spain in his first ever start. Isco with the chipped pass his way and he catches it on the half -volley completely wrong-footing Berisha.
13' Isco crosses to Rodrigo but he misses with the header. Some lovely interplay between Thiago and Isco, with a little bit of Piqué sprinkled in for good measure.
10' Odriozola with another dangerous ball and half-cleared by Albania. Isco ends up shooting from distance but not hard enough. Spain keep possession in the end and try to attack again.
10' Odriozola with a cross. Blocked by Memolla and comes off his face. Goal kick and unlucky for the debutant.
9' Shot by Llullaku is saved by De Gea.
7' Isco on the left. Saul and Thiago in the deepest midfield positions, Koke slightly ahead of them and cutting in and Odriozola out wide. Silva on the right and further forward and Rodrigo is the striker. I think.
6' Alba drills a cross into the box. Rodrigo gets a foot to it but can't direct it goalwards.
5' Odriozola out on the right and he swings in a cross. Too deep. Spain keep it though and Isco sends it back in and Albania clear.
4' Some neat football by Spain before Isco coughs it up. Thiago arrives to save him and slides in on Xhaka. Ref says it was a free despite Thiago pointing at the ball and assuring him he got it! 
3' spain's first move forward. Thiago tries to find Odriozola out wide but his pass hits Isco and Albania recover.
1' Also, on Pique-watch and he gets whistled to the high heavens. Louder than normal. Very silly really.
1' Vamos! We are underway in Alicante.
We will have a semi-detailed description of what tactics Lopetegui is playing when the game starts. It is unclear as to what Lopetegui expects of Saul or Rodrigo. 
And now the Spanish one. Not one of the team singing! (There are no words).
A rousing rendition of the Albanian national anthem....
Panucci, of course, who took oveer the national side this year spend three years with Madrid and said in an interview last night that he considers Spain his second home. He was also gushing with praise of the quality within Spain's side and how good they have been now for the last number of years.
It will be interesting to see how the people of Alicante welcome Piqué tonight. He recieved a belter of a welcome when he landed in Alicante. There were fans in Las Rozas in Madrid who were chanting Viva La Guardia Civil and went specifically to jeer him and then recieved a mixed reception at training last night. His press conference the other day may have helped as he tried his best to calmly explain how he feels.
 The brother of Arsenal's Granit Xhaka, Taulent Xhaka, is also in Panucci's team. One to watch, and he has been for a while is Elseid Hysaj at right-back for the Albanians. Unclear as to who will be out on the left but with Jordi Alba bombing forward at every chance, there might be space for the similarly explosive Hysaj in behind Spain's defense.
Albania XI to start tonight against Spain: Berisha, Hysaj, Veseli, Memushaj, Llullaku, Balliu, Xhaka, Memolla, Grezda, Ajeti, Kace
He's not in the team tonight but Lopetegui could miss him. Andres Iniesta signed a new deal with Barcelona today and Josep Bartomeu says in years to come he won't "talk about his talent or how he plays football but how he is as a person". The Manchego is an institution in Spanish football.
This is indeed Spain's team to start tonight against Albania. Lopetegui proving he is not afraid to go with youth and mix things up. He might have been backed into the corner regarding Rodrigo but he could have opted for a false nine like he did against Italy. Instead, he goes for an in form striker in an in form team!
Early reports of Spain's team with a few curveballs from Lopetegui. De Gea; Odriozola, Piqué, Ramos, Alba; Saúl, Thiago, Koke, Silva; Isco, Rodrigo
Albania have a Spaniard in their team tonight. Iván Balliu was born and raised in Spain, playing for Barcelona B 53 times before moving to Arouca in Portugal and then to Metz in Germany. He also played for Spain under-16 and under-17 teams and was interviewed last night on Spanish television and seemed very excited to be taking on his homeland. He hasn't featured for Albania before having just been called up to the team after recieving citizenship to his Father's native Albania. Panucci might call on him tonight though.
Much of the talk in Spain over recent weeks has been political rather than football and Gerard Piqué has been involved. His vocal support of, and participation in, the Catalan referendum that was deemed illegal and unconstitutional by Spanish courts has led him to receive a very negative reaction from a few of the national team fans.

Three players are suspended for the visitors tonight, namely, Odise Roshi, Mërgim Mavraj and Burim Kukeli. Manager Christian Panucci though will be able to call upon in form Napoli right back Elseid Hysaj and the experienced keeper Etrit Berisha who guards the net of Seria A's surprise package this year.
The Estadio Rico Pérez, home to Hércules CF who play in the Segunda División B, is our venue for this game as the Spanish Federation takes games to the people around the country. And it's a stadium that has been somewhat of a lucky charm for the side. They have played eight games there previously winning seven and drawing the other.  
The Albanian team cannot be taken too lightly despite Spain's 0-2 victory in the away tie earlier in the stage. The side from the Balkan Peninsula sit comfortably in third place in the group and could, mathematically if not conceivably, finish in second at the expense of Italy. Here's Ermir Lenjani and Taulant Xhaka flying in to Spain.

Hello and welcome to our build up to tonight's Group G World Cup qualifier as Spain look to confirm their attendance in Russia next summer. Albania are the visitors to the Rico Pérez stadium in Alicante and we'll be bringing you all the latest news throughout the day ahead of our live commentary at 20:45 CEST.
Spain vs Albania live stream online: match preview
Albania lie six points behind Italy in Group G and would require a car crash on the part of the Azzurri and a glut of goals to sneak into second place but Spain, who are already guaranteed at least second place, can seal their place in Russia with victory over Christian Panucci's side if Italy fail to defeat Macedonia in Turin.
If both Italy and Spain win their matches on Friday then Lopetegui's side would require a draw away at Israel next Monday to ensure top spot and automatic qualification.
Spain
The run-up to the match has been overshadowed by last weekend's events in Catalonia and the subsequent media obsession with Gerard Piqué's stance on the referendum but the Barça defender did find time during his lengthy press conference on Wednesday to analyse Spain's opponents: "They are a very complicated team, as they showed in qualifying for the last European Championships. They keep things tight very well at the back and can really damage you on the counter," Piqué said. "It's been hard work getting to a situation where by beating Albania we'll be virtually qualified. So I think we have to focus on that and try to get the three points."
Spain coach Lopetegui was forced into some late changes to his squad with the withdrawals of experienced heads Andrés Iniesta, Dani Carvajal and Álvaro Morata, calling up two uncapped players in Real Sociedad right-back Álvaro Odriozola and Las Palmas midfielder Jonathan Viera as well as veteran Athletic striker Aritz Aduriz.
The absence of the in-form Morata with a hamstring injury will be keenly felt, the Chelsea striker having scored four times in his last three games for Spain and even with the inclusion of the prolific Aduriz La Roja's available forward line in Alicante scarcely screams goal-fest. Chelsea's Pedro has 17 in 64 caps but has not found the net since May 2016 while Aduriz, Iago Aspas, Rodrigo and José Callejón have five between them.
Isco has been in incredible form for Real Madrid and will likely start behind whichever striker Lopetegui opts for if the Spain coach goes with a 4-2-3-1 as he did in the 2-0 victory in Shkodër a year ago, where La Roja enjoyed 71 percent of possession and had 13 shots on goal.
Albania
Albania have four wins from eight in qualifying but have not troubled the group's bigger fish, their victories coming against Macedonia, Liechtenstein and Israel. However, as Piqué noted, The Eagles make their lair a difficult one to breach and boast huge experience at the back in the shape of captain Ansi Agolli, Hamburg centre half Mërgim Mavraj and Napoli right back Elseid Hysaj, who operate in front of experienced Atalanta keeper Etrit Berisha.
Panucci's side have conceded just nine times in Group G but are hardly prolific at the other end, scoring just 10 and managing only four against Liechtenstein, who have leaked 34 overall.
However, Panucci is determined to put on a performance in Alicante before he takes his side back to Albania to host Italy.
"The matches against Spain and Italy are very important for the image of Albania. These two teams are stronger than us, but football tells us that even when you're faced with the best, you can do something important. I want 11 lions on the pitch. We will try to get a result."
Spain vs Albania live stream online: selected betting odds
Unsurprisingly Albania are rank outsiders in Alicante and chalked up at 50/1 to beat Spain, who will not be making anyone rich at odds of 1/14 with the draw priced at 14/1. In the first scorer stakes Isco is at 3/1 and Piqué, who it safe to assume would enjoy hitting the net immensely, is priced at 20/1.