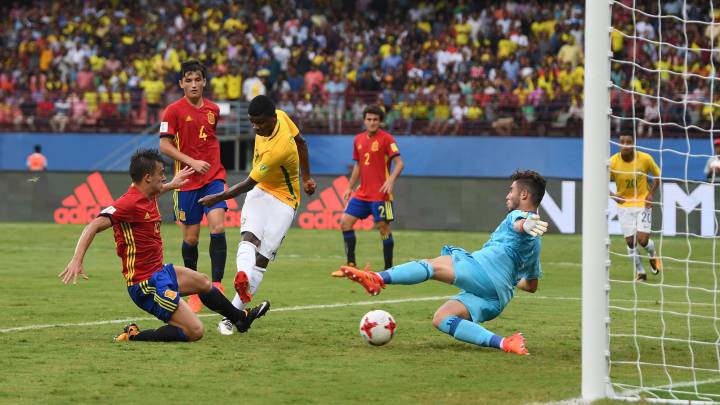 Brazil 2-1 Spain: match report
A more composed and aggressive Brazil beat Spain in Kochi, India in the FIFA U17 World Cup on Saturday afternoon despite Santi Denia's side taking an early lead and starting better than their opponents. The battle of two of the tournament's heaviest hitters lived up to its billing but Spain will feel they might have gotten more from it if their approach was different.
Their passive tactics were not evident, however, in the opening exchanges. Hot prospect, Ferran Torres of Valencia, was looking particularly dangerous early on and had helped the ball onto Real Madrid's Moha as he turned the ball home after five minutes. It was Spain's second clear cut chance and the second one created by Torres.
The Spaniards were looking lethal in attack but Brazil slowly but surely turned the tide, calmed things down and started to throw the ball around with Spain too willing to concede possession and back off. In the humid heat of Kochi, it proved a fatal mistake by Denia.
The signs were there and Brazil landed their first blow twenty minutes after the opener when Lincoln slotted home following a good run down the left by his strike partner, Brenner. Spain failed to clear the danger and Lincoln was able to draw his side level on 25 minutes after swinging and missing with his first effort.
The game was completely turned on its head on the stroke of half-time as the impressive Paulinho of Vaso de Gama kept his cool and finished over Fernandez from a lovely pass by Santos.
Spain had to come out and attack the game like they hadn't in the first half but it was too little too late as they were incapable of breaking down Brazil's backline despite having the lion's share of chances. Ferran Torres, too often, was left to his own devices in an effort to save a point for Spain and Abel Ruiz was unable to get into the game as the disconnect between midfield and attack was clear for the majority of the game.
The battle of two of the tournament favourites went Brazil's way in the humid Kochi but if they manage to meet again, Spain might have more luck if they reassess their approach and play more like they did in the second 45.
Brazil U17 vs Spain U17: as it happened
90'+4' Game over too! Spain lose a 1-0 lead and end up being beaten 2-1 bu tournament favourites Brazil.
90'+4' They do just that and Pedro Ruiz heads a glancer wide. 
90'+3' One minute left and Spain have a chance from a free from way out. They can lob it towards the box and hope for the best. Most likely the very last chance.
90'+3' Lara swings a cross in. Looks too close to Brazao but he is forced to tip it over as it was too close to the crossbar. Brazil defend the corner well as they have done all day. 
90' Victor with a chance as he takes down a half clearance from Brazil. Drives it wide. Good effort and he knows it too.
90' Lara goes down in the penalty area. Ref blows the whistle. Yellow for the Sevilla player for diving. Stockl had him well covered and was a dive after looking at replay.
88' Santos breaks free and tries to be unselfish by squaring to Paulinho. It's short and Fernandez comes out and grabs it. Should have sealed the deal with that one. Spain still in this one.
86' Lincoln down now with muscular problems.
83' Free by Abel Ruiz from miles out hits the wall. He follows it up with a volley but that too is way off as he slices it sideways.
82' Beitia back on for Spain after going off with cramp. 10 minutes, more or less, to make it through now.
82' Cross doesn't beat the first Brazilian defender.
81' Pedro Ruiz does well to win a corner. Wesley had him covered but he battled and forced the Brazilian to clear it out for a corner. 
78' Two teams showing signs of fatigue but that suits Brazil. They don't have to chase the game. 
76' Wesley carried off now on a stretcher. 
75' Just to return to Brazil's disallowed goal. Stockl put the ball in the back of the net but he raised his foot to do so and went in with his studs, it seems that this is why it was ruled out.
75' Another Brazilian down with cramp. Wesley hits the deck and needs treatment. 
73' Gomez replaced by Pedro.
72' Brazil have the ball in the back of the net. Ref seems to say it's a goal but clarifies and runs to the place where a Brazil player was offside. Could have been all over for Spain there.
71' Brenner taken off with what looks like cramp. He had to be stretchered off as they stretch out his leg. Vitinho on.
70' Victor fouls Santos. 
68' Lincoln can't control a lovely pass through the middle to him. If he took that down, Spain were in real trouble.
67' Lara, Spain's second sub, goes down in the penalty area. He wants a penalty but it would have been incredibly harsh on Wesley. 
65' Spain running out of ideas now. Their only real option is Fernan Torres on the right. They can't get Abel Ruiz involved and have struggled to really break down Brazil in any meaningful way.
62' Spain really lucky. Paulinho was away with men supporting. Ref calls it back for a foul by Guimaraes on Chust. 
61' Nice break from Spain. Abel Ruiz gets a run on Halter and strikes but Brazao saves again. It was a tough angle for the striker and Brazao always in control.
60' Bobsin replaced for Guth as Brazil's first change.
59' Torres down the right and pulls it back. He throws his left foot at it trying to cross but it's weak and blocked.
58' Lara swapped in for Alvaro Garcia.
57' Spain camped out in Brazil's half. A complete turn-around from the first half.
55' Gomez with another cross. Brazao with another save out to the other corner flag. Back and forth between either corner for Spain. Ball lands to Gomez from the corner at the back post. Brazao saves again. Much better from Spain.
54' Chust with a golden chance. Free for Spain is taken quick and it's sent into the centre-half but it's half-blocked. Corner that Brazao deflects away with his hand for another corner on the other side.
53' Abel Ruiz throws one into the box. Gomez tries to jump the defender, who has the advantage but he misses it.
51' Really good cross from Torres and Halter brings a halt to it with a diving header. Corner.
50' Spain slightly more progressive in this half and need to be. Still no breakthrough and more frustration for them.
49' Moha receives a pass off Torres, falls on the ground looking for a free when he loses it and then jumps up, wins it back and gives it away again.
47' Torres swings a cross in by way too far out of Ruiz' reach.
46' Santos full of energy and drives a shot over from way out. He puts his hands up as a recognition that it was the wrong option. A very wrong option.
46' We are back underway in Kochi. Spain looking to drag themselves back into this one.
45' That's it for the first half. Brazil really running Spain ragged. They went 1-0 down but stuck with their plan and are now leading through Lincoln and Paulinho.
45' On the brink og half-time and Paulinho gives Brazil the lead. Lovely ball in behind the back by Santos and a cool finish over Fernandez.
45' Moha down grabbinh his ankle under a taclñe from Wesley.
43' Really lax by Spain. Lincoln chases down a backpass and Fernandez kicks it but he gets a foot to it and Spain are lucky it doesn't go in! goes out for a goal kick.
42' Santos with another curling cross. Nobody inside waiting for it though and Spain break. Ruiz puts Vitao under pressure and wins a throw. Spain glad of the breather.
40' Spain win a throw. Gomez and Pampin get their wires crossed and that ends their possession. Brazil back with it. Five minutes until the break. Two teams exhausted in the humidity. Seems Spain struggling more than their opponents though.
40' Torres crosses but it's out of reach of Ruiz in the centre. 
37' Fernan Torres drives a shot wide. He picked it up on the right, brought it all the way into a shooting position and fired low and wide of Brazao's goal.
33' Victor Gomez, of Espanyol, replaces Morey. Didn't seem to be injured but more exhaustion. 
33' Santos sends one deep into Spain's box but it beats everyone and the back post and ends up going out for a throw. Morey down and looks to be struggling. 
30' Gomez picked off by Brazil as he tries to attack. Spain giving up all the possession here and it's starting to hurt them.
26' GOAL! Brazil level things up. Lincoln with the finish. Brenner goes by Morey, centres and Pampin makes a slight mess of the clearance before Lincoln slots home.
24' Wesley gets down the right and fires over. Keeper had it covered but Brazil starting to find their groove now.
22' Guimaraes takes on Morey down the left. He skips past him and drives a shot towards goal. Fernandez saves and puts it out for a corner.
21' Torres sends one over to Abel Ruiz and he takes it down but he was offside again.
19' Brazil coming into this one. Brenner tries to curl one beyond Fernandez. He can't get enough bend on it but Brazil tapping on the door.
18' Paulinho drives a shot low and hard towards goal. Malaga goalkeeper Fernandez parries, and it falls to Brenner but he was offside and shanks it wide anyway.
17' Morey with a nice tackle on Brenner as he makes his way into the box. Hint of a penalty but the Brazilian doesn't look for it and the ref doesn't give it. 
15' Pereira a little over zealous trying to shepard Gomez out over the sideline. He gives away a free. Spain with a chance to attack. They've really looked dangerous any time they get into Brazil's half.
13' Ball through to Paulinho down the right. He tries to cross but it's blocked out for a throw. Wesley flings it into the box and cleared again by Spain.
9' Brazil trying to defend with the ball because they know once they give it away, Spain are ruthless. Paulinho and Brenner try to link up but lose it and Abel Ruiz breaks. He was a goner but it gets brought back for offside.
9' Brazil with all the possession but Spain in control. 
6' Weverson the Brazilian left for dead there by Torres. He burst past him and ended up two yards the other side of the defender!
5' Ferran Torres destroys his marker, crosses low and Moha scores. 1-0 to Spain
4' Ferran Torres makes a move towards goal, puts it through to Abel Ruiz and he fires. Brazao saves and puts it out for a corner. Incisive from Spain.
3' Spain sitting back with just Ruiz pressing even slightly. Brazil look for the long ball to Paulinho but it's too long. Goal kick.
1' Correa dos Santos pressing high up the field but Spain manage to get it away. Long ball searching for Gomez but Brazil defend it well and win it back. 
1' Game on!
We are ready for action.
Spain and Brazil line up for the national anthems.
Spain manager, Santi Denia, says this game could make or break his side: "It's the most difficult group of the tournament and it's very important to win the first match. Brazil are favourites for the World Cup. Winning the first match will lift our spirits."
30 degress at Estadio Internacional Jawaharlal Nehru in Kochi, India for the game today.
Abel Ruiz leads the line for Spain. He has been tipped to go to the very top. At just 17, he has played in four games for Barcelona in Spain's segunda division and scored a goal! Should be easy to spot in this game as he is a man as a teenager.
Brazil starting XI: Brazao, Wesley, Vitao, Halter, Bobsin, Weverson, Paulinho, Antonio, Lincoln, Alan, Brenner.
Spain starting XI: Fernandez, Jaume, Guillamon, Chust, Torres, Moukhliss, Ruiz, Gomez, Garcia, Pampin, Beitia.
North Korea and Niger are the other two teams in Group D, and they face each other later this afternoon. Regardless of the result today, Brazil and Spain will be the overwhelming favourites to progress to the knockout stages. 
The young Spaniards will be looking to replicate the performance of their elders. Julen Lopetegui's senior team overcame Albania 3-0 yesterday evening in Alicante. With Italy only managing a draw against Macedonia, Spain have officially qualified for the 2018 World Cup in Russia. 
Hello to you all on this fine October morning. We're winding up to Brazil vs Spain in the Under-17 World Cup, and it's a genuine thigh-rubber of a match, especially given that it's taking place in the group stages. Scroll down to the preview below to get full up to speed. 
Brazil U17 vs Spain U17 live stream online: preview
The champions of Europe and South America clash at the Jawaharalal Nehru International Stadium in Kochi on Saturday, as Brazil and Spain get Under 17 World Cup underway.
Brazil are seeking their second international title of the year, having already won their 12th South American Under-17 Football Championship in March. Spain have also tasted continental success, beating England on penalties in the final of the European Championship in Croatia. It may only be the second day of the World Cup in India, but this is a clash of two genuine title contenders.
Brazil latest news
The young Seleção have travelled to India a man short. Vinicius Junior had already been given the ticket for his flight when Flamengo decided they would not release their player, who impressed at the South American Championship in Chile to the extent that Real Madrid moved swiftly for his signature.
Carlos Amadeu's side still boast enviable firepower, not least in the form of Vasco de Gama's Paulinho. He scored the first goal in the final of their other tournament success this year, and is well aware of the magnitude of this first match:
"There's no doubt that this game will show both teams where they stand and what their chances are like at this competition. It's the first match and, at the same time, our first final," the 17-year-old told FIFA.com.
Neymar's big breakthrough came at the 2009 version of this tournament, and Vinicius Junior will shine as a more recent example of what came come from a strong showing.
Spain latest news
La Rojita are at their first U17 World Cup since 2009, having failed to qualify for the last three tournaments. Málaga's Borja Bastón was the joint-top scorer in that tournament with five goals, while Isco and Álvaro Morata also formed part of the Spanish squad that finished in third place.
Spain will hope to improve on that performance this time around and add a second title to an already successful year.
Barcelona's Abel Ruiz has been involved with the Under-17s set-up since 2015, and boasts a goal-scoring record of 19 goals in 23 appearances. The captain will be joined in the Spanish attack by Ferran Torres, the man dubbed as the 'new Marco Asensio'. Real Madrid and Barcelona are thought to be squabbling over the signing of the forward who has already made the step up from Valencia's youth sides to their B team.
Brazil U17 vs Spain U17 live stream online: predicted line-ups
Brazil U17 vs Spain U17 live stream online: odds and betting
The bookies are finding this one difficult to call, with both sides available at 6/4.