Uganda vs Ghana live stream online: 2018 World Cup CAF qualifer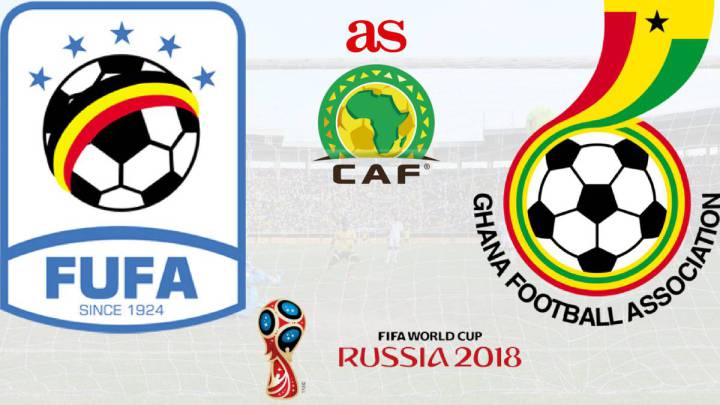 Uganda and Ghana both saw their hopes of World Cup qualification go up in smoke in Kampala as the sides played out a 0-0 draw that handed Egypt the chance to go through as group winners on Sunday when the Pharoahs host already eliminated Congo in Alexandria.
The game in the Mandela National Stadium in the Ugandan capital will be chiefly remembered for an incident in the 94th minute - not least because it produced only a handful of shots and none that meaningfully tested either keeper in the 93 minutes that preceded it. Substitute Raphael Dwamena had the ball in the back of Denis Onyango's net after a rebound and wheeled away in celebration, only for his smiles to turn to disbelief as the referee ruled it out for offside.
Replays showed that the FC Zurich striker started his run from a legal position before the initial shot and he was shadowed by Nicholas Wadada from the edge of the area. The Ghana bench exploded in fury and the match official blew for full time immediately after the ruled out strike.
In truth, it would have been a fair result for the Black Stars, who showed more ambition than the home side in a game light on chances in no small part due to a pitch that played like the top deck of a cruise ship, every through ball zipping away from its pursuer.
Thomas Partey also hit the target earlier in the but that goal was also ruled out for offside, in a more clear cut case.
In the end, the result suits neither side with Egypt now firmly in the driving seat for a ticket to Russia, barring any miracles on the part of Congo, who have so far only picked up one point in qualifying.
Uganda vs Ghana live stream online: as it happened
  We await the reaction of Ghana coach James Appiah.... 
    There will be plenty of questions asked about that final play of the game... That's Ghana all but out of World Cup contention now. If Egypt beat Congo at home tomorrow, and few would bet against it, they will go through as group winners. 
90'+3' That's full time, and the Ghana players and staff are furious. It seems the goal was ruled out for offside, but a Uganda defender was quite literally in the scorer's pocket. 
90'+3'   Incredible! Ghana have the ball in the net agaion, and it's ruled out again! The Black Stars are incensed. Difficult to see exactly what the ref saw there.... 
90'+2'   It's all Uganda now as the home side press for that crucial winner. 
90'+1'   Uganda test Ofori again from distance but the Ghana keeper isn't going to be beaten from there. 
90'   Ofori bawls out his back line as Mawejje is able to drive forward and hammer a shot goalwards with little or no attention being paid to the Tirana midfielder. 
90'   Four minutes added on. 
89'   The Ghana keeper has his palms stung by a shot from outside the area but it wwas at his near post and never really threatened. 
87'   Uganda break down the left and Okwi sends in a cross-shot that lands harmlessly on the roof of Ofori's net. 
83'   Time running out for Ghana now. They make their final change, Acheampong going off for Joseph Attamah. A defender for a winger... odd decision given the Black Stars' requirements. 
82'   Amartey again gets the better of Okwi in their personal battle on the left of Ghana's back line. Little wonder he has 23 caps at the tender age of  22. 
81'   Ghana work a nice move out to the left channel but Wadada is equal to it, making the tackle when a cross was imminent. 
80'   Okwi gets away down the right but his cross is bread and butter for Ofori, who gather easily. 10 minutes to go in Kampala. 
78'   Corner for Ghana... but Thomas is penalised for flattening Onyango. 
76'   A very, very good challenge from Amartey prevents Uganda getting the ball into the box through Mutyaba. He's been the stand out defender on show today, the Leicester man. 
75'   It's all a bit scrappy now, Ghana getting a bit desperate and pumping the ball long, which as we have seen throughout the game is a tactic doomed to failure on a pitch as zippy as this. 
72' Ochaya on for Uganda now. 
68' Ghana, two points behind Uganda in Group E, need to win this to increase their chances of reaching the World Cup as they host already qualified Egypt in the final fixture. Uganda travel to already eliminated Congo in their lasy game. 
65' Acheampong is clobbered to the floor in the area and there are smiles of disbelief from the Ghana bench as the ref waves play on. 
63' What a miss! Uganda can't believe they haven't taken the lead after Walusimbi sent in a cross and Mutyaba sent his header wide from point blank range. The bench were already up to celebrate that one. Will that cost The Cranes at full time? 
62' Excellent stuff from Uganda, who tear through the middle of the Ghana defence but once again, the final ball simply skids ahead of the nearest pursuer. 
61' And it's Miya who trots off, with Muzamir Mutyaba coming on. 
60' Uganda about to shuffle their pack as play resumes with a throw. 
58' Opare puts in a splendid covering tackle and it looks rather like he got some studs in his side for his troubles. Accidental, but painful nonetheless. 
57' Meanwhile, Thomas and Okwi find their way into the ref's notebook after a bit of handbags in the middle of the park. 
56' Close! The recently introduced Twumasi almost catches Onyango out with a free kick from distance. 
55' And it's Alfred Duncan who makes way for FC Zurich striker Raphael Dwamena. 
54' The ball is being pinged around in midfield as both sides struggle to get a foot on it. Another change coming up for the Black Stars....
52' Uganda carve out a chance but Leicester City defender Daniel Amartey makes an excellent block and clearance. 
50' Change for Ghana, Sarfo heads off and is replaced by Patrick Twumasi.  
48'   Isinde is down in a heap after a high boot from Boakye but, rubbing his head ruefully, is back up again. 
47'   Ghana win a free kick as Thomas is taken out in mid-flow. It's worked into the right channel but Uganda aren't falling for it and clear with little fuss. 
46'   We're back underway in Kampala 
45'+2'   Sarfo over the corner, it's struck well but cleared and Uganda pou forward on the break. Ghana break it up though and the ref blows for half time. 0-0 it remains in Kampala. 
45'+1'   Uganda with the wind in their sails now but Ghana break and Thomas takes it into the corner in an attempt to win and succeeds. Last chance of the half this, one would imagine. 
45'   Two minutes added in Kampala. 
43'   Boakye, who did come back on after that nasty collision, uses his physicality to win a throw out on the right. Ghana work it across the pitch Ofori (the Stuttgart midfielder, not the keeper) whacks a shot high and not very handsomely. 
42'   Close! Uganda get forward and Miya unleashes a right-footer after controlling a cross in the box. It's wide though, to Ofori's relief. 
40'   Thomas, who is causing all sorts of problems for Uganda, twists and turns in the area but a bobble on the pitch gets the better of him and the ball runs out of play. 
38'   Nice combination from Ghana on the right but Thomas sends his cross straight into the waiting gloves of Onyango. 
36'   Wadada goes on a rampaging run down the right but the Uganda defender sends his eventual cross into the stands. 
35'   Ooooh, Uganda had the opener begging there, Kizito just failing to connect with a searching cross. All it would have needed was the slightest touch with Ofori, for once, not positioned well. 
33'   Ghana have the ball in the back of the net! But unfortunately for the visitors Thomas had strayed offside from the free kick. 
31'   It's unclear if Boakye will be able to continue as play gets back underway. 
29'   Ouch. Boakye and Isinde are both down after a nasty clash of heads. There's a hydration break and bad news for Ghana as Boakye looks in a spot of bother after that collision. 
26'   Ofori is quite the fleet of foot and mind keeper that Ghana need here as Uganda test the back line with a couple of balls over the top. Good keeping from the Maritzburg United stopper. 
24'   Good defending from Wasswa with Boakye in close attention in the box there as Ghana found an unsettling ball into the area. 
23'   A spot of bother at the back for Uganda as a clearance is charged down and a back pass to Onyango pops up a little awkwardly but the captain gets his boot through it and clears. 
21'   Another through balll sent down the right of Uganda's defence and again, it flies out with even the speed of Acheampong unable to catch it. It's like a snooker table this turf. 
20'   It's got a bit scrappy now after those two moments of class, a couple of long balls bouncing harmlessly out of reach from both sides. Boakye almost gets in behind but the Red Star Belgrade man is penalised for a shirt tug. 
17' Close at both ends! Ofori cuts out a dangerous cross and Thomas rampages to the other end of the pitch, sending his shot into the side netting. That was a decent effort from the Atlético midfielder. 
16' It's lofted in but Ghana clear with ease and the Black Stars look to build again from the back....
15' Free kick to Uganda out on the right as Thomas brings down the flying Okwi.... 
14' The pitch in Kampala isn't aiding through balls at all... Ghana slide one in but it's got so much zip on it it's well out before Boakye can reach it and he goes thumping into the advertising hoarding unable to halt his charge. 
12' Duncan stops a Uganda attack in its tracks with a thumping challenge but The Cranes are starting to look dangerous on the break here, looking to the pace of their front men to get in behind Ghana, who are playing a high line. 
10' The Black Stars reply in kind, carving out a decent attacking move but the final ball is too heavy and it's out for a goal kick. 
8' Uganda stroking it around gracefully now and with pace, a cross is sent in but Ofori gathers easily. 
7' The shot is firm from Miya but he gets too much under it and it flies over Ofori's bar. 
6' Free kick for Uganda in a very dangerous position... 
5' Okwi breaks dangerously and is scythed down by Amartey, who finds his way into the book. 
4' Uganda try to fashion something out of nothing in a congested midfield but the long ball is straight out. 
3' Agbenyenu goes down under a heavy challenge but gets up again, griamcing as he rubs his thigh. 
Most of the early possession for Ghana, who seem to be more confident than the hosts in the early exchanges. 
Kick off! 
The anthems are taking place now at the Mandela Stadium and we're about to get underway....
The teams are in the tunnel. Kick off is mere minutes away. 
Today's game will be the fourth time the two sides meet in FIFA World Cup qualifiers, with the other games ending in a win for Ghana and two draws. 
Uganda will be looking to improve their record against Ghana this afternoon, having lost 7, won 3 and drawn 4 of the 14 encounters between the two sides.  
Team news is already in for Ghana, who will line up like this: R. Ofori, Opare, Lumor, Amartey (c), Opoku, Duncan, Sarfo, E. Ofori, Yiadom, Partey, Acheampong.
Buenos días! Come on in to our build-up to Uganda vs Ghana. Scroll down to read the preview and get yourself up to speed.