Israel 1 - 0 Spain: match report, result, how it happened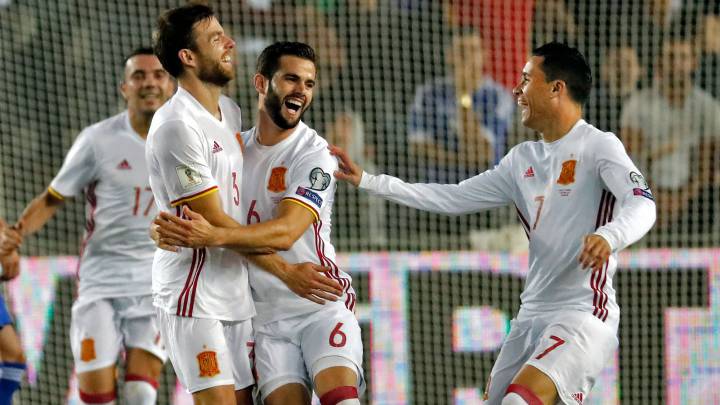 A stunning half-volley for Real Sociedad's Asier Illarramendi secured a ninth win in their 10 qualifying games and ensured that La Roja remain unbeaten on their Road to Russia 2018 as Israel signed off their campaign.
Spanish changes galore for dead rubber
In a game that saw the Spanish manager, Julen Lopetegui, make nine changes from the side that strolled to a 3-0 win over Albania on Friday evening, it was far from a classic match. There was little of the swashbuckling flair that we have seen plenty of over the qualifying phase. That said, possession for the visitors was an unsuprising 65% and the goal that clinched the contest was a thing of beauty.
With Real Madrid's Marco Asensio on the pitch, fans may have expected a powerful, swerving half volley to come from his boot, but the strike from midfielder Illarramendi was a great way for him to mark his first international goal. The former Madrid player, who returned to La Real after a disappointing spell, appeared on the edge of the area after a Spain corner had been cleared and drove the ball high into the net with the outside of his boot, breaking the deadlock in the 76th minute.
Russia 2018 reached with Spanish ease
Spain had already sealed their place in Russia as group winners and their only motivation was to keep up their slim chances of being seeded in December's World Cup draw, with the former world champions 11th in last month's world rankings.
Israel had long been out of contention for a playoff place.
The two players that kept their places in the side were captain Sergio Ramos and, most notably, Barcelona's Sergio Busquets, who made his 100th appearance for Spain.
Israel v Spain: how it happened live
90'+3' Full time.
90'+3'   It's cleared, but Israel win another, the keeper is up and Harush has a go! But it's blocked. We love it when keepers score last minute goals. But that's it in the Teddy Stadium! Israel 0, Spain 1.
90'+2'   Israel on the ball, determined to get something out of the game, and few couuld deny they deserve it. A corner is won, possibly the last roll of the dice...
90'+1'   Three minutes added. Isco tries to wriggle free in the area and there's a half-hearted shout for handball but the ref is unmoved.
89'   Corner for Israel, taken short, Ben Chaim tries to thread it through and it's out for another. Spain clear though and as Israel come back through Davidzada the defender overruns it and it's out for a goal kick.
88'   That was more like the Spain we know, a few touches opening up the Israel defence and Callejón unselfishly sqaures for Asensio, who taps into the empty net. From an offside position though. Callejón might as well have hit it himself. Still, belatedly a touch of the old class from Lopetegui's side.
85'   Good work from Benayoun, who leads an Israel break and feeds Cohen in the right channel. The FC Ingolstadt 04 midfielder's shot is decent enough but wide of Reina's far upright. Good opportunity for Israel there.
84'   Spain are unbeaten in 44 European and World Cup qualifiers and it looks increasingly like that phenomenal record will continue this evening.
83'   Viera and Benayoun go in for a 50-50 and the Spain man comes off worse, but he's back up again and fine to continue. Benayoun has added a spark to Israel since his introduction, no doubt about that.
81'   Keltjens also turns on the trickery on the right and is floored for a free kick. It's sent in but cleared with ease again. Spain have been solid at the back under high balls when required.
80'   Lovely touch of class from Benayoun, whose cute flick is nevertheless well read and does not reach its intended recipient.
79'   But he's up and trots to the touchline, it appears no lasting problem caused there.
79'   Slight concern for Madrid now as Asensio is down in some discomfort after a challenge in midfield...
77'   Corner for Israel as Azpi chases down Hemed on the left. Plenty of white shirts back to meet it and Spain clear.
75' Goooooooal! It was going to take something special to break the deadlock and Illarra provides it with a thumping outside of the boot half-volley! What a goal to open his account for his country.
74' And it's Pedro who makes way for the Napoli winger.
73' Huge cheers as Benayoun comes on for Natcho, and it looks as though Vallejón is coming on for Spain imminently.
72'   Isco weaves his way past three Israel players but Ben Haim is there to greet him. Spain have looked infinitely more dangerous with the Real Madrid playmaker on the pitch.
71'   Israel break through Ben Chaim but his decent delivery is met firmly by Nacho and out for a throw.
70'   Isco takes, but it's straight into the wall. That's the game summed up in miscocosm there really.
70'   Spain have a free kick in an interesting range area after Natcho brings down Isco...
69'   Good work from Aspas on the right and he gets a cross in with three blue shirts surrounding him but again there's nobody in the area to meet it.
67'   Aspas tries an overhead but gets only the slightest of touches and it pings harmlessly off his boot. Corner for Spain as Asensio tries to get away down the left.
65' Change for Israel, Kabha goes off to be replaced by Bitton.
65'   And the snag with that change is apparent immediately as a rare decent cross fizzes into the box and there isn't a Spain shirt within 10 yards of it.
63' And that's the end of Aduriz's evening as he is replaced by Isco. Can the Malaga man conjure up some magic in the final 25 minutes? 
63'   Aduriz! Best chance of the half for Spain but the Athletic striker's touch eludes him with the goal begging! He really should have scored there.
62'   He nearly gets on the end of that though! A timely Israel boot just takes the ball away from Asensio as he was bearing down at the back stick.
61'   Whistles from the crows as Spain stroke it about at the back, Israel pressing. Another corner for Spain at the other end. Asensio plays it back Viera, receives the return and hits his cross straight into the nearest defender. It has not been a memorable evening for the Real Madrid man.
59'   Busquets tries to thread a ball through but Cohen is there to get a boot to it. Still 0-0 at the hour mark and we can't help wondering what odds you'd have got on this finishing goalless 60 minutes ago...
57'   Another corner for Spain as Asensio plays a ball in to Viera. It's cleared easily again though. Israel with 10 men behind the ball again and Spain back to banging their heads against the blue wall at the moment. 
55'   Spain win a corner as Aspas and Asensio combine on the left to put Pedro through. His cross is deflected out though. The corner comes to nothing.
53' Change for Israel, Ben Chaim coming on for Melikson, who had been behind most of Israel's craft in the first half.
53'   Another cross, this time from Pedro, drifts out without any one getting anywhere near it.
52' Davidzada finds his way into the book for a crunching challenge on Pedro. First booking of the game.
51'   Asensio twists and turns on the edge of the area but it put on his backside by Cohen, who is having an excellent game.
48'   Uffff. Hemed steals a yard in the area but can't turn his shot in. Decent opening for Israel there.
47'   Busquets is now wearing the captain's armband to honour his 100th appearance for Spain. Nice touch that from Lopetegui.
46'   Huge cheer from the stands as Benayoun goes through his paces on the touchline.
46'   We're back underway in the Teddy Stadium and it seems that Sergio Ramos has gone off to be replaced by Iago Aspas. A three-man defence for Spain now then and a bit more firepower up top as Lopetegui shakes things up a bit.
45' And that's the half! It wasn't the most exciting 45 minutes of football ever witnessed but livened up at the end. Let's hope both sides come out in similar boding for the second period.
43'   A lovely dummy from Melikson almost lets Hemed in and then a cross clips Monreal on it's way in and the ball fizzes across the Spain area, but there's nowhere there to prod it in. Much more ambition from Israel in the closing stages of the half.
42' Monreal cuts out a Hemed shot and Spain break up the pitch. Pedro is through one-on-one with Harush but the keeper makes a spectacular save to deny the Chelsea forward. The game has suddenly sprung into life!
40' Nacho gets across to cover as Ben Haim releases Hemed. Spain think the ball is out but it remains in play and falls to Natcho (not a misprint), who fires a shot just over Reina's bar. The crowd enjoyed that immensely and find their voice. Both Natcho and Nacho are wearing the number six, incidentally. 
38' Asensio tries one of his trademark left-footers but it's well wide. You have to wonder if Lopetegui will revert to a 4-3-3 in the second half and bring on some extra pace in the form of Callejón, or a specialist lock-picker in Isco. This 4-2-3-1 business is simply not working.
37' Israel break again and a ball over the top eludes the Spain back four. Cohen connects with it as it comes down over his head but his shot is straight at Reina.
36' Ben Haim flattens Aduriz and the ref briefly ponders a yellow card but decides a stern word is sufficient.
35' It's still largely pointless periods of going from one side of the pitch to the other in front of a wall of Israel shirts. Lopetegui may want to try and direct his players to try something more direct. 
34' Spain's possession is up to 70 percent now.
33' Israel try to work it through the Spain defence but again the final touch lets the home side down.
32' Ramos! What a shot from the Real Madrid defender, who draws a fine save from Harush. The first real effort on target that, and it came out of nowhere really, the captain getting as bored as everyone else with Spain's side to side meandering and having an almighty pop from about 30 yards.
29' Israel have nine men back every time Spain come forward and unless the visitors can ping it about a bit faster across the face of goal they're not going to catch out a very solid defence. Israel's tactic is hardly aiding the spectacle and every forward movement from the home side is met with a roar from the stands.
27' Israel carve out a chance with some neat passing but Keljtens drags his effort wide of Reina's sticks. The home side do look capable of doing some damage on the break given the chance.
25' Aduriz finally gets his head on the ball, from a deflected Nacho Monreal effort, but can't quite get enough on it to guide it over the gloves of the attendant Harush.
23' Spain are finding it very difficult to find a way through Israel at the moment. Ramos pops a hopeful ball into the box but again it's asking far too much of Aduriz and drifts into the palms of Harush.
22' 65 percent possession for Spain at the 22-minute mark. They haven't really made much out of it though.
21' Viera tries to chip Harush, who punches clear. The balls falls to Pedro, who buys himself a yard and draws another save from the Anorthosis Famagusta stopper.
19' A better cross from Asensio is almost met by Aduriz but the Israel defence get there just before the Athletic striker. A little more urgency about Spain now, who need to win this game to be in with a shout of being one of the eight seeded sides in Russia next year.
18' Crikey. It was a decent idea by Cohen to hit a throw-in on the turn but the execution was lacking a bit and it's out for a goal kick about 20 yards wide of the target,
17' And there he is, appearing at the edge of the area and trying to lay the ball off. He might have tried to turn his man and let one go there instead.
16' Come to think of it, we're not sure the Athletic veteran has even had a touch yet...
15' Asensio sends in a poor cross and it's cleared easily. Israel, when not in possession, are dropping back in numbers and you suspect that Spain will profit little from hopeful balls into the box, even with Aduriz to aim at.
13' Asensio carves out a little space in the area and sends in a cross but Israel, who are well organized at the back, clear without too much fuss. A mix up between Azpi and Pedro sees the ball bobble out for an Israel goal kick.
11' Spain try to overarticulate a little in the Israel half and lose the ball. It's not long before they're back on it though. Ooooh, big mistake from Azpi, who gifts possession in midfield. Israel break in a three on three but the final ball is poor and Reina gathers. Warning sign for Spain there.
9' Israel are enjoying a period of possession themselves now but try a long ball up to Melikson, which is gathered easily by Reina.
8' Another period of lengthy Spain possession is greeted by whistles from the stands. Azpi gets in on the right and slips in a cross but Ben Haim is there to clear.
6' First decent attack by Israel and a cross from the left is headed behind for a corner. Nothing comes of it though and Spain get it clear.
5' Viera plays a loose ball in midfield and Israel almost work it through to Hemed but Ramos is there to get a foot on it.
4' Israel try to knock it through the Spain midfield but Illarra makes a recovery and Spain are back on the ball. It's worked wide to Azpi by Viera but the Chelsea man's cross is cut out.
3' Asensio tries his luck from distance and it was a bit of a swerving one, forcing Harush to punch it clear.
2' Israel get their firat touch of the ball after 110 seconds of play as Asensio's lay off into the area is hoofed clear.
1' Kick-off! It's a lovely piece of turf this, perfect for a bit of the old footer. Spain with the early possession, stroking it about on the green baize.
We are about to get underway in the Teddy Stadium...
Spain's national anthem out of the way, Israel's is getting a rendition with a live performance.
Yossi Benayoun is being honoured out on the pitch, we assume for reaching 100 caps for Israel.
The teams are in the tunnel now, Israel sporting blue with Spain looking like they're in all-white. Probably our favourite combo on a football pitch, that.
Opta have produced rather a nice graphic of Sergio Busquets' 99 games for Spain so far.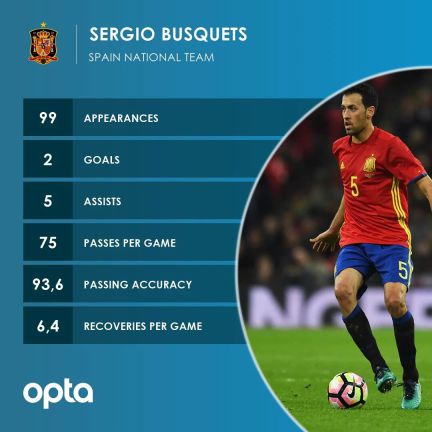 It's a nice blend of youth and experience from Julen Lopetegui this evening and it will be interesting to see how Jonathan Viera, the Las Palmas attacking midfielder, gets on. He is the only uncapped outfield player in the current squad, with Athletic keeper Kepa also yet to strap on his gloves for Spain.
Here is Israel's starting XI against Spain tonight: Harush, Davidzada, Ben Haim, Tibi, Keljtens, Natcho, Cohen, Kabhwa, Melikson, Atar, Hemed
Viera does indeed start as does Illarramendi, who has been a rock in Real Sociedad's midfield this season and last and is fully deserving of a chance. Real Madrid' Marco Asensio has hit a slight cold streak in his form but will have a chance to fix that tonight. 36-year-old Aritz Aduriz also starts up front.
Spain team news just in: Reina, Azpi, Ramos, Nacho, Monreal, Busquets, Illarremedi, Viera, Pedro, Asensio, Aduriz.
A photo from the last time Spain played Isreal in World Cup qualifying before the current qualification series. They drew 1-1 with Raul getting Spain's goal.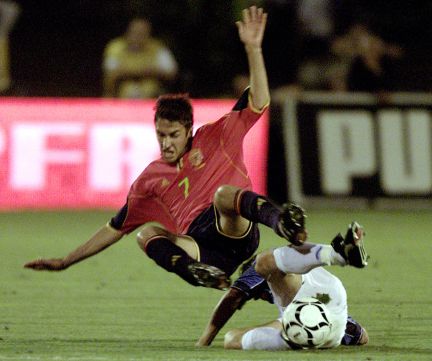 At 27, Jonathan Viera looks set to make his debute for Spain tonight. The Las Palmas stand-out was a late inclusion in Lopetegui's squad but could push for a place at the World Cup if his first outing goes well.
  There was plenty of scrutiny on Spain and Piqué in Alicante but Diario AS editor, Alfredo Relaño believe Lopetegui and the rest passed with flying colours. There won't be half as much scrutiny tonight given the fact that Spain have already qualified, Piqué is suspened and it is away from home. 
With hosts Russia guaranteed to be one of the eight top seeds in the World Cup group-stage draw, Spain need to rise to seventh in FIFA's world rankings to be assured of a place in pot 1. The October rankings - due for publication on the 16th - are to be used for December's draw in Moscow, so La Roja only have tonight's game left to try to sneak into the chosen eight.
Hello and welcome to our live coverage from Jerusalem as Spain visit Israel for the closing game of the 2018 Road to Russia campaign. Kick-off at the Teddy Stadium is 20:45 but we'll be bring you updates and bullid-up throughout the day.
---
Israel v Spain: preview
After sealing automatic qualification on Friday with a routine 3-0 victory over Albania, Spain's focus now switches to the FIFA rankings. As we sail down the final straight of qualifiers, the 2018 World Cup is starting to take shape, with 12 of the 32 teams that will line up in Russia already confirmed. Other European big hitters such as Germany, England, Belgium have qualified with a game to spare, and will be joined by Brazil, Mexico, Nigeria, Japan, South Korea and host nation Russia. Uruguay are also a mathematical certainty, despite not running over the line just yet.
Therefore, the goal for Spain in their trip to Jerusalem is to ensure they are one of the eight teams – Russia are automatically one – to be seeded next year. Lopetegui's side need to beat Israel to ensure they have 1,218 points before playing the waiting game to see how the other nations fare, particularly given that La Roja's points total could be exceeded by Argentina, Portugal, Peru, Poland, Switzerland, Chile, Wales and France. Brazil and Germany are already the top seeds. Belgium, meanwhile, will need to beat Cyprus on Tuesday to ensure their seeding.
Spain latest news
Julen Lopetegui is almost certain to send out a much-changed eleven at the Itztadion Teddy, particularly in the absence of the suspended Piqué and David Silva, and the injured Thiago. Arrizabalaga could get the nod in goal after forming part of the qualifying squad but never being handed a starting berth. In defence, Ramos could be given a rest, with Nacho and Bartra assuming the mantle. Busquets will return to the starting line-up after missing the Albania game through suspension, as will Asensio. Odriozola is likely to be given another run-out after his performance against Albania was widely praised. The Real Sociedad defender's one-year rise from Segunda B to the national side is an impressive one. "I'm living a dream", he said after Friday's win, and another fearless performance from the 21-year-old will turn heads at Real Madrid even more.
Israel latest news
Despite grabbing a 1-0 win away to Liechtenstein on Friday, courtesy of an Eytan Tibi goal, Elisha Levy's side currently sit fourth in Group G, behind Albania, and can finish no higher than third in the group, outside the qualification places. The form books for this game don't bode well, either: they have lost three of their last four competitive home fixtures. With Spain sniffing blood and next year's tournament rankings in their nostrils, it could be damage limitation for a side that was soundly beaten 4-1 when the teams last met in March. On that occasion, Lior Refaelov did manage to beat David de Gea, but only after David Silva, Vitolo and Diego Costa had put the game beyond reach, before Isco popped the cherry on the cake in the 88th minute.
Israel v Spain live stream online: betting odds
The big Teddy Stadium pay-out tonight involves backing a Spain lead at the break with the home side to launch a comeback and claim all three points. A 67/1 price awaits: