Spain 4-0 Niger U-17 World Cup India: match report, goals, action
A brace from Abel Ruiz along with goals from Gelabert and Sergio Gomez was enough to see Spain get their World Cup back on track after losing to Brazil in their first game.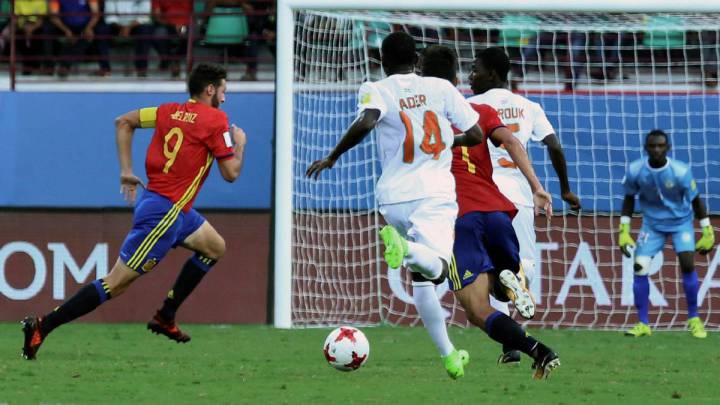 Spain 4-0 Niger
Spain for their U17 World Cup campaign back on track after a loss to Brazil in the opening game on Saturday. They took care of business against Niger with Abel Ruiz bagging a couple along with goals from his Barcelona teammate, Sergio Gomez and Real Madrid''s Gelabert.
After struggling to create anything really meaningful against Brazil, Santi Denia's side had far more purpose going forward and were able to impost their style on the game as they were able to take it down, pass it around and create one-on-ones against Niger on the flanks.
Brazil play Korea next and Spain will play them after and they remain on track to qualify for the last 16 despite the early slip-up against tournament favourites Brazil.
Spain U17 vs Niger U17 live stream online: as it happened
94' Game over!
94' Into the last minute of added time and Spain are home and dry.
92' Lara twisting and turning in the box but he can't get a shot away. Lawali comes out to save and end the danger of a fifth.
86' Juan Miranda  hits the post and it comes back out to him but he can't score again. It comes out to Ferran Torres and he shoots but Lawali gathers. Very nearly 5-0.
84' Abel Ruiz replaced by Nacho Diaz.
82' Ferran Torres knocks the ball to the front post where Abel Ruiz is darting towards! Niger get it away but Sergio Gomez manages to make it to it first and strikes. It beats a defender and the keeper on the way to the back of the net.
81' Niger chasing shadows now with 10 minutes to play.
79' Gelabert comes off after a very decent opening game for him. He got a goal and was generally very good. He is replaced by Jose Lara of Sevilla.
76' That might be a blow for Spain. Gelabert is receiving treatment on his knee. He has been excellent today.
74' Miranda crosses and Abel Ruiz still looking for his hat-trick misses again.
71' Alvaro Garcia replaces Blanco.
70' Lovely ball over the top. torres gets on the end of it, plays it to Gelabert and he forces an excellent save from Lawali.
67' Gomez centres to Abel Ruiz but his side-footed effort is wide. Gelabert, again, involved as Spain drive forward.
66' Spain preparing their first sub.
66' Abel Ruiz to Gelabert. He plays it back and the Braca B player loses out. 
62' Really nice move by Spain. Moha sets Morey free after receiving the ball from Torres. It's just a little too strong but calm and purposeful build-up from Spain there.
61' Tinni replaced by Galissoune.
58' Abel Ruiz sets Torres up but he loses out. Niger on the attack now but they lose out as Spain continue to dominate.
57' Aboubacar collides with Moha in the air. Free to the Real Madrid midfielder. He seemed to catch that one in the ribs.
56' Sergio Gomez on the left, sends a ball to the back post. Torres is arriving and lines up the shot. He drives it wide. Wrong option.
53' Ferran Torres plays Moha through and he skips by a challenge eafter being fouled. He loses possession but he had played advantage. 
51' A really sore one for Miranda. he gets to th ball first and Ibrahim kicks his leg. He's up and at them again and seems to be okay.
50' Ferran Torres crosses and Abel Ruiz tries to react first but the ball is too far away from him.
49' Gomez and Moha try to link up after some neat footwork from Gomez. His pass is a little awry and Niger win it back.
49' Gomez out to Miranda and he crosses but Lawali is out first and gathers.
47' Abel Ruiz chases down a long pass down the line. Wins a throw.
46' Back underway for the second half!
45' HT! 
45' Spain do make it 3-0 though. Gomez with a cross and Gelabert, who didn't start the last day, finishes at the front post. Nice technique as he opened his foot out and drove it home.
45' Abel Ruiz so close to a hat-trick. Lawali saves.
44' Chust heads wide from the third corner in quick succession. Lawali came out for it but the defender arrived first and is unlucky not to have scored. Just wide of the post.
44' And we will go again!
43' Corner for Spain. Gomez sends it in and it's headed out for another corner by Niger.
41' Abel Ruiz with the double! After a nice training ground move, a pull back to him at the edge of the six yard box - or a little further out, he strikes, sees it blocked and the goes again. The second time he puts it in the bottom corner.
39'   Morey down the right. Lovely link up with Moha and he crosses but it's put out for a corner.
38'   Ferran Torres gives away a free after trying he best to round Soumana to no avail. 
37'   Tinni closes in on the through ball but Malaga's Fernandez comes out, slides and clears.
36'   Abel Ruiz takes on Namata down the left. He forces the defender to the ground to clear and give away the throw.
35'   Chust bundles Idrissa oer in the penalty area. Looked like a penalty. Referee says to play on.
34'   Sofiance again with an effort from way out. That looked like a shot. He is the designated shooter but he can't hit the target.
33'   Blanco gives away a free. Pulls yacine down. 
31'   Surely too far out for Abel Ruiz or Moha to shoot? It is. And he sends it into the penalty area. Abel Ruiz pokes it just over. Training ground routine brought to real life but it doesn't work.
29'   After a quick break, we are back in action and Spain looking for their second goal. Free against Kader as he fouls Gelabert. 
28'   Cooling break!
27'   Fernandez saves from a Ibrahim and the follow-up is blocked. Spain manage to get it away.
26'   Lawali with an unnecessarily acrobatic effort to clear a corner. Abel Ruiz clips it back towards goal and it's headed over in the end.
25'   Ferran Torres squares but Niger clear.
25'   Spain looking for another. Miranda doing damage down the left hand side. Niger clear.
21'   Abel Ruiz scores! He taps home after some good work down the left from Miranda on the overlap. Poor defending by Niger.
20'   Mateu Morey strikes but Niger block it and break themselves.
19'   Abel Ruiz with another effort. He strikes wide again. That one was well off target though.
16'   Gelabert strikes after good work by Abel Ruiz. He strikes at the keeper though.
15'   Moha tries to flick towards Torres. A really sharp idea but Lawali had them sussed and comes out to kill the move. 
14'   Free is headed into the path of Ruiz by Torres but he can't get his leg high enough to touch it and take it down. Much better from Spain.
13'   Blanco with a really sloppy pass and nearly gets Gomez hurt. Namata ends up getting booked for going in on the Spaniard while he was on the ground.
12'   Sofiane with a free from miles out. Ambitious effort that flies way over!
10'   Gelabert makes a run through the middle. He finds Abel Ruiz and he drives a shot towards goal. Saved by Lawali.
8'   Ibrahim gets a heads to a Soumana cross and Fernandez gathers. Niger looking dangerous. The same problems Spain had in the first game persist as they can't keep possesison.
7'   Another strike. Sofiane again and Chust blocks. Corner for Niger.
6'   Fernandez makes a mess of a clearance and Niger eventually win a corner. 
5'   Abel Ruiz tries to take down a throw and turn his man but he loses out. Encouraging so far from Spain as they are getting Ruiz involved slightly more. 
3'   Sofiane breaks free and tries to fire a shot towards goal. He hits the ground first and scuffs it but it catches a Spanish defender and goes out for a corner.
1'   We are underway!
Anthems are being belt out and and the Fifa fair play flags move away from the field...
That's the end of the final warm up session and Santi Denia is giving his last words of advice. Almost game time...
Spain will again look to the pace and talent of young Ferrán Torres to make openings early on. They know that an early goal will force Niger to come out more allowing more grass to run into. The longer the game remains 0-0, the more it suits Niger...
The Spaniards make three changes with Beitia, Pampin and Alvaro Garcia all stepping out of the XI. They are ably replaced by Antonio Blanco, Cesar Gelabert and Juan Miranda.
As expected Niger go with the same side that won in their opening match although there is one forced change as injured captain Rachid Alfari is replaced by Kader Aboubacar.
Niger XI: Lawali, Wa Massamba, Idrissa, Sofiane, Tinni, Ibrahim, Aboubacar, Soumana, Namata, Abdourahmane
  Spain XI: Álvaro Fernández; Morey, Miranda, Guillamón, Chust, Blanco, Ferrán Torres, Moha, Gelabert, Sergio Gómez, Abel Ruiz.
The Spanish lads have been training at their camp in India and as well as targeting the three points know that two goals will make them only the third team to reach 100 goals scored in the tournament history. Brazil and Nigeria are the other two.
And Niger goalscorer in the opening game, Abdourahmane, is in positive, but mindful, mood: "We're certainly not afraid of them, but if we're not careful, they'll punish us right away for any mistakes."
Niger coach Ismaila Tiemoko has been playing down the reputations of footballing heavyweights Brazil and Spain: "At full international level, teams like Brazil and Spain deserve a great deal of respect, but that's not necessarily the case in this age group. Everyone at this tournament has a decent chance." 
The referee for this afternoon's game at the Jawaharlal Nehru Stadium in Kochi will be Paraguayan Enrique Cáceres. Last month the 43-year old oversaw Peru's 1-2 victory in Ecuador and on Friday night was blowing his whistle for Lanús's 2-0 win over San Lorenzo in the Copa Libertadores.
16-year old Salim Abdourahmane was on cloud nine after scoring that winning goal against North Korea and will be looking for more celebrations against a team a notch up in standard.
Although starting their campaign with a defeat, the young Spaniards will not be overly disheartened. Their quick passing and movement should be enough to get by both Niger and North Korea as they join Brazil in the next round. But they can't afford to be complacent and Niger come into this on the back of a single goal win over the Koreans, knowing that a result against Spain will likely see them progress.
Welcome to today's game in the U-17 World Cup as Spain look to bounce back from their defeat to Brazil with a game against Niger. 
Spain U17 vs Niger U17 live stream online: preview
Spain will look for a response when they face Niger in Kochi on Tuesday, having lost their opening match of the tournament against a strong Brazil side. Niger currently sit ahead of La Rojita in the Group D standings, following a narrow victory over North Korea in their opening match.
Find out how and where to watch Spain U17 vs Niger U17.
Spain
Santiago Denia's side allowed a 0-1 lead to slip against Brazil in their opening match on Saturday. Spain made a bright start as Moha turned the ball into net after just five minutes, but Lincoln and Paulinho scored before half time to give Brazil a lead that they would ultimately hold on to.
Ferran Torres fizzed in the low cross that put the ball on a plate for Moha. The Valencia player, who has Barcelona and Real Madrid vying for his signature, was a threat throughout.
Spain rallied in the second half against Brazil, and similar performances against Niger and North Korea will almost certainly be enough to secure a passage to the knockout phase. The top two teams from each group qualify automatically, as well as the four best third-placed teams.
Niger
Salim Abdourahmane was elated after scoring the only goal of the game against North Korea, and understandably so; it was the first goal ever scored by a Nigerien at a World Cup.
"I thought about the fact that the entire country would be watching on television and how my family would be buzzing back at home," trumpeted the 16-year-old, "It's a moment that will stay with me for the rest of my life."
His boots will also stay with him for the rest of his life, as he proudly declared that "they'll be a piece of my country's football history. When I'm a dad, I'll be able to proudly show them to my kids."
His coach, Ismaila Tiemoko, was a little more sedate, and lamented his side's inability to convert chances and kill the game off. Looking ahead to a challenging match against Spain, and with another one against Brazil on the horizon, Tiemoko maintained that everything remains possible:
"Facing those countries is a daunting proposition in senior football, but not at this level. This tournament is wide open," he said.
Spain U17 vs Niger U17 live stream online: odds and betting
Niger are long-shots at 12/1, while a draw is available at 6/1.
Bet on Spain U17 vs Niger U17.