Mariano: "My objective is to play with the Spanish national team"
The striker, who lined out with Dominican Republic in a friendly in 2013, is on Julen Lopetegui's radar after an excellent start to life at Lyon in Ligue 1.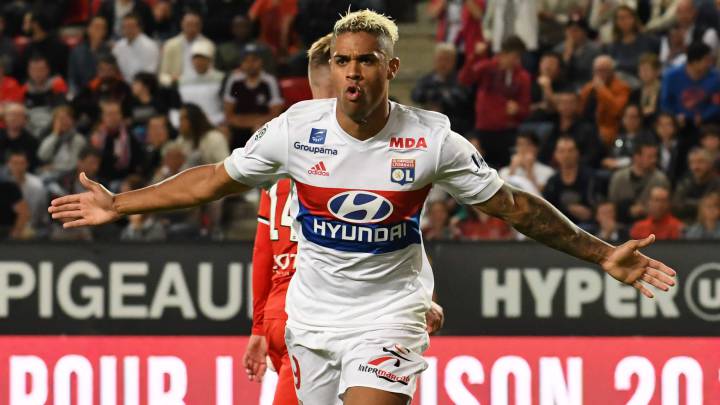 Since leaving Real Madrid in the summer, Mariano Diaz has been one of the highlights for Lyon's in their admittedly very young season. Eclipsed by the arrival of Neymar and Kylian Mbappé at PSG during the summer transfer market, the striker has been a sensation in his own right. He is the third highest goalscorer in Ligue 1 behind Radamel Falcao (12) and Edinson Cavani (8) with six goals in eight games. Speaking to Onda Cero last night, Marcelo says he would like to play for Spain if given the chance.
"I would love to one day play with Spain and I will fight with everything I have to make sure that it happens," he said. Four years ago, the 24-year-old made his debut for the Dominican Republic against Haiti in a friendly, in which he scored but says now, "It was something that I felt was right at the moment, but now I would love to play for Spain and that is my objective."
That game would not prevent Mariano from lining out in La Roja as FIFA state you have to play an official game before you are officially tied to that country. It is similar to the situation with Diego Costa, who played two friendlies for Brazil before lining out for Spain.
Julen Lopetegui, who is alert to Mariano's situation, says he is on his radar, "We have seen him and he has started the season very well. He is performing up to the standards that we have."
Mariano on why he chose Lyon when leaving Real Madrid
The striker also touched on other topics during the interview.
Regarding his departure from Real Madrid, he explained why he chose the French side and says he saw them as a team "that bet a lot on me. Zidane recommended them to me and he said to me I would be going to a very good club and situation with Lacazette just leaving. I saw it as a very good option."
On the penalty debacle involving Cavani and Neymar against Lyon: "I was on the outskirts of the row and the only thing I saw was that they were talking to see who would take the penalty and Neymar was angry that Cavani eventually took it. Neymar and I have a friend in common and before the game, we talked about exchanging shirts at the end of the game because the friend wanted mine."
The best number nine in the world: "I like (Brazilian) Ronaldo when he was playing."
Relationship with his former teammates: "The one who I got on with the best is Marco Asensio. He is very friendly and I always tell him that."
Differences between the Spanish and French leagues: "It's a little bit more physical, and it has grown a lot in the last few years with big signing and the standard is really high."
Posibilidad de competir con dos países
El supuesto que permitiría a Mariano ser convocado con España está recogido enel artículo 8 del Reglamento de Aplicación de los Estatuos de la FIFA. Dicho artículo reconoce a los jugadores el derecho a cambiar de selección siempre que:
1. No hayan jugado un partido de competición oficial con otra selección abosluta.
2. En el momento de jugar su primer partido con la anterior selección (aunque sea en categorías inferiores) ya poseyera la nacionalidad del nuevo país al que quiere representar.