Cristiano's marker Djené takes the train to work
The Getafe defender, who was born in Togo, can regularly be seen on the train returning home after training. "My success has been saving my family".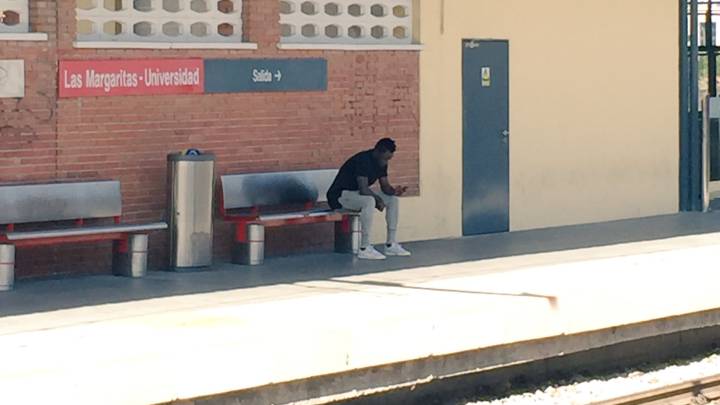 In the modern world of football, where most players compete with each other to show up at the training in the newest, flashiest, most expensive car, it's refreshing that players like Getafe defender Djené Dakoman Ortega are happy to take a more modest mode of transport - the city's regional train network - along with the rest of Madrid's workers. On Saturday afternoon, it's highly likely that Djené will be given the task of marking Cristiano, quite possibly the footballer with the biggest collection of luxury cars in the world...
Djené's early days in Spain with Alcorcón
Togo-born Djené has been one of Getafe's star performers during the first few weeks of the league campaign. The 25-year-old joined Geta over the summer from Belgian outfit Sint-Truidense on the express wishes of José Bordalás, the coach who introduced him to Spanish football by bringing him over for a month-long trial with Alcorcón in 2014. Djené passed the test and spent the next two seasons with Alcorcón, leaving for Belgium last year. During his time at Alcorcón, Djené lived alone in a small appartament loaned by one of the club's sponsors. He said at the time: "I don't need more, I am happy with what I have. I want the team to get promoted and play in LaLiga. My success has been being able to save my family economically. My success has been the triumph of my whole family".
Djené, proving himself in LaLiga
Now back in Spain on a permanent basis, Djené will spend the next four seasons helping Getafe where he continues with his same humble approach to life and the same modest, no-frills attitude towards possessions. The day after he kept Barça's Luis Suárez out of the game at Coliseum in Week 4, Djené turned up for the morning session with his team mates then travelled home by train. He was spotted waiting at Las Margaritas station by Getafe fan @TheAlvarovic.