Mascherano plotting Barça exit and Argentina retirement
The defender has announced that he will retire from international football after the 2018 World Cup and "maybe" call it quits with Barcelona.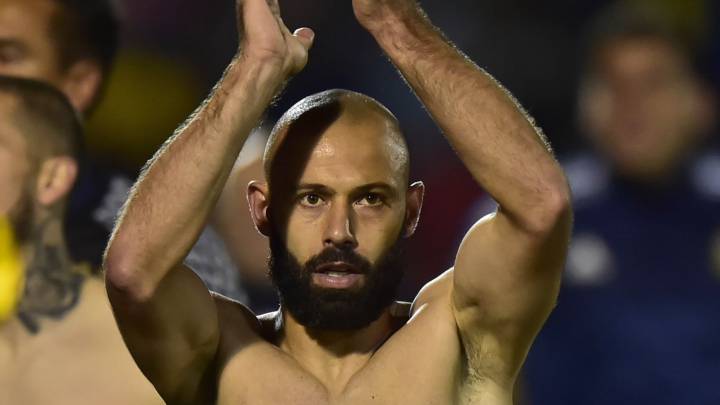 Javier Mascherano announced today that he will retire from international football with Argentina after next summer's 2018 World Cup and "maybe" call it a day with Barcelona. The defender also hailed Leo Messi, describing his team mate at club and international level as "an international treasure".

Mascherano admitted that he didn't produce his best level in 2016 but says that now he is getting back to playing his best football. "It's clear that I'm playing less for my club because we have two centre-backs who are better. I am trying to battle to win my place - or at least be ready when I am called on. When you have a better player ahead of you in the pecking order, you accept it and try to turn the situation around - that's all you can do. I'm not the kind of person to get annoyed about it, and even less with the coach", he explained.
Mascherano chewing over Barcelona future
"I have my contract to honour with the club but obviously, once the season is over we'll see what needs to be done - I haven't spoken to anyone about it yet. At Barcelona, they've always said that they're happy with me and I have time to think about it", added Mascherano, who is clear in his mind about when his international career will come to an end. "My time with the national team will end in Russia, I won't play for Argentina again after that. I don't have many things left to complete in life and to be able to play at the World Cup finals and have the chance to make the final again is all the motivation I need - that's not to say that I'll be doing things I've never done just to achieve a dream. It would have been a massive blow had Argentina failed to make the World Cup".

In his interview with TyC Sports, El Jefecito praised Leo Messi, his team mate with the Albiceleste and at Barcelona. "It's important that Leo can play at another World Cup. Messi is different to other players - he's our patrimony. Like all great artists, he has no nationality, but belongs to all of the people who pay for a ticket to watch him play".




Mascherano
Hebei China Fortune FC
Midfielder
Argentina