Lyon vs Monaco live stream online: Ligue 1 Conforama, matchday nine
Don't miss a minute of Lyon vs Monaco live online, from Ligue 1 Conforama. Preview, build-up, live coverage and live score. Kick off 20:45 (CEST) with AS English.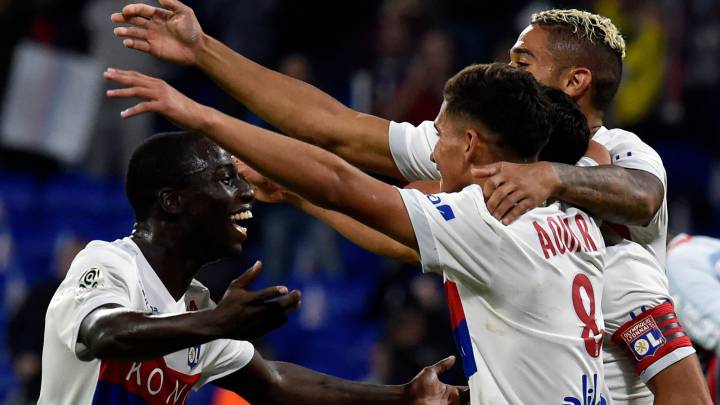 Lyon vs Monaco: match summary
Lyon scored a dramatic victory in the Groupama Stadium on Friday as club captain Nabil Fekir took the responsibility of a temptingly placed free kick deep into stoppage time to fire a glorious strike past Monaco keeper Danijel Subasic, handing his side victory after a frenetic 90 minutes that produced perhaps the finest opening 45 of football in Europe so far this season.
In a first half of exceptional attacking intent, Mariano gave the home side the lead when he slammed in Fekir's pinpoint cross, only for Monaco to equalise minutes later when Rony Lopes ran through onto a splendid ball from Keita Baldé to slot past his compatriot Anthony Lopes in the Lyon goal. Fekir, who appeared to be playing the final minutes of the game with an injury to his arm, popped up to make it to 2-1 to the hosts when he finished a sweeping move from the edge of the Lyon area with a sure left-footed finish.
Monaco levelled again when Adama Traoré latched onto a loose ball on the edge of the area and sent an unstoppable shot crashing into the back of Lopes' net.
It seemed that more goals were a given after a half of such quality and attacking verve but although there were plenty of chances at both ends, particularly a venemous free-kick struck against the foot of the post by Mariano, the game appeared to be heading for a draw with the clock deep into stoppage time when Fekir stepped up to apply his magical left boot to the final act.
Lyon vs Monaco live stream online: as it happened
90'+4' And that's it! What a finale to the game! Monaco snatch victory at the death!
90'+3' Goooooooooal! Fekir! The Lyon captain sends Mariano away from the vicinity and slots a beautiful shot past the despairing dive of Subasic. What an end to the game! The travelling fans are going mad!
90'+3'   Lyon have a free kick out wide on the left. Could be the final chance here... Subasic is up to punch it clear and Fekir is flattened in the aftermath. Another free kick for the home side...
90'+2' Monaco send in a free kick but it's cleared.
90'+2' Final change for Monaco as Guido Carrillo comes on for Keita Baldé.
90'+1' Four minutes added on.
88' Disallowed goal! Mariano has it in the back of the net but Fekir is adjudged offside in the build-up. It was very, very close.
85' Fernando Marcal, freshly on for Lyon, charges down the right but his cross is not a good one. Monaco come forward and Lopes makes another huge blunder, presenting the ball to Tielemans miles off his line. The Belgian hesitates, decides not to shoot, plays it out wide, gets it back again but Lopes is back to make a block. Incredible stuff from the Lyon keeper at times this evening.
83' Memphis almost gets on the end of a cross but can't quite reach it.
82' Myziane has a go and it takes a wicked deflection off Jemerson, fortunately for Subasic it spins off wide of his left post.
81' Rony Lopes chances his arm but it's straight at his namesake in the Lyon goal.
80' 10 minutes to go now and both sides rolling the dice in search of a winner. A little of the fizz has gone out of the affair but that's hardly surprising given the amount of effort put in up to now. There's been some champagne stuff as well.
78' Lyon make a change as well, Ndombele heaing off for Myziane Maolida.
77' Adama Traoré heading off now, Youri Tielemans coming on for Monaco.
77' Good move from Lyon, switcihng the ball to the right where they had greater numbers, but the final ball is too close to Subasic, who gathers it easily.
76' Mariano almost threads a ball through for Memphis but it hits a defender and finds its way back to the striker, who has another crack. Deflected. He is willing to have a go from anywhere this evening and why not?
74' Lyon break and Aouar has options to his left but decides to have a pop, which is low, weak and stright into the gloves of Subasic.
72' Cormer for Monaco as Mendy hoofs an awkward cross behind. Glik almost reaches it but it's cleared back to Moutinho, who hammers an attempted cross into a defender. Monaco on the front foot now.
71' And what a strike! It hits the post from the former Real man, who is oozing confidence at the moment and hammers a low shot against the upright.
70' Free kick for Lyon from about 30 yards out after a foul on Mariano. It looks as though he fancies it as well...
68' A bit of a lull in the game, which has been played at a frantic pace throughout. Monaco attack again but there are some tired passes being played now and Lemar fails to read a clip into the area and it runs behind him.
66' It's even better on the replay, with Subasic going the wrong way when he flicked out a leg.
65' What a save! Subasic gets a boot to Mariano's low drive, which was well struck. Excellent stop from the Croatia keeper there.
63' Lyon try to pick a way through the middle again but the imposing form of Glik is there to halt their progress. At the other end Lemar buys himself a yard on the right and unleashes a left footed shot, which is clipped just wide via a defender's boot.
62' What a miss! Adama Traoré is on his own, practically on the penalty spot, with just the keeper to beat and sends his shot wide! Huge holes in the Lyon defence there.
61' Monaco aim a free kick from distance towards a wall of pale blue shirts but Mariano pops up with that aerial prowess of his to head it clear. Lyon come forward again but Monaco have really tightened it up at the back.
60' 60 percent possession for Lyon so far and the home side come forward again, Fekir pinging in a cross but it's straight into the arms of Subasic.
59' Change for Lyon, Bertrand Traoré trudging off after a disappointing game to make way for Memphis Depay.
58' A nice passing move from Lyon gets Fekir into the area but Glik is across like a steam train to cover and floors the Lyon captain, fairly, conceding a corner.
55' How did that not go in? Lopes makes a huge blunder and presents the ball to Baldé, whose shot he then does well to save. Monaco try again but the ball ricochets off the defence and to safety when it looked certain to be turned in!
54' Adama Traoré goes in the book for a clattering challenge on Ndombele, chuckling wryly as he felt he had got the ball fair and square.
52' A Monaco free kick from the right is sent in by Lemar, wasn't immediately clear if he was going for a cross or a shot but the ball whizzes past Lopes' far stick. The Lyon keeper had a careful eye on it though.
50' Monaco are looking a bit more solid at the back at the start of the second half, Jardim must have identified the Lyon attacking outlets that were causing most damage and given instruction to plug them up. Mariano tries to wriggle through the middle but is bundled off the ball.
49' But the Portugal international hits it straight into the wall. Not up to his usual standard that.
48' Joao Moutinho over it, 28 yards out...
46' Mapou goes in the book for a late challenge and Monaco have a free kick on the edge of the area.
46' Lyon starting the second half as they finished the first, putting plenty of pressure on the Monaco back line.
46' We're back underway in Lyon!
45'+1' Into added time and there won't be much. Aouar has a shot but it's wide and that's all there's time for! The ref blows on a frenetic half of football in Lyon.
43' Both sides guilty of a poor touch in the final third and the half is winding down... until Baldé charges into the area, twists and turns and gets a cross in that is hacked clear by the Lyon defence. Fekir goes in the book for a bit of a dive earlier in that passage of play.
41' Cleared with little fuss though. We're sure Monaco manager Jardim will have his chalkboard out at half time. Lyon look dangerous every time they get forward, and they're getting forward a lot.
40' Fekir with another corner but it's clobbered out of the area by Moutinho. Lyon drop back and look to build another attack. A quick one down the line and Tete is through but a good block denies him getting a shot on goal. Another corner...
38' Mariano! The Lyon striker robs Jemerson with a fair challenge after harassing the defender into a mistake and squares, but it's met firmly by Glik. A better cross there and that would have been three. Mariano is a real thorn in the side of the Monaco back four tonight. Mistake to sell him by Madrid?
36' Uffff. Rony Lopes bursts from his own half and runs the length of the pitch, laying off for Baldé in the area. Lopes (the Lyon keeper) comes out to make a challenge and he had to time that perfectly. Baldé goes flying, there are a couple of half-hearted glances towards the ref, but that was an excellent piece of keeping there.
34' But he's not getting to that! A defensive mix-up sees the ball fall kindly on the right boot of Traoré and he absolutely hammers it into the top left of Lopes' goal. What a strike from the Malian. 2-2.
33' What a save! Adama Traoré gets a firm header to Moutinho's delivery, completely unchallenged, but Lopes is across to make an excellent stop.
32' Free kick for Monaco now, about 35 yards out...
31' Traoré gets a shot off and it appears that Kongolo gets a connection on it but the ref shakes his head and signals for a goal kick.
29' Monaco really on the ropes now as Lyon come again and again, first Fekir then Tete having a go. The replays show that ball hit Glik on the underside of his elbow, he didn't know much about and there was certainly no inent from the big Pole.
27' Huge penaly appeal! The ball is half-cleared to Mariano, who hits a shot on the turn and it hammers Glik's arm en route to goal. Looked like a fair appeal that, the Lyon players are incensed.
27' Fekir over it of course...
25' Lyon switch it from right to left and then back to the other side with ease, Monaco chasing shadows. Mendy is carved down and Lyon have a free kick in a very dangerous position on the edge of the area.
24' Lyon have had seven shots on goal already to Monaco's three and we're only 24 minutes in.
22' Goooooooooooal! What a move from Lyon. Fekir finishes it but Ndombele started it from the edge of his own area. A few quick passes, not a Monaco tackle in sight and Mendy squares for the captain, who slots a left-footed strike past Subasic. 2-1 to Lyon and that was a beautiful passage of play.
20' Decent save! Subasic is alert to an Ndombele pile-driver from outside the area and gets across to make a solid stop.
19' Lyon come forward again as the game opens up. Traoré pings one into the box and Mariano leaps higher than Glik but can't get any power onto his header and it's straight into the gloves of Subasic.
18' Lyon were playing an awfully high line there and will have to be careful with the wily Baldé patrolling thw halfway line looking for that sort of opening.
16' Goooooooooooal! Rony Lopes! The Portuguese is sent clean through by a clever Baldé reverse ball and finds himself one-on-one with his namesake in the Lyon goal. And he makes no mistake, banging in a low shot that his compatriot can't reach.
15' Monaco win a free kick on the right and Moutinho stands purposefully over it. It's sent over towards Kongolo but it's telegraphed and Lyon clear.
13' Moutinho penalised for a foul in midfield, Lyon in no hurry to take, leaving it to Lopes to hoist it forward.
12' That was Mariano's seventh in nine Ligue 1 games.
12' Thomas Lemar tries his luck from distance with a left footed effort but it sails over the bar.
10' Gooooooooal! Mariano Díaz does it again. The ball is pinged across the area by Fekir, who does excellently to lose two defenders, and it's perfectly placed for the former Real Madrid man to slap it in at the far post. Poor defending from Monaco again, but all credit to Fekir, who has a wand of a left foot.
9' Baldé attempts an acrobatic overhead but doesn't catch it well and it doesn't bother Lopes in the Lyon goal.
8' What a let-off! Subasic dozes off on his goalline and Mariano is in like a whippet to get his boot to the ball. It hits the post, again, and Subasic can think himself very lucky indeed there.
6' Another corner for Lyon as Tete goes on a run into the area but it's cleared easily this time. Monaco try one over the top to Baldé but the Senegal international is caught offside.
5' Fekir delivers and it's off the post! Lucas Tousart gets his head to the delivery, and it was poorly defended to be honest, but it rattles the upright! Traoré's follow-up is blasted high. Let off for Monaco there, and completely against the run of play.
4' Kongolo with the throw but Lyon get it clear and then win a free kick and finally get their feet on the ball, Traoré is freed up on the right but Kongolo gets in a good challenge and it's out for a corner.
3' Lopes tries to release Almamy Touré with a back heel but it's too strong for the Malian to reach. Balde then gets his feet in a tangle as he tries to outfox the Lyon defence. It's all Monaco so far, Lyon have barely had a touch. 
1' Monaco pinging it about it midfield and they work it out the electric Rony Lopes, but he's bundled off the ball at the touchline.
1' And we're off!
Both sides were held to draws last time out, Monaco at home to Montpellier and Lyon away at Angers.
We're just a few minutes away from kick off now... the teams are in the tunnel and the stands look pretty packed for this clash between second and eighth.
These two sides have met 116 times down the years, with Lyon winning 39, Monaco victorious on 51 occasions and 26 draws. 
  Adama Traoré gets a first start of the season and Keita Baldé, a summer arrival from Lazio who usually operates on the wing, has been drafted in to lead the line in the absence of Falcao and Stevan Jovetic.
As well as tonight's clash between eighth and second at Groupama Stadium, we'll also be bringing you live coverage of the week 9 match-up between Dijon and leaders Paris Saint-Germain tomorrow. Kick-off is at 17:00 CEST at Stade Gaston Gérard, and we'll be building up to it throughout the day before offering minute-by-minute text commentary. 
And top scorer Mariano will be hoping teammate Nabil Fekir can continue with his chance creation for others. The 24-year-old Frenchman already has 11 assists to his name (as well as a respectable five goals). Some have even suggested that he could be able to step into the shoes of national legend, Zinedine Zidane, in the French midfield. High praise indeed.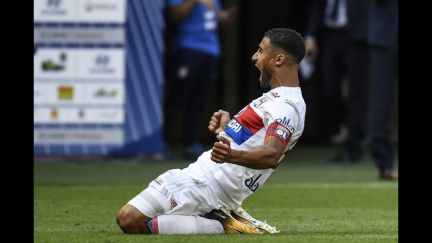 Our preview below gives you a real flavour for what to expect from tonight's game and we also provide you with a handy guide to find out the kick off time wherever you are in the world, as well as some alternative ways to watch the game.
Hello and welcome to our live coverage of the Friday night game between Lyon and Monaco which gets our Ligue 1 matchday 9 up and running.
Lyon vs Monaco live stream online: match preview
Monaco look to keep pressure on PSG as they travel to Lyon on Saturday in Ligue 1. Lyon are looking to get their first win in over a month and Monaco aim to go level with PSG atop the league with their Parisien rivals not playing until Saturday against Dijon, away from home.
Lyon team news
The Bruno Génésio-managed side started the Ligue 1 campaign in flying form with wins at home to Strasbourg and away against Rennes but they have only won one since with four draws and a loss now on their record. They have failed to win in over a month with their last three-pointer coming on September 10th against Guingamp.
Lyon know they need to start gathering points if they hope to trouble the current European place holders, "We're in urgent need of points, especially against a direct rival for a European qualifying place," explained goalkeeper Anthony Lopes. "We have to take the three points that will enable us to pick up momentum and start a run of wins. We mustn't have doubts as that will just make things more difficult afterwards. We have to move forward hand-in-hand and be confident."
That is not to suggest the four draws they have been involved in were bores. Their last two have had a combined 12 goals - two 3-3's - and Mariano Diaz continues to impress as he replaces the Alexandre Lacazette-shaped hole in their attack. He has six goals in eight games so far this season and has declared his desire to break into the Spain squad. Julen Lopetegui admits he is keeping tabs on the Dominican Republic born striker and says his form is up to the standard they expect in the Spanish national side.
On the injury front, Génésio is missing Papa Cheikh, who is still recovering from a sprained ankle and he will also have to do without centre-half Marcelo, who was sent off last time out against Angers after 50 minutes and with Lyon up 3-1 before they collapsed and let in two with 10 men.
Monaco team news
This game might have turned into a shoot-out between Radamel Falcao and Mariano Diaz - the first and third-highest scorers in the league this season. Falcao, coming off international duty where he came under pressure for reportedly telling opposition players to cool their jets as both teams would qualify with a draw, has scored 12 goals with 24 shots this season. His manager, Leonardo Jardim, will rest him, however, saying: "To try and play at Lyon could 'kill' him. He won't play. Anyway, his physical condition won't allow him to play two matches in 48 hours." El Tigre's efficiency and conversion rate in the penalty area will be a huge miss when the teams take to the field.
Jardim will have to think outside the box to make sure his side don't miss a beat on Friday as he has a host of injuries to contend with. Loic Badiashile, Julien Serrano, Adama Diakhaby, Stevan Jovetic will all miss out with injuries that range from shoulder and ankle, to back and wound complaints. Meanwhile, Gabriel Boschilia is not available and Fabinho must sit out thanks to an accumulation of yellow cards.
Lyon vs Monaco live stream online: betting odds
The bookmakers have the home side as favourites for this game at 11/10 (with a Monaco victory priced at a more tempting 11/5). However, maybe the value lies in another marker with both Memphis Depay and Bertrand Traore for first goalscorer sitting at 6/1.
Check all the odd for Lyon vs Monaco.