Getafe 1-2 Real Madrid: match report, result, how it happened
Don't miss a minute of Getafe vs Real Madrid live stream online, from the Coliseum Alfonso Pérez. Preview, build-up, team news, minute-by-minute coverage, live score and match report. Kick-off: 16:15 CEST today, Saturday 14 October 2017, with AS English. Real Madrid vs Numancia: Copa del Rey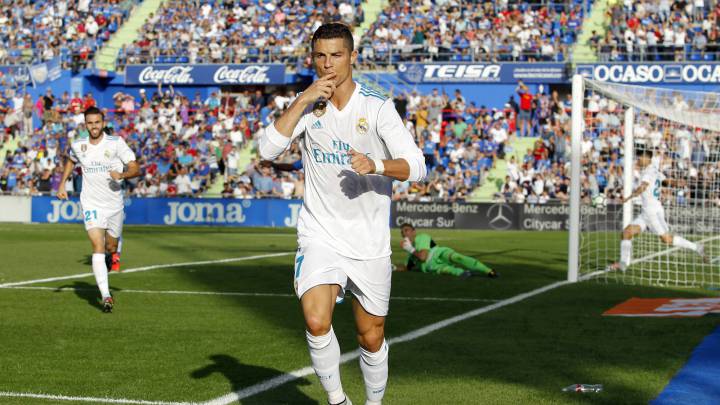 Cristiano Ronaldo read the script and delivered his lines with timing that was far from comic for Getafe but put a smile on Zinedine Zidane's face as Real Madrid avoided another Liga slip-up in the Coliseum against José Bordalás' gladatorial side.
That script had been delivered by leaders Barcelona, who had also been given a heavyweight's work-out in the capital by a side who are no strangers to punching above their weight. This Getafe side is a far cry from the Azulones' glory days, when successive Copa del Rey finals were punctuated by a run in the Uefa Cup that ended only at the hands of Bayern Munich in the quarterfinals.
However, Bordalás knew what to expect from Real Madrid and set up his side accordingly with two blocks of four clicking into place like steel plates whenever the visiting side had the ball. It was not a subtle tactic and neither was the approach of the home side, who racked up 23 fouls over the course of the contest. But it almost paid dividends and Getafe were forced into an early rethink through the loss of Álvaro Jiménez, the former Real canterano who was forced off with a rib injury after a robust challenge from Sergio Ramos with only 14 minutes played.
Benzema equals Paco Gento's mark for Madrid
Still, Getafe stuck to their rehearsal and limited Real's chances in the early exchanges, Ronaldo's stinging drive the only tangible reward for the visitors' relentless probing. Vicente Guaita was equal to that and the Geta keeper had an excellent game but even he was powerless to prevent Karim Benzema from opening the scoring. Picking up a loose ball in midfield with the clock ticking towards half time, the striker skipped one challenge with a deft touch, surged forward and picked his spot at the far post to score his 182nd Liga goal, matching Paco Gento's mark and joining the Real great in seventh in the all-time list.
Getafe could have been expected to buckle from the blow but the home side came out with more intent in the second half and had Real on the ropes for a spell, which culminated in the equaliser. The visitors' back four were unable to deal with a low cross after Marcelo had failed to snuff out the danger on the left and in a tangle of boots and flailing arms Jorge Molina got the final touch to steer the ball into the corner.
Zidane belatedly rang the changes, sending on Theo Hernández and Isco to shake up an attack that had been stymied for most of the half but it was the familiar figure of Ronaldo who should have had the ball in the back of the net a minute later when he was presented with a chance at the far post, a yard out and with Guaita scurrying across his line helplessly. Inexplicably, the Portuguese failed to turn his shot the right side of the post.
As the clock ticked down it seemed that Real were heading for another Liga draw, and potentially a nine-point deficit on Barcelona, when Isco produced his magic wand to send a ball over the top of the Getafe defence. Ronaldo saw his intention, followed its flight, glanced at Guaita and shrugged off a challenge to bury a low shot past the Getafe keeper.
It was victory in extremis, and Real still look a pale shadow of the side that conquered Spain and Europe last season, but that will not worry Zidane on Saturday evening. There will be time for that on Sunday, when he starts to plan for the visit of Tottenham in the Champions League.
Getafe 1-2 Real Madrid live stream online: as it happened
Ronaldo's strike captured for posterity.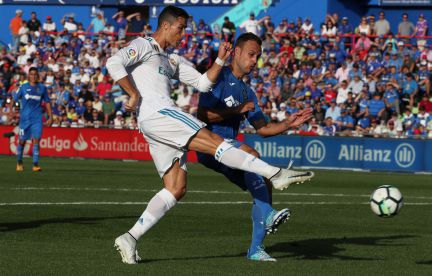 90'+3' And that's it! Geta had one final chance at the end but an acrobatic overhead effort flew harmlessly wide. Real eke out a 2-1 win in the Coliseum, which was neither convincing nor particularly pretty but they'll take it.
90'+3' Real have a throw on the right and in are no hurry to take it. Mayoral receives and heads for the corner, looking to earn one.
90'+2' Casilla lumps a goal kick out and is almost put in a difficult position by a soft back pass but gets out quickly to whack it clear.
90'+1' Three minutes added on.
89' Geta still banging on the door! Casilla comes for a cross and punches clear but only as far as Lacen, whose shot whistles over the bar with the Real keeper all at sea.
87' Markel! The Geta midfielder finds some space in the area and turns and shoots, but it's a weak effort and Casilla get down to smother it with little fuss.
85' Goooooooooooooool! Ronaldo! What a time to get off the mark! The Portuguese latches on to a ball over the top and buries a shot beyond Guaita. Cruel for Geta, who had switched off a bit and gave Ronaldo all the space he needed.
84' Yellow for Lacen as he hauls back Llorente. We'd forgotten he was on the pitch to be honest.
83' Indeed, Arambarri limps off and Bruno comes on to replace himself. Geta have set up in a 5-4-1 now as they seek to hold on to this result.
81' Isco switches play to the right and almost finds Achraf, who was charging in at the far post but just failed to connect. Arambarri is down in midfield to the consternation of the Real players, who suspect a bit of gamesmanship. It looks genuine though as the substitute looks about to be substituted himself.
80' Final change for Madrid, Mayoral coming on to replace Benzema.
79' Close! Lacen finds himself with space to shoot but sends his effort wide, to the relief of Casilla.
78' Molina tries to get into the area but is cut off by Achraf. The Geta forward goes down but the ref says no dice.
76' Portillo gets away on the right but rather than finding a teammate he plays a pass straight to Theo, who gratefully receives the gift and gets Real back on the front foot. Another free kick, Kroos knocks it back... Real are running out of ideas here and need a bit of individual magic from someone if they are to find a winner. 
75' 15 to go in the Coliseum and we remain locked at 1-1.
74' Theo has the ball in the back of the net but he was well offside when he received it. No complaints from the Real players there.
72' What a miss from Ronaldo! The Portuguese was a yard out and only had to steer the ball the right side of the post. It seemed he'd been called offside at one moment but a goal kick is given. His face says it all...
71' Isco coming on for Lucas Vázquez, and Theo for Marcelo.
69' Ramos reads the ball well to get across ahead of Molina with just the two of them in the vicinity. Asensio goes on a run but Djené dispossess him. A really fine performance this from the Geta defender.
67' Another corner from Geta, another short delivery from Antunes which is hooked clear all too easily. Geta really need to take more advantage of their set pieces.
66' And it's Medhi Lacen who comes on for the hosts.
65'   It's over the wall but wide to Guaita's right from the Portuguese. Change coming for Geta...
64'   Kroos is clattered to the floor at the culmination of a Real move and it's a free kick in the perfect range for Ronaldo to have a pop...
63'   Isco is warming up for Madrid. Good call from Zidane.
62'   Good work from Amath, who brings down a ball in midfield and spreads it to the danger area where Achraf gets a firm head to it to concede a corner.
60' Corner for Getafe now as Djené joins the attck on the left. A good period for the home side this. It's taken short though - when do they ever work? - and Fajr's cross is dealt with easily. 
59' Real are on the back foot all of a sudden and Achraf does well to hook the ball back to Casilla under pressure.
57' Nacho goes in the book for a cynical foul on Molina after the Geta forward had turned him on the halfway line. It was necessary from Real's point of view though. The home side have got their tails up now!
56' It's been officially awarded to Molina but it will need a dozen replays to evaluate who got the final touch. Woeful defending from Real in any case.
55' Goooooooooooool! Geta equalise! Marcelo fails to get to a cross field ball and the Real defence are in disarray as the cross comes in. It looks as though Nacho may have got the final touch but the ball nestled in the bottom corner anyway and the home side are back in the hunt!
52' Amazing stuff from Guaita, who first denies Ronaldo and then makes a flying save from Marcelo. Real had the second at their mercy there but the Geta keeper was equal to the task.
50' Plenty of discussion as to who should take. Eventually it's Kroos and he aims for Ramos, who slipped to the back of the area, but it's too long and the captain does well just to get it back across goal. It falls to Marcelo, who controls on his chest but then hammers his shot over the bar.
49' Achraf almost wriggles through on the right and is hauled down. Free kick to Real...
49' Ramos reads it well though and takes the ball off Cala's head.
48' Kroos goes into the book for a foul in midfield. Another foul gives Geta a free kick in a promising position.
47' Geta are full of running but it's hard to see where the goal will come, if it does, the home side having managed only one shot on target in the opening 45 minutes.
46' Real roll the ball off the spot to get things going again. It's Geta that look the most lively though as Molina releases Damián on the right. Nacho does enough to put him off though and the chance goes begging for a goal kick.
We're about to get underway again in the Coliseum. No further changes at half time by the looks of things.
45'+2' And that's the half! Not the prettiest 45 minutes ever but that moment of pure class from Benzema lit up the Coliseum. 1-0 to the visitors as the sides head down the tunnel.
45'+2' Molina and Portillo try a one-two but it doesn't quite come off and Nacho hacks it clear. Geta throw, last of the half for sure, sent in to Molina but Ramos is on hand to say no you don't, pal.
45'+1' Two minutes added.
45' Excellent ball from Lucas to Ronaldo, who is heading for the corner of the area but Djené is across with a perfectly timed tackle. He's having a very good game, the Togo international.
44' Lucas is fouled, again, and Real take quickly to spread it out to the left. Geta saw it coming though and get men across to pin Marcelo down.
42' Curious... Geta have men on the edge of the area and a cross is duly pinged in low, and the ref blows for offside with no flag from his lino.
41' Speaking of, Llorente is down in some discomfort after a tangle with Fajr, who fell and clipped the Real midfielder with his boot on the back of the leg. Accidental, but painful one would imagine.
40' That was unfortunate for Geta, who have been so resolute at the back. One unlucky touch and wham.
39' Gooooooooooooooool! Benzema! The cat is back! The Frenchman ponces on an unfortunate deflection, takes out a sliding defender with a deft touch over his leg and buries a shot across Guaita with expert efficiency.
38' Nacho goes in the book for a foul.
37' Marcelo is worth the entrance fee on his own sometimes! What a flick from the Brazilian, pure futsal, and it finds it's intended target. Geta close the lines again though and Real are pegged back again.
36' Close! Ronaldo provides a delicious flick for Benzema, who turns and shoots with his left, the effort flying just over Guaita's bar. Good understanding between the two forwards there and Real almost profited.
35' 35 minutes up and still no goals. If it was a foul count on Lucas Vázquez though Real would be about 10-0 up, the canterano clattered to the floor again.
34' Ronaldo dances on the edge of the area with three blue shirts in attendance and eventually goes down under a challenge. He looks imploringly at the ref but nothing is given, quite rightly.
33' Arambarri goes in the book for hauling down Asensio as Real looked to break with the Geta lines still getting back to their marks.
32'   Marcelo gets in a pickle and Nacho saves the day as he dashes across to prevent a cross reaching the lurking Molina. Corner for Geta. It's cleared and eventyally the ball finds its way to Casilla.
31'   Lucas feeds Ronaldo on the right and the Portuguese takes a couple of touches and hits one from distance. Pan y mantequilla for Guaita though, who gathers at knee height.
30'   Real opt for a Kroos delivery and it's a good one, hitting a falling Ramos on the stomach and bobbing out. The Real captain appeals for a penalty but to the amusement of the home crowd is called for offside instead.
29'   Free kick for Madrid just about in Ronaldo range as Antunes floors Lucas. It's a good 35 yards out though...
27'   It's a better delivery from Kroos and Ronaldo almost latches onto it. Benzema has a couple of bites of the cherry from a Lucas delivery in the area but Guaita is there to thwart the Real striker.
26'   Rare loose control from Kroos but he claims a slight push and the ref agrees. Real working it around in midfield but Bordalás has his side well organised and there's not too many gaps for the visitors to exploit. They do win another corner though...
24'   Geta lainch an attack and Portillo has the chance to let one fly but Lucas doies well to race back and stick a boot in. Jorge Molina launched the move on the right and he looks the most likely to make something happen for the home side.
23' Back to the game and Lucas is floored out on the right for a Real free kick. Not much being created by Zidane's side at the moment. Kroos loses patience with the tiki-taka and tries a long ball to Benzema but it's easy for the Geta defence.
21' Extraordinary scenes as a pitch invader manages to climb into the stadium from outside and hares across to Ronaldo for a word. He's wearing a Real shirt so the Portuguese doesn't seem too fazed and they have a wee chat before the lad is ushered from the pitch. We think he was asking for his shirt...
20' Lucas plays a fine ball to the feet of Benzema but it arrives slightly behind the Frenchman's run and he gets it tangled in his feet. Good pass from the Gallego there.
19' Achraf sells Antunes a dummy and gets a cross in, which is headed out for a corner. Kroos fires it over but it doesn't clear the first man. Marcelo fancies a pop from distance from the revovery but it's battered well wide. 20 minutes in and still goalless in the Coliseum.
18' Good work from Asensio gives Lucas a chance to cross but it's too close to Guaita and he grabs it out of the air. Jorge Molina has half a chance at the other end but can't keep his header down.
17' Asensio pings a ball out to the right, looking to release the lightning quick Achraf, but Geta get it out for a throw. It's pretty scrappy at the moment, Ronaldo's shot the only clear chance of the game so far.
15' It's sent in and Ramos leaps highest but it hits him on the top of the head and goes well over Guaita's bar.
14' Toni Kroos sprays the ball out to Lucas and Real win a corner on the right.
13' Fortunately Damián is back on his feet as play resumes.
12' And there goes Álvaro, to be replaced by Francisco Portillo.
11' More problems for Geta as Damián Suárez goes down clutching his leg. Álvaro is definitely about to come off and he's inconsolable. Could Bordalás be forced into two changes?
10' What a save Guaita! Benzema and Cristiano combine in the area and the Portuguese lets fly with his right but the former Valencia stopper gets down to make a superb stop.
8' A high ball into the area causes Guaita to come out and punch awkwardly but it falls to Antunes and he gets it clear. Álvaro, a former Madrid canterano, is down again and it seems he hasn't recovered from that clash with Ramos. Looks like an abdominal problem. Portillo out to warm up for the hosts.
7' Álvaro is down after a challenge with Ramos, who got the ball first but followed through heavily in the air and floored the Geta winger.
6' Getafe are snapping at heels in the Real half as well and Marcelo has to be alert to pick off an attempted through ball. 
4' Real are pressing high up the pitch in the early exchanges, as they tend to do, but Getafe pop it around and managed to get a shot away. It's straight at Casilla though and he gathers easily for a nice little mark in his shots saved column.
3' Nothing comes of the corner and Geta break upfield, but the Real defence is well positioned to snuff out the danger. Lucas Vñaquez puts in a cross at the other end but it's over everyone's heads.
2' Benzema twists and turns on the left and gets into the box, in a very similar run to the one he provided an assist at the end of against the same opposition last season, but he's guided out for a corner.
2' Ronaldo thinks he's in with a chance but he was a kilometre offside when he received the ball there.
1' And we're off! The sun is shining brightly in Getafe, Real in white, the home side in blue, as god intended.
We're about to get underway in the Coliseum, which is filled to the rafters today. It is, apparently, the first time the stadium has ever completely sold out, a sign as much of Getafe's rise from the ashes as the desire to see this Real side in action.
Dani Ceballos receiving the treatment from the Getafe fans in the stands for his comments in a match for Betis in 2015-16 when the Azulones were condemned to relegation.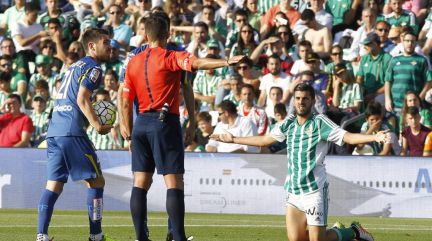 Just 15 minutes to go until kick-off now as Real and Getafe head back to the changing rooms after their warm-up. Plenty of hugs between the sides, many of whom will have crossed paths at youth level around the capital.
Real are also chasing another record today - if they beat Getafe they will surpass Pep Guardiola's mark of 12 away victories in LaLiga, set with Barcelona between 2010 and 2011. Zidane's side matched that figure at Alavés two weeks ago.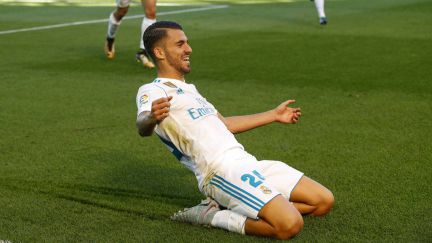 The players are out on the turf of the Coliseum and it's a pretty warm afternoon in Madrid. Real of course are seven points behind leaders Barcelona so won't be in the mood for any slip-ups in the southern burb. Getafe put up a hell of a display against Barcelona though and certainly won't make life easy for the visitors.
Another start for 18-year-old full back Achraf Hakimi in the Coliseum. The Morocco international has four international caps and this will be his second senior club start.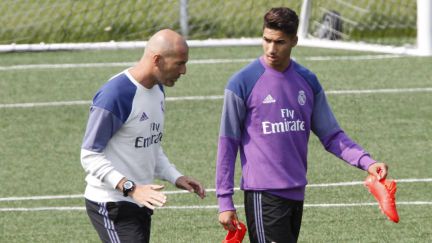 Some pretty big talk from Lyon winger Memphis Depay, who has stated his intention to play for Real Madrid one day. We suspect they'll stick with what they have in January...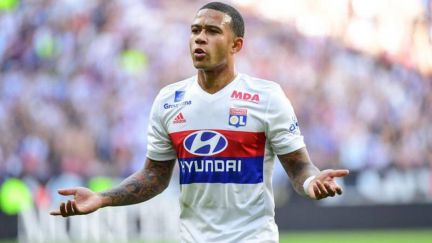 As one indication of the disparity in resources between Real Madrid, among the world's most powerful clubs in economic terms, and modest Getafe, we ran a story about how the man who will be charged with marking Cristiano Ronaldo today, Djené, regularly takes the train to work.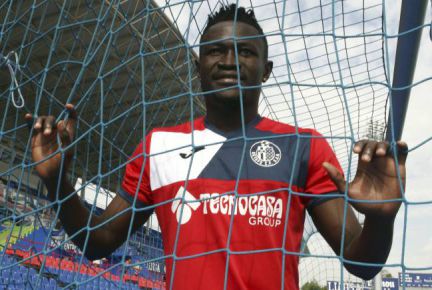 The Real squad list has been announced and there's a bit of a surprise in the goalkeeping department. Let's just say it will be interesting if Kiko Casilla can't make the date today...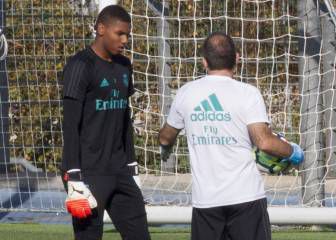 Zinedine Zidane gave a wide-ranging press conference ahead of his side's trip to Getafe and you can have a read of that here.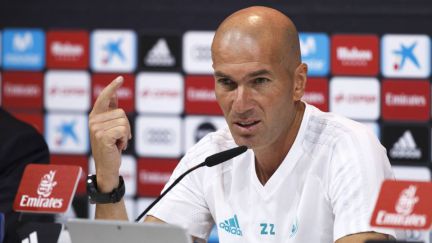 We'll be providing build-up and live, minute-by-minute text commentary of this afternoon's week 8 encounter at the Coliseum Alfonso Pérez - but, as ever, we've also prepared a useful guide on how and where you can watch Getafe vs Real Madrid on the telly, should you be so inclined.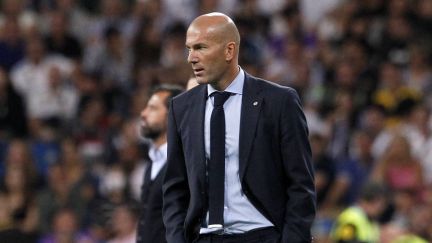 Good morning! Joins us for build-up ahead of today's 16:15 kick-off at the Coliseum Alfonso Pérez!