Liverpool 0 - 0 Manchester United: match report, result, how it happened
Jürgen Klopp's Liverpool dominated a Man Utd side that came to Anfield to stop the attacking play of their hosts while offering little at the other end, and left with a point.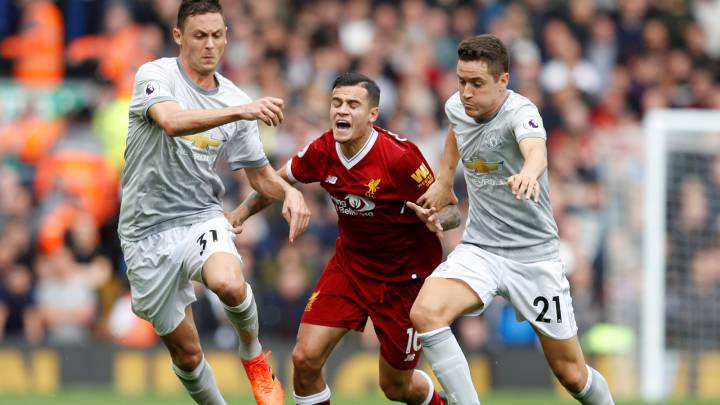 The opening match of the Premier League matchday 8 was the mouth-watering rivalry between Liverpool and Manchester United and AS English brought you it live from Anfield where it finished goalless but certainly wasn't a dull spectacle.
Liverpool vs Manchester United: match report
José Mourinho's Manchester United strolled into Anfield stadium from a seat of superiority: joint top of the Premier League and with praise coming from all corners of the footballing world for the impressive performances seen to date this campaign. The visitors head back along the East Lancs Road with a useful point but that sense of superiority far from in tact.
Mourinho reverts to type
After last season's clashes between these two managers it seems almost naïve to have thought that the Portuguese manager would move away from his usual defensive set up, puff out his chest and take the game to a Liverpool side that has been struggling of late. But despite the warchest spent on strengthening his first team, and the positive start to the season, he didn't.
From very early in the game it was clear that Klopp's Reds would do what they love to do - keep the ball, press when without it, find gaps, create chances - while the talent at José's disposal was asked to block out the space and hope to take advantage of the occasional lapse at the back of the home side that no doubt would come their way. It could have worked but it doesn't impress.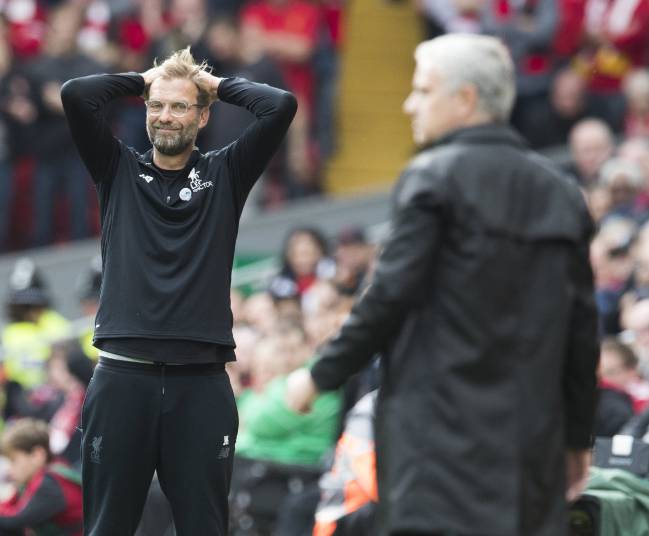 United keep their distance with Liverpool
Jürgen Klopp's Liverpool have now won just once in eight matches, but this was a much brighter showing on a balmy Merseyside afternoon, with Joel Matip and Emre Can going close either side of half-time. But this second successive goalless draw between the teams at Anfield preserved United's seven-point advantage over Liverpool in the table and meant United fell short of setting their best ever points tally after eight games of a Premier League campaign, although they have now gone seven games without defeat against their eternal rivals.
It was not the celebration Klopp would have wanted on the second anniversary of his appointment as Liverpool manager and he currently has only one more point than his predecessor Brendan Rodgers had at the moment he was sacked. However, more dominant he could unlikely have imagined. The visitors closed up shop a la teams like Burnley and said "come and break us down if you can, Liverpool." They almost did on several occasions but in the end came up short.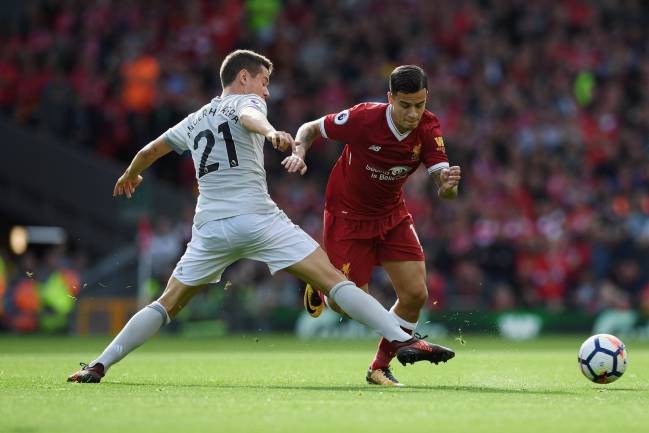 Chance creation by Klopp's Liverpool
United's shackling of Liverpool's front three meant Georginio Wijnaldum found himself with space to attack and he tested visiting goalkeeper David de Gea twice in the first 15 minutes. It took a dazzling stop from De Gea to keep the scoreline blank in the 34th minute, the Spaniard jutting out his left foot to block Matip's close-range volley from Roberto Firmino's cross. After pinching the ball off Philippe Coutinho's toes, Mohamed Salah thrashed the rebound wide of the left-hand post.
Obliged to plough a lone furrow up front, United striker Romelu Lukaku endured a frustrating first half and should have been booked for cleaning out Joe Gomez with a late challenge. But he almost put United ahead against the run of play following a slick exchange involving Anthony Martial and Henrikh Mkhitaryan, only for Liverpool goalkeeper Simon Mignolet to parry.
Liverpool procured their second big chance 11 minutes into the second half when Joe Gomez's cross from the right fell invitingly for Can, who could do no better than hoist a volley into the Kop from six yards.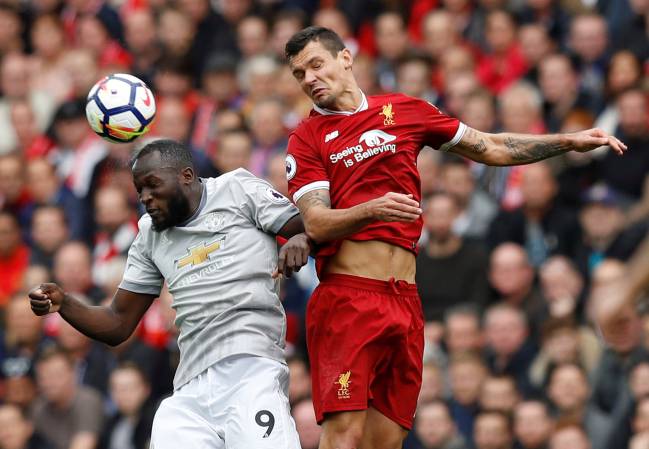 Still Liverpool came, still United resisted. Coutinho unsuccessfully appealed for a penalty after being caught by Ander Herrera right on the edge of the United box, while a lobbed cross from Firmino was just too high for the leaping Salah. Liverpool fashioned two last openings in stoppage time, but after leaping to meet corners from substitute Alex Oxlade-Chamberlain, neither Dejan Lovren nor Matip could keep their headers down.
Many will criticise Mourinho's negative tactics, and the United manager will bat it back as an ingenius way to gather points. We've been here before, and it seems we'll be back again...
Liverpool vs Manchester United: how it happened
Thank you all for joining us today and we hope to see you again soon...
90'+3'   Peeeeeeeep! A dogged, defensive display from United - including a fabulous point-blank save from De Gea - means they leave Anfield with a point. Klopp will be disappointed with the result but pleased with a dominant performance against some people's favourites for the Premier League title.
90'+3' Final chance possibly for Liverpool as they win a corner off a blocked cross. It's put in by the Ox and Matip heads it over as the whistle goes.
90'+2' Lindelof comes on for Ashley Young
90'+1' Corner delivered to the back post and Lovren wins it but can't get over it. We're into 3 minutes of added time.
90' Oxlade-Chamberlain again spins around the defender with pace and strength and whips in another cross. Cleared for a corner. Ball in defended well and back out to the Ox. Second attempt out for another corner off Young.
88' Very nice from Joe Gomez on his own touchline as he turns away from Martial and clears any risk of danger. Home fans screaming their side forward.
87' Final change for Klopp as Solanke comes on for Firmino - a full front three change
84' Young goes in to the book for lifting a blocking boot against the clearing Moreno
84' Head knocked Can now bursts through the United players and then his cross-come-shot almost makes it through to Sturridge at the back but De Gea throws himself out and collects well. United still not changing tactics as we enter the final five.
82' Darmian then decides to try and win the ball above his head with his clumsy boot. He clatters Can who needs a bit of treatment as the consistency debate about Mané vs City kicks off between people not on a live-feed.
81' A little relief for the visitors as they move the ball forward but it doesn't last long as Liverpool go again.
80' The Ox gets a chance to do something and does so. He sprints down the right flank and whips in a decent cross which is cleared away. He looks up for turning the current view of him.
76' Sturridge and Oxlade-Chamberlain on for Salah and Coutinho
76' A couple of changes imminent for the home side as Klopp gives Sturridge and Oxlade-Chamberlain some advice on what they need to do to sort out this dominant yet fruitless performance so far.
75' Smalling goes into the back of Coutinho as he tries to hold up play and then goes into the book.
72' A wasted chance for United which will infuriate Mourinho. A free kick just inside the Liverpool is lifted in to the stocked area but goes over everyone. Very poor from Herrera 
69' Every time the guests get hold of the ball they are getting pressed into giving it away again. They build up around the United area and almost get in again as Firmino lobs it across and it's just too high for Salah at the back post.
67' Another move out wide from Firmino, looking promising, but his delivery across the area takes a slight deflection keeping it away from the two supporting attackers and De Gea gathers. Lukaku's demeaner suggests he's getting somewhat frustrated with the lack of actually kicking a ball.
66' A half chance for Mo Salah, created by himself as he jinks between the defenders but his shot goes over De Gea's bar.
65' Martial goes off for Rashford
64'   Salah does well to win a corner for the home side just by not giving up. Again the delivery from Philippe is cleared well. More invention required from the set pieces.
63'  Mkhitaryan is replaced by Lingard
60' The lifted ball from Coutinho is cleared away and then both sets of players battling for several loose balls until it's out for a throw. Change coming.
60' Coutinho steals the ball in his own defensive area and sets Salah scampering down the right wing. Corner won. 
58' Lingard warming up as United get a small spell of play in the Liverpool half. The crosses are being met and cleared but with the score 0-0 there'll be the usual nerves of home players and fans. They've been here before.
56' Confusing there as Smalling and Matic try to clear the ball and both kick it out for a throw.
55' What a chance! Can lays it off to Gomez about 30 yards out and then sprints in towards goal, and Gomez finds him perfectly. But the young German couldn't keep the volley down in front of De Gea. United are offering nothing so far in this half.
53' Offside (and De Gea to be fair to him) prevents a great chance as Coutinho splits the defence for his Brazilian teammate. Firmino didn't time his movement well. Signs that openings may be there.
51' The home side are keeping the ball well, winning it back strongly and quickly, and basically defining a Klopp side. So that could well mean they lose this game late on.
48' Corner to Liverpool aftet Firmino's shot is deflected out. Delivery blocked and then Young trips Coutinho almost on the touchline. Nothing comes of the continued pressure...
46' Immediately Coutinho fashions a chance. Out on the left he jiggles to make space and gets the ball across in front of goal but De Gea beats Firmino to it. The Brazilian had been ruled offside.
46' United start things and win a throw deep in the Liverpool half. They try to build some short passes together but Liverpool quickly win it back and break.
45' Peep! We're off...
  Ok, the teams are out on the field. Let's see what changes to formation/tactics/personnel can change this...
  Romelu Lukaku has not had too many sniffs of goal today and has constantly been under pressure from a selection of Liverpool players depending on where he positions himself. Twice he broke free, and both times it looked promising for United. The Belgian will hope to get more into the game this half.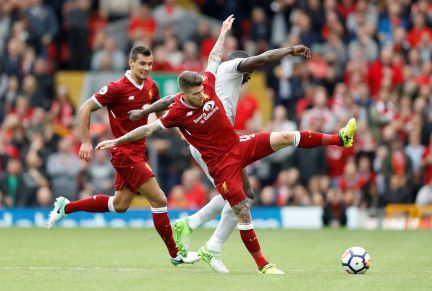 These two have been cancelling each other out most of the game. Two youngsters full of enthusiasm and looking to find space to break while preventing their opposite number getting by them. So many duals going on out there.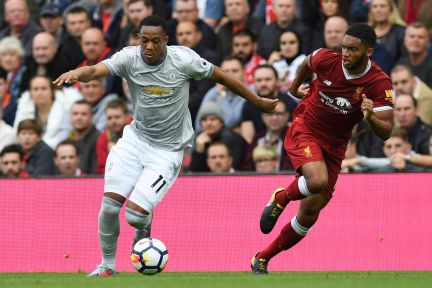 If United to continue to soak up the pressure without conceding, they will  almost certainly get another chance to nick the win. Set plays haven't as yet caused significant problems for Mignolet and his supporting cast, however, Lukaku's strike in the dying minutes of the half was a reminder that they can be dangerous when they do make an opening. 
  Enjoy that? It's certainly not been a dull 45 minutes. The Anfield team have dominated more than I expected but the result of the game is still impossible to call. The play suggests clearly that Mourinho has gone for the 'stop them first' approach as the wall of white facing Liverpool rarely left any green space for the speedsters to run into.
45' Peeep! Half time
45' Lovren down and rolling around a bit (that suggests he's not too bad!) after a collision with Lukaku. Ref agrees that it was an accidental knock and that the Croatian will survive. 
44' Lukaku plays a double one-two at pace which opens up the home defence and allows him a chance to swing a leg. Mignolet's first test of the game and he blocks it away strongly. Ashley Young collects the rebound in space, sets it up and shoots but a flying Moreno blocks well.
42' Magical feet now from Coutinho who dances his way into the left channel of the area and his cross is deflected into the arms of De Gea.
40' Salah collects on the edge of the United box after some nice play again from Firmino. His snap shot is on target but straight at United. 
39' Corner for United. Young lifts it in (identical to the others today suggesting it's a clear plan) but Liverpool head away well once again. 
37' Plenty of action here - mainly near the United area. Joe Gomez picks up the ball deep and Lukaku falls for the Cruyff turn and takes the defender out. No idea how that is not a yellow for the Belgian.
36' Moreno then delivers into the area and no red shirt there to take advantage.
34' ...Salad then picked up the rebound but pushed it past the post.
33' CHANCE!! What a save from De Gea. Liverpool had created a chance which lead to a corner. The floated corner eventually landed on the right and Firmino fires it across the area. Matip hits it towards goal from just a few yards but the Spanish stopper saves United. Brilliant!
31' Another chance as Coutinho tries to play out from his own area and finds Mkhitaryan just outside the 18-yard box. He shifts the ball out of his feet well but the shot is blocked well.
29' CLOSE! Matic with the drive from the edge of the Liverpool area. He caught the rolling ball sweet enough but it flies just over the left hadn post. Mignolet beaten!
28' Lovren does well against Lukaku who controls the United clearance hoping to help his team come out. The Croatian is right up against him and nicks the ball away.
26' More possession play from the Reds (I'll see if I can phrase that differently throughout the 90). They're able to pick neat holes through the middle of the field, losing markers as the change direction, but as Salah looks to break into the United box on the right he is again blocked out.
24' Again Liverpool get their passing and moving going in the final third but can't find a big enough gap. And as United win the ball back both Young and Mkhitaryan get the break going. Young goes down under pressure but the ref is not convinced there was much contact.
23' Excellent play from Lukaku on the right. He shimmies and beats Lovren for pace to the byline and crosses. Unfortunately the big Belgian wasn't in the centre to finish it off!
21' United now relieve the pressure as they break down the left. Young wins a free kick in a dangerous position. United load the area but Young wastes the chance by hitting the head of Salah. Liverpool then look to break but it's snuffed out.
19' Firmino now out on the right (very fluid front line as we've come to expect) and rolls the ball across the six-yard box. The Egyptian again gets in to the front post but can't get enough on it.
17' Salah goes down in the line of the penalty area and claims a foul. There may have been a slight touch but not worthy of the whistle for me.
16' Certainly it's the home side dictating the play but there is a white wall that they're struggling to break down. That's forcing them to shoot from distance and so far they've not been so great at the pings.
13' Possession certainly in the home sides favour (well over two-thirds) but the game still feels quick balanced. Salah now turns beautifully in the middle of the park (taking out two players) and feeds it to Wijnaldum who tries his luck. Easy save for De Gea.
10' Matip now finds himself breaking forward and lets fly from outside the area on the right. He's a defender, right? The fans high behind the goal catching the ball know that all too well!
9' Ashley Young is getting involved well and puts in a dangerous cross to the Liverpool area. A mix of Lovren and Moreno ensure the danger is removed (impressive control there from Moreno).
7' Now it's the home side that builds quickly and Firmino fires a ball across the penalty area from the left. Georginio Wijnaldum gets a nick on it under pressure right in front of De Gea but the power is taken out of it and the Spaniard gathers easily.
5' United now push forward and Martial gets a shot away from the edge of the area. Blocked and away for the hosts as this game starts to pick up the pace. Lovren fires to safety.
4' Coutinho comes deep to get on the ball. He tries to skip passed Herrera who brings him down. Free kick middle of the United half. Nothing comes of it.
3' Liverpool try to play out from the back and there is no particular rush as the sides measure each other up.
2' Corner delivered and headed away. Another corner. Again drifted into the area but headed away to safety up the field.
2' United win a corner as Mkhitaryan knocks it past Moreno on the right for himself. Good positive play from the visitors.
1' A bit of a scrappy first minute as no one can get their feet on the ball in a crowded midfield.
Liverpool in their deep red kit and United all in white, well, a very light grey anyway.
Peeeeep!!! Let's go! Liverpool get us going...
Klopp and Mourinho share a shake and a bro-hug too! The atmosphere is jumping!
Right, it's almost time for us to get down to business. The teams are on the pitch, going through the usual handshakes and photos...
The is certainly some pressure on Firmino to get amongst the goals soon. He is holding down the position of frontman but has more conventional strikers sitting on the bench. If things are not happening for him in front of goal - of course his overall contribution to link-up play is taking into account - then Sturridge and Solanke can expect a decent chance to stake their claim.
...the other is that on-fire striker Lukaku rarely scores against the bigger sides. He rattled the net plenty in the blue of Everton, however, this tended to be against the bottom half sides. Granted he is in a much better side this season, who will dominate games more, and with the questions already highlighted about the Reds' defence, today is maybe the chance he needs to strut his stuff.
Two doubts about Mourinho's side's title credentials this season can, to some degree, be answered today. One is that United have yet to face any decent opposition in the Premier League or Champions League and despite Liverpool's problems they can be considered a proper test. As José himself said, they'll be near the very top come the end of the season...
Last season this game was hyped up to the max and it let us all down in terms of entertainment. With United having little reason to be nervous given their start to the season, everyone tuning in will be expecting a lot more.
Another factor is clearly what instructions Klopp gives to his three in the middle of the park. The Reds' defensive line is taking a lot of criticism - opposition teams needing very few chances before converting - but some would suggest that it is less the capabilities of the four at the back and more the fact that they are too often left exposed, as the midfield looks to support the front three.
We know the players and the home side's line up pretty much speaks for itself, so the interesting dynamic to the game will be how Mourinho sets his ten outfield players out. The first few minutes should give us an idea if the Portuguese coach will puff out his chest, or resort to stopping the opposition first.
We'll be offering live, minute-by-minute text commentary of the clash at Anfield, but should you also be hoping to get yourself in front of a TV screen, you may wish to peruse our guide on how and where to watch Liverpool vs Manchester United:
Good morning! Join us for build-up to today's glamour lunchtime kick-off in the Premier League!
Liverpool vs Manchester United live stream online: preview
It is often billed as the biggest fixture in the English game - between two clubs from neighbouring cities who enjoy a sporting rivalry dates which goes back longer than anyone can remember. Whether at Anfield or Old Trafford, there is nothing like a Liverpool v Manchester United for quality, passion, atmosphere and more than anything, pride – wherever either team might be in the table or whatever is at stake. This is a game which both love winning and hate losing. Both managers said as much in their pre-match press briefings. Visiting coach José Mourinho, telling reporters: "We want to face a big atmosphere, it motivates us – it's beautiful to play at Anfield, an amazing stadium - if we could have that atmosphere every match, we would".
In terms of form, the two teams go into the game on the back of contrasting performances and results. From what we have seen of Liverpool so far, all of their misgivings in defence over the past couple of seasons are still there – whether keeper Simon Mignolet isn't communicating enough with his back four or if there's a positional problem with the zonal marking system, Klopp's team are still struggling with corners, indirect free-kicks and on occasion, throw-ins near to their penalty area. On the plus side though, they have looked breath-taking going forward. They are a sight to behold when they launch into one of their hell-for-leather, swashbuckling attacks; they can however, be a little wasteful in the final third. Another worrying trait is the team's failure to kill games off when they've taken the lead – we saw it against Watford, Burnley and Sevilla. That is an area in which Mou's United cannot be faulted – once they're in front on the board, you get the impression it's game over. Mourinho will have studied all of Liverpool's foibles and will know exactly how to target them.
Conversely, United have looked a completely different side to the one which just about scrambled into sixth last season. The team sits second in the table, level on points with Manchester City and with almost flawless figures – six wins and one draw from seven outings and 21 goals for and just two against - a defensive record which apart from City, only Barcelona and Dortmund can boast in all of Europe's major leagues. Summer signing Romelu Lukaku is in fine form, averaging a goal per game and all of that has seen United's self esteem blossom since the season kicked off. It's odd to think that Liverpool and United were in the reverse positions at this stage last season but despite the Reds' issues at the back and a supremely confident United in full bloom, as everyone knows, the formbook gets tossed right out of the window in this fixture…
And this will be the first game played in front of the Kenny Dalglish Stand, formerly known as the Kemlyn Road or Centenary stand, which has been renamed in honour of the man who many feel was Liverpool's greatest ever player. Dalglish unveiled the stand on Friday, and there to witness him do it were former Anfield idols such as Steven Gerrard, Gary McAllister, Alan Kennedy, Phil Neal, Jamie Carragher, Terry McDermott, Robbie Fowler as well as United legends Sir Alex Ferguson and Sir Bobby Charlton amongst others.
Liverpool team news
Both teams have injury problems going into the game. Sadio Mané picked up a hamstring injury while on international duty with Senegal in the recent 2018 World Cup qualifiers. That means more opportunities over the next few weeks for Daniel Sturridge, Dominic Solanke and Wales youth international Ben Woodburn although Klopp will probably stick with his preferred trio up front today. Adam Lallana has returned to training after overcoming a thigh injury but won't feature on Saturday.
Man to watch: Mohamed Salah. What a week it's been for Salah. It was his injury-time penalty which fired Egypt into the 2018 World Cup finals and send a whole nation wild with delight. He is equally as loved on Merseyside by Reds fans. Industrious, creative, skillful, fearless and blessed with blistering pace – Salah always gives 100 per cent and those qualities have made him a Kop idol in next to no time.
Manchester United team news
Captain Michael Carrick misses the match with a calf muscle injury. Joining him on the sidelines are long-term casualties Paul Pogba who is recovering from a hamstring injury he picked up in September, while Marcos Rojo, Zlatan Ibrahimovic and Marouane Fellaini are all nursing knee ligament injuries of varying degrees of severity. United have fared well in spite of those setbacks; Ander Herrera who was on the bench for the last game against Crystal Palace could start alongside Nemanja Matic in midfield.
Man to watch: Romelu Lukaku. The Belgian striker hasn't disappointed since his 80 million euro signing from Everton over the summer. With the ball at his feet and in full flow, he is a menacing sight for rival defences and also highly effective in front of goal. He is the team's top scorer on 10 goals – one goal every 81 minutes on average.
Liverpool vs Manchester United live: possible line-ups
Liverpool: Mignolet; Gomez, Matip, Lovren, Moreno; Wijnaldum, Can, Henderson, Firmino, Salah; Coutinho.
Manchester United: De Gea; Bailly, Smalling, Jones, Young; Matic, Ander Herrera, Blind; Mkhitaryan, Martial, Lukaku.
Liverpool vs Manchester United live enhanced betting odds:
The bookies can see this one going either way – or even ending as it did last time at Anfield, in a draw. There is not much difference in any of the odds. Liverpool are 16/1 to nick it 1-0, or 50/1 to post a 3-0 win while United coming away with a 1-2 win is at 45/1 and 40/1 for it to end 3-3. Mohamed Salah is at 30/1 to be the first scorer to be read out on the Anfield PA by the dulcet tones of Mr George Sephton while Alberto Moreno is at 145/1 to score at any time past compatriot David de Gea. Marcus Rashford is at 16/1 to grab the only goal of the game. Stranger things have happened in this fixture.
Bet on Liverpool v Manchester United in the Premier League now