Dijon 1 - 2 PSG: Ligue 1 matchday 9 - match report, result, how it happened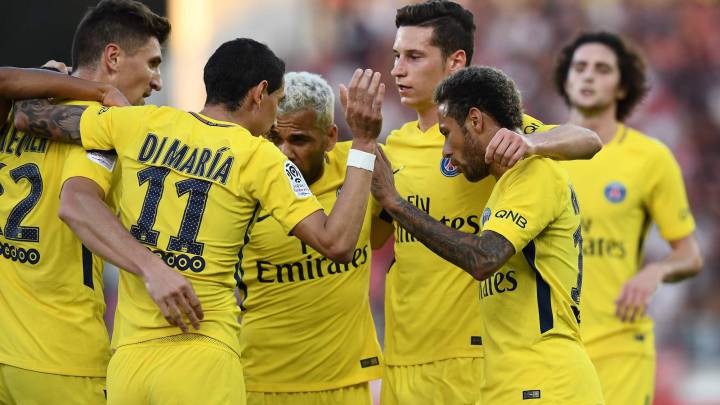 It was a game billed as another comfortable run out for the Ligue 1 champions elect as PSG travelled to Dijon, who themselves are fighting to get away from the relegation zone. The fans at the Stade Gaston Gérard cheered throughout for their team who very, very nearly took something from Neymar, Mbappé and co.
Dijon vs PSG: match report
There were just 20 minutes to play and Dijon had withstood the threats posed to them by the considerable fire power of the Parisien giants through hard work and a little good fortune. Then the ball broke to Thomas Meunier from a fine strike from Neymar and he slotted home under the diving Baptiste Reynet.
But far from the hosts' heads dropping they found renewed vigour, taking confidence from their showing for most of the game and an incredible hit from Benjamin Jeannot three minutes from time looked to have secured a valuable point. Then, as the final seconds ticked down, Kylian Mbappé laid a delicious pass across the six-yard area and, once again, Meunier was there to guide it into the net despite valiant attempts to stop it crossing the line.
Pride but heartbreak for the Dijon players and fans. Three points and a stretched Ligue 1 gap for the underwhelming PSG.
Dijon vs PSG: as it happened live
  Thanks for joining us for tonight's Ligue 1 offering. Just as Lyon vs Monaco did last night, the French top flight kept us on edge till the last seconds. We'll be back soon for more action and hope to see you again too...
90'+3' And  that's it. The full time whistle goes and the leadue leaders take all three points. Harsh on Dijon but on clear chances created PSG can claim it was deserved.
90'+2' The home side and fans heads have gone. After all that effort it looks as though they'll take nothing but pride from this game.
90'+1' GOOOOAAAAALL!! Heartbreak for Dijon. Mbappé drags the ball to the byline and slides it across the area. No red shirt can clear it and Meunier gets his second from almost the same position as the first.
90' There's to be three minutes added time.
88' ...but don't take your shirt off you silly boy!!
87' The ball is played long and as the ball is flipped up behind the front runner Benjamin Jeannot  steps onto it around 30 yards out and sticks his laces through it on the volley. It swerves in the air and Areola just stands and watches it fly past him. Take a bow, son...
87' Goooooooaaaaaaaaallllll!!!!! Dijon have equalised!! And what a goal!
85' Lucas Moura provides a base for Neymar to go on a mazy run towards the Dijon area and he ends it with a showboating double-tap pass...which is far too overhit. That's where the Sunday league coach shouts, "keep it simple!"
82' Jordan Marie is off, on trots Florent Balmont with not much time to make an impact.
82' A short delay as Romain Amalfitano causes some discomfort for Presnel Kimpembe in a rather physical challenge. And it looks like another sub is coming on for the home side.
80' PSG almost get a shot away in a hectic few seconds in front of the Dijon goal but it's all brought to an end as Rabiot is ruled offside amidst misguided calls for a penalty.
77' Di Maria goes off. Lucas Moura takes his place. (I forgot to mention that there was another substitution in the last few minutes saw Chang-Hoon Kwon replaced by Frederic Sammaritano)
76' Great position for a free kick, 20 yards out and central, but Xeka hits it straight into the wall of players and it's cleared. 
74' That goal doesn't seem to have disheartened the home team and they go forward with purpose again. Adrian Rabiot almost commits footballing suicide as he gives the ball away with only one defender behind him. He makes amends, somewhat, by fouling the attacking Xeka from behind. Free kick and a yellow for Rabiot.
68' Immediately the substitutions are made. Sliti off for Wesley Said and Draxler replaced by Giovani Lo Celso
70' And there it is! Meunier calmly knocks it into the open part of the goal after Neymar's initial effort had been punched away by Reynet. It was coming...
68' What a chance for Mbappé! Di Maria sprints to reach the pass on the right and clips it across goal to the onrushing French youngster. With the keeper out of position he just needs to stroke it home but scuffs it and Reynet scrambles it away.
66' My gut feel right now is that PSG will make one of these openings count...but I'd not put much money on it.
64' Two break-away chances, one for each side. PSG first with a spare Mbappé coming through the left channel but his strike is blocked away well by Reynet. Then Dijon have a chance to overlap but it's too slow from Sliti and the chance is gone. 
62' Cross bar! A tempting inswinger from the right is duly accepted by Marquinhos who timed his run perfectly. His firm header pings off the metal and behind.
60' Great goalkeeping from Reynet as Dani Alves clips a lovely defence-splitting pass into the path of Mbappé who is twice prevented from making it count. This is great effort from the home side.
58' And they are almost made to pay from a Dijon corner which is met byCedric Varrault in the crowd but his powerful header is over the bar. 
56' How PSG have not scored in the last couple of minutes I've no idea. First Di Maria then Mbappé, the latter smashing a half volley over the bar from in front of a gaping net. He was on the run but that was a big miss.
52' Corner from Sliti is cleared by Marquinhos and then the hosts again get a shot away from Marie. Still 0-0.
51' Chances! Some action at both ends almost leading to goals. First PSG created confusion right in front of goal from a Neymar cross then Dijon head down the other end and the ball in bounces to the back post where Djilobodji controls and takes a beautfully-shaped bicycle kick towards goal. Areola blocks it away for a corner.
49' Rosier tries to be a little clever in his defending against Mbappé and loses out to the speed and strength of the striker. His response is to go right through him and that earns him a booking.
49'  Presnel Kimpembe booked for that challenge stopping the break
47' From that interception the home sides breaks quickly and it results in Jeannot being brought down by Kimpembe. Free kick awarded, lifted into the box and cleared away. 
46' Some concerted possession for the visitors to get us going which ends in a great run and one-two for Mbappé but the balls taken off him just as he reached the edge of the Dijon area.
We're off, and no changes to personnel
The teams are back out on the field. PSG players in yellow having a few words with each other, likely something to do with "come on lads, we're better than this!"
  Dijon on the other hand would happily settle for a point right now, moving them a little firther from the relagation zone in a game that they would expect nothing.
  Following Monaco's late, late goal conceded last night, resulting in a 3-2 loss to Lyon, a draw here would keep PSG top of Ligue 1 by four points. But clearly, when you have the team that PSG has, you're expecting all three.
  Unai Emery on the other hand will expect more from his superstars who have shown glimpses of what they can offer but have not built up any sense of a head of steam. Dani Alves may lay claim to any other direct free kicks that come PSG's way after almost breaking the deadlock in the final seconds.
  Few would have expected Dijon to be leading in the shot count after 45 minutes but that they do, by 5 to 2, and Olivier Dall'Oglio will be asking his side for more of the same in the second half.
44' Peeep! The ref brings an enjoyable first half to a close.
44' Free kick danger for Dijon as Dani Alves gets focused. And what an effort. Right-footed curling over the wall and looks to have Reynet beaten before it crashes back of the bar-post join and is cleared from the busy area.
42'  Naim Sliti shown yellow after a pull on Mbappé.
42' Neymar then does that dribbling thing that he's quite good at, starting with a lovely double-tap to himself to create some room from a tight marker. From there he feeds in Mbappé but the return ball is cleared up by the tracking defenders.
40' The ref shows Neymar a card after he fouls Varrault in the middle of the pitch. Unnecessary.
38' Sliti swings in another corner and it's headed goalwards but wide by Djilobodji.
36' Save!! Great stop by PSG's Areola, diving to his right to parry away a Kwon strike from distance, which could well have taken a slight nick on the way to goal. Corner then cleared by Haddadi.
34' Really poor there from Mbappé. He broke well through the midfield line and probably chose the right option by looking to set Neymar into the green space on the left. His lofted pass was well overhit and out for a throw.
32' Free kick given to PSG after Xeka takes out Di Maria. Neymar steps up, around 25 yards out and just to the right of centre, looking to wrap it around the outside of the wall with his right boot. It catches the widest obstacle and is cleared away. Not the Brazilian's best effort.
30' Chance for Dijon! Break down the right from Rosier who sends in a cross just before the ball runs behind for a goal kick. It floats up and over to the back post where Jordan Marie greets it with a volley which comes back across the goal. Tough ask to score from that but it had the PSG defence getting back to cover quickly.
27' PSG build the play carefully out of their own half but as Dijon win it back their sharp passing through the midfield looks to take them forward much quicker. The haven't yet convinced that it's a credible threat yet but are by no means being dominated by their illustrious guests.
25' Again Dijon get a chance to break forward and yet another curled cross is delivered from wide, midway into the PSG half. It's a pattern that's building but not one that has caused too many problems yet for Marquinhos and chums.
24' PSG go a little more direct this time, as Draxler lobs a ball forward for the almost perfectly time run of Mbappé. Reynet is first to it though.
21' Throw to PSG in the bright sunshine that is covering half of the pitch and it's fed to Mbappé who almost lays it on for Neymar. Again the combined pressure from the hosts is enough to prevent any real chance.
19' Dijon are working really hard and making it tough for PSG to get a real flow to their game in the key areas. Working as a unit they are happy to shoot from distance when an opportunity arises that's exactly what Romain Amalfitano just did. It left his foot like a rocket and the closing PSG defender deflects it over the bar. Corner leads to nothing.
17' Mbappé getting plenty of attention as soon as he picks up the ball. Three red shirts again close down the space and the youngster's attempt at a pass is snuffed out and cleared away. 
15' A little stop in play but it's back up and running with Di Maria getting a shot away from just outside the box on the right angle. Tipped away by Reynet for a corner. Djilobodji then almost puts his side in trouble from Neymar's delivery.
11' Mbappé gets his feet moving and draws across a couple of interested Dijon players, which then becomes three. The ex-Monaco man makes enough space to get the ball across the front of goal but Reynet collects the chest down.
8' Another delivery into Areola's area, this time on the left from Kwon. It's headed back across goal by Xeka and a difficult attempt from Jeannot is blocked and cleared. Decent pressure from the boys in red here.
6' Dangerous inswinger from Kwon but the only head that makes contact is the decisive clearing one from Marquinhos. The captain looks like he's jolted his neck getting distance on that one. 
5' The hosts do well to hold onto some possession in the middle of the park and Rosier manages to swing in a cross from deep which is headed away. Then another break down the right sees Berchiche bring down Naim Slit who neatly lift the ball over the challenge. Free kick given to the right of the area.
3' The Brazilian floats in the corner but Djilobodji is there to clear. Another short corner follows and Di Maria looks to play himself in but can't feed a teammate.
2' High pressing already evident from Dijon. Could be risky if they go to gung-ho and that Neymar chap gives them a reminder as he drags back and skips away from two such pressers on the half way line before forcing a corner from Rosier
1' Quick start for the home side as they look to fashion a chance down the inside right channel but the ball through bounces on for Areolato collect behind the touchline. Goal kick.
And we're off! Dijon shooting from left to right as we look in this first half.
PSG are wearing their bright yellow, someone funny may suggest mustard, shirts for this away game. Dijon in their full red kit.
The teams are heading out onto the field from the tunnel. Neymar knowing that a penalty kick awarded in his favour shouldn't cause any controversy today as Cavani sits out.
Many people asking how many goals the Paris giants will get today. With at least two in seven of their last eight it's no surprise that an away win is expected.
PSG XI: Areola, Meunier, Marquinhos, Kimpembe, Berchiche, Alves, Rabiot, Draxler, Di Maria, Mbappé, Neymar
Home team starting XI confirmed as: Reynet, Haddadi, Varrault, Djilobodji, Rosier, Marié, Kwon, Amalfitano, Xeka, Sliti, Jeannot
Bonjour! Join us for the build-up to today's early-evening kick-off in Ligue 1!
Dijon vs PSG: match preview
Paris Saint-Germain travel to Dijon for matchday nine of the French Ligue 1 season, and everyone is expecting them to spank Olivier Dall'Oglio's Dijon. Even the Dijon manager is expecting it to be tough, announcing before the game that PSG is a "steamroller" and admitting that his defenders would be up against it "facing Neymar and MBappé".
That said the French coach did go on to strike a somewhat positive note saying he enjoyed challenges like this and although "we've seen they're capable of spanking quite a few teams, they are also capable of being held. We have to believe in our chances, our team. We have to be optimistic and positive, and go into the game with a lot of hope."
But the reality is that PSG's budget for 2017/18 is a whopping 550 million euros. More than 17 times that of relative minnows Dijon, who have to scrape by on just 32 million. Which is less than Neymar earns, if Football Leaks information is to be believed, with the Brazilian superstar on wages of 36 million a season.
The one bright light of that disparity in money is that most of PSG's squad are high-flying internationals, with no less than 13 players having been away on international duty, which may have an impact on their cohesion as a team.
But international break or not, Dijon come into the match in 17th place in the Ligue, having garnered a paltry 6 points from their eight games played so far and with a goal difference of -7. So table toppers PSG, and in particular their attacking trident of Neymar, Cavani and Mbappé, are likely rubbing their hands at facing a side, who if they've showed they can do anything this season it's ship goals, having conceded 17 in 8. So far Dijon have failed to keep a clean sheet in eight Ligue 1 matches, and only crazy money will be being staked on them keeping out Neymar and co.
Individual stats, too, highlight the gulf between the sides. Cavani has bagged eight goals, and might have had more if not for Neymar grabbing the ball off him when he can, while Dijon top scorer Jeannot is on just two. The biggest difference can be seen in terms of the sides' two top passers, Dijon's Jordan Marié has made 38.1 passes per game, while his PSG counterpart Rabiot is ticking along at a smooth 81.4 passes per match. Expect PSG to not just be on top in terms of possession, but to boss, dominate and monopolise it, and at the end of the day, despite Dall'Oglio's fondness for a challenge, it's highly unlikely Dijon will be able to cut the mustard against the PSG steamroller.
Dijon team news
The good news for Dijon is the return of Mehdi Abeid, who has been out for several weeks, though he's unlikely to start. Olivier Dall'Oglio is missing Cédric Yambéré through suspension as well as Wesley Lautoa, Eden Massouema, Vincent Rüfli and Julio Tavares who are all injured.
Possible Dijon XI:
Reynet, Rosier, Papy Mison Djilobodji, Varrault, Chafik, Xeka, Jordan Marié, Amalfitano, Wesley Said, Jeannot, Naim Sliti
PSG team news
Thiago Silva won't travel for the match, having picked up a thigh strain while on Brazil duty during the international break. However coach Unai Emery said he should be fine for the trip to Brussels to play Anderlecht on Wednesday in the Champions League. Emery also said left-back Layvin Kurzawa might be available after coming back to training. Angel Di Maria meanwhile has told Emery he feels good, and Marco Verratti will also be fit, having done half training on Wednesday and being ready for full training on Friday. Javier Pastore is however still a doubt.
Possible PSG XI:
Areola, Yuri, Kimbembe, Marquinhos, Meunier, Verratti, Rabiot, Neymar, Draxler, Mbappé, Cavani
Dijon vs PSG live stream online: betting odds
The bookies reckon it'll be lambs to the slaughter at the Stade Gaston Gérardas with Dijon around 20-1 to record a shock win, the draw at around 9-1 and PSG paying out at around 12 cents per euro staked. With such a paltry return on a PSG win, a correct score might be an idea - you'll get around 14-1 for PSG to win 4-1, or for both sides to find the back of the net (PSG almost certainly will, and Dijon have actually scored a fair few this season), where you'll get a return of 1.20 for each euro staked if the bet comes in.
Check out all the odds and bet on Dijon vs PSG.