Atlético Madrid 1 - 1 Barcelona: LaLiga Santander - match report, result, how it happened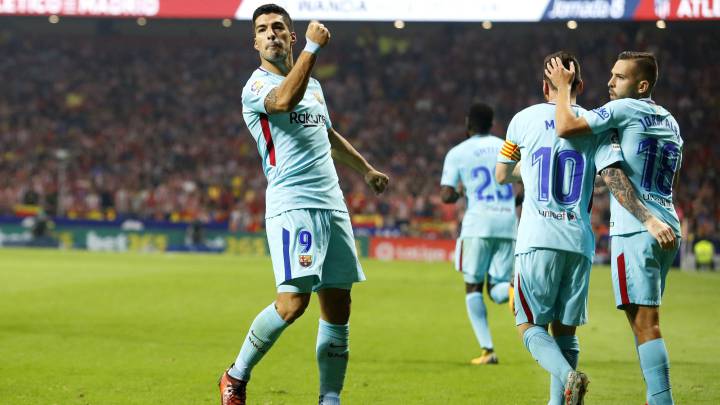 LaLiga leaders Barcelona travelled to the Spanish capital with their 100% record on the line. Atlético's new Estadio Wanda Metropolitano opened its doors to Messi, Suárez, Iniesta and co. and as the final whistle blew, both sides will reflect on the relative value of the point gained.
Atlético Madrid vs Barcelona: match report
The home side, led by their talisman, Antoine Griezmann, started this game with a bang. With a vocal support dominating the Madrid evening air Simeone's troops were quickly into gear and forcing the pace of the game. And with 20 minutes on the clock, one of their young stars, 22-year old Saúl Ñiguez turned the volume up a notch with a curling right footer placed perfectly into the left-hand corner of Ter Stegen's goal.
Following that strike the game slowly changed its tone, and as Barça grabbed more possession, the rojiblancos were forced further and further into their own half. With space at a premium through the centre, the visitors looked to get down the flanks and deliver from wide. Simeone has his side well drilled though and much of the threat from the Catalans was cancelled out early. But they were getting closer.
Second half Barça pressure, Suárez scores
The threat from Barcelona seemed to grow as the second half wore on, whether due to an ever-regressing Atlético team striving to hold onto a precious three points or a more desperate effort on behalf of the guests to make their possession count. Most probably a little of both. And with the out ball not being used enough to relieve the pressure, the close efforts that had the stadium gasping with relief eventually led to an equaliser.
Sergi Roberto had come on after the hour mark and it was he who delivered the ideal ball for Luis Suárez to attack with his head. The Uruguayan had cleverly manoeuvred himself in front of his marker, Juanfran, and was able to direct the ball firmly into the ground bouncing under the diving Oblak and into the net.
An acceptable point apiece
Simeone and Valverde will have mixed views of how the game could have panned out very differently but will also, probably, both go home with an acceptance that a point was a good result. The statistics over the 90 minutes will strongly suggest that Barça came and imposed their game on the hosts, but this was in large part due to what the early goal did to the mentality of the sides. Watching on across the city, a rival to them both, and they'll be quietly smiling.
Atlético Madrid vs Barcelona: how it happened live
  Well, that was an intriguing battle of styles and we move on to the next games, Champions League midweek for both of these two. Thanks for joining our coverage and we'll see you again very soon.
90'+4' That's it. A point each and both teams will be reasonably satisfied with that...more so Atlético I would think.
90'+4' Messi steps up...and Oblak moves across and catches.
90'+3' Griezmann  hands Barça the final chance, and what a chance. After giving the ball away cheaply he tries to make amends and goes through the back of Messi on the edge of the area. Free kick and yellow for the Atleti man.
90'+1' Saúl pulls at Umtiti and sees yellow
90'+1'   We're into the first of three added minutes.
89'   Barcelona shift the ball smartly again and Luis Suárez takes a pot shot from around 20 yards out. Oblak watches it over the bar. Is there a winner in this? Barça look more likely.
87'   And it certainly looks like Atlético have stepped out. Immediately they threaten the Barça final third but as they lose possession they are more susceptible to the break. That break ends with Gomes firing a cross between Suárez and Oblak and it (just) evades them both. Goal kick.
85'   Godin decides to change the whole game flow himself. First a fancy piece of skill in his own area then he sprints forward to lead the attack. Unfortunately his teammates decide to hold it up in midfield instead at the defender avoids a bloody nose.
83'   Will Atleti push up more or look to hold for a point? They need to change the flow of the game somehow...
81' Goooooooooolllllllll! Luis Suárez does it this time. Another ball drifted across the area, this time from Sergi Roberto and the Uruguayan has the run on Juanfran at the back post to head home. He follows with an ear-cupped celebration to the nearby local fans. They always love that.
80' Great save by Oblak! Suárez manages to nip in ahead of savic and toes it goalwards but the Slovakian dives to his right, blocks and then grabs.
77' Free kick played in by Messi and it leads to Umtiti getting a shot away from the edge of the box. A defender-type shot that is comfortably accepted by Oblak.
76' Alba goes down holding his face and the replay suggest he's not great at dealing with pain. Juanfran's arm may have grazed his neck. The barça player was thumping the turf in apparent agony. Well, the ref bought it. Free kick.
75' A couple of deliveries into the box from the visitors but with no real danger. Hopeful rather than expectant.
73' Andre Gomes shoots. It goes well, well over. Barça fans collectively sigh.
71' Inches. That's all that was between Messi and an equaliser as the number 10 collected a deflected pass on the edge of the area and shot just outside the left upright.
69' Deulofeu shows a nice turn of pace against Godin but his forced ball in is deflected away for an Atleti goal kick.
67' Juanfran makes a bit of a mess of things in his own area and almost lets in his opposite number before the covering Koke helps him out.
65' Atleti look to build something and take the pressure off their defence but it's won back and Barça go again. Deulofeu, Rakitic, Busquets then on to Messi who hits hard but straight at Oblak who gathers at the second attempt. The home side are being forced deeper and deeper.
64' Simeone is shouting and waving instructions from the sideline but he'll be proud of the organisation and discipline being shown from his team.
62' Nelson Semedo also heads off with Sergi Roberto on to make a difference
62' Change for Barça.  Iniesta off, Gerard Deulofeu on
60' Barça build again as the rojiblancos regain their shape. A ball in from Iniesta is cleared by Filipe Luis and then there's a shout for a Barça penalty but the ref was right to wave it away. He actually knows the rules.
58' A change for the home side as Correa leaves for Nicolas Gaitan
57' Messi steps up and.....curling away from Oblak his effort smacks off the right hand post. The keeper wasn't getting that if it was two inches to the left.
56' Free kick about 25 yards out (aka Messi territory) after Gabi trips the Argentine on a run.
55' Save!! Suárez does really well to step into space on the right channel and let's fly with a powerful drive. Oblak stands strong and punches clear. End to end stuff here.
53' Griezmann connects beautifully with a difficult high bouncing ball at the back post but it sails off deep into the gasping crowd.
51' Juanfran on the break but his cross is blocked well by Umtiti. Atleti again get a chance to hit on the counter as a Barça attack comes to nothing but Griezmann's pass is to Correa, not into his stride, and it slows everything up. 
49' Nice break from the visitors as Suárez lifts the ball in behind the Atleti right back area and Jordi Alba scampers onto it. He lifts the bouncing ball across goal but it's over everyone. Barça pick up possession again and Suárez does well to control and lay it off into the danger area but it's cleared again.
47' A clever short corner allows Koke and Carrasco to combine and the latter drills a shot which is well held by Ter Stegen in front of a crowd in his area.
46' Atleti immediately on the front foot and win a free kick in the Barça half as Semedo trips Carrasco. The delivery is cleared for a corner by Umtiti.
Back out and we're underway. Atlético attacking from left to right as we look.
Here's how that Saúl strike looked the the cameraman behind the goal. He was closer than Ter Stegen to getting to it!

Andre Gomes was brought in to the visitors' side by Valverde, another chance to prove his doubters wrong about his standing on this stage. That first half performance has done little to sway them.
The half has seen Barça target the wide areas but getting through this organised Atleti defence is easier said than done. Messi has had his predictable moments, passing two or three players looking to then create something, but there is often yet another red and white shirt in his way.  
45'   And that's the half in Madrid! Atlético lead by a goal to nil through Saúl's moment of magic.
44'   Oblak hoofs the ball upfield hopefully but that simply hands possession back to Barça, who get the ball to Messi's feet. He shoots, but it's blocked. Atlético break, Griezmann is hauled down in midfield but the ref plays the advantage. When the move peters out he pulls out a yellow for Rakitic for that challenge.
42'   Gomes nicks the ball on the edge of the Atlético box and plays it to Messi, who goes through one challenge, then another, before hitting the deck just inside the area. He appeals, but the ref is unmoved, eliciting a wry smile from the Argentinean.
41'   Iniesta picks a pass through the Atlético defence but André Gomes is just a foot behind it. Excellent ball from the Barça captain, it just needed a little less on it.
40'   Gabi gets a ticking off from the ref after taking out Rakitic with a clip. He's already on a yellow, the Atlético captain.
39'   Suárez through again but his attemped shot is firmly blocked. Barça showing a bit more willingness to play a more direct approach in the last few minutes.
38'   Atlético caught on the hop as Suárez gets to the byline and pulls it back for Messi. The home defence had stopped, thinking the ball had gone out. Nothing whistled though and Messi, rarely, connects with nothing but air.
35'   Iniesta shows wonderful skill to bring a ball under his control but can't match it with a left footed effort, which spins wide of Oblak's goal.
33'   Barcelona pry the left of Atlético's defence again but it holds firm. Messi receives the ball, four red and white shirts surrounding him, and tries to thread the ball through to Suárez. The Uruguayan eventually concedes a foul and Atlético have a breather.
31'   Juanfran penalised for touching the back of Jordi Alba's head, a bit harsh that from the ref. Free kick for Barcelona and how did that not go in? Messi delivers, Luis Suárez is left unattended in the area but he just can't quite get up to meet it completely unmarked. A let-off for Atlético there. 
30'   Careless from Barça again coming out from the back and Atlético jump on the gift but can't make anything of it. Barça back on the ball, Atlético back sitting back and inviting them on.
28'   Carrasco sends in a whipped cross and Umtiti is up like a salmon to meet it. Great read from the Frenchman.
26'   The pattern continues, like 70s kitchen wallpaper, as Barcelona patiently build. Finally, Atlético nick the pig skin and play it up to Carrasco, before Griezmann is flattened by Rakitic for an Atlético free kick from an interesting range. 
24'   Another lengthy spell of Barça possession is broken twice, briefly, by Filipe Luis, who eventually wins a free kick and respite from death by a thousand touches.
23'   It's certainly lit a fire under Barça, who attack down the left through Umtiti. The France international's cross is overhit though and Atlético nod it clear.
21' Will that coax Barça into a more direct approach? We'll see, but it just goes to show that possession is fairly pointless unless you put the ball in the net.
20' Goooooooooool! Atlético strike first, completely taking Barça by surprise. A quick interchange and Saúl hits a shot from outside the area, Ter Stegen only able to stand and admire its flight into the bottom corner. Fantastic hit from the Spain international.
19' Barça almost thread it through the Atlético back line but Savic hoofs it out for a throw. The home side finally have the ball at their feet as Barça retreat to their half.
17' Barça appear to be happy to knock it about and draw Atlético out from the their trenches but as yet Simeone's side are not falling for it and keeping their shape. The home side's ploy is to hit on the break as and when they can, but they would need to get hold of the ball at some point to do that.
15' Messi gets away down the Atlético right but his cross is cut out. Umtiti goes through the back of Correa and Atletíco have a free kick. That's the most they've seen of the ball for the last five minutes.
14' Messi takes the free kick but it's a poor one and Atlético clear. Barça in possession again...
13' Barça's three-minute possession is broken up by Gabi, the Atlético captain going in the book for a foul on Messi.
12'   Atlético can't get the ball off Barça at the moment, but the visitors can't find a chink in Simeone's defensive armour either. Messi glides into the area and tries to find a teammate but it's sent back from whence it came.
11'   Barça look to build an attack and move it from side to side looking for an opening. Piqué is being roundly booed every time he touches the ball of course. He must go to bed with the sound of whistles in his ears at the moment.
9'   Barcelona are having trouble bringing the ball out of defence in their usual style and Atlético are jumping on every mistake. A combination of Samuel Umtiti and Ter Stegen has saved the Blaugrana's bacon up to now.
8'   Atlético putting on a bit of a tiki-taka show now and again Griezmann gets through the Barça back line with a glorious piece of skill, getting his shot away again but Ter Stegen comes to Barça's rescue with a solid save to deny the Frenchman.
7'   Barça dally on the ball and Griezmann finds himself through, the France striker hammers a shot at Ter Stegen but the angle wasn't favourable and the Barça keeper makes the stop. Corner to Atleti...
5' Gabi tries to release Griezmann with an outside of the boot pass but Piqué is having none of it and gets across to cover. Semedo goes cantering up the touchline but meets Filipe Luis, who sends him flying. Fairly though, adjudges the ref.
4' Atlético go long towards Carrasco but Semedo reads it like a book and is up to take it off the Belgian's head.
3' Correa buys a yard in the Barça box but he's bundled off the ball before he can pull the trigger. First opening for Atlético.
2' Barcelona are stroking it about in midfield, a long period of possession for the visitors. Iniesta finds himself in a bit of space and has a pop but he's not going to beat Oblak from there.
1' And we're off! And Messi is out of the blocks like a whippet, threading a pass and receiving the return, riding a couple of challenges and narrowly missing the inside of Oblak's near post! Minute one. And he's barely had a rest since dragging Argentina to the World Cup...
André Gomes the perhaps surprise inclusion to fill the vacant slot in the front three for Barça.
Lots of good vibes in the tunnel as the teams prepare to head out on to the pitch.
Just a few minutes to go until kick-off in the Metropolitano, which is packed to the rafters as you might expect for this one.
  The Atlético Madrid fans will hope to see more of Antoine Griezmann, who can't stop scoring at the Wanda Metropolitano, lit up on the big screen 

OK, so we've not seen the video of this training ground image but I suspect that Ter Stegen may have gone too early. Then again, if that ball is fixxing towards him from the angry right boot of Luis Suárez then he's got it covered all the way.

And here they are, the Atleti fans gathering before the game. They will seriously outnumber the opposing supporters so have no excuse for not making themselves heard as the sun sets in Madrid.

Going back to the team news, Simeone is taking a nice positive approach with his starting XI. Seeing Carrasco, Correa and Griezmann putting the Barça backline under pressure from the kick off is sure to get the Wanda Stadium jumping. The Argentine more than likely has some clear defensive message for his side though to minimise the risks at the other end.
The good news for the rojiblancos is that defender Felipe Luis has made it to the starting line up after a niggle picked up against Chelsea in the Champions League had made it doubtful. And that could be useful as the creativity of Iniesta will be on view from the off as Valverde looks to take some of the pressure away from Messi. Luis Suárez also looks to get amongst the goals at the Wanda Metropolitano.
Team news is in and there are not many surprises. First up the home team...
Ronaldo popped up at the death to give Real Madrid a hard-fought 1-2 win over Getafe, meaning they are now two points ahead of Atleti and four points behind Barcelona as it stands. 

Atlético Madrid president Cerezo, standing alongside his Barcelona counterpart, said, when asked about the issue of Catalan independence and how it might affect the game: "This is sport, not politics or anything crazy. Atlético Madrid and Barcelona are two sports clubs and the only thing we're thinking about right now is getting three points. This is football, all fans want is for their team to win".

Buenos días! What a mouth-watering match-up we have in prospect at the Wanda tonight!
Atlético Madrid vs Barcelona: match preview
Saturday afternoon in the Spanish capital sees the current league leaders strut into town in what is clearly the biggest game of the season so far. As well as the intrigue of the football - Barça arrive on the back of a perfect start to the season and Messi's international heroics, while Atleti have their own point to prove following two disappointing results - there are also the background narratives of Atlético's shiny new stadium, the fallout to the Catalan independence referendum and how this result can affect the early Liga gap to holders Real Madrid. Strap in for what could be an absolute belter.
Atlético Madrid team news
Since Diego Simeone took charge of Atleti back in 2011, the rojiblancos have played Barça 11 times in LaLiga, and never taken all three points. The new stadium factor is yet to prove form-defining and the Madrid side have certainly shown enough to suggest they'll be the toughest test so far this season for their esteemed visitors. One of the biggest surprises of the last round of the Champions League was Chelsea's impressive performance at the new home of Atleti and although it took a late winner, few would deny that Simeone's side were outclassed on the night. The away draw in Leganés that followed didn't help and so this game comes with a number of question marks around where this team truly sits in the Liga pecking order this term.
Disappointing news came through from Croatia about defender Sime Vrsaljko who will struggle to make this game from the start. And that highlighted Chelsea game saw a hamstring injury picked up by Filipe Luis, and the full back could also be missing. But, as we now expect from a team that has been challenging for the top European prize in recent years, there is a decent depth to the squad and the unit knows how to play to its organised strengths. In Griezmann they have one of the most lethal finishers in the game and an expected supporting cast on the day includes Koke, Carrasco, Saúl and Correa. This should mean there'll be enough chances to get the crowd jumping. These are the games this new mecca was built for, and a warm Madrileña night under the floodlights should be some spectacle for the viewing masses.
Barcelona team news
After the stadium silence of their last game at home to Las Palmas, the Barça players may actually appreciate the stark contrast of the noise they will be playing in at the Wanda Metropolitano. Noisy it will certainly be; in their favour it will not. But the side from Catalonia are unlikely to be phased, however, if they are then they'll most likely give the ball to that little lad playing at number 10 and hope that he'll do something special.
By no means are Barça a one-man team but, as we have seen at other clubs, there are moments when the outstanding player seems capable of doing what is required upon request. Atlético's Filipe Luis remarked that the little magician is "so good he can win LaLiga himself with a mediocre team," although clarified that this team isn't mediocre. What this often means - more so for club than country - is that the other players feel less pressure and step up their own game. From the sorry look about Barça in the Spanish Super Cup to the team that has started the Liga and Champions League campaigns so well, it is no surprise that they start this game as favourites.
Ernesto Valverde will have to check on the fitness levels of his international returners, with several coming back from South American exertions only arriving on Friday. Uruguay's Luis Suárez is a doubt after picking up a knee injury which would likely mean a place for Deulofeu, aiming to make another stake for a more influential role. At the back, the impressive Semedo along with Jordi Alba will look to offer width whenever possible and drive Atleti back and away from the danger zone. Barça-for-life (aka a rolling one-year contract) Iniesta says he'll be available tp play but there are some doubts around his full fitness.
Atlético Madrid vs Barcelona: potential line-ups
Atlético Madrid XI: Oblak, Juanfran, Savic, Godín, Filipe Luis, Koke, Gabi, Saúl, Carrasco, Griezmann, Correa
Head coach: Diego Simeone
Barcelona XI: Ter Stegen, Semedo, Piqué, Umtiti, Alba, Sergi Roberto, Busquets, Rakitic, Iniesta, Messi, Luis Suárez
Head coach: Ernesto Valverde
---
Atlético Madrid vs Barcelona live online: betting odds
Some punters may see value in doubling their money on a home win, which would bring Barça's 100% start to the season to an end. If you can't see anything other than a positive end to the blaugrana's day then consider Messi for first scorer along with an away win at 4/1. For the genius Argentine to maintain his scintillating form, check out 14/1 for another hat-trick.
Check out all the odds and bet on Atlético Madrid vs Barcelona.