Guardiola urges humility ahead of Napoli challenge
The Manchester City manager says there is no chance of his players falling into the trap of over-confidence despite their spellbinding form.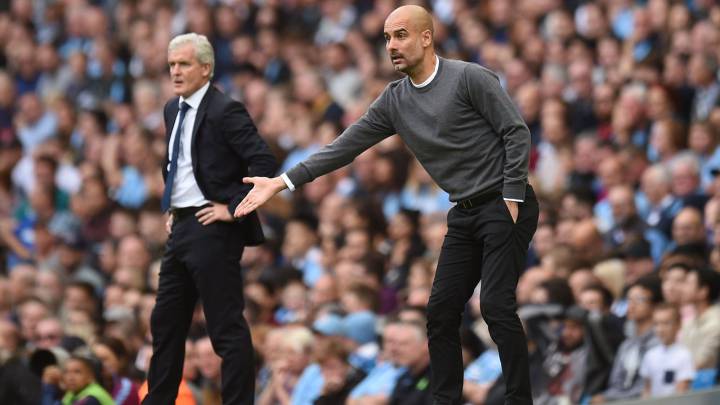 Pep Guardiola says there is no chance that his Manchester City players will fall into the trap of over-confidence in this week's Champions League clash against Napoli despite their spellbinding form on the domestic front in the Premier League. City demolished Stoke 7-2 on Saturday to move two points clear at the top of the table and are attracting rave reviews for the high quality of their attack-minded football, with 37 goals in 11 games in all competitions so far.
Premier League leaders put to the test against Napoli
But on Tuesday they face a stern test at home against free-scoring Serie A leaders Napoli, who have had an even better start to their league campaign with eight straight wins, compared to City's seven wins and one draw. Guardiola, speaking after the Stoke win, said complacency would not be a problem for his side, who sit top of Group F after wins against Feyenoord and Shakhtar Donetsk.
"If they think like that, they will be stupid", Guardiola told reporters. "But that is not going to happen. I will show my players on Monday and Tuesday how good a game Napoli are going to play. I will show them, like I showed them how good Shakhtar Donetsk are.
"They are quite similar to Shakhtar in terms of the way they play but the difference is while Shakhtar might hold back a little bit, Napoli kill you with the high pressing. I am very happy to have the opportunity to play this kind of game", the Spanish coach added.
Stones insists City must keep it tight at the back
City, who finished trophyless last season, have improved in all areas of the pitch, with their twinkle-toed attack allied to a stronger defence. However, centre-back John Stones said he was disappointed that the defence was breached twice at the weekend. "We conceded two goals, which is frustrating from my point of view", he said. "We will go away and work on that but I think it's been a great run of defensive play from all of us and I think we showed that. As a back four and a keeper we have shown real progress and hopefully we can take it into the next game".