Qarabag 0-0 Atlético: Champions League goals, report, action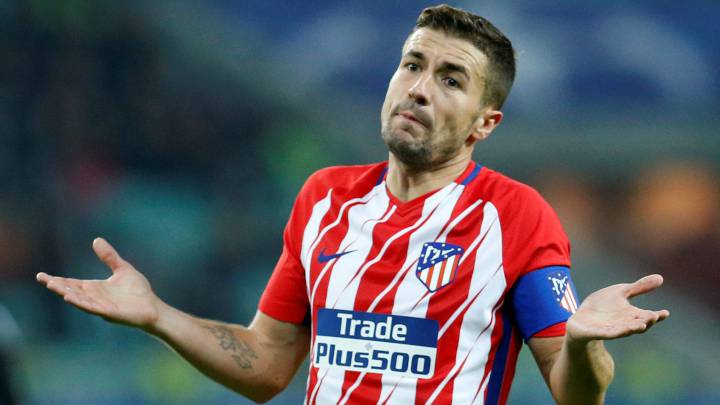 Atlético Madrid suffered a fresh blow to their chances of progressing to the Champions League last 16 as 10-man Qarabag held on for a 0-0 draw to secure their first ever point in the competition in Baku.
It could have been even worse for the 2014 and 2016 finalists had South African striker Dino Ndlovu won a penalty rather than being shown a second yellow card for diving 15 minutes from time.
Fourth 0-0 of 2017/18 leaves Atleti on just two points in Group C
Atlético now have just two points from their opening three games and remain third in Group C behind Chelsea and Roma, who face off at Stamford Bridge later on Wednesday.
The visitors had a host of chances to open the scoring in the first half, but suffered from a familiar lack of firepower in already their fourth 0-0 draw of the season.
Yannick Carrasco and Antoine Griezmann were both denied by Ibrahim Sehic when clean through, whilst Jose Maria Giménez fired inches wide from a corner before the break.
Qarabag enjoy better chances in second half in Baku
However, it was Azerbaijani champions Qarabag, in their first ever season in the Champions League, who had the better chances in the second period.
Ndlovu's rising effort flew inches over the bar before he thought he had won a penalty as he was clipped by Diego Godin inside the area.
Instead, French referee Ruddy Buquet reduced the hosts to 10 men for what he thought was a dive.
Atlético pressed unconvincingly in the search for a winner and their best chance came when Fernando Torres headed over after he too appeared to be pushed with the goal gaping five minutes from time.
Buquet was unmoved, though, as Atlético's European campaign continues to stumble after a stalemate away to Roma and a 2-1 defeat at home to Chelsea.
Qarabag 0-0 Atlético Madrid: as it happened
90'+3' Atletico need to win their last three games and hope results elsewhere go their way. A tall order now.
90'+3'   It's all over. That's a nadir for Atletico.
90'+3'   ball is head down to Griezmann. He scuffs it. Wide! 
90'+2' Huseynov limps off the field. He got booked for the challenge too.
90'+2'   Atletico get themselves in a spot of bother but Vrsaljko recovers and they break. Correa taken down and no advantage for the away side and referee gives a free. Last chance for Atletico.
90'   Qarabag straight up the other end and Elyounoussi has a strike on the bounce. It flies over Oblak's crossbat but that was close.
89'   Thomas looks for Angel Correa but there's too much on the pass. 
88'   Griezmann cross goes all the way across goal. Vrsaljko cross deflected up into the air. Another cross is way to high and Sehic gathers. Atletico's delivery has been absolutely brutal tonight.
86'   Filipe Luis with a cross. Sehic gathers comfortably.
85' Elyounoussi replaces Michel.
84'   Sehic parries a shot from Griezmann. Gabi wins it back and he crosses it into the square. Fernando Torres goes down and wants a penalty for a push in the back. 
83'   Godin heads a cross towards goal but it bounces kindly for Sehic and he chests it down, kills a couple of seconds, and then picks the ball up.
81'   Thomas foul Guerreir.
80'   Godin sends it out wide to Vrsaljko and he wins a corner as it hits off Almeida.
78'   Thomas goes in once on Madatov and then a second time before giving away a free. 
76'   Madatov has a kick at Filipe Luis now. Nothing really in it and ref tells him to just calm it down.
74' Ndlovu sent off for a second yellow. He had a dive in the box as Godin caight him. Truth be told, that's a penalty. Very, very unlucky and the ref has made a mistake.
72'   Correa involved early on. He tries to wriggle free and has a shot that's bloked. A little more lively from Atletico. His shot was actually blocked in the end by Fernando Torres.
72' Carrasco is replaced by Correa. Gameiro off for Torres.
71' Kuba replaces Medvedev.
70'   Six attempts for either side. Atletico give the ball away and the Baku crowd cheer on their side. Ndlovu responds and with some nice footwork gets free in the box. He strikes with his left but it goes well over.
68' Pedro Henrique is replaced by Guerrier.
65'   Gimenez and Ndlovu clash heads in the penaly area as a corner comes in for Atletico.
65' Thomas Partey replaces Nico Gaitan.
64'   Henrique got Qarabag's first ever Champions League goal and he nearly gets their second. Michel flicks the ball towards him and he strikes under pressure but it goes wide.
64'   Qarabag growing into this one. Atletico have backed off and the home side growing in confidence.
63'   Madatov with a strike from distance. It takes a deflection off Saul and loops straight to Oblak.
61'   50-50 in possession stats tell you all you need to know about this one. Atletico far from dominant. 
60'   Nope. Griezmanna straight into Sehic's gloves. Simeone needs to make a change here.
59' Carrasco fouled again. This time it's Ndlovu and he gets booked. Chance for Atletico from a set-piece.
58'   Corner for Atletico.
56'   Very nearly a penalty! Ndlovu tripped up by Vrsaljko in the box. That was very close and Atletico very luck it looks like. 
55'   Gameiro with a little sneaky stand on the foot of Qarabag defender as he makes a sprint away from him. This is uninspiring stuff from Atletico.
54'   Gameiro offside again. 
54'   Ball arrives in and Griezmann has it free in the penalty area. He's offside though. He wags his finger over to the linesman but he has little to complain about.
53' Carrasco down the left yet again. Michel slides in late and takes the Belgian down and gets booked. Silly tackle as it looked like Carrasco was running down a deadend.
51'   Carrasco wants a penalty. He tries to go around Medvedev and it seems to catch his arm as he slides in on the Belgian. Referee not having any of it.
51'   Carrasco down the left again and he finds Filipe Luis. the left-bacl pokes it towards Griezmann and he runs it out of play.
50'   Ndlovu battling with Godin. The striker has been causing problems for Atletico when given the chance. Atletico snuff it out again though.
49'   Carrasco goes on another mazy run and gets picked off again.
48'   That's better from Atletico. Filipe Luis receives it on the left and plays it inside to Carrasco but he's dispossessed. They're spreading Qarabag out and getting into decent positions. They still lack the abaulity to break down the home side though.
47'   Offside. Just as Griezmann was swinging his foot at the ball and dragging it wide. 
46'   We are back underway in Baku.
As expected, no changes for Atletico just yet but Simeone is going to have to change that soon if he wants to see results.
45'   HALF-TIME in Baku! No goals as Atletico draw a blank. They really need a win and came close on a couple of occasions but far from flooding their opponent's goal with shots.
43'   That won't do it. Long and searching cross, or maybe it was a shot, by Agnolli but either way it was miles off.
41'   Gaitan looks for Vrsaljko out on the right and finds him but it's way out to the right and his touch is too heavy. Goal-kick.
39'   Great save by Sehic. Griezmann gets the ball from Gameiro and he drives it towards goal with his left foot. Keeper gets down and turns it around the post. Corner and Gimenez goes very close. 
37'   Nico Gaitan breaks and gets thrown off the ball by Qarayev. Atletico win the throw.
35'   Long ball from Filipe Luis looking for Carrasco but Qarabag head it away. Not as attacking from Atletico in the last few minutes but Carrasco wins a free in the centre and Gabi sends it towards goal. Godin heads it down to Saul, who opts to header it instead of hitting it on the volley. Not enough power in it and Sehic gathers.
34'   Madatov has a craic after Saul gives it away. It's deflected behind for a corner.
34'   Pedro Henrique down now grabbing his back. Godin picks him up and tells him he's alright, and he seems to believe him. He's back up and trots away.
32'   Gameiro now with a chance and the ball gets caught under his feet and he gives it back to Qarabag. Could have just toe-poked that one into the net. Qarabag break and nearly have a chance but it's played back to Oblak and he clears.
31'   Henrique blown for a free off the ball. Gaitan and him collided and the Argentine ended up on the ground but absolutely nothing in it. He's back up on his feet now and the ref says no more of that carry-on.
29'   Griezmann with a ball through Qarabag's defense but Gameiro can't get to it. 
27'   Griezmann puts Carrasco through and he fights off a challenge. One-on-one with Sehic and he has too much time - what a bad excuse - but the keeper saves. Corner follows that comes to nothing. 
26'   Qarabag's early optimism seems to be quickly dissipating. All Atletico in the last ten.
25'   Griezmann finds Gaitan, who makes a good run into the box but the pass is just slightly behind him and he can't keep his shot down.
24'   Gaitan causing problems in the middle for Qarabag. He finds Griezmann, who finds Gameiro but his touch lets him down and Sehic comes out to smother it.
24'   Nico Gaitan with a lovely turn in the centre of the field and he looks for Griezmann but it hits his heel and Atletico attack breaks down. 
23'   Carrasco out on the left again but that's a really poor cross.
23'   Griezmann looks for Carrasco and he is all set to take off but he is dispossessed and Qarabag break and then give it back to the visitors.
21'   Ball over the top skims Henrique's head and goes out for a goal-kick. Atletico back on the ball. They hadn't seen it in a while!
18'   Qarabag growing into the game. They have Atletico chasing shadows at times. Atletico's press not intense enough and not really causing problems for the home side. It's when they move it into the final third that they have problems.
15'   Atletico looking more comfortable now but still no chances. Gaitan and Griezmann link up most recently but Gaitan gives a wayward pass and they lose out. Carrasco drives forward, cuts inside and looks for a teammate but Qarabag defend it well and it lands back at Sehic's feet.
14'   Atletico looking for the ball over to the top to the left corner. Twice now they've tried it but no luck coming from it just yet.
13'   Gameiro swings a cross over to Griezmann and he takes it down. A failed one-two with Carrasco and Qarabag get it away.
11'   Corner. Almeida has a shot that comes off an Atletico defender. Qarabag look quite good going forward so far. They haven't let Atletico do much in attack either. 
10' Gaitan thrown to the ground and wants a free but doesn't get it. Then Gimenez launches himself into a tackle and wins the ball but puts it out for a throw. Plenty of tackles, and fouls, being thrown around early doors.
9'   Saul fouled now by Pablo Henrique.
7'   Gameiro wins a throw. Every time he gets the ball, he's surrounded by two Qarabag players. 
6'   Qarabag with some decent possession now for the first time. They're throwin the ball around and looking for opportunities further up the field. Ndlovu eventually crosses and Atletico get it away. Griezmann fouled then on the break.
5'   Godin fouled now by Henrique on the right after he got ahead of the Qarabag player.
4'   Ndlovu wins the ball and plays it out to Henrique. He tries to find the striker again in the box but Gimenez gets to it first and Ndlovu follows in with a foot to the calf. 
3'   Atletico pressing high up the field. Vrsaljko and Gaitan battling for it in the penalty area but the home side scramble it away. 
3'   Agolli fouls Kevin Gameiro by pulling his shirt after a scuffle for the ball.
2'   Carrasco climbs up on Medvedev's back trying to win the ball and gives away a free. The Qarabag right-back is not happy about Carrasco's attempts at winning the ball either.
1'   We are underway in Baku!
Teams out on the field and we are ready for action! 
I'm sure after their game against Barcelona and the long trip to Azerbaijan, Atletico won't be looking at this clash with much relish but they do really need a win. 
  Koke has played every single minute this season and retired from training shortly after it began on Tuesday. Tonight will serve as a rest for the midfielder as much as anything. 

Qarabag pushed Roma close, but they eventually fell 2-1. That loss also coincided with their first ever goal in the Champions League and it was scored by Pedro Henrique, who is on loand from PAOK. The Brazilian has played in his home country, Switzerland, France and Greece before moving to the Azerbaijan club and he starts tonight.
Atletico only have one point from a possible six at present after Michy Batshuayi's late goal at the Wanda, which handed Atletico their first loss at the Wanda. They also drew a blank against Roma in the first game and desperately need a victory tonight to save them from thoughts of a drop into the Europa League.
Qarabag line-up: Sehic, Medvedev, Huseynov, Sadygov, Agolli, Henrique, Almeida, Garayev, Madatov, Michel, Ndlovu.
Vrsaljko starts at left back after Juanfran was left at home to rest. Meanwhile, Savis is replaced by Gimenez and Nico Gaitan and Gameiro given opportunities in attack.
Atletico Madrid XI: Oblak, Vrsaljko, Giménez, Godín, Filipe, Gabi, Saúl, Carrasco, Gaitán, Griezmann, Gameiro.
Atlético first team coach, Diego Pablo Simeone is more than aware of the importance of tonight's game in Baku. Read the best from his pre-match press conference here: "We have to go for the win from kick-off"

Huge game for Atleti tonight with anything less than a win in Azerbaijan posing a major problem for Cholo Simeone with games away to Chelsea and a tricky visit from AS Roma to come.
Welcome to our live online coverage of Qarabag v Atletico which kicks off in Baku at 1800 today, Wednesday October 18. We'll be building up to it throughout the day bringing you all the latest news as it happens.
Qarabag vs Atlético Madrid live online: match preview
Azerbaijani champions FK Qarabag welcome Atlético Madrid to Baku's Olympic Stadium in the third round of the Champions League group stage with both sides in need of points and in decent domestic form. Qarabag top the Azerbaijan Premier League after six wins from seven games while Atlético are also unbeaten in LaLiga but on the European stage neither club has imposed themselves on Group C yet. The Spanish side, finalists in 2014 and 2016, have just one point from their opening two games while Qarabag lie bottom of the group after two defeats during which they have conceded eight times.
Atlético
The panic button remains under lock and key at the Metropolitano despite Atlético getting off to their worst start to a Champions League campaign under Diego Simeone but anything other than victory in the Azerbaijani capital will result in its protective plastic cover being flicked upwards. The double-header against Qarabag represents an opportunity for Atlético to capitalize on the points dropped by either Roma or Chelsea, who sit on four and six points respectively, in the parallel fixtures.
Atlético lost at home to the Premier League champions in their last match, Chelsea snatching all three points from the Spanish capital through a 93rd-minute Michy Batshuayi strike. Against Barcelona last weekend, three points were converted into one when Luis Suárez scored five minutes from the final whistle but despite this recent tendency to concede late goals the greatest threat to Simeone's side in Baku will be complacency. Qarabag were ranked 83rd in the Uefa club coefficient ranking at the end of last season, 81 places below Atlético. The Azerbaijani club spent no money in the last transfer window and Gurban Gurbanov's side is valued at roughly a seventh of one Antoine Griezmann.
While that may look tempting on paper, in reality it will add pressure on the pitch. Simeone has big game players in Saúl and Griezmann and one of the most compact defences in Europe, plus a squad with vast collective experience of Champions League football and high-stakes games. The relative unknowns of Qarabag and the peculiarities of the Olympic Stadium, which lies below sea level, pose some questions that Simeone will need to find an answer to. Failure to pick up three points on Wednesday will not be fatal to Atlético's expectation of getting out of the group but with Roma in fine form and Chelsea awaiting at Stamford Bridge in the final round of matches, the psychological blow of losing further ground on the currently qualified sides should not be underestimated.
Qarabag
The Azerbaijani champions will probably not have expected to be within reach of Atlético at this stage of the competition and that provides an added incentive for Gurbanov's side, who proved last time out that the Olympic Stadium levels the playing field a little. After a 6-0 drubbing at Chelsea losing 2-1 to Roma was a step in the right direction and Gurbanov will have been pleased with his team's reaction after conceding twice in the opening 15 minutes against the Serie A side.
Summer signing Pedro Henrique was the author of Qarabag's first-ever Champions League goal and the Brazilian adds flair to an attack that features the eye for goal of Dino Ndlovu, who scored the all-important away strike in Copenhagen that sent his side through to the group stage and assisted Henrique's historic effort. Azerbaijan international Mahir Madatov provides youthful verve and has been prolific so far in the Premier League while the unpredictable Wilde-Donald Guerrier, who operates on the left, was a key figure in the qualification rounds.
Gurbanov threw caution to the wind at Stamford Bridge and swiftly found that it prevailed hugely in favour of the English champions, leading to a change in tactics against Roma and a 4-1-4-1 that frustrated the Italians even if proved ultimately fruitless in terms of the final score. A similar set-up, with Gara Garayev anchoring the midfield, should be expected by Simeone and his players will be hounded across every inch of the Olympic Stadium turf by a side that racked up 21 fouls against Roma.
The statistic that will most interest the Atlético coach is the number of shots on target managed by Qarabag in their two group games so far – three. Simeone will be fairly confident that he can keep that number low in Baku but must also ensure that his side are as clinical as possible in front of goal with the home side likely to throw up a solid rearguard while looking to hit on the break.
Qarabag vs Atlético live online: selected betting odds
Qarabag are priced at 16/1 for the win with Atlético the overhwhelming favourites at 11/4. Dino Ndlovu is 11/1 to open the scoring with Griezmann chalked up at 13/5.
Bet on Qarabag v Atleti in the Champions League now