Bale injury mystery continues: 23 days out for Real Madrid
Gareth Bale hasn't played since limping out of Real Madrid's win in Dortmund, Florentino Pérez admitting: "He's a little bit at his wits' end".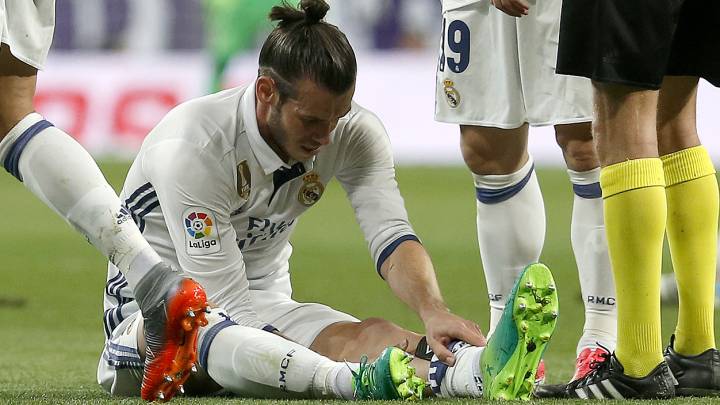 Having taken four days to recover from a swollen adductor muscle suffered on Costa Rica duty, goalkeeper Keylor Navas was fit to start Real Madrid's Champions League clash with Tottenham Hotspur on Tuesday, putting in a magnificent display and showing no signs of physical discomfort. Quite the opposite: his feline reflexes denied Harry Kane a late winner for the Premier League side.
Real concern over Bale's continued absence
By contrast, Gareth Bale - who, according to the medical report issued by Real, also has muscle swelling - has so far been out for 23 days, with no apparent timeline on his return. Since limping out of the European champions' win at Borussia Dortmund on 26 September, the Welshman has not reappeared in the white shirt.
And within the club there is a certain degree of concern. "Poor Gareth is a little bit at his wits' end," president Florentino Pérez has admitted in an interview with the newspaper El Español, while head coach Zinedine Zidane revealed after the 1-1 draw with Tottenham: "I don't know if he'll be fit for Wembley [where Real face Spurs on 1 November]."
It is a situation which has steadily developed into a fully-blown saga.
Tight calf, cramp, thigh, swollen soleus...
When Bale left the field in Dortmund in evident pain, the initial version given by Real was that "his calf [had] tightened up," before we were later told that the 28-year-old had "cramp". When Los Merengues' LaLiga match with Espanyol came about four days later, he now appeared to have a thigh injury.
The forward then dropped out of the Wales squad for the World Cup qualifiers against Georgia and the Republic of Ireland, with the Welsh FA saying he was already injured when he joined up. In response, Real released a medical report announcing "swelling but no tear in the soleus muscle of his left leg" - a problem they claimed was picked up in his first training session with Wales on 2 October.
Pérez now comparing Bale to Real flop Kaká
Bale has now had no fewer than 12 left calf injuries since moving to Spain in 2013. Now in his fifth season at the Bernabéu, his various complaints have caused him to miss a total of 67 games. Indeed, even his own president is starting to compare him to Kaká, who flopped at Real in large part because of injuries.
"In his first year at Real Madrid, Kaká arrived as a phenomenon," Pérez told El Español this week when asked about Bale. "Then he went to the [2010] World Cup, took pain-killing injections and came back with his knee destroyed. After that, he was never the same."