Barcelona vs Málaga LaLiga 2017-18, week 9: match report, goals, action
A goal by Deulofeu that should have been ruled out and another by Iniesta in the second half was enough to see Barcelona past Malága on Saturday nightSevilla - Barcelona: Copa del Rey quarter-final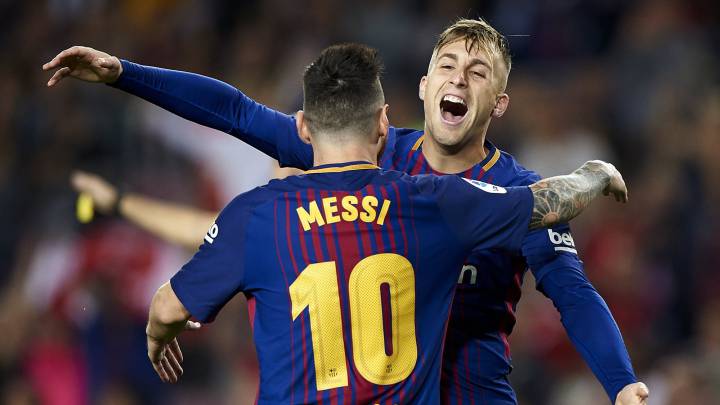 Barcelona 2-0 Málaga: match report
It was far from pretty but it was thoroughly effective as Barcelona remain unbeaten in LaLiga and push their lead to four ahead of Valencia with a 2-0 win over Málaga at the Camp Nou.
Malága manager assured reporters he was not distraught following Málaga's dreadful start to the season. He surely has to be looking over his shoulder now with just one point after nine games in LaLiga this season as they prop up the rest of the table in last place.
To their credit, the first goal had little to do with them as Lucas Digne, quite clearly, ran the ball over the endline only to cross it when he heard no whistle. Gerard Deulofeu headed home and Barcelona were ahead after two minutes. The hill they needed to climb had turned into a mountain and Malága showed little ability to get back into the game.
Barcelona were just as poor though as they never really got out of second gear. Lionel Messi teed up Andres Iniesta in the second half as the Spanish midfielder drove a shot towards goal. It took a wicked deflection and beat Andres Prieto, who was making his first start for the club.
Little else of note happened for the remainder of the game but Luis Suárez' form is sure to come under the spotlight. He missed a gaping goal before he was substituted for Paco Alcacer and looked to be off the pace, which is becoming a recurring theme for the Uruguayuan.
Regardless, Ernesto Valverde continues his unbeaten start to life at Barcelona as Malága fans wonder when they will be getting their own new coach as a parting with Michél is surely only a matter of time given their poor start.
Barcelona vs Málaga live stream online: live
90'+3'   GAME OVER!
90'+1'   Offside again. Alcacer can't finish, and he knew he was offside, but the play is stopped anyway.
90'+1'   Juanpi with a chance now but Ter Stegen rejects it again.
90'   Messi heads home but he was offside. Umtiti rises highest and heads into his path but the defender is the one who was offside.
88'   Paulinho has a crack and forces a save from Prieto. Corner.
85'   Messi and Paulinho link up. The ball into Messi was too close to the keeper and Prieto punches it off Messi. Ball arrives back out to Paulinho and he drives a shot over.
83'   Sergi Roberto been taking private lessons from Messi with that run in the box. The miss was poor with the left though.
82' Suarez replaced by Paco Alcacer.
81'   Shot by Juanpi. rolls to Ter Stegen. Malaga have created very, very little.
80'   Iniesta down hurt. The Nou Camp want the game to be stopped but it continued and he just about gets to his feet.
78'   Messi over the top to Paulinho but Malaga scramble it out for a throw. Paulinho again and he gives it away again. 
76' Rolon replaced by Cecchini
76' Paulinho replaces Busquets.
75'   Umtiti fouls Borja Baston now as Malaga have a chance to attack. Ball arrives in and Luis Hernandez heads just wide.
74'   Suarez has to laugh at his latest effort. He drags the ball wde after Roberto puts it on a playe for him. What a miss!
71' Borja Baston replaces Adalberto Peñaranda.
70' Gerard Deulofeu is replaced by Nelson Semedo.
67'   Malaga with a really good chance. Chory with a powerful run down the line and crosses. Keko strikes and it catches Digne's head. He had his hands up but it definitely made it through and his his head so no penalty. the rebound goes tamely into Ter Stegen's gloves.
61'   Both sides with just three shots so far tonight. Really tame performance from Barcelona.
59'   Messi fouled out of frustration. I'd be surprised if we didn't see a red card here for Malaga.
58'   That will really hurt Malaga. Barcelona with all the ball since the goal too and they're in no hurry to do anything with it.
56' And that's two. Messi plays Iniesta in and he drives a shot, that's half-blocked, towards goal. it loops over Prieto, who had dived where the ball was going originally.
55'   Suarez chases a ball around the back but Juankar makes it there first. Suarez fouls and isn't happy with the linesman but it was fairly obvious. 
54'   Prieto saves from Messi. He drove out to the left and pulled a shot back across himself. Good save and Barcelona win a penalty but it ends up in Prieto's arms.
53'   Rakitic with a ball over the top and Messi can't control it. 
52'   Deulofeu with a foul on Juankar now in Malaga's penalty area. Looked like there were two of them dragging and pulling each other.
50'   Rosales strikes but it's straight at Ter Stegen.
49'   Malaga win a corner and it comes in with pace. Everyone misses it. They have started the second half very well.
47'   Rosales with a cross from the right. That comes after a good move from Malaga but that's really not a good cross.
46'   We are back underway at the Camp Nou.
Juanpi replaces Rolan.
  Rolan is the one who will be replaced. He went down grabbing his hamstring at the end of the half.
45'   Half-time. Michel was about to make a change as Juanpi darted to the dugout. No time though.
44'   And yet again but Sergi Roverto clears it this time. Keko gets a touch on a cross from the left, he passes it into Rolan's path but they're at a tight angle and they can't do anything with it.
43'   Another Rosales cross but Umtiti clears this time.
41'   Ball comes in from Rosales and Chory Castro nearly heads it in. Probably Malaga's best chance of the game.
41'   Messi over the top again to Suarez. Too long though as Suarez exhausts himself chasing it. He is a frustrated figure at the moment.
39' Yellow card now for Adrian Gonzalez, who launched himself at Sergio Busquets. He didn't make contact but a very silly challenge with no chance of winning the ball.
39'   Deulofeu with a lovely little dink into Rakitic. He falls over under pressure but no penalty.. 
Some photos of the goal and how far it was over the line.
37'   Malaga not bad at all here in the first half. Barcelona have barely created anything and Malaga growing into it. 
36'   Messi looks for Suarez with a through ball but Hernandez gets a toe to it and helps it back to Prieto. 
34'   Deulofeu thrown to the ground by Juankar off the ball. He has a look at the ref but the ref plays on. Barcelona cough it up and Malaga look to create something before the half. 
31'   Rakitic tries to volley a ball over the top and Baysse comes out of nowhere. The Croatian drives the defender a kick on the shin. 
29'   Malag on the break with Rolon. Juankar on the left and he launces a cross into the box. Chory heads it but he knocks it wide.
27'   Messi hits the free as Iniesta complains about the distance the line is away from the ball. Mesis hits the wall and follows up by mishitting the vollied rebound.
26'   The second Malaga defender to be booked. Luis Hernandez handles the ball, it looked like it hit his shoulder, and he gives away a free at the edge of the square.
24'   Umtiti fouls Penaranda and Malaga have a chance to build something. Offering very little going forward at the minute and Barcelona comfortable.
22'   Barcelona end up winning a free anyway.
22'   Suarez mkes a run in behind the defense but Umtiti opts to go long to the right. Suarez is not happy at all with that decision and he lets his teammate know about it.
21' Iniesta fouled by Rosales now. He played the ball and the right-back arrived late, chopping down the midfielder. Very sloppy and unneccessary tackle.
19'   Malaga trying to build and a ball out wide to Rosales is too far ahead of him. Sloppy from the visitors.
17'   Corner for Malaga is only half-dealt with by Barcelona. Ball goes back in to Rolon but he's offside. Flag and whistle came late!
14'   Messi getting more involved in the last few minutes, which is obviously worrying for Malaga. He links up with Suarez this time, shoots, and has the ball nicked off his toe and falls over. He gets it back again off Suarez but Malaga see it out for a goal-kick.
12'   What a move! Messi to Iniesta, and he back-heels straight back into the Argentine's feet without either of them breaking stride. It goes out to Digne and his cross is blocked. That was really slick from Barcelona.
10'   Shout for a penalty but there is no way the referee is giving that. Ball arrives in and Rakitic is caught by Prieto but after the ball had missed the two of them. Rakitic gets up slowly and play restarts.
10'   Malaga pressing quite high up the field and Ter Stegen is forced to kick long. Barcelona win it back though. 
8'   Busquets tries to set Deulofeu free down the right but Juankar heads out for a throw. Barcelona comfortable for the moment.
6'   Barcelona back in possession now. Malaga rattled after that start and can't understand the decision. Regardless, they need to regroup here fast.
4'   Corner for Malaga and Rolon is at the back post but Digne shadows him and it goes out for a goal-kick.
4' Malaga complain but to no avail. The ball was a yard over the line. Digne took it down the left and his first attempt at a cross was blocked, the ball went out, and he crossed into the Deulofeu. Really bad call.
2' Barcelona score!  Deulofeu headers the ball into the net and it looked like it was out over the line. The ball was, indeed, a yard over the line!
1'   We are underway! 
A moment's silence now for those who lost their lives in Galicia recently.
The teams emerge onto the field. 
This is literally a top versus bottom clash. Barcelona are unbeaten and have only drawn once, against Atletico last Saturday at the Wanda and Malaga have only drawn once, against Athletic Bilbao. Michel has so far survived but one more loss and that could change. He was asked if his players saw him as being distraught after the most recent loss but he said, "they can't see me as a distraught man, because I am not one." He's holding his head high through the storm but how long more can this go on? 
Barcelona out warming up in their senyara-striped warm-up gear. Focus on Digne for now. He has taken advnatage of Jordi Alba's injury and scored agains Olympiacos during the week.
Simone Zaza scored one today and that means he moves one close to Messi, who is on 11. So far, the Italian has landed eight goals. He said recently, however, that he doesn't count Messi and that is he comes second to the Argentine, he will contact LaLiga and ask for a prize anyway! 
Valencia are currently beating Sevilla and it's into the last 10 minutes. They sit just one point behind the league leaders, Barcelona. The pair play each other at the end of November and remain two of three teams, along with Atletico Madrid, that are unbeaten in the league this year!

Adalberto Peñaranda gets his third run-out in a row and his second start in a row! The Venezuelan has struggled to settle at the club and gets a huge chance tonight!
Malaga XI: Prieto, Rosales, Luis H, Baysse, Juankar, Rolón, Adrián, Keko, chory, Rolan, Peñaranda.
Barcelona team news: Ter Stegen, Roberto, Umtiti, Mascherano, Digne, Iniesta, Rakitic, Busquets, Messi, Deulofeu, Suarez.
Want to read up on Malaga? Here is a really interesting article on the club and some interesting facts on Barca too. here is a taste of what's in the article: Malaga are managed by Michel, who played over 400 games for Real Madrid. And he and Ernesto Valverde have plenty to talk about regarding Olympiacos. Like the Barça boss, Michel coached the Greek club to two league titles.
The writing really looks to be on the wall for Arda Turan and Thomas Vermaelen. They've been left out of the squad yet again while Aleix Vidal hasn't featured since the start of the month when he played 45 minutes against Las Palmas. 
Michel might be in trouble but he has stuck to his guns on Javier Ontiveros. The youngster liked a photo from a Valencia player, Toni Lato, after Malaga were hammered by their rivals, 5-0. Michel said, "it is a serious disciplinary issue and it is also not the first time something like this has happened!". He remains out of the squad and hasn't featured since that game back in September.

It was in the return fixture of this game last year that essentially lost Barcelona the league. they were beaten 2-0 at La Rosaleda with goals from Sandro and Jony. Neymar was also sent off and Barca would eventually lose the league by three points on the last day of the year!
Leo Messi is in quite some form at the moment and leads the Pichichi stakes by a country mile after bagging 11 in LaLiga so far. The Argentinean goal machine notched his 100th European strike in the game against Olympiacos in midweek. Málaga's defence will not be relishing the task of trying to stop him.

The last time these two sides met things were considerably rosier at La Rosaleda. Málaga won 2-0 at home to put a dent in Barcelona's title aspirations and Míchel was flavour of the month. That seems an awfully long time ago now. You can relive that match here. 

As ever, we've knocked up a guide on how and where to watch the game tonight, wherever you happen to be.
Good morning and welcome to AS English's live coverage of the match between league leaders Barcelona and rock bottom Málaga from Camp Nou, with kick-off at 20:45 CET.
Barcelona vs Málaga live online: match preview
Liga leaders Barcelona welcome Málaga to Camp Nou on Saturday evening when Ernesto Valverde's side will aim to extend their excellent start to the season at the expense of Míchel's struggling side, who sit rock bottom of the division with just one point from eight games. Barcelona, meanwhile, are unbeaten in all competitions since the start of the season proper and hold a four-point advantage over second-placed Valencia in the league.
Barcelona latest news
The hosts have been in scintillating form so far this season, only dropping points once against Atlético last weekend. Valverde's side have banged in 24 goals in eight games and conceded only three times despite contending with injuries to key players in the early stages of the campaign.
Barça will be without long-term absentees Ousmane Dembélé and Rafinha in Camp Nou and Valverde may be forced into a defensive reshuffle if Jordi Alba fails to recover from a knock that ruled him out of the midweek Champions League victory over Olympiacos. Lucas Digne filled in for the Spain international on Wednesday and is likely to retain his place if Alba is unavailable, while Javier Mascherano may find himself on the bench again with Gerard Piqué, who was sent off against the Greek side, and Samuel Umtiti the current first-choice central defensive partnership.
Leo Messi will provide the chief threat to Málaga's back four after plundering 14 goals so far in LaLiga and Europe. The visitors are not among the sides who have traditionally suffered the most at the feet of the Argentinean during his career but still are no strangers to plucking the ball out of the net as the number 10 wheels away, Messi having scored 13 times against them in 18 games.
Nelson Semedo will return in the right back slot after warming the bench in Europe with Ivan Rakitic, a substitute in midweek, expected to line up with Andrés Iniesta and Sergio Busquets in midfield.
Málaga latest news
Despite Málaga's woeful start to the season – seven defeats and a draw with just four goals scored – Míchel is grimly clinging to his post at the south coast club. However, the suspicion remains that the former Real Madrid midfielder is only one thrashing away from a P45 and there is little to suggest on current form that Barcelona won't administer one in Camp Nou.
Málaga have the joint-worst defensive record in the division and face a side who have scored 16 goals in four games at Camp Nou this season. In an attempt to turn things round, and faced with a mounting injury list and the suspension of midfield linchpin Recio, Míchel has brought six new faces into the squad for the trip to Catalonia. Borja Bastón is back in contention for a start after injury while Chory Castro, Miguel Cifuentes, Cengo and youth team players Álex Robles and Kellyan García are the other changes to the squad that lost 2-0 to Leganés in La Rosaleda last weekend.
Míchel will be hoping for a repeat of last season's success against Barcelona, when the Málaga boss oversaw a surprise 2-0 victory over the blaugrana. At that time, Míchel had been in charge for only five games and claiming victory over Luis Enrique's defending champions was the catalyst for a stunning revival on the south coast that saw Málaga take 13 points from their next six games to ensure another season of top-flight football.
Now, the Málaga hot seat is more of a sauna with the goodwill from the tail end of last season having long since evaporated. Club owner Abdullah Al-Thani and Míchel's relationship has been strained since the start of the season and the odds on the former midfielder becoming the fourth managerial casualty are short. Míchel needs a performance, and probably to avoid defeat, in Camp Nou to ensure he remains in charge of Málaga for the visit of Celta next weekend.
---
Barcelona vs Málaga live online: possible line-ups
Barcelona XI: Ter Stegen; Semedo, Piqué, Umtiti, Digne; Busquets, Iniesta, Rakitic; Luis Suárez, Messi, Deulofeu.
Coach: Ernesto Valverde
Málaga XI: Prieto; Rosales, Baysse, Hernández, Torres, Juankar; Rolón, Adrían; Peñaranda, Rolan, Juanpi.
Coach: Míchel
---
Barcelona vs Málaga live online: selected betting odds
Barcelona are overwhelming favourites to claim victory at 1/14 while Málaga taking all three points is priced at 25/1. The lowest correct score odds available are 6/1 - and that is for a 4-0 home win. Leo Messi is chalked up at just 3/1 to bag a hat-trick.
LaLiga Santander
*Update 21 de octubre de 2017