Tottenham 4-1 Liverpool Premier League 2017-18: match report, goals, action
A horror show for Dejan Lovren helped Spurs into a two goal lead in the first half and Spurs rarely looked back after that as they beat Liverpool 4-1 at Wembley.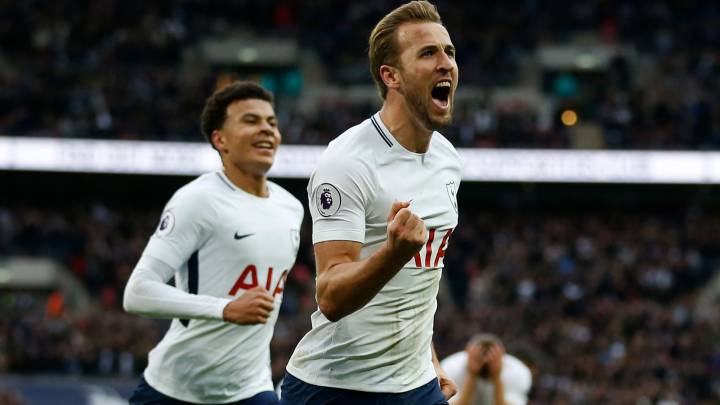 Tottenham Hotspur 4-1 Liverpool: match report
Harry Kane found himself in behind Liverpool's defense after two minutes and slotted home to put Spurs ahead at Wembley as Mauricio Pochettino's side made light work of Jurgen Klopp's side.
The defensive lapse from Dejan Lovren was a flavour of what was to come as Heung-Min Son took advantage of a lovely Harry Kane cross to make it 2-0 after 12 minutes. A long ball from Lloris on the counter saw Lovren jump in the air as Kane knew better and peeled off him to get in behind on the right hand side yet again. The in form striker in European footballer knew the defender has misjudged it and crossed to an incoming Son as Mignolet was left helpless and Liverpool the same.
Mohamed Salah, Liveprool's best player, gave the reds a glimmer of hope as he finished a lovely ball from Jordan Henderson but it seemed more of a blip than anything more sustainable from Klopp's side. Every time Spurs attacked, it looked like they were one Lovren misstep away from scoring and the German manager saved his player's blushes and possibly ruined his confidence with one drag of his curly finger. He replaced Lovren on 30 minutes but the damage was done.
Just as Liverpool seemed to be settling in with their new look backline that included Joe Gomez, who was dragged in from right-back, and with half-time in sight, Eriksen crossed from a free and Dele Alli drove a volley home to make it 3-1 and ostensibly put the game out of reach.
That was confirmed on 56 minutes when a corner arrived in that Simon Mignolet flapped at. It fell to Harry Kane, who got his second and Spurs' fourth on the night. Liverpool tried to get a consolation but were so worried about Spurs' counter, and rightly so, that they never threw the kitchen sink at it.
The game would end 4-1 with Spurs catching up with Manchester United on points in second and Liverpool remaining in 9th on just 13 points after nine games.
Tottenham Hotspur vs Liverpool live online: as it happened
90'+2'   That's the end of that! Liverpool manhandled.
90'+1'   Last couple of minutes now. Wembley is clearing out already as Liverpool try in vain to pull one back.
88' Harry Kane goes off.  He recieves a standing ovation and all the love the Wembley crowd can muster. Llorente on in his place. It looks like he grabs his hamstring to explain to Pochettino what is ailing him and does the same when he speaks to the physio.
86'   Salah sends a cross in. Spurs head it out and Liverpool push forward again. All a little too late though as the result of this one beyond doubt.
84'   Sissoko down along with Moreno, but the Spurs player looking worse for wear than Moreno. He went over the ball and turned his ankle as he did so, it looks like.
83' Grujic is replacing Can as Klopp throws one last roll of the dice. 
81' Dier coming on for Eriksen.
80'   Liverpool pushing for a consolation. 
78'   Salah fires a shot at Lloris and he saves with his feet again.
76' Firmino replaced by Sturridge.
74'   All gone very quiet now. Liverpool are stuck between a rock and a hard place. Do they push for a consolation or sit back and hope not to concede more. Spurs entirely comfortable with whatever they decide to do.
72'   Salah with some lovely skill to set Milner free but he fires a shot at the near post and Lloris saves it.
71'   A shot of Klopp by the dugout there looking less than happy. Sulky might be the right word for it but you can hardly blame him. 
69' Son replaced by Sissoko.
67'   What a strike from Coutinho. Left-footed effort and Lloris with an equally impressive save. 
66'   Can trying to make something happen down the right. He can't though as Spurs stand firm.
64'   Kane again. He shoots but sees his shot blocked.
62'   Spurs have Liverpool back all the into their own penalty area. Liverpool afraid of their lives of conceding again. They win a corner and Eriksen drives over from it.
59'   Son and Spurs break again. They win a corner. They've been lethal on the counter and are running Liveprool ragged with it.
56' GOAL! The Wembley curse is well and truly finished for Spurs. Mignolet comes out and flaps at it with his own defenders standing between him and the ball. Ball falls to Kane and he buries it. Dreadful, awful defending.
55'   Kane tripped up as he tries to break free from two Liverpool players. He's so dangerous and causes defenders to panic every time he's on the ball. Chance not for Spurs to put one into the box. Spurs have been good defending set-pieces but Liverpool not so much.
53'   firmino bulldozes Kane out of the way and gives away a free.
51'   Cross from Ox and it nearly meets Salah's head. He crept up on Aurier. Milner wins Liverpool a corner. But spurs clear it again. They've been very strong from set-pieces.
50'   Kane gets his head to it but it's a blind header and it goes wide.
48'   Aurier wins a corner.
46'   We are back underway for the second half.
Does he make another, more attacking move, or stick with what he has and try to break Spurs down. They've been the better side with the ball and dominating possession but Kane, Son, and Erksen proving the difference. Oh, and Liverpool's lack of defending playing a role too!
Liverpool were really getting back into that game but the lapse just before the break had left Klopp with a lot to ponder.
45'+2' GOAL! Dele Alli strikes and buries it. Just on the brink of half-time. Eriksen free comes in, Matip heads away and Alli is free on the edge of the square, or just inside it, as he strikes into the bottom corner.
45'+2' Can booked now for a foul on Dele Alli again.
45'+1'   2 minutes of added time after an eventful first half.
45'+1'   Oxlade-Chamberlain breaks free, plays it to Firmino and then to Coutinho. they give it away, win it back and then put it out for a throw. 
45'   Milner jumps in and catches Dele Alli. He stays down before recovering and Milner gets a talking to.
44'   Moreno recovers from a similar ball that Son is chasing.
44'   Salah hunts down a long ball. Lloris is out like a shot and heads away.
43'   Ball is headed away and Henderson hits it with a lovely volley. Blocked though and Liverpool recover.
43'   Another cross and another corner for Liverpool. Klopp's siding turning the scre just slightly here all over the field.
40'   Trippier sends a long cross into the back post. Aurier nearly gets something on it but Liverpool win it and get it away.
39'   Firmino wins a corner. Good ball in from out wide. They win another corner too but it's obvious the ball came off Joe Gomez.
37'   They counter too. Kane gets a shot away from a tricky angle and Mignolet watches it but it goes wide.
35'   Alli gives the ball away and Liverpool try to attack but Aurier gets a tackle in. Liverpool continue with all the possession. Oxlade-Chamberlain gets a few boos with one of his first touches. Coutinho finds him on the left and he plays it to Moreno. The Spaniard sends a nice cross in but Spurs clear.
33'   Lovren's head was gone there. He was following Kane around and Kane, being smart, was dragging him further back towards goal. Lovren was afraid at that point to play offside and just going with the striker! Liverpool could have conceded 10 if Lovren was to have stayed on the field. 
32'   Salah down the line and jumps past a a tackle from Aurier. Spurs get men back and Lloris gathers.
31' Lovren is gone off for Oxlade-Chamberlain.
30'   Kane again. Lovren just about manages to save the day but this is not sustainable.
29'   Oxlade-Chamberlain is stripped and ready to come on. Hardly for Lovren, is it?
29'   Dele Alli to Son. Lovren was playing offside again and he gets caught out again. Son pokes it at Mignolet, it hits him and back off Lovren. Mignolet gathers. Wow! Nearly another.
28'   Coutinho with an exvellent ball in over the top to Salah. He heads it towards goal but Lloris is okay with it. 
27'   Liverpool growing in confidence. Coutinho looks for Firmino but Spurs clear.
25'   Eriksen wants a free as he heads the ball and seems to take a kick to the lef from Henderson. Referee waves play on.
24' Salah pulls one back! He uses his speed to get in behind after Kane coughs it up. Henderson sends it in and Salah mishits it but it dribbles by Lloris and he's not complaining.
23'   Salah stops the ball dead as it looked to have beat him down the left. He sends it into the box where Spurs gather it and clear. Liverpool with 71% possession so far and they're 2-0 down.
21'   Kane looking for another. He's offside this time though.
18'   Eriksen gets the ball out to the right of goal and sends a looping cross towards Mignolet. He grabs it.
16'   Son hits the crossbar. Quick free and the ball comes into Son, who makes a lovely run in behind and rifles it off the bar! 
15'   Liverpool back on the attack but it's controlled, again, from Spurs. They're dictacting how and wher Liverpool play here.
12'   A lot to be said for taking Lovren off now. A dreadful performance and just 12 minutes in.
12' Just as I said that and Moreno crosses but it goes across goal and eventually back to Lloris who launches forward. Lovren, again, misses out on the header as Kane spins him. He clips it towards Son and he finishes! 2-0 just like that.
10'   Liverpool enjoying more possession not but all very controlled from Spurs. They aren't giving up many chances.
8'   Lovren to Coutinho and the Brazilian is offside.
7'   Spurs push Liverpool all the way back after having the ball in a good position. They end up moving forward again and losing it as Lloris gathers. 
5' GOAL! Harry Kane slots home after some dreadful defending from Lovren. The ball was clipped over the top and he didn't sense the danger, Kane pounced, beat Mignolet and finished. 
4'   Lovren slides in and concedes a throw as Spurs try to build an attack. Plenty of pressure early, as expected, as neither side willing to let the other settle on the ball.
2'   Milner puts the ball out for a goal-kick. Spurs' first attack upcoming. Long ball to Kane misses his head and Liverpool recover and clear.
1'   Son and Kane up as the two front men early with Eriksen joining them to press high. 
1'   We are underway at Wembley.
Gomez, Henderson and Mignolet replace Alexander-Arnold, Wijnaldum and Mignolet as Klopp looks to do slightly more defensive than he was against Maribor during the week. That 0-7 win over the Slovenian side was slightly less taxing than Poch's trip to Real Madrid where Spurs drew 1-1. 
Son starts in place of Llorente, Trippier gets a start in place of dier as Vertonghen tucks into centre-half too. Meanwhile, Dele Alli starts too in place of Sissoko.
We also have Spurs line-up with changes since their game against Real Madrid. Lloris, Trippier, Alderweireld, Sanchez, Vertonghen, Aurier, Winks, Dele, Eriksen, Son, Kane.
  Third-placed Tottenham will aim to capitalise on Huddersfield beating Manchester United on Saturday to move level on points with José Mourinho's side at the expense of Jürgen Klopp's up-and-down Liverpool side at Wembley Stadium. Both sides picked up good results in the Champions League midweek, Liverpool putting Maribor to the sword in a record 7-0 victory and Spurs taking a point home from the Bernabéu after a 1-1 draw.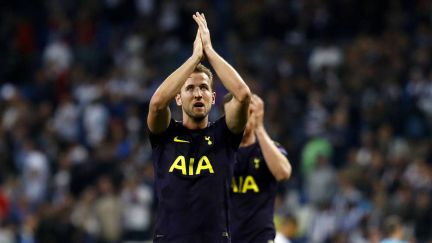 Tottenham Hotspur vs Liverpool live online: match preview
Manchester United's 2-1 defeat at Huddersfield has presented a regal opportunity for both Tottenham and Liverpool to make some headway in the top positions of the Premier League table. For Spurs, a win would put them level on points with United while a similar result for the visitors would allow Klopp's team to break into the top four. Both will have had time to recover from last week's European escapades – Spurs were in radiant form as they took Real Madrid to task at the Bernabéu; Liverpool meanwhile, gave their self-esteem a massive boost by smashing seven past Maribor - a result which put them top of their qualifying group and also set a new Champions League goal scoring record, one which they now hold home and away.
In terms of league form, Tottenham are looking confident and consistent – at least when they've been on the road... Away from home Spurs have a flawless record. It's been at home where they've been dropping points. Since the narrow, opening day defeat to Chelsea, Mauricio Pochettino's team remain unbeaten, having been held just twice – to Burnley and Swansea, both times at their temporary, Wembley home.
Liverpool's campaign has been more erratic but they go into this game looking like they might finally have settled into their groove. Klopp's team have been heavily criticized for a leaky defence but in their last two outings since the international break, against United and Maribor, they have kept a clean sheet – something they badly needed to do. Another fault which the Reds have been guilty of this season has been their inability to capitalize on the chances they create so freely. The 0-7 drubbing against Maribor might have heralded the end of that flaw to their game but we'll see at Wembley whether Klopp's Liverpool really have started to click and put those issues behind them. As for playing at the imposing Wembley stadium, Klopp said ahead of the game that he has no anxiety about returning to the north London venue where his Liverpool side lost the 2016 EFL Cup final on penalties to Manchester City: "We don't feel bad when we see Wembley, it's a good place and a wonderful stadium. We're only thinking about Tottenham, not where we play".
Tottenham
Dele Alli, who missed the Real Madrid match through suspension is now available again. Otherwise, there are no major developments on the injury front. Victor Wanyama is still not over his knee injury; Erik Lamela is back training but is not match-fit while Danny Rose, who came on as a late sub against Madrid, will be rested as Pochettino confirmed in Friday's press conference: "He needs to build up his fitness but we're happy because he's doing well". Left-back Ben Davies stayed at home for the Madrid game as he wasn't feeling too well but he's ready to make his return.
Man to watch: Hugo Lloris. While Harry Kane and Dele Alli have been amazing to watch and dominating the headlines, it would be hugely unfair to overlook the toils of Spurs defence and in particular, goalkeeper Lloris. The Frenchman is in the form of his life and was key in helping the team snatch a point at the Bernabéu midweek. That Herculean performance will have made him feel unbeatable – and rightly so.
Liverpool
Liverpool's long-term injured players Sadio Mané and Nathaniel Clyne remain in the sick bay. Adam Lallana has returned to the training ground but won't feature today. Captain Jordan Henderson, who was rested against Maribor, could return to the starting XI.
Man to watch: Roberto Firmino. Razor sharp to react in and around the box, a hard worker who has tended to fall into the shadow of his fellow forwards Mané, Salah and Coutinho this term but Bobby Firmino is showing he's just as important to the team. Like Salah, he was on target twice in the 0-7 drubbing of Maribor and watching those strikes cross the line will have done wonders for his confidence as his success rate in front of goal had been a source of frustration for him.
---
Tottenham Hotspur v Liverpool enhanced betting odds:
Spurs are the odds-on favourites to take all three points with Liverpool at 5/2 to clinch what would be their fourth victory of the season. However, perhaps the exertion of last week's away trips in Europe might have an adverse effect on both teams' performances – a 1-1 draw is at 6/1 and a goalless draw is at 14/1. Dele Alli is at 5/1 to score the opening goal and Liverpool's trusty penalty-taker James Milner is at 14/1 to strike the last goal of the game.
Bet on Tottenham Hotspur v Liverpool in the Premier League now