Marseille 2 - 2 PSG: last gasp Cavani as Neymar sent off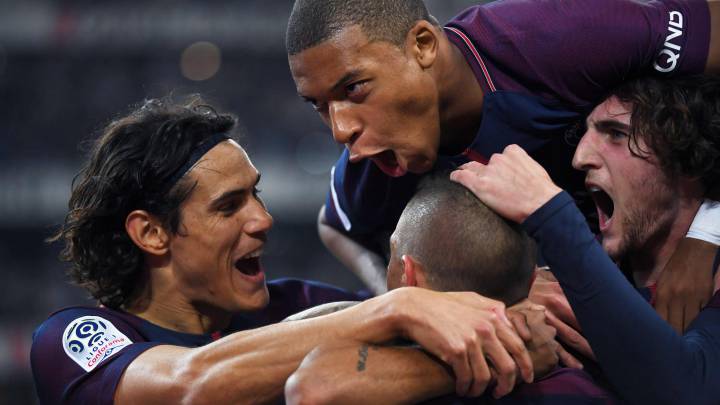 Sunday 22 October saw the first meeting of the season of the biggest rivalry in French football as Marseille and PSG clashed in the Stade Vélodrome. We brought you live coverage of the thrilling encounter that saw both sides leave the field a point better off in Ligue 1.
Marseille vs PSG online: match report
The French Clásico, Le Classique, lived up to its billing as a competitive affair. Tackles were flying in from the start, we were treated to a superb opener from Gustavo and then the game ended right at the death with a classy Cavani free kick, following a far from classy exit from Neymar.
The 222-million-euro man had a bitter sweet night in front of a vociferous home support. It was he who fired home the equaliser to get his team back into the match but two yellows in the space of just a couple of minutes saw him head off for an early bath as the minutes ticked towards PSG's first defeat of the season. But his Uruguayan strike partner levelled one minute into stoppage time with a superb 20-metre free kick, one that the Brazilian most likely would have taken had he still been on the field.
Neymar's earlier strike had cancelled out Luiz Gustavo's opener before halftime but Florian Thauvin had put the home side ahead again against the run of play in the second half. Cavani's ninth league goal of the season earned them the draw that puts PSG on 26 points from 10 matches.
"It's an important goal because the game was almost finished but at least we salvaged a point," said Cavani.
In a boiling hot Velodrome, Marseille went ahead on 16 minutes when Gustavo beat Alphonse Areola with a 25-metre strike to give Marseille a deserved advantage after a solid start. Cavani squandered an opportunity to equalise one minute later when he missed the target from close range from a Layvin Kurzawa cross.
Neymar levelled with his first opportunity in the 33rd as he collected a clever cross from Adrien Rabiot to beat Steve Mandanda with a left-footed shot. PSG had the upper hand but the hosts defended well to preserve the score until halftime.
Kylian Mbappe was handed a yellow card for protesting after a Jordan Amavi handball in the box as PSG's frustration grew. In the 78th minute, Clinton Njie, who came on for Konstantinos Mitroglu in the 65th, grabbed the ball from Rabiot on the right flank and Thauvin latched onto his cross to put the home side ahead.
Neymar was booked in the 85th minute for dissent and two minutes later reacted angrily after being fouled, only to be shown the red card. He will miss next weekend's home game against Nice. In his absence, there was no debate about who would take the final free kick in injury time as Cavani preserved the leaders' unbeaten record.
Marseille vs PSG online: how it happened live
Goals were expected and goals came. This was a battle from the off and both managers will likely be happy enough with the single point all things considered. Thanks for being a part of it with us and our match report will be up here shortly. See you soon for more live action on AS English...
90'+4' And that's it. Full time and the points are shared. Probably a fair result across the piece as, while PSG had more of the ball, Marseille matched them across the park, defending well and having enough of a threat when it mattered.
90'+3'   Marseille, and Sarr in particular as the man who gave away a soft free kick, will be kicking themselves. The win was in their hands.
90'+2' Gooooooooaaaal!! Who needs Neymar in that position when you have Cavani.  What a hit, curling up and over the wall and in off the underside of the bar. Take a bow.
90'+2'   Great free kick chance here as Cavani is tripped just outside the area. Perfect position for Neym...oh!
90'   There will be four minutes added on. Can PSG find what will just be an equaliser now or is their unbeaten run coming to an end?
88'   Marseille could finish this...Sanson one of three attacking a sparse defence but his shot is awful. Wait, maybe that word is a bit strong. Nope, it really was an awful strike that trundles wide of the goal. Wasted.
87' There's a bit of a melee and the ref is bringing out his cards. Yellow for Ocampos and Neymar (and the Brazilian is off after his first booking just a couple of minutes before)
86'   Neymar right in the thick of things as he tries to break from midfield, gets fouled, jumps up and squares up to Ocampos who theatrically goes to ground. 
85'   Neymar getting into a heated exchange with some of the Marseille players after Kurzawa takes out Sanson who then stays down. Neymar is shown the yellow card - I think for protesting.
83' Thauvin leaves for Sarr
81'  Mbappe is now off and Angel Di Maria on to make a final push.
That was great hassling work from the fresh Nije. Just listen to the noise of the crowd now!! (Or at least imagine it)
79' Goooooaaaaaaaalll! Marseille make that burst count as the third move they try, coming from a mistake on the right from Rabiot lets Nije cross and Thauvin fires in at the front post.
78'   Marseille get a bit of joy in the opposition area and seem to have a renewed urgency to get more than a point here. 
76' Another change here as the reduced influence of Payet sees him replaced by Morgan Sanson
74'   There's a delay to the corner being taken as the Marseille fans send some refreshments to Neymar as he sets himself to take the set piece. Security forces arrive in numbers and the corner is swung in but Silva's header is easily caught by Mandanda. 
72'   Interesting tackle there from Ocampos who manages to give away a corner from halfway up his half of the pitch.
Draxler came on for Motta
70'   Neymar looks to make things happen in the French Clásico, picking the ball up in the middle of the Marseille half and running amidst three home players. He manages to see a gap to play it out to Mbappé on the right edge of the box but the danger is quickly removed.
68'   A shot comes in from Payet which sums up the home side's second half so far. It's well outside the area and passing options seemed far more sensible. Deflected and no danger to Areola's goal. Half hearted from the former West Ham man.
66' Mitroglou is going off and Clinton Njie the man to come and make a difference up top.
64'   An exchange of play in the middle of the pitch which ends with a soft free kick given to Marseille for a foul on Gustavo. First change coming up it seems. 
60'   Corner dealt with by Sakai again and Marseille look to get a little respite - it's been all PSG in the opening 15 minutes. Payet gets wide on the right and curls one across goal but it's high and floaty and Areola collects easily.
59'   Nice play between Rabiot and Cavani sets the midfielder away and what could have been a very dangerous cross in is well blocked in the right back area by, appropriately enough, Hiroki Sakai. Corner
57'   Neymar looks hurt and goes off the field for some treatment but is back on quick enough and looks fine to continue.
56'   A foul by Gustavo on Neymar gives the Brazilan a chance to deliver into the danger area, which he does. Mandanda comes and claims well.
53' Mbappé. Harsh (although he may have said something 'enthusiatic' to the ref that we didn't hear)
53'   Lovely play there which sets Mbappé away inside the right hand side of the area but a phenomenal tackle by Amavi stops him before he can get a shot or pass away. The left back kept control miraculously from the tackle but the replay shows he used a hand to help out. As Mbappé screams for the penalty the ref decides a booking for the striker is more in order. 
49' PSG are having the better of these opening minutes and Sakai maybe shows his frustration as he needlessly swipes down Neymar when there was no danger out wide. Yellow.
48'   Yet another occasion of a Marseille player stealing the ball of the toe of their opponent, while keeping control of it. Impressive technique or complete fortune, I'm still considering.
46'   First chance to PSG as Mbappé runs down the right wing, stops, pulls the ball back to Meunier who floats a high cross invitingly up for Mandanda who clatters Adil Rami as he clutches it from the sky. 
Here we go again, some home fans still getting back to their seats...
Ok, teams heading out in dribs and drabs, plenty of conversations taking place, hopefully about how to deliver the tactics discussed, and we're almost ready to start.
Payet has caught the eye going the other way and he's drifting across the frontline meaning Marquinhos and Silva are having to pass him off, or block together.
Fans of PSG will be expecting more from their attacking trident in the second period although in all fairness to them the Marseille back four, Rolando and Sakai in particular, have kept them at bay well. With the support of Anguissa and Gustavo, clear chances for the visitors have been limited.
Enjoyable first 45 there as Marseille showed the attitude and intensity required to match the superstars from the capital. Level pegging seems a fair scoreline based on what we've seen and I'm curious to see how both sides approach the early part of the second half.
45'+1' Marquinhos takes his time getting to his feet and by the time he does the ref blows up. Into the changing rooms lads for some managerial advice.
45' Konstantinos Mitroglou goes into the book for a challenge on Marquinhos. He pleads some sort of forgiveness but that looked a clear one from here.
44'   Mbappé is not having an easy time of it out there. He's occasionally finding himself in good positions but the defence has his number so far as they continue to dispossess him.
42'   Verratti aims to set Mbappé in on goal but Mandanda is quickly out and gathers just inside his area. Both teams just feeling each other out again...
40'   Both teams swap a little possession and PSG almost make theirs count but Cavani's shot bounces wide.
37'   Payet has the penalty area loaded but goes for low, driven curler which spins off the wall and out for a corner. The corner, from the foot of the same Frenchman is cleared by Marquinhos and PSG head forward.
35'   Marseille have been trying to soak up some pressure but that goal immediately forces them to stretch things again. Gustavo tries to make things tick in the middle of the PSG half and he's fouled clumsily by Cavani. Free kick given.
Rabiot did well holding the ball up in the area and, under pressure, rolled it back to the Brazilian who swept it home with the inside of his left foot. It wasn't particularly powerful but damn it was accurate and nestles just inside the far post. The diving Mandanda just couldn't reach.
33' Gooooooaaaalllll! Neymar brings PSG level. 
31'   Rolando is the player this time that gets it clear.
30'   It's a corner to the visitors, although claims that Cavani was offside as part of the move, and this would be a controversial goal if it was to emerge from the set piece. Marseille players not too happy with the assistant.
27'   Mbappé again looks to take a run at the Marseille backline but, not for the first time, the ball is nicked off him on the run. So far, great defending from the home team.
26'   Rabiot gets a bit handy on Gustavo and pushes him over. The free kick is delivered from wide into the PSG box but a foul from Mitroglou results in a whistle from the ref. How any of the players can actually hear the refs whistle over those from the stands amazes me.
24'   Another attack from Marseille as Payet fights to get control on the edge of the box and gets a shot away but it's blocked amoongst the bodies closing in on him.
22'   Corner taken by Neymar and he drops it right onto the front post where it's headed clear by Sakai well. What can PSG do to quieten the crowd. Nothing overly impressive yet.
20'   The latest challenge comes in on Verratti from Anguissa and the ref has a word - but no card shown.
19'   I thought the noise levels in here had already reached their limit but that goal, and some tasty challenges from the boys in white, have upped it again.
18'   What a chance for the equaliser!!! Cavani played in by Neymar and from five yards out (yes, inside the six-yard area!) he knees it over the bar. 
16' Goooooooolllll!!! And it's the hosts that take the lead as Gustavo maybe decides this is a game to be 'hot' in. He has lots of space around 30 yards out and he pulls the trigger. The swerve seems to catch Areola completely by surprise. 
13'   The front three for PSG quickly break free (their teammates seem to leave them to it) but their ideas fizzle out disappointingly.
12'   Payet is quick to jump onto a loose ball to the right hand side of the PSG area. He tries a drilled pass in behind the defence but it's covered well.
10'   Mbappé is well marshalled after some tidy dribbling and it's Sakai that makes the final tackle. Nice flow building here with both sets of players looking to go at the other.
9'   Payet looks keen to get involved and delivers a decent ball in from the right after breaking forward into space. It's well cleared by Thomas Meunier and PSG release Mbappé to run at the home defence...
7'   Rather than take it on the Brazilian floats it into the area and chances fall for Motta, Mbappé and then Kurzawa with the latter skying it from a tight angle.
6'   Rabiot wins a free kick around 30 yards out after evading the attempted tackle but not the foul of Rolando. Neymar steps up...
4'   Verratti is down rubbing his lower leg after Payet comes in a little late. Unlikely that will be the last challenge with a bit of hurt built in.
2'   Payet takes on the left but the flick on at the front post from Ocampos is all wrong and goes out for a goal kick. The players are certainly getting the crowd going early on.
1'   The home side look to take this to their guests from the start. Mitroglou down the left plays for a corner and gets it.
We're off. Marseille gets things going, all in white at shooting from right to left.
Right, the handshakes are done and it's almost time to get this party started. What an atmosphere...
Both XIs head out onto the pitch to line up with the officials. But wait, PSG are a man down! Ahhh, Neymar trots out a little late with his little mascot in tow. Maybe one of them needed a quick bathroom relief at the last minute.
The teams are in the tunnel and a few friendly (well, polite at least) nods passed to each other. Worth nothing that there will be no PSG fans in the Stade Velodrome tonight. This is the third consecutive year that this is the case.
Although I'd encourage you to stay here for the French Clásico, Robbie is currently bringing you live coverage of the LaLiga match between Real Madrid and Eibar. For those with more than one window, why not follow both!! Technology, eh?!
So, as we already knew, Dani Alves will miss tonight's game and Thomas Meunier takes the right back berth and will work with Verratti down the flank. A lot will be expected from Luiz Gustavo who has been hot and cold when I've seen him this season.
PSG XI: Areola, Meunier, Marquinhos, Silva, Kurzawa, Verratti, Rabiot, Motta, Mbappé, Cavani, Neymar
Marseille XI: Mandanda, Sakai, Rami, Rolando, Amavi, Anguissa, Luiz Gustavo, Thauvin, Payet, Ocampos, Mitroglou
PSG full back Dani Alves has been speaking to Canal+ ahead of the game and stokes some flames by saying: "I couldn't tell you the name of a single Marseille player." Unlike him to cause a stir.
I mentioned the record between these two sides with Marseille not having a win by their name in the last 14 meetings. What we should see tonight though is that painful act of a goalkeeper picking the ball out of his net. Les Phocéens' fans have seen over 2.5 goals scored in their last 9 home matches against PSG. How will that turn out tonight???
Both sides come into this in good form with only last week's draw at Strasbourg following a fine run of wins for Marseille, while goalless draw at Montpellier their only blip. And the home side will be more up for this than ever.
Against Dijon in the last league game, the mega-bucks side from Paris flattered to deceive and had to thank Thomas Meunier for their three points. Mbappé and Neymar may have been on the part doing some very nice things but also missing the chances that came their way...including a sitter for the young French star.

  Despite the recent history looking bad for Marseille this the biggest rivalry in French football, it's the Real Madrid vs Barcelona, the Celtic vs Rangers, the Kaizer Chiefs vs Orlando Pirates... it's Le Classique!! And if Garcia has been reviewing some of the last few performances of his illustrious opponents then he'll see chinks of light...
Another damning stat for the home side: PSG have not lost against Marseille in all competitions since 2011, with 12 wins and 2 draws in 14 matches. 

According to fellow Brazilian defender and PSG team-mate, Marquinhos, Mbappé is in good hands, or wings to be more precise, as Neymar has taken it upon himself to guide the young French whizzkid at the Parisian club. 

Dani Alves has been ruled out for this one as PSG announced that he is currently undergoing "treatment" without specifying the extent of the problem. The Belgian international Thomas Meunier is likely to start at right-back in the Velodrome.

In case you were wondering, here's the who, what, when, where and how - information on how to watch the match, wherever you are. 
A win for the visitors this evening would stretch their lead at the top to 6 points, while victory for Marseille would move them level with Nantes in third.  
Hello and welcome to AS English's live coverage of the Ligue 1 clash between Marseille and PSG at the Stade Vélodrome (21:00 CET).
Marseille vs PSG online: match preview
Paris Saint-Germain will unleash star strike duo Neymar and Kylian Mbappe on bitter foes Marseille for the first time this weekend in the latest instalment of France's most heated but increasingly lopsided rivalry.
Marseille
Marseille are fourth in their first full season under Rudi Garcia but needed a late equaliser from Greece striker Kostas Mitroglou on his league debut to salvage a 3-3 draw at Strasbourg last Sunday.
They trail PSG by eight points and must snap a 14-match winless run - 12 defeats and two draws - against the capital club if they are to narrow the gap this Sunday at the Velodrome. Marseille were thrashed 5-1 by PSG in their last meeting in February and Luiz Gustavo conceded it will take an outstanding performance to slow down the league leaders.
"It's difficult to stop Neymar," the Brazilian midfielder told RMC radio, ahead of what will also be his first appearance in Le Classique.
"It's almost impossible to stop him doing what he wants to do on the pitch. I know his potential, and I'm very happy to play against him. We're going to try to muzzle him so he can't express himself freely.
Rudi García has a full squad to pick from as he attempts to snuff out one of the world's most exciting attacking forces.
PSG
With a six-point lead at the top of Ligue 1 and three wins from three in the Champions League, PSG are rolling along smoothly both at home and on the continent. Neymar and Mbappe both scored in a 4-0 rout of Anderlecht on Wednesday, along with Edinson Cavani, and the Brazilian is relishing the chance to mentor his 18-year-old teammate in Paris.
"I hope to do the same thing with him (Mbappe) that (Lionel) Messi did with me," Neymar, who spent four seasons in Barcelona before his world-record move to Paris in August, told Brazilian television.
"He's a golden kid who has all the qualities to become a global star... I'm going to try and help him as much as possible."
One infuential player who will be missing from the Parisien backline is Dani Alves, who is undergoing some treatment. He joins Thiago Silva, Marco Verratti and Thiago Motta on the sidelines.
Marseille vs PSG online: betting odds
It may be fourth hosting first in the league but the gulf between the two sides has the bookmakers confident of an away win. For this reason, you can back a single goal victory for Marseille at 33/1.
Check out all the odds and bet on Marseille vs PSG