Atlético almost one year unbeaten away from home in LaLiga
Simeone's team were last beaten on the road in the league on 12 December 2016 - in last season's 3-0 defeat to Villarreal at El Madrigal.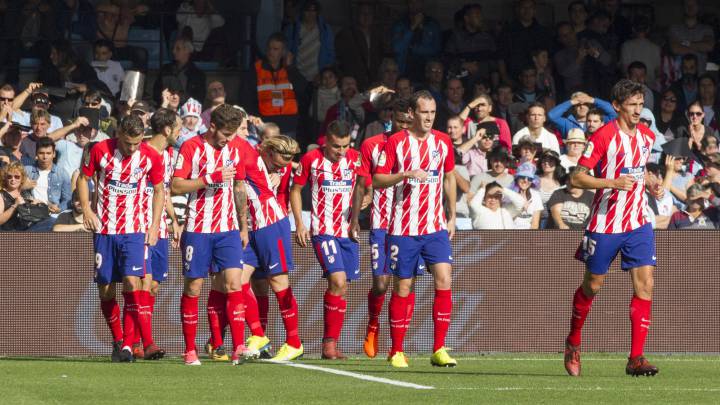 Atlético struggled to grind out a win at Celta and while it was a long way off from being a brilliant performance, El Cholo's team did bring all three points back to Madrid. A slender 0-1 win alleviated what was a difficult week for Atleti, who once more underlined their consistency away from home. Simeone's team are close to completing one year without defeat on the road in the league. The team's last defeat away their their stadium was on 12 December 2016, when they crashed 3-0 to Villarreal at El Madrigal. Since then, Atlético have played 17 away games with a balance of nine wins and wight draws. Simeone's team have four away games to see 2017 out with trips to Deportivo, Levante, Betis and Espanyol. The Betis game will be played on 10 December, almost one year since the Villarreal game.
Atlético's away games since the 2016 defeat to Villarreal have included visits to Eibar (0-2), Athletic Club (2-2), Alavés (0-0), Sporting (1-4), Deportivo (1-1), Granada (0-1), Málaga (0-2), Real Madrid (1-1), Espanyol (0-1), Las Palmas (0-5) and Betis (1-1) - all from last season. This season, the team has played away from home at Girona (2-2), Las Palmas (1-5), Valencia (0-0), Athletic (1-2), Leganés (0-0) and Celta (0-1).
This season, apart from the league games, Atleti have also played out goalless draws against Roma and Qarabag away from home in the Champions League. All in all, it means that so far in the current campaign, Atlético have gone eight games without defeat as the visiting team.