Barcelona chasing 85-year-old record in Copa del Rey
Only Athletic Bilbao (1930-33) and Real Madrid (1905-08) have won four consecutive Copas. Barça start their campaign away at Murcia on Tuesday.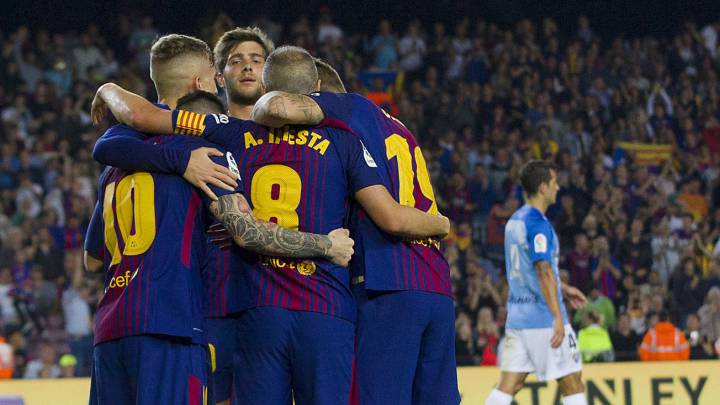 Barcelona start the defence of their Copa del Rey title away at Real Murcia after winning the domestic cup competition in each of the past three seasons with a staggering record: 23 wins, three draws and just one defeat, against a side managed by the Camp Nou's current coach, Ernesto Valverde. Barça were beaten 2-1 in San Mamés under Luis Enrique in the last 16 of last season's Copa del Rey, Leo Messi scoring in reply to first half strikes from Aritz Aduriz and Iñaki Williams. Barça would win the return leg 3-1 to go through and onwards to their third consecutive title.
Valverde will now attempt to repeat a feat that has not been achieved since the 1930s: winning four Copas del Rey on the trot. No side have ever managed five.
Real Madrid first to four in the 1900s
Only two sides have ever done so, the first of which was Real Madrid between 1905 and 1908 when Manuel Prast scored the winning goal in two finals against Athletic (1905) and Vizcaya (1907). In 1906, Real again beat Athletic, on that occasion 4-1 to lift the title and completed the set in 1908 at the expense of Celta Vigo.
Fred Pentland's Lions win a cuadruple of Copas in the 1930s
No side was able to match four in a row until Athletic did so between 1930 and 1933 under the guidance of former England international Fred Pentland, who secured four consecutive victories in the Copa del Rey and the Copa de la República. Athletic at that time boasted its first great forward line of Lafuente, Iraragorri, Bata, Chirri and Gorostiza.
Barcelona now have the opportunity to go into the history books as only the third club to win the domestic cup on four straight occasions and extend their 29-23 historical lead over Athletic in titles won.