Real Murcia 0-3 Barcelona Copa del Rey: match report, goals, as it happened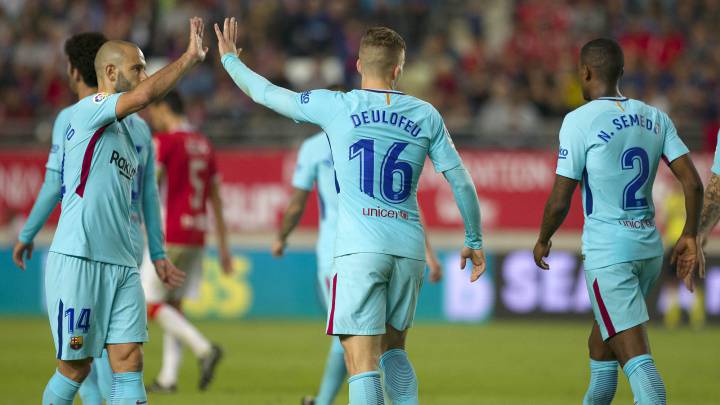 Real Murcia 0-3 Barcelona: match report
José Arnáiz scored on his Barcelona debut as Ernesto Valverde's side recovered from a stodgy first half to beat Real Murcia at the Nueva Condomina. Paco Alcácer put Barça ahead on the brink of half time, before Gerard Deulofeu added a second shortly after the break. Arnáiz rounded off the victory four minutes later with a well-taken shot from the edge of the box.
Ernesto Valverde rested his key players for the trip south to Real Murcia, who find themselves languishing at the wrong end of Segunda B, Spain's regionalised third division. Lionel Messi, Luis Suárez, and Gerard Piqué were among those to sit out as the Barcelona B duo of Carles Aleñá and José Arnáiz came in to the team. It was a first-team debut for the latter, who joined from Valladolid in August.
The home side fed off the energy of the bumper crowd in the early stages, and enjoyed the best chance of the first 15 minutes as Álex Ortiz glanced a header wide at the far post. They missed another guilt-edged opportunity just before the half-hour mark. Nadjib found Fernando Llorente with a cut-back after a surging run to the byline, but the No.10 leant back at the crucial moment and blasted the ball over the bar.
Paco Alcácer, handed a rare opportunity in attack, was less profligate. He made no mistake when Deulofeu floated a tempting cross towards the penalty spot, heading the ball back across the 'keeper and in to the corner.
Barça strolled out for the second half with inflated confidence. Deulofeu turned from provider to scorer after 52 minutes, as he evaded two desperate challenges before sliding the ball beneath Santomé and in to the bottom corner.
José Arnáiz marked his debut with a goal four minutes later. The 22-year-old winger dropped a shoulder and burst inside from the left before thrashing a shot in to the far post. The newcomer showed enough to suggest that he could challenge Gerard Deulofeu for a spot on the left wing when LaLiga, and a 4-3-3 formation, returns.
Real Murcia remained stoic, their spirit typified by tireless striker Elady. They will visit Camp Nou at the end of November with their hopes of progression slashed, but their dignity intact. Barça look set to march on in pursuit of a fourth consecutive Copa del Rey.
Real Murcia 0-3 Barcelona: as it happened
90'+3'   Murcia have a corner, and it will be the last play of the match.... it comes to nothing and the final whistle blows. A valiant effort by Murcia, but Barcelona's quality shone through. 
90'+1'   Tired Murcia legs allow Sergi Roberto to barge through and lay the ball to Alcácer, via a brief stop with André Gomes. The striker fires a shot in to the legs of Santomé. 
89'   Santomé denies Denis Suárez with a rather dramatic save. The 'keeper leapt upwards and sideways like a cat in one of those videos where someone surreptitiously puts a cucumber next to them. 
87'   Mascherano scampers back at the last minute to prevent Elady stealing through on goal. The striker goes down in a heap and receives some amateur cramp treatment from Cillessen. 
84'   Murcia show that there may still be some life in this... Elady rushes on to a neat chip, and Cillessen rushes out equally as well to block with his ankle. Nelson Semedo is fouled in the follow up as a shot flies in. Character aplenty from the third division side. 
83' Final change for Barça as Digne makes way for Cucurella. 
81'   The match is ambling towards full time. Barça are happy for Murcia to have a bit of the ball, safe in the knowledge that they will steal it back if the home side threaten to break out of the own half. 
76' Murcia make a final change, with Armando replacing Mateos. 
76' Ernesto Valverde slings on two players: Rakitic and Sergi Roberto come on for Deulofeu and Carles Aleñá. 
73'   Arnáiz is guilty of being too unselfish. The summer arrival from Valladolid bursts in to left side of the box and, as a natural right-footed, looks well set to shoot. Instead, he tries to cut the ball back and a Murcia defender intercepts. 
71'   Ooooh! Murcia within a whisker of getting a goal back. Elady, who has been excellent throughout, skins Nelson Semedo on the outside and sends a low cross towards Chamorro. The ball bounces around between Cillessen and Chamorro, with neither player in full possession of the ball. Eventually, the Dutch 'keeper pulls it in to his grasp. 
68'   Deulofeu holds the ball just outside the box, standing still before twitching in to action. Murcia captain Elady reads him like a David Baldacci novel and nicks the ball away. 
65'   Chamorro cushions a long throw down for Jordán inside the box. The midfielder shapes to curl the ball to the far post, but is thwarted by a block from Mascherano. 
63'   A small band of Murcia ultras clap away at the front of the stand, as Deulofeu and Nelson Semedo ping the ball between each other on the right. 
60' Llorente and Molinero come off for Murcia, with Chamorro and David Sánchez providing fresh legs. 35-year-old Sánchez came through at Barcelona, but left for Albacete in 2003 without making a first-team appearance. 
59'   Arnáiz is beginning to have some fun after a quiet first half. He executes a lovely roulette-spin in the box, but the 'keeper rushes out before he can follow it up with a shot. 
58'   Fernando Llorente tries to thread a ball through to Elady, but it lacks finesse and fizzes through to Cillessen. Murcia are tiring. 
56' GOL GOL GOL! José Arnáiz puts the tie to bed with a cracking finish. The winger picks the ball up on the left, drops his shoulder, and darts inside. Santomé almost gets a hand to his vicious right-footed shot, but there's too much behind it, and the ball nestles in the far corner. A goal on his debut for the 22-year-old. 
54'   The atmosphere has lulled following that goal. Silence turns to disappointed murmurs as Molinero lumps an aimless pass forward. 
52' GOL GOL GOL! Barça have their second goal through Gerard Deulofeu. The No.16 bundles through a challenge on the edge of the box, shows a burst of pace to slip past the centre-half on the outside, and rolls the ball in to the bottom corner. Superb wing play. 
51'   Aleñá steams in to the box and looks set to latch on to Arnáiz' cross as he flies through the air. Ortiz positions himself well to cut it out. 
50' Nadjib is booked for that cynical trip on Deulofeu. It was 'a good booking to take', as they say. 
49'   Elady runs on to a speculative ball in the left channel, holds it up well, and wins a corner. There are half-hearted cries for handball as Molinero's corner corner swings in to a crowd of players. The referee keeps his hands by his side and Barça burst forward through Deulofeu. An agricultural challenge from Nadjib stops the former-Everton winger in his tracks 35 yards out. 
46'   Arnáiz makes a positive start on the left, driving to the byline and hanging a floated cross up at the far post. Juanra is forced to head the ball behind and the corner is taken short. Deulofeu whips in a low cross and watches the Murcia defenders hoof it clear as he stumbles over an advertising hoarding. 
46' Peeeep! Off goes the second half at the Nueva Condomina. 
Barcelona amble back out to a barrage of whistles. 
Elsewhere in the Copa del Rey 21:30 kick offs, Cádiz and Real Betis are all square with one goal apiece in a lovely Andalucian derby. 
75% of possession for Barcelona in the first half. 
45' Half time! Murcia have acquitted themselves very well, but Barça lead with a Paco Alcácer goal on the brink of the break. 
44' GOOOOOOL! Deulofeu jinks inside and floats a lovely ball towards the penalty spot. Paco Alcácer holds off his marker and nods the ball in to the corner. After much huffing and puffing, Barça have made the breakthrough. 
42' Alcácer blasts a free-kick in to the wall and behind for a corner. The foul, some 25 yards out, was initially given for Orfila's blood-and-guts challenge on Aleñá. Now't comes of the corner, as Denis unsuccessfully tries a fancy ball to the front post. 
41'   Murcia surge forward on the break like a herd of gazelles but can't make the most of a 4 on 3 overlap. 
39'   Barça provide a reminder that they're actually quite an able football team, as Deulofeu tees up Alcácer to force the 'keeper in to a smart save with a glancing header. The ball bobbles out to Denis, who blasts over from inside the box. 
33' Jasper Cillessen is a very lucky chap. The stand-in 'keeper sees his left-footed clearance charged down by Llorente. It arcs up in the air and down towards Nadjib, but Mascherano is alert to clear. As the match passes edges towards half time Murcia are looking increasingly comfortable and willing to attack. Mascherano dives in to deflect Llorente's curler in to the arms of Cillessen. 
28'   Another clear-cut chance goes begging for Murcia. Fernando Llorente lays the ball off to Nadjib on the left, and the No.7 gallops forward on a strong run. He hurdles Mascherano and cuts the ball back for Llorente, who had continued his progress to the near post. He leans back at the crucial moment, and scoops the ball over from six yards. 
27'   Santomé pumps the ball forward from inside his own box, and it reaches Elady in the Barça half. The captain takes it down and draws the foul. It's these kind of sloppy mistakes that Barcelona need to avoid. Cillessen jumps well to claim the floated delivery. 
25'   Orfila is on the ball for Murcia in the centre-back position and has a bit of time. Escribano points forward, and presumably accompanies that gesture with a guttral yell of 'GO LONG'. He does so, and Vermaelen recovers the ball. 
21' Aleña fizzes a free-kick to the near post from near the corner flag, after Juanra fouled Deulofeu. Orfila hoofs it behind for a corner, which results in a goal-mouth scramble. Arnáiz tried the curious approach of squaring the ball, on the volley, from about three yards out. Santomé parried the ball clear, and after a mazy run from Denis Suárez comes to an end in a crowd of red shirts, Murcia live through another surge. 
20'   Alcácer pirouettes in the box, stretching his leg to try and bring a chest-height pass under control. The former-Valencia striker gets a touch, but can't prevent the ball dribbling through to the 'keeper. 
17'   Murcia have made a solid start. They may be struggling at the wrong end of their Segunda B group, but league form often goes out of the window on occasions such as this. Salmerón's side look well organised and willing to break forward on the counter attack. Cue the inevitable Barça goal following this comment... 
14'   Lucas Digne spins past Escribano and carries the ball to the byline. His low cross is too close to Santomé, the home 'keeper, and he dives out to smother the ball in the six-yard box. Paco Alcácer was very close to getting a toe to that. 
11'   Superb chance for Murcia. A left-footed free-kick is floated in from the flank, and after some obligatory cup tie pinball in the box, it falls to Orfila at the far post. The Murcia man has a free header, but his contact is woefully thin and the ball slides wide. 
10'   Carles Aleñá receives praise from the commentators for being 'vertical', which is the Spanish term for 'direct'. In other words, he is willing to pick the ball up and play it forward quickly to a greater extent that Barcelona midfielders of years gone by. 
8'   Ernesto Valverde watches the match down on his haunches in the corner of his technical area.
4'   The home side come forward for the first time on the left flank. Molinero almost latches on to a pass in the box, and the crowd gasps, but Deulofeu is fulfillinh his defensive duties diligently and robs the Murcia No.11. Deulofeu then bursts forward himself, with a well-timed tackled from Alex Ortiz needed to prevent him cutting the ball back from deep inside the box. The subsequent corner is headed clear by a red shirt. 
4'   Murcia are adopting a formation that would make Tony Pulis blush. A stodgy 4-5-1 with Elady the lone striker charged with chasing the ball. 
2'   Young Carles Aleña shows a couple of tidy touches in the opening minute as Barcelona dominate possession. You can tell that Barça's No.21 has been schooled in La Masia. He's in the centre of the midfield three, with Gomes and Denis Suárez to either side. 
1' Referee Manuera Montero blows his whistle and Barcelona get their 2017-18 Copa del Rey campaign underway. 
A pre-kick off perusal of Wikipedia reveals that Ferenc Puskás and, slightly less impressively, John Toshack have taken charge of Real Murcia in the past. 
The teams are in the tunnel in Murcia. The Barcelona players are sporting rather fetching light blue track jackets. If anyone is passing the Camp Nou club shop in the near future, you have the official AS English go-ahead to make a purchase. 
We have a Cupset, ladies and gentlemen! Two late goals from Numancia have added to Málaga's misery. 
Gerard Piqué has a fan in Murcia. "You are my idol, can I have your warm-up shirt?" reads the sign, which appears to have ruined a rather nice lace table cloth. 

Real Murcia are in a slightly sticky patch ahead of this match. José María Salmerón's team sit in 16th position in the Segunda B Group 4 table, hovering precariously above the relegation zone. Depending on how you look at it, this match could compound their misery, or present a welcome opportunity to play without pressure. 
Thomas Vermaelen is in the Barcelona team for his first taste of Blaugrana action since the 2016-16 season. The 31-year-old has been in action for Belgium recently. He played 90 minutes in a 3-4 victory over Bosnia in October. 
Real Murcia XI: Santomé, Escribano, Juanra, Orfila, Ortiz, Mateos, Nadjib, Jordán, Elady, Llorente, Molinero.
Two Barcelona B players -- Carles Aleñá and José Arnáiz -- start for Ernesto Valverde's side. The former is a 19-year-old midfielder who made his first-team debut in a Copa del Rey match at Herculés in November 2016, and the latter is a 22-year-old winger who signed for the club in August following an impressive spell at Valladolid. 
Barça XI: Cillessen; Semedo, Mascherano, Vermaelen, Digne; André Gomes, Denis, Aleñá, Deulofeu, Alcácer, Arnaiz.
A couple of earlier matches have already kicked off in the Copa del Rey. Numancia host Málaga and Cartagena are welcoming Sevilla to Murcia. Both matches are 0-0 with a little under ten minutes played. 
Rather unpleasant from a small sector of the Barça fans on Saturday after Malaga boss Michel was forced to call for the game at Camp Nou to be halted due to a series of homophobic chants aimed at him

 ...former Barcelona player would almost certainly approve!
Murcia's Estadio Nueva Condomina, with a capacity of just over 31,000, will host the mighty Barcelona as they look to provide their fans with one of the biggest shocks in the history of the competition.
Hello and a very warm welcome to our first Copa del Rey live feed of the 2017/18 season.