Marcelo and Benzema the only two survivors of "Alcorconazo"
The full back and the striker featured in 2009-10 when Alcorcón recorded a historic 4-0 victory over Real Madrid in the Copa del Rey.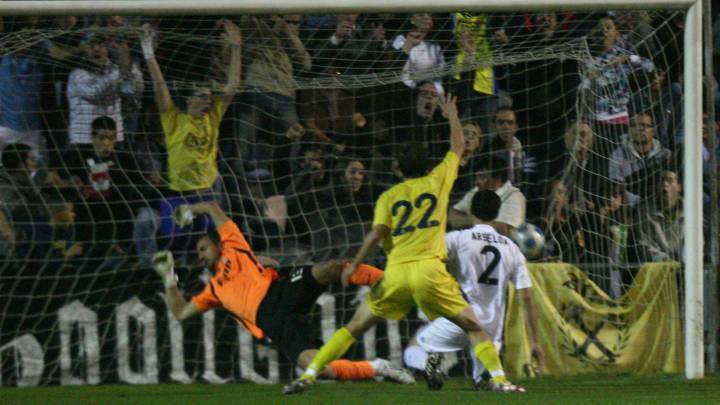 "The embarrassment of the century," ran the headline in AS on October 28, 2009, the morning after Alcorcón had pulled off a historic shock at Real Madrid's expense in the Santo Domingo stadium in the southern Madrid suburb in the round of 32 in the Copa del Rey.
Alcorcón were at that time in Segunda B, the third tier of Spanish football, and were not expected to put up any serious resistance to the Liga giants in the opening leg of the tie. But The Potters had other ideas and during a first half that has since passed into legend put three past the visitors. Manuel Pellegrini was powerless to stop the momentum – in reality the game marked the beginning of the end of the Chilean's reign at the Bernabéu – with his defence in tatters, his midfield paralysed, not least because of Juan Antonio Anquela's tactic of targeting Guti, who was substituted at half time.
Pellegrini fielded a strong XI
Despite starting with a front line of Raúl and Karim Benzema, with Rafael van der Vaart in behind, Madrid were unable to break down Alcorcón's back line and came up an inspired Juanma between the opposition sticks. Cristiano Ronaldo missed both legs with an ankle injury.
Anquela's tactics of moving the ball from side to side quickly, retaining possession, marking Guti out of the game and getting in behind Royston Drenthe worked to perfection, with an Álvaro Arbeloa own goal compounding the visitors' misery as Borja Pérez and Ernesto Gómez added three to put Alcorcón 4-0 up before the hour mark.
"It was a humiliating defeat," summed up a less-than-amused Florentino Pérez after the game.
In the return leg Alcorcón held firm at the Bernabéu, allowing Real to only pull one back in the 81st minute through Van der Vaart to record a historic 4-1 aggregate victory.
Real XI in Alcorcón
Jerzy Dudek; Álvaro Arbeloa, Raúl Albiol, Christoph Metzelder, Royston Drenthe; Mahamadou Diarra, Guti, Esteban Granero; Raúl, Rafael van der Vaart, Karim Benzema.
Substitutes: Fernando Gago (Guti 45), Marcelo (Granero 61), Ruud van Nistelrooy (Raúl 71).



Copa del Rey
*Update 26 de octubre de 2017