Manchester United 1-0 Tottenham Premier League match report: Martial wins it for Mourinho
A goal from substitute Anthony Martial was needed to separate the game at Old Trafford between two sides with eyes on a Premier League title.Barcelona-Getafe live: LaLiga Santander matchweek 23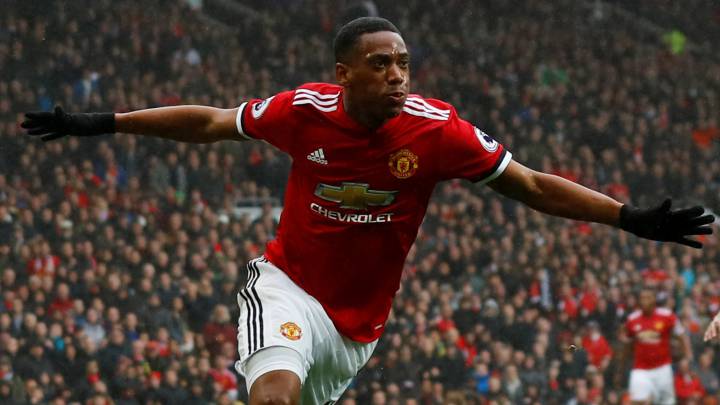 Manchester United 1-0 Tottenham: match report
Substitute Anthony Martial's 81st minute strike gave Manchester United a 1-0 win over Tottenham Hotspur at Old Trafford on Saturday to keep them in touch with Premier League leaders Manchester City.
After last week's surprise defeat at Huddersfield Town, Jose Mourinho's team could ill afford another slip-up but they found it hard to break down a resilient Spurs defence.
Tottenham, without their top scorer Harry Kane who was ruled out with a hamstring injury, could have gone in front themselves in the 76th minute when Christian Eriksen threaded a superb ball towards Dele Alli but the England midfielder's effort went the wrong side of the post.
After Romelu Lukaku headed a Jesse Lingard cross against the post, United finally broke through and it was in direct fashion. A long ball from keeper David De Gea was flicked on by Lukaku into the path of the on-running Martial and the Frenchman confidently slotted past Hugo Lloris.
United move on to 23 points, two behind leaders City who are at West Bromwich Albion later on Saturday, while third-placed Spurs are on 20.
Manchester United 0-0 Tottenham: as it happened
90'+3' FULL-TIME! United win all three points.
90'+2' Darmian comes on for Ashley Young.
90'+2'   Still no way through.
90'+2'   Last chance saloon here for Spurs. 
90'   Lingard wide, wide open and clean through on goal. He breaks and drives over as Eriksen makes it back to put him under pressure. He needed to do more with that.
88'   Winks fouled as he breaks out from the back by Herrera. 
86'   Dele Alli goes in on Ashley Young down writhing in pain but didn't look like there was much in it.
85'   Dele Alli jumps for an Aurier cross and Bailly seems to have his arm on his shoulder preventing him from jumping. Would have been a very, very harsh penalty for the referee to have given.
83'   Dele Alli manhandles a defender in the box and gives away the free. Looked like a dangerous ball too. 
81' Anthony Martial! Goal! On the break. Long ball that Lukaku headers on and Martial slots home. Quite a bobbly shot but it worked! 
80'   Good move from United. Dier on to Winks and he plays it through to Aurier but the right-back was offside.
79'   Lingard with a fairly tame looking cross but Lukaku does well to hold off the defender and headers off the base of the post! So close. He did well to get pace on that header as the cross wasn't all that quick coming his way.
77'   What a pass! Spurs trying to figure out the best way to pick this lock and they nearly have it. Eriksen with the curling ball in around the back. Dele Alli arrives with Smalling in his wake and he gets a touch but De Gea does well enough to put him off and he hits it wide. Probably the best chance of the game.
75'   Eriksen gets the ball after petient build-up from Spurs. He drives over under pressure from Matic.
74' Valencia booked for diving in the box.
73'   Lukaku arrives from the left and drives a shot at goal. Saved. 
71' Martial replaces Rashford.
69'   Dembele and Herrera get into it a little bit. Dembele slid in and won the ball, Herrera stayed down and grabbed his ankle. Dembeler then leaned in and told him to get up, which the Spaniard did and asked, what happened? All calm now. 
68'   Aurier looks for Eriksen but there's too much on it. Spurs turning the screw slightly now and might be more space for United to counter.
67'   Dembele and Smalling get into it and Dembele gives away a free. He says his jersey was pulled first but referee saw him throwing the defender to the ground. 
66' Lingard for Mkhitaryan. Not the greatest afternoons from the Armenian.
65'   Valencia with a rebound. He arrives late and drives a shot from the edge of the square just over the bar. So close!
63'   Just as Spurs start to build, Rashford break through and creates danger. He plays it to Lukaku but Lloris comes out and clears.
62' Pochettino makes the first move. Llorente and Dembele on for Son and Sissoko.
60'   Corner Rashford and it's cleared at the front post.
58'   Much better start from United to this half. 
55'   Ball in from Mkhitaryan did clip the post. Valencia gets a shot in that is blocked and Vertonghen sees his clearance half-blocked too.
54'   Routine save for Lloris that he fumbles and has to be bailed out by defender arriving in to clear. So close. United pushing for the opener. Another lethal ball arrives in and looks to clip the post. 
53'   Eriksen has a shot but it goes wide and there was an offside just prior to it anyway.
51'   Young sends a cross in low with his left. Rashford too far away but Lloris dives down and saves it.
49'   Tame start to the second half. 
47'   Long ball from Mkhitaryan goes over the top and over Lukaku. Out for a throw the other side of the field.
46'   Back underway at Old Trafford.
45'+1'   0-0 at the break. Just as United and Matic might have had a chance. Mourinho and Pochettino make their way to the dressing room in the rain. Poch in a much bigger hurry than Mourinho.
45'   Son fouls Herrera now. Chance for United before the break. Just one minute of added time. Rashford out on the left and he sees his cross cleared. Davies scrambles to keep it out for a corner and gives away the throw instead.
43'   Phil Jones fouls Dele Alli. He can't believe it and replay shows he didn't foul him. He continues to protest his innocence. "Unbelievable," he says.
42'   Corner arrives in Dier shoots and De Gea saves. 
41'   Aurier gets it out on the right. Looked offside but Valencia kept him on! He takes a shot and it loops over and out for a corner as it's deflected.
39'   A couple of crunching tackle. Dier leaves Dele Alli short and Valencia arrives with a meaty tackle and United end up winning the throw. Alli wanted a free but referee didn't think so.
37'   United pick it up again now in the last few minutes of the first half. Young shoots and sees it blocked and United win a corner. Lloris fails to convince with his punched clearance. Herrera does the same with his cross into the box. Wide.
35'   Alderweireld gives the throw away after winning the ball of Rashford. 
33'   Alli with a deft pass into Aurier, who throws Young out of the way as he leaned into him. Referee gives a free out the field. 
30'   Some fighting going on over who had possession. Sissoko is fouled by Young as the two contest the hop ball. Young not happy as he says he was going to give the ball back anyway and then Dele Alli gets involved. Ref calls the pair over and calms them down.
29'   Young caught by Aurier in the air. Looked like an elbow to the face. No free but ref stops it for a head injury.
28'   Dier drives forward, plays it to Son and ge back-heels to Davies. He sees his cross blocked and wins it again. Ball arrived in and Jones and De Gea collide with the ball falling to Sissoko. His shot is a mile off target. It came off his foot all wrong.
25'   Herrera with a foul on Son. Sting taken out of this one. Spurs missing Kane but they have looked good. United's good start forgotten now as Spurs exert their style on the game.
24'   Ashley Young looks for Lukaku with a long ball and he finds him but he finds him in an offside position. 
22'   Eriksen takes it. Dangerous looking ball but cleared by United and Son breaks up the counter as Mkhitaryan gets it.
21'   Sissoko with a cross and Smalling clears. Corner for Spurs.
21'   Ball into the box and Dele Alli can't make contact. Alderweireld hits the clearance and it hits the side netting. Further away maybe than it looked and De Gea had it covered. Spurs growing into this one.
20'   Sissoko gets it in space in midfield, moves forward and strikes but De Gea has no trouble with that. Aurier wanted it as lets Sissoko know. 
19'   Long ball again from United and Lukaku chasing. 
18'   Young with a nice ball to Rashford but he gives it away as he looks for a teammate inside, and just to the edge of the penalty area.
17'   Son makes space, or so it seems, for a shot but sees it blocked. Lukaku gets it on the counter and Vertonghen fouls his compatriot. 
15'   Much better from Spurs. Cross from Davies after good work from Son. Cross is headed out to Aurier and he recycle possession. 
14'   Spurs counter and Davies sends it to Dele Allie but his pass looking for Aurier is straight to a defender. Really poor pass. United cough it up again though.
13'   He palms at the corner and saves at the second time of asking.
12'   Rashford does shoot and it's a low and hard one that bounces befire it gets to Lloris. Looked to be going wide by Lloris taking no chances. Good save.
12'   Mkhitaryan fouled by Sissoko. Too far out to shoot but United in a nice position here to get one into the penalty area and test Lloris.
11'   Davies bullies Valencia into giving the ball back. It arrives out to Aurier across the field and his shot is saves easily by De Gea.
10'   Lukaku wins it from a Lloris clearance that is headed back down the field by Herrera. He plays it to Rashford and with no room to shoot, the English striker plays it back to Lukaku on the right. His shot is well off target though.
8'   Valencia looks to go through the back of Davies but ref plays on. Aurier wins it from the attempted through ball and Spurs have the chance to calm it down, gets a few touches and see what way they want to attack United.
7'   Poor pass by Winks at the back and United back in possession. Spurs chasing shadows to start. Eriksen takes it down and sends a ball into Son but it's bread and butter for Bailly.
5'   Valencia with a throw down the right. Mkhitaryan to Herrera and it makes its way out to Young. He whips a dangerous ball in but it beats everyone and drifts out to safety. United keep the ball and try to attack again. Good start continues from the hosts.
4'   Good start by United. Spurs have struggled to get on the ball and being put under pressure by United. 
3'   Ref gets the chance to have a word with Aurier.
2'   Lukaku gets the ball out on the left. He strikes a shot across goal and sees it saved by Lloris. Rashford was arriving at the back post but it never arrived to him.
1'   Aurier goes in late on Ashley Young and he goes down but the ref plays advantage. United can't make anything out of it though. 
1'   We are underway at Old Trafford. 
Must be said, that was very respectfully observed.
Valencia and Lloris up for a photo. Handshakes and formalities out of the way.
Just a couple of minutes away from kick-off at Old Trafford. A cloudy and chilly 13 degress in Manchester today.
And here was his response to Kane yesterday, "We have no Zlatan, no Pogba, no Fellaini, no Marcos Rojo, no Michael Carrick, so don't speak to me about Harry Kane. Ask Mauricio how you approach the game without Pogba, Carrick, Rojo, Ibra, Fellaini. Did you ask that question?"
Here's some more from Mourinho on the injured players. He said this earlier in the month, "Other managers, they cry, they cry, they cry when some player is injured. I don't cry. I think the way to do it is to ignore the players that are injured, is to focus on the players that are available. It is to give confidence to the players that are available."
Mourinho as defensive as ever, "I'm not saying we are playing three at the back - you are saying that," but it looks like it will be three at the back, which will obviously turn into five at the back when they defend. I get the feeling that this might be a slog today.
United have won seven in a row at home and have the chance today to win their eighth in a row for the first time since Alex Ferguson was at the club. 
Pochettino has lost nine of his 12 encounters with Jose Mourinho winning just two. Can he start to change that stat back in his favour today. If Mourinho remains in defense mood as he has since Liverpool, expect to see United try to kill the game and Spurs' energy early on. The only factor that makes you think he might give it a bit of a go is that they are at home. Will United fans be happy with a defensive display? It's not the United way, as many have already said. 
My theory on Llorente and Son up front is thrown to the wind. It looks like Son will lead the line on his own. It will be 4-5-1 for Pochettino, it seems. 
Lindleof doesn't even make the bench for Mourinho as he continues to struggle to adapt to life in England. Jones gets the nod along with Smalling and Bailly in the centre of defense. Young will likely play in a fairly defensive role to cover that left hand side and Valencia the same on the right with Mkhitaryan the man who will look to create for United. Very defensive team Mourinho had gone for.
Tottenham XI: Lloris, Aurier, Alderweireld, Vertonghen, Davies, Dier, Winks, Sissoko, Erkisen, Dele, Son.
Man United team news: De Gea, Bailly, Jones, Smalling, Valencia, Herrera, Matic, Young, Mkhitaryan, Rashford, Lukaku.
Mourinho was not happy when he was asked about Harry Kane at the press conference yesterday, ""Don't ask me about Harry Kane," he said and went on to say he would have to speak about Pogba and all the rest of the injured United players if they wanted to play that game. Interesting tactic.
Pochettino has used Son and Llorente at different times to accompany Kane and now it's time for the two to take centre stage. Can they co-exist and have they got an understanding that can cause them to trouble United's back line. Waiting for team news to see what way Poch decides to line up.
Don't forget to have a read of our lovingly-crafted match preview below...
Good morning! Join us for build-up ahead of today's lunchtime Premier League kick-off at Old Trafford!
Manchester United vs Tottenham: Premier League preview
In what could and should be a defining weekend at the top of the Premier League, Manchester United face Tottenham Hotspur as Jose Mourinho tries to recalibrate his side's season after a run of mediocre results and tepid performances.
(Find out how and where to watch Manchester United vs Tottenham Hotspur)
Old Trafford is the venue as second plays third at 13:30 CEST with the rest of those vying for a place in the top six and for top spot looking on to see how Mourinho and Pochettino approach the game. Neither team can go top with a win but three points would set down the proverbial marker in the race for the title.
Manchester United
Everything seemed to be going fine for Jose Mourinho and Manchester United. Seven games into the Premier League season. Six wins, one draw, 21 goals scored and just one conceded. That was before a trip to Liverpool when Mourinho's side seemed to retreat into themselves and failed to play that swash-buckling side that made it look like they might be ready to challenge for titles again.
Since then, a loss to Huddersfield and a win over Benfica thanks to a howler by the teenage goalkeeper has sent United's season out of whack.
Marcus Rashford took part in training on Friday, as did Phil Jones and Eric Bailly after Mourinho said the latter could be ready to return this week. Jones came off against Huddersfield and will be assessed before the Spurs test. Ander Herrera is suffering from an ankle problem and will also be assessed before the game.
Meanwhile, Paul Pogba, Marouanne Fellaini and Marcos Rojo remain United's longer term problems and have been ruled out along with Michael Carrick.
Tottenham Hotspur
Mauricio Pochettino admitted his team got brought back down to earth with a 3-2 loss against struggling West Ham in the Carabao Cup. He was dealt a further blow in the lead-up to the United game when Harry Kane was ruled out with a hamstring strain.
Pochettino said, "We cannot take a risk for tomorrow, we'll see after for Wednesday. But tomorrow, it is impossible." Meanwhile, Victor Wanyama and Erik Lamela have also been ruled out of what is a relatively healthy Spurs squad.
The loss of Kane, however, could be crucial. Pochettino showed off his tactical flexibility by playing Kane and Llorente against Real Madrid before bringing Heung Min Son in for the Spaniard against Liverpool in a game they won with ease. He will possible be forced to match Llorente with Son together now as Spurs get a look at life without Kane.
Manchester United vs Tottenham Hotspur live stream online: betting odds
Check out all the odds and bet on Manchester United vs Tottenham Hotspur. with Harry Kane out, Fernando Llorente is the most likely to land a goal first for Spurs but you can get him at 11/2 to open the scoring.