Valverde: "It's the law of San Mamés: to win, you must suffer"
Barcelona's coach admitted that it by no means a brilliant performance. "In the second half, we didn't control the game and we weren't comfortable".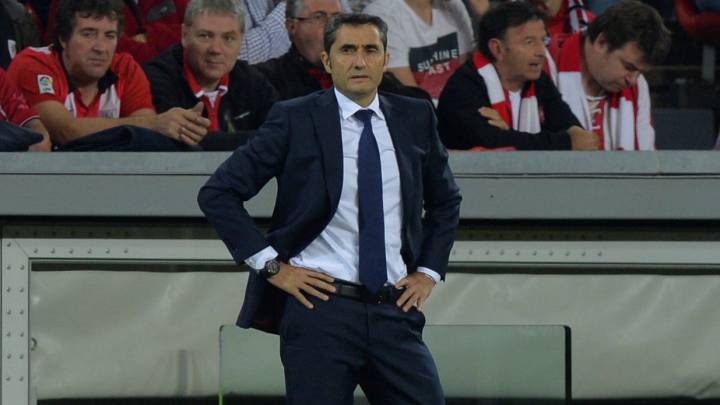 Ernesto Valverde gave his thoughts on Saturday's 0-2 victory at San Mamés to Barça TV and admitted that returning to Bilbao was a strange experience for him: "To win here, you are going to suffer, that's the way it is. The law of San Mamés states that, whoever the rivals are, we are going to make them suffer right up until the whistle and that's how it always was when I was at Athletic. Our first half was better, we dominated and created danger when we advanced into their half. In the second half they put more pressure on us and we looked a little insecure when we were taking the ball out of our half. We had to work harder because we weren't comfortable out there", Txingurri said.
André Gomes could be first choice, says Valverde
Valverde was particularly pleased with how André Gomes got on against Athletic, as he continued: "He's a very strong player whether he's playing further forward or dropping back and he has to use those qualities to help us. We had a couple of players out for this game but he could easily be a first choice. Our idea is to strengthen the team when in that regard"
As for his own feelings about being back at San Mamés, Valverde said: "To be honest with you, it's been a stranger to be back here than I thought it would be. Today felt very different, I don't know how to explain it... Maybe it was something to do with the new stadium but having players I once coached battling against us, that was quite tough".