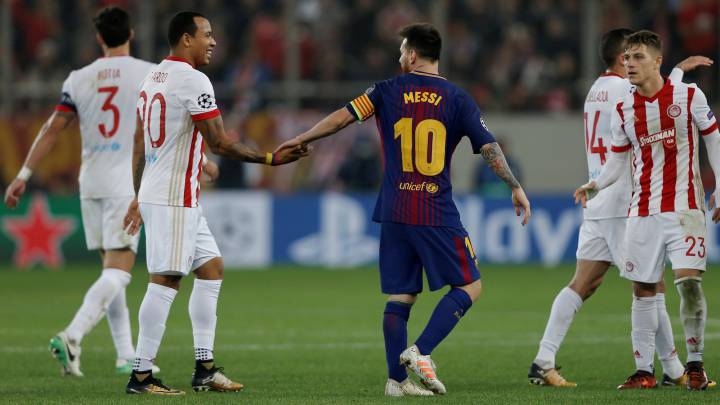 We brought you live coverage of the Champions League Group D match between Olympiacos and Barcelona from the Georgios Karaiskakis stadium in Piraeus. The game finished goalless but there was plenty of action to keep us interested throughout.
Olympiacos vs Barcelona online: match report
It was a match that didn't set the imagination on fire ahead of kick-off as the team with three wins travelled to their mirror opposites. There were times during the game, especially in the first 45 minutes, when the slick passing and movement of the Spaniards demonstrated their expected superiority and there was a feeling watching on that a goal was just a matter of minutes away, but that was more often than not balanced with a realisation that heart, lungs and some well drilled organisation can mean a lot in football.
Ernesto Valverde's team enjoyed the lion's share of possession and chances came and went in an often frenetic, open match at the Georgios Karaiskakis stadium but the La Liga club could not find a way past goalkeeper Silvio Proto and his very determined defensive lines in front of him.
The Belgian keeper made several fine saves, especially in the first half, to deny a somewhat subdued Lionel Messi and Luis Suárez in a pulsating atmosphere generated by the boisterous home fans.
With Juventus and Sporting Clube de Portugal also sharing the points, Barcelona hold onto their advantage at the top of the group with 10 points, having extended their unbeaten run in all competitions to 15 matches with 13 wins and two draws.
It was the first Champions League point in four matches for Takis Lemonis' Olympiakos team who are also struggling in the Greek SuperLeague.
Olympiacos vs Barcelona online: how it all happened
Thank you for joining us tonight and we'll be back soon with our match report.
90'+4' And that's that! A first point in the group for Olympiacos leaves them with an outside chance of continuing in Europe after Christmas. Barça drop their first points but remain in pole position for top spot.
90'+2'   Into the four added minutes and Deulofeu has a wonderful chance to play in a choice of teammates but the defenders close it out well. 
90'   Olympiacos smell a chance at the other end and put a three, then four, then five-man press deep in the Barça half. Excellent play out from the back though allows a cutting attack to be formed and the greater space freed up by the provides the chances that can just not be converted. That could be that...
88'   It's another tidy, controlled effort over the wall but should have been a simple catch into the arms of Proto. The stopper decides an elaborate punch is more sensible and almost invites more trouble. 
87'   Free kick in Messi territory here. It was created by the number 10 who looked to skip away from Romao who uses his body to knock him down.
86'   Barça go again but twice in quick succession the final ball carries through to a relieved Proto in goal.
84' The impressive, in spurts, Fortounis is leaving to be replaced by Uros Djurdjevic
81'   Another chance for the hard-working Uruguayan who gets a clean strike on target but a flying block from the defender sends it wide. Barcelona then try some speedy one-twos in a vain attempt to get around the compact defence. It's so-far been a case of 'almost'.
80'   Close! A long ball over the defence has Luis Suárez in loads of room for not for long. As the ball drops to a level he can get an effort away he's under pressure and the lob lands on top of the net.
79' Second change for Limonis: Carcela-Gonzalez off for Felipe Pardo
77' Andre Gomes goes into the book for an earlier foul.
76'   That change by Limonis was as much tactical from a player perspective as from a chance to relieve some of the building momentum from Barça. The red and white hosts are sliding further and further back, and looking less and less likely to hurt their opponents. Maybe they'll accept a draw.
75' Change for the home team sees Odjidja-Ofoe replaced by Guillaume Gillet
71'   Luis Suárez drives into the area with the ball almost under control and manages to fire off a shot. The block goes for a corner and Denis' delivery provides the Uruguayan with another chance, this time with an overhead kick. Wide.
69'   This little number 10 for the Spanish league leaders has some great touches which we are just so used to it's almost not worth mentioning. There he just lifts the ball with the outside of his boot over the incoming tackle. Just a few inches but completely frees him in space to create again.
64'   Another chance for the the blaugrana who are finding delightfully weighted passes in the channels but the speed that the home players are getting in and covering is impressive. Another one snuffed out.
62'   Great chance for Barça sees Messi clip a rushed shot wide of the post. It was a move started by the Argentine who played in Luis Suárez to run at the keeper but the Uruguayan held it up tapped it back to Messi and the chance was gone.
61' Paulinho is off and Ivan Rakitic on
60'   Three chances now for the hosts, open play break, then freekick, then corner. The deep FK proved most dangerous as Ter Stegen takes the Fortounis ball an instant before the header was arriving.
57' Deulofeu looks to take on his opposite number but he's unable to beat him for pace or trickery and the ball is shepherded out of play for a goal kick.
57' Bjorn Engels for an earlier foul in the build up.
55'   Really promising build up from Barça here. First Messi tries to roll in Denis, then they work it to the right and Deulofeu fires it low across the area but it's blocked early at the front post. Openings continue to be found but clear cut ones not.
53'   The guests are adding a greater proportion of the possession in the early stages of the second half but Olympiacos see an opening again as Diogo Figueiras has space to deliver from the right. Poor cross straight into the arms of Ter Stegen.
51'   Brilliant pressing from the home side, pushing Barça back and back out of their half and eventually forcing Jordi Alba to pass back to Ter Stegen. Very well drilled.
48'   The English ref wants a greater playing part of this game it seems as he intercepts a Suarez through ball. No one is saying it's a conspiracy.
47'   Umtiti down with sore-face after a strong aerial challenge from Vadis Odjidja-Ofoe. May have nipped a little but he's given out worse himself. Play back on.
46'   Immediately Barça are on the front foot and a deep cross from the right is almost a waste until it's recycled by a combination of Alba and Paulinho. Olympiacos clear the danger.
We're back underway! 
One man who now has a full half to impress again is Gerard Deulofeu who came on for the late injury to Sergi Roberto
That was a decent enough 0-0 first half. Olympiacos are working hard to smother the chances being created in their own final third, but are positively looking for opportunities to counter when it feels safe to do so. And the chances have come for both sides, generally from those styles of play. Valverde should be pleased enough with the performance from the XI he started with but will be targeting an early second half goal to maybe take the energy out of the home team, and fans.
45'+1' 45'+1'   And that's it. Nothing else of note and we'll come back out for another 45 with goals yet to arrive...
45' There is to be one added minute as Deulofeu comes on for Sergi Roberto. That injury wasn't shake-offable.
43'   Sergi Roberto gives everyone a moments' break as he gets some treatment. Olympiacos get another chance to create something down the left but the chipped cross is caught by Ter Stegen.
42'   Sergi Roberto doesn't want to get beaten by Odjidja-Ofoe so tugs him back very obviously. That prevented what could have been a decent break and Taylor pulls out the card very sharply. The Barça man accepts the punishment.
38'   Fortounis now plays in Carcela-Gonzalez whose shot is wide of the mark. By the way, the noise coming from the stands hasn't paused this whole half. Brilliant atmosphere and the effort their team are making matches it.
37'   Konstantinos Fortounis gets another chance as he's played in through the middle as the Barça backline is forced to turn. The shot doesn't trouble Ter Stegen enough. 
36' Panagiotis Tachtsidis is first to go into the book and rightly so. Very tough in on Messi and teammate Suárez almost loses the plot showing his displeasure.
33'   Messi free-kick from around 30-35 yards. Up and over the wall it flies with the left-foot curl bringing it back from centre to Proto's left post where he doesn't take the chance of leaving it and touches it wide for a corner. Accuracy from the Argentine, but that should never trouble a professional keeper.
32'   Denis Suarez has been getting involved in some brief, but very tidy moments for Barça. In and around the Olympiacos area he and Messi are looking for the eye-of-a-needle passes and they're close to making something when little is on.
28'   The game is opening up more and more, with certainly more threat coming from the Catalans. But the home side's danger man, Konstantinos Fortounis, finds room at the edge of the area and swings a right boot quickly at the ball but can't keep it on target and it flies over Ter Stegen's guiding left hand.
25'   The corner is dealt with brilliantly by several Barça players who head and chest the ball from the drifted cross to midfield safety and a chance to break. An important tackle from Panagiotis Tachtsidis stops the danger before it reaches the 18-yard box.
24'   A little confusion there between Umtiti, leaving the ball to run to his keeper, and Ter Stegen. They give away a completely unnecesary corner. 
22'   The visitors are starting to threaten more and more (maybe that earlier scare upped the desire to get in front. This time it's Suárez fed into the left inside channel and he pokes an instep at the ball but it fires off just wide of the near post.
20'   Save! Corner from Denis is rolled to an unmarked run from Messi near the edge of the area. The number 10 doesn't make the type of connection with the ball that we've come to expect but as it bobbles through the crowd - and a dummy from Luis Suárez in front of the keeper - Proto does well to block it away. 
18'   Gooo....no! Messi slides the ball into the corner of Proto's net but there is no celebrating from the blaugrana as he is clearly offside when the final pass was made into his feet. Nice finish all the same.
16'   That last move cerainly suggests that the home team will have chances but will need to make the few they have count if they're to cause an upset.
14'   Chance for Olympiacos as a lovely one-two frees Odjidja-Ofoe in the Barça area and only a great last ditch tackle prevents a clean strike at Ter Stegen. A few shouts from the red and whites for a penalty but the English whistler was having none of it.
11'   Both Semedo and Jordi Alba are doing their thing down either wing. The home team can expect to see plenty of the full backs in their defensive third.
10'   Corner for Barcelona as Semedo gets involved again, this time in an offensive manner, as he breaks inside two challenges and almost gets a final cross away from the goal line. Superbly timed sliding tackle from Bjorn Engels kills the danger. The corner is dealt with.
7'   Nice drop of the shoulder by Carcela-Gonzalez to get outside Semedo and the visiting right back then pulls him back and concedes the free kick just short of the half way line. Could that be an area to attack tonight? 
5'   The home side now get forward well and force a corner. Fortounis throws it into the area but it's well dealt with by Paulinho and as Barça then look to counter, Denis Suárez is caught offside.
3'   Messi again looks to run through the midfield this time and as the ball breaks free in a challenge, Busquets releases Semede in the right channel and he strikes well but Proto blocks well and is helped out by covering defenders.
1'   The pitch looks in a delicious state as the visitors get a chance to build up some play from their own half. And Messi is almost in for a crowd-quieting early goal. The ball lifted over the defence into the Argentine's path but he can't bring it under control.
Taylor blows his whistle and we're underway...
The banners that fill this stadium are impressive. And the fans are going to give their side a chance in this perceived one-sided game. Almost time now...
Right, we're getting close. The players are coming out of the tunnel and into the noise! What a welcome that must be.
"Thank you for everything, Ernesto" reads the very early banner in the stadium directed at Valverde. We're hearing that there will be a small ceremony for the former Olympiacos manager ahead of the game where he'll also receive a small gift.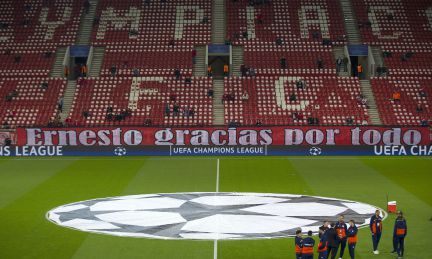 The use of Denis Suárez by Valverde is an interesting one (I certainly didn't expect him to come into the starting XI tonight). Deulofeu may count himself a little unlucky to miss out but time will tell how the new Barça manager is going to use players across the season. And of course, results will define him.
The inclusion of Elabdellaoui on the right hand side of midfield confirms the tactics Lemonis will deploy tonight. The 25-year-old Norweigen has a natural tendancy for defending and along with Diogo Figueiras behind him will be keeping a close eye on Alba's runs to support Messi and Suárez.
Centre half and captain for Olympiacos, Alberto Botía, started his career in the blaugrana of the visitors for tonight's game. The 28-year old spent three years with Barça B, made one appearance for the senior team before moving to other Liga clubs and then to Greece.
Mascherano will take up his position alongside Umtiti in the centre of the defence in the absence of red-carded Gerard Piqué. 
Key news there for both teams then as Emmanuel Emenike doesn't start - the attacking onus initially falling therefore to Fortounis, while Valverde has been able to include Javier Mascherano after he came through a late fitness test.
Barça XI: Ter Stegen, Semedo, Umtiti, Mascherano, Alba, Denis, Busquets, Paulinho, Sergi Roberto, Messi, Suárez
  Olympiacos XI: Proto, Diogo, Botía, Engels, Koutris, Romao, Tachtsidis, Elabdellaoui, Odjidja, Carcela, Fortounis
Tonight's referee is Anthony Taylor from England and he'll be supported by compatriots Gary Beswick and Adam Nunn running the lines. Taylor has been in charge of eight games this season (predominantly Premier League) and shown 29 yellow cards in that time. There were plenty of goals in that run too, including Watford 3-3 Liverpool, Watford 0-6 Man City and Leicester City 2-3 Liverpool. Let's see if there's something similar tonight. Team news is imminent.
Anyone who saw Barça's away league win at the weekend (here it is for you if you did) will know that they are not swashbuckling their way to a strong table-topping position. Under Valverde there is a sense that they are often playing within themselves and either have another gear to switch up to when required or are accepting of what needs done to get the points. Of course, never mind the gear options, a certain Lionel Messi seems to be driving a different car from most of his peers!
Despite the expected positive team news for the hosts tonight - check out the preview below - this is, on paper, a game that should only have one winner. Olympiacos have lost their opening three matches in this competition (conceding two or more goals in each of them) while Barcelona have a perfect three from three record, including a comprehensive opening day win over last year's beaten finalists, Juventus.
Leo Messi has trained normally in the run-up to tonight's game but Valverde will have to do without Andrés Iniesta, who is injured, and Gerard Piqué, who is serving a one-match ban after being sent off in the reverse fixture at Camp Nou.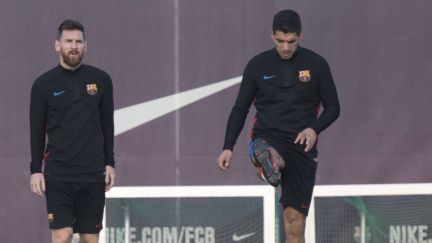 "We're more excited to see Valverde than Messi", is the sentiment for the Greek fans according to Athens based daily Protathlitis as former Olympiacos coach returns to Pireaus.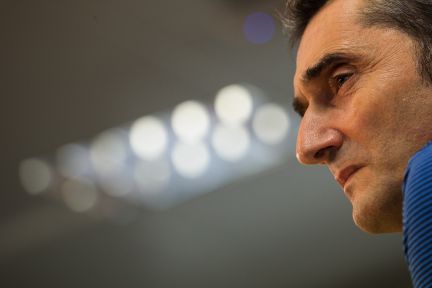 Already on match-day 4 of the 2017/18 competition, seven sides can claim a #ChampionsLeague last 16 place tonight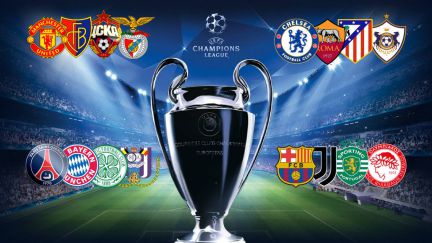 Hello and welcome to our live online coverage of the Champions League Group D match between Olympiacos and Barcelona from the Georgios Karaiskakis stadium in Piraeus, with kick-off at 20:45 CET.
Olympiacos vs Barcelona live stream online: match preview
Barcelona travel to the Georgios Karaiskakis stadium with qualification for the knock-out stages of the Champions League firmly in their hands after winning their opening three Group D fixtures against Juventus (3-0), Sporting (0-1) and the reigning Greek champions (3-1).
Olympiacos, meanwhile, have endured a difficult start to the season and watched their own Champions League aspirations evaporate after suffering three defeats in Europe. Bottom of Broup D and yet to get on the board, Takis Lemonis' side are essentially playing for a berth in the Europa League at this stage and are three points behind third-placed Sporting, whose only victory in the Champions League came at the expense of Olympiacos despite a late rally from the Greeks at home.
When Barcelona hosted Olympiacos at Camp Nou the visitors were completely outplayed. Dimitris Nikolaou scored at both ends, his second a 90th-minute consolation, as Ernesto Valverde masterminded a comfortable victory over his old club.
The Basque tactician was in charge in Piraeus for the 2008-09 season and again between 2010 and 2012, leading The Legend to the Superleague title in each of his three campaigns and a league and cup double twice. The return of their former manager is a matter of huge importance for Olympiacos fans, who are planning a homage to Valverde before the game.
Olympiacos
Olympiacos go into the fixture on the back of a stinging derby loss to arch-rivals Panathinaikos that condemned the champions to their worst start in the Greek Superleague in 24 years. Nevertheless, the mood in the streets and the Piraeus press is one of defiance rather than defeat ahead of the visit of Valverde's juggernaut.
Five points adrift in the Greek top flight and bottom of Group D in Europe, few inside a sold-out Georgios Karaiskakis stadium will genuinely expect the home side to beat Barcelona but an electric atmosphere is guaranteed in what could prove to Olympiacos' 2017-18 Champions League bow.
Emmanuel Emenike returns to the squad after recovering from a muscle problem and the sight of their star striker should give the home fans a lift, even if the Nigerian was unable to spur his side in the Apostolos Nikolaidis Stadium against Panathinaikos.
Limonis' side have been struggling for goals all season and attacking midfielder Konstantinos Fortounis is the club's top scorer with five in all competitions. Emenike, who has only featured for 510 minutes this season, is second with four. The only piece of encouraging new for Limonis is that his squad has a clean bill of health going into the game and welcomed back club captain Alberto Botía for the reverse leg in Camp Nou after a lengthy injury layoff.
Barcelona
Valverde has led Barcelona to a 14-game unbeaten run in all competitions since the start of the season proper and although he would undoubtedly prefer not to apply the final nail to Olympiacos' Champions League coffin, he will be confident of maintaining that record against his former club.
Barça have been almost as prolific in the Champions League as domestically, averaging 2.3 goals a game in Europe compared to 2.8 in LaLiga and have only conceded once in Europe, against Olympiacos in the return leg when the result was already beyond doubt.
The Greek champions arrive at this fixture limping but Valverde's side took another giant stride in their own pursuit of domestic dominance with a hard-fought 2-0 victory against another of Txingurri's former sides, Athletic, in San Mamés.
The loss of Andrés Iniesta to injury and Gerard Piqué's suspension after being sent off in the Camp Nou meeting between the sides is an inconvenience to the Barcelona boss but his squad has proved adept at covering for big-name players this season. Sergi Roberto could come into the midfield to deputise for the captain, which will mean another start for the impressive Nelson Semedo at right back, if Valverde opts to hand Paulinho a rest.
Javier Mascherano and Thomas Vermaelen are both available after recovering from a fever and injury respectively, giving Valverde a wealth of options to partner Samuel Umtiti in the heart of the defence.
Up front, Gerard Deulofeu is the primary candidate to form an attacking three with Messi and Luis Suárez, with André Gomes slipping back to the bench after starting in San Mamés at the weekend.
---
Olympiacos vs Barcelona live online: selected betting odds
The home side are priced at 14/1 to pull off a shock victory while the 0-0 draw is chalked up at 16/1. A repeat of the 3-1 score line from the previous game pays out at 10/1 while in the scorer stakes Leo Messi is 4/9 to score at any time and 13/2 to bag his third hat-trick of the season.
Bet on Olympiacos vs Barcelona.