Tottenham 3-1 Real Madrid Champions League: match report, goals, action
Dele Alli returned from suspension and Harry Kane recovered from a hamstring injury to help Spurs past Real Madrid at Wembley in the Champions League.Real Madrid - Bayern Munich live online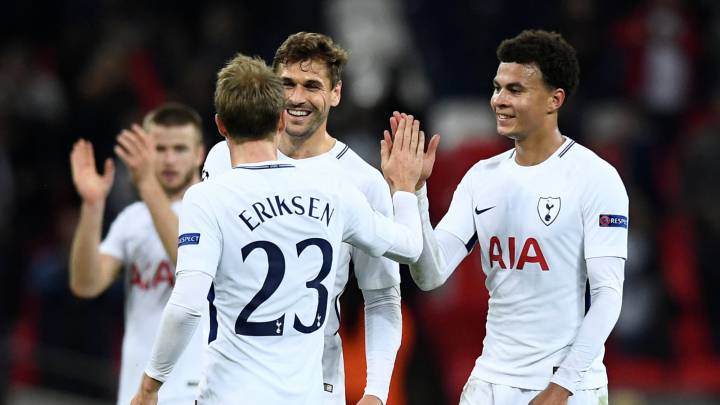 Tottenham Hotspur 3-1 Real Madrid
Tottenham Hotspur beat Real Madrid at Wembley in the Champions League on Wednesday night with starring roles for the excellent Harry Kane and Dele Alli.
Alli was making his first appearence in this year's Champions League having been suspended for the opening three games and announced himself in style with a brace in a mature and impressive performance from the Premier League side.
Kane, on the other hand, wasn't even supposed to be fit but made a quicker return than expected and played almost 80 minutes in the 3-1 win over the reingning champions of the tournament. His hamstring, the source of his injury, held up and he caused problems for whatever Real Madrid defender happened to be unlucky enought to be matched up against him on any given attack.
Zinedine Zidane was forced to shuffle his defense with Keylor Navas out along with Dani Carvajal and Raphael Varane but make no mistake about it, this was a comprehensive display and victory by Pochettino's side.
Alli opened the scoring after 27 minutes when a Kieran Trippier first-time cross, which looked like it was from an offside position, found Alli in the centre for him to poke the ball behond Kiko Casilla.
Real Madrid got their act together after that and were starting to lay somewhat of a siege on Spurs' goal but the hosts still had a lethal counter or two up their sleeve that kept Real Madrid at bay.
After starting the second half much better than the home side, Real Madrid came undone again when Alli broke free and forced Casemiro to the ground with a dummy before firing off Ramos' leg to wrong foot Casilla for Spurs' second.
It was getting worrying for Real Madrid on 65 minutes when Alli play the ball to Kane, who found Eriksen onside only for the Dane to pop the ball beyond an advancing Casilla.
Real Madrid did come to life and had a goal back through Ronaldo on 80 minutes but it was simply a blip from Spurs' resolute backline. They closed out the game and could have had another themselves but Alli missed a header from close range and Llorente was outpaced by Casilla on route to a through ball.
Spurs have qualified for the next round with their win and enjoyed their best night at Wembley since moving there this season. Real Madrid on the other hand have now lost two in a row for just the second time under Zinedine Zidane as they have to come together and figure out how to stop the rot before LaLiga and the Champions League are out of their reach.
Tottenham Hotspur 0-0 Real Madrid: as it happened
90'+3' That's the end of that. Comprehensive from Spurs as they bring down the reigning Champions 3-1.
90'+3'   Ball is half-cleared and Marcelo drives a shot way over the bar.
90'+3'   Cross comes in and Spurs put it out for a corner.
90'+2'   Dembele goes in on Marcelo now and while it didn't really look like there was much in it, he needs to be careful. 
90'+1' Ramos booked now.
90'   Chance for four for Llorente but he looked so slow.
89' Silly now from Dembele as he swings a kick at Ramos. He missed the ball completely and nearly catches Ramos too. Booking is all he gets.
88'   Trippier with a cross that goes way out over everyone.
88'   Ramos in on alli now and gives away the free. Frustration boiling over for Real Madrid.
87'   Elbows and arms flting as Dembele and Ramos clash. Could have been two reds there! 
85'   Ronaldo shoots and Lloris saves. Marcelo has a shout at him and Ronaldo apologises. The overlap was there but Ronaldo went alone.
84'   Casemiro with a cross that goes way too high and out behind the goal. Zidane urges his players on but he knows Real Madrid look beaten.
83'   Real Madrid thinking about a second. Marcelo shot blocked out as far as Casemiro and he strikes but it's saved by Lloris.
81' Theo Hernandez on for Luka Modric.
80' Real Madrid get one back. scrappy ball sent in around the back and Modric heads down to Ronaldo, who makes no mistake from six yards out although i took a deflection of Dier, it looked like.
79' Fernando Llorente on for Kane, who leaves the field to a hero's applause.
78'   Dele Alli nearly has his hat-trick. Cross comes in and Alli can't get his glancing header on target.
76'   Asensio one-two with Ronaldo breaks down. Real Madrid under pressure again from Kane, who heads down to Eriksen. 
73' Benzema and Isco replaced by Mayoral and Asensio, who had been standing on the sidelines for a while.
72'   Spurs just throwing it around now. 
71'   Achraf loses out and Spurs looking as dangerous as ever in attack. 
70'   Mayoral and Asensio coming on for Real Madrid.
68'   Isco strikes but that's not going to work. Lloris grabs it.
67'   Ronaldo strikes and Lloris dives to save but he's comfortable with that one.
65'   3-0! Spurs pick Real Madrid right off. Eriksen buries it. Dele Alli to Kane and he beats Ramos to it before playing it to Eriksen, who makes absolutely no mistake.
63'   Benzema does well to give the ball to Ronaldo but Vertonghen clears. Dangerous ball but the Belgian had it covered.
63'   Pinball in the box but Real Madrid can't finish. Ronaldo misses and then blocks Ramos' effort. 
62'   Ball lands to Kroos and he wins a corner from a shot.
61'   Marcelo with a high and lon cross. It nearly reaches Ronaldo but out of his reach. 
60'   Dele Alli wins a throw for Spurs. Life gone out of Real Madrid now since the second. Zidane needs to make a move.
58'   Kroos fouls Winks after the Spurs player nearly messes up.
57'   Spurs looking for more. Sissoko down the right and Dele Alli thinks about shooting byt recycles instead.
56'   Casemiro went to ground too early and Alli coasted past him before his shot is deflected off Ramos and beyond Casilla.
56' Dele Alli!  GOAL! 
55'   Lloris looks to have hurt himself. Michael Vorm is warming up. Not sure if he is going to be needed. 
Dortmund and APOEL Nicosia level at 1-1.
53'   Really dangerous ball across the mouth of the goal. Spurs control it and get it away. Real Madrid improving here as they were at the end of the first half.
51'   Lloris boxes clear and Ramos tries to duck to get out of his way but the Frenchman falls over him. Play stopped and possession eventually goes back to Real Madrid to restart.
51'   Sissoko clips Marcelo's shin as he spins around him. Referee has a chat, no card, but calms the Spurs midfielder down.
50'   Kane is looking so dangerous. He uses his body to shield the ball away from Casemiro but sees his cross to Alli blocked too.
49'   Modric sets Ronaldo free down the right and he plays it to Achraf, who sees his cross blocked. 
47'   Harry Kane skips by two defenders after Ramos gave it back to him. He crosses low by Modric clears. 
46' Back underway and it seems like there have been no changes on either side.
45'+1'   HALF-TIME! Exciting 45 after a relatively slow start. Real Madrid needed Spurs' goal to kickstart their night but they have looked before since it.
45'+1'   Spurs want a penalty! Casemiro waited for the ball after Nacho had slid in to deny Sissoko and Dele Alli snuck in front of the Brazilian. He got the ball but question over whether he got it from behind.
45'   Long ball looking for Achraf is too long again. 
44'   Ben Davies down as Danny Rose looks on. He is going to be needed! Two subs for Pochettino in the first half.
43'   Achraf with a lovely cross to Benzema and he shoots but Lloris saves. Good strike from the Frenchman. Nice save from the other Frenchman.
42'   Benzema does so, so well to get free down the left and dummy a couple of defenders before squaring. It's cleared, or scrambled is maybe a better word, away and Real Madrid looking increasingly dangerous.
41'   Oh, so close! Trippier on the right and he squares to Sissoko. He completely misses but tees up Kane perfecltly, who sees his shot saved by Casilla. He wanted a penalty or something, as he threw his hand up but nothing doing. 
40'   Kroos with the free and it hits Ramos, and maybe a few others. Corner to Real Madrid as it must have hit a defender. Real Madrid looking more comfortable but still no goal. Modric looks for a ball over the top to Achraf again but no use as it's way to strong.
39'   Casemiro grabbed by Winks as he took the ball down. A strange free but a free nonetheless.
38'   Isco looks for Ronaldo but it's off target again.
37'   Isco crosses and Trippier has time to chest it down to Lloris.
36'   Dele Alli with a little flick onto Kane and he strikes on the volley. Saved.
35'   Lloris gathers another cross and urges his teammates to calm it down.
34'   Isco looks for Achraf streaking down the right. No dice though as it's way to far.
33'   Another chance. Benzema to Achraf and he pulls it back to Ronaldo but his shot is straight down Lloris' throat. 
33'   Modric throws the ball over the top to Ramos but he was offside.
32'   Ronaldo on the left. He twists and turns and creates room for a shot. Lloris saves as it hits the side netting.
31'   This might just be what Spurs wanted. As Real Madrid push forward, Spurs have had one or two chances now with lots of attackers versus very few defenders on the break.
30'   Corner Real Madrid as they step it up now. They're knocking on the door. Modric the latest with a cross that has to be cleared for a corner again. 
29'   Ronaldo breaks free and plays it inside where it ends up to Isco and he plays it to Casemiro. The Brazilian strikes and forces a save from Lloris. 
27' Dele Alli scores! Ball comes across to Trippier from the right and he first-times it to Dele Alli and he pokes home.
26'   Dele Alli leaves too much for Kane to do with a through ball. He chases anyway and forces Nacho to put it out for a throw.
24' Alderweireld replaced by Sissoko. Dier will drop into the centre of defense not to replace the Belgian.
24'   Kane shows his strength to push Ramos out of the way but the ref said it was illegal.
24'   No nonsense from Vertonghen as he gets in front of Ronaldo and clears. 
23'   Alderweireld's hamstring is gone. He tries to go by Casemiro but he pulls up and throws his hand up to the bench. 
21'   Marcelo with a really good tackle but he connects with the ball and sends it into the box where Winks misses with his first effort, as in misses the ball, before he takes it out to the right of goal and tries to chip Casilla. The Real Madrid keeper saves.
21'   Ball comes in from the left and Casemiro clears with Kane ready to tap the ball in at the back post.
20'   Ronaldo clears with Sanchez arriving with pace!
19'   Eriksen wins a corner off Ramos but it looked to hit the Dane last. Ramos has a word with the referee behind the goal but to no avail. Corner imminent.
16'   Kane puts Ramos under pressure and then Ramos but he concedes the throw. Kroos fouled then by Alli as Real Madrid try to figure a way out to hurt this Spurs side. 
15'   Chance for Real Madrid to attack. Cross comes in and it's taken off Benzema's head. Achraf sends in another one that's blocked by Davies. 
14' Goal-kick though.
14'   Kane sends a strange looking ball across the box but it works out perfectly as Trippier hits it first time. It goes across goal and Casilla seems to get a touch on it. 
12'   There were murmurs that Spurs would try to play on the counter tonight and they most certainly are. Catching Real Madrid out of position so often. Real Madrid, when they are in attack, causing very few problems and seem quite static. 
11'   Kane and Ramos one-on-one. Ramos tries to play the man and Kane wins the battle. He tries to chip Casilla instead of driving a shot towads goal. Strange choice and it doesn't really work out in the end. Good chance though.
11'   Kane chips one to Eriksen but his control lets him down and Ramos recovers. Spurs definitely upping the ante hear, as are the fans.
10'   Kane does really well to shake off a tackle and plays it to Eriksen but his shot is blocked.
9'   It was all Real Madrid for the opening few minutes but Spurs starting to come into it. Dier looks for Kane, who seemed unwilling to sprint full throttle in an effort to reach it, or maybe he knew it was a lost cause.
8'   Spurs urged forward by their fans after a good Real Madrid counter comes to nothing. It's Spurs' turn and Trippier sends one towards the box. Casilla gathers it as it floats over Kane's head.
6'   Isco cross is met by Ramos at the front post. Sanchez does enough to put him off.
5'   Achraf forced all the way back to Casilla with the ball on the half-way line. Spurs fans like it but Real Madrid eventually win a corner from the very patient move.
4'   Dele Alli puts Ramos under pressure from a ball headed up in the air. He plays it out to Nacho and Real Madrid start another attack. 
3'   Marcelo finds Ronaldo way, way, way out on the right with a pass. It comes back inside and Isco shoots but Lloris is okay with it. 
2'   Boos for Ronaldo as he touches the ball for the first time. Real Madrid methodical in their approach so far. Isco looks for Benzema, who is darting in behind the back, but the ball is off target.
1' Modric got a warm welcome at Wembley from his former club.
1' We are underway at Wembley!
Ramos and Lloris up for the coin toss.
We are just five minutes away from kick-off at Wembley. We will be keeping you updated on the Borussia Dortmund game too as they play APOEL Nicosia in Germany.
Real Madrid have just one player over 21 on their bench and that's Lucas Vazquez while Spurs have the likes of Fernando Llorente and Moussa Dembele. It could come down to a battle on the touchline and who makes the best subs with the biggest impact. 
The big debate over the course of the two Real Madrid vs Spurs games has been whether Harry Kane would make it at Real Madrid, and whether he could replace Ronaldo. Mauricio Pochettino is fariyl sure as to who he would pick if given the chance. He says while he thinks Ronaldo is incredible, he wouldn't change Kane for anybody in the world.
Real Madrid could find themselves in real trouble at keeper if anything happens to Casilla. They have 17-year-old Moha Ramos on the bench. Casilla himself wasn't convincing against Girona and Navas' loss has been felt. 
Ronaldo might just be facing his favourite opponent tonight. He has scored in each of his last four games against Spurs and while he hasn't hit the ground running this season, he loves a big European night!
The Wembley Way. Spurs and Real Madrid fans make their way to the ground on a chilly London night.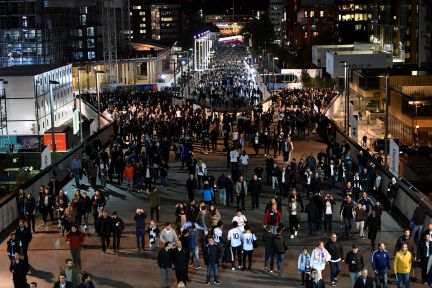 After Girona beat Real Madrid using a 3-5-2 on Sunday, Pochettino looks to be playing that exact formation tonight. Trippier and Davies as the full.backs and he will look to make Marcelo, who is struggling of late, along with 18-year-old Achraf, work hard on the flanks. This is going to be fascinating.
Harry Kane starts up front all on his own. Dele Allie will play behin him and Pochettino will go with a 3-5-2.
Tottenham team news: Lloris, Trippier, Sanchez, Alderweireld, Vertonghen, Davies, Dier, Winks, Eriksen, Dele Alli, Kane.
No curveballs from Zidane. He has been forced into a few changes, however, as we knew he would. Casilla starts in place of Navas, Achraf in place of a recovering Dani Carvajal, Nacho plays for Varane and after that, it's all systems go as normal. Bale might have snuck into the eleven if he was fit in place of Isco but that's a fairly full strength midfield and attack Real Madrid's manager.
Real Madrid line-up as expected. Casilla, Achraf, Nacho, Ramos, Marcelo, Casemiro, Modric, Kroos, Isco, Benzema, Cristiano.
Rafael van der Vaart is in the house. He refers to Spurs as "we", which is interesting and says Spurs are surely going to win tonight! 
Real Madrid have gone 38 official matches scoring away from home. The last time they failed to score was in England, against Manchester City in the semi-final of the 2015-16 edition of the Champions League. They also went on to win the whole thing that year too!
Some nice photos of old Wembley from the archives.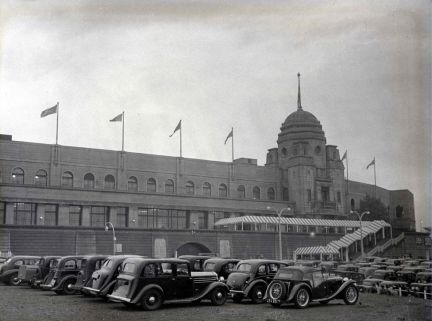 As Real Madrid struggle with the full-backs through injury and form, Dani Alves reveals how he nearly signed with the club. 
Buenos días! We're going to be building up to the Group H match at Wembley throughout the day. Both teams are coming off the back of disappointing results in the league - Tottenham lost to Manchester United at Old Trafford, while Real Madrid were out-thought and out-battled by Girona. In other words, they both have something to prove...
Tottenham Hotspur vs Real Madrid live online: preview
There was nothing to separate these two sides when they met in the Spanish capital just a fortnight ago and that's reflected in the standing where Real Madrid and Spurs are neck and neck, level on seven points and with an identical goal difference. Maurcio Pochettino's team will see this game as their chance to knock Los Blancos off the top spot in the group and claim it for themselves. Madrid meanwhile will be attempting to redress what has been a miserable few days in which they are still licking their wounds from Saturday's shock defeat to LaLiga newcomers Girona. Zidane's team looked jumbled and disoriented at the Montilivi – and worse still, that result dents their title credentials as they now trail leaders Barcelona by eight points and cannot afford to slip up again. Not that Sunday's woes should have a direct impact on this game; the best remedy for Madrid right now would be a positive result in London.
Since their visit to Madrid, Spurs have experienced the heady rush of humiliating Liverpool 4-1 to losing both of their last two games but the bare minimum. A second string Tottenham side were dumped out of the EFL Carabao Cup by city rivals West Ham and this weekend, Manchester United employed ultra-direct, route 1 tactics to squeeze a 1-0 win at Old Trafford. Harry Kane missed that game with a hamstring injury but he should be fit to return against Madrid.
A win for either team tonight would assure their place in the Last 16 regardless of how the other game in Group H, between Borussia Dortmund and APOEL, turns out.
Tottenham team news
Dele Alli watched his team from the Bernabéu stands but he is back from suspension and firing on all cylinders. Harry Kane has been absent since the 4-1 trouncing of Liverpool but returned to training on Tuesday and is believed to be over his fitness worries. Pochettino is confident Kane will feature but didn't want to confirm 100% on the eve of the game and told reporters, "We have one more day to assess him but today he was good in training". Midfielder Victor Wanyama is back training but won't be risked; Erik Lamela is available again after overcoming a long-term hip injury.
Man to watch: Dele Alli. Whether Pochettino goes with Harry Kane or Fernando Llorente up front, Madrid will have to contend with the livewire Dele Alli. Now back from after serving a three-match ban, Alli is raring to go and Spurs are stronger and more of a threat when he's on the pitch. He's behind Harry Kane as the team's second top scorer on five goals and is just as adept at setting them up for his team mates as he is at putting them away himself.
Real Madrid team news
Zidane's team looked off-colour against Girona. Cristiano Ronaldo was increasingly frustrated by his fortunes in front of goal and their back four was turned inside out trying to deal with attacks coming in from both flanks. Apart from Kiko Casilla taking over from Keylor Navas, Zidane fielded the same XI which entertained Tottenham on MatchDay 3, and employed the same 4-3-3 system, only this time, Casemiro and Kroos were left unable to drop back as they were already tracking two players each in a four-man Girona midfield. Madrid haven't been helped by injuries and centre-back Raphaël Varane picked up a hamstring injury in Girona which means he is doubt. Zidane will be without Keylor Navas, Gareth Bale, Dani Carvajal and Mateo Kovacic. Isco took a knock at the Motilivi and didn't train with the group on Monday but is in the squad and should be declared fit to play. Under-19s keeper Moha Ramos has been recalled as Kiko Casilla's deputy.
Man to watch: Marcelo. Had a howler against Girona but we think he's allowed an off day. The Brazilian left-back keeps getting better and better with each season and now he's completely in his element. He can take command out on the left and allow Cristiano to drift into more central positions; Marcelo has an unlimited array of skills to call on and so often supplies the killer ball in for Madrid or go it alone and score himself. He'll be back to his best on Wednesday without a doubt.
Tottenham Hotspur vs Real Madrid live online: betting odds
Tottenham are at 25/1 to score the game's only goal in the opening 45 minutes. Real Madrid are at 11/1 to sneak a 0-1 win with Cristiano Ronaldo at 3/1 to stroke home the decisive goal. More adventurous odds are offered for dark horse Toni Kroos to be the last goal scorer of the game at 18/1 – bookies have a 3-3 draw at 33/1.
Bet on Tottenham Hotspur v Real Madrid in the Champions League now