Zidane: "Maybe we are not all playing at the same level..."
Real Madrid's coach analyzed Wednesday's defeat to Spurs: "Something's not working, we're creating chances but not taking them".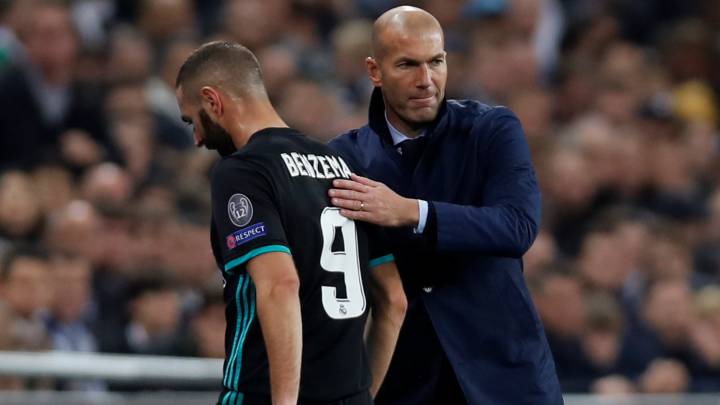 Zidane searched for answers as to what happened to his team in Wednesday's 3-1 defeat to Tottenham in a Flash Zone interview with BeIn Sports at Wembley just moments after discussing the game in his post-match press conference.
Madrid, inefficient in front of goal
What happened to Madrid? "We didn't look lost, but maybe we lacked composure in front of goal. Something's not working, we're creating chances but not putting them away. We've lost one game, but there's still a long way to go. We've got to analyze it and find out what the problem is. We're all a bit upset. We had wanted to put in a good game,but it wasn't to be. Tonight's game was like a final for the team and we lost".
Problems: "It's not an issue of form, maybe we're not all playing at the same level. These things happen. Obviously we are not feeling great after suffering two defeats in a row. Now we have three or four days to reflect on it. We lost to the best side".
Have Madrid enterted in a crisis? "We're not in a crisis".
Defeat: "There's no point dwelling on it, we were outplayed. We didn't put in a bad game. We had three or four chances to level but we didn't make the most of those chances".
We must accept we were well beaten - Zidane
Were Spurs the superior side? "Now and again you have to accept when you have been outperformed in every area. They played well and if they were 3-0 up at one point, it must be for a good reason".
Are you worried by this defeat? "You always ask me the same question. I'm not worried and I never will be, whatever happens. We lost to a team who were better than us".
It's not a physical problem, says Zidane
How can you explain the team's dip in physical form since the Supercup wins over Barcelona and Manchester United? "I don't think we can say that we are in poor physical shape. Perhaps we are not at our optimum because we have suffered two consecutive defeats. You tend to recover from a league defeat in a different way - it's going to be a bit harder for us to get over this defeat. But physically, I think we are fine. We need to start scoring - that's where we've been lacking lately".

Do think it could be a mental block? "I don't know. I don't think so. There are times during the season when you are scoring with ease and other moments when the ball just won't enter. Tonight was one of those days. I'm not worried that we are not scoring - I have an experience side and we'll change our situation".

Do you see Spurs as candidates to go on and win the Champions League? "Any team can win the Champions League and this Tottenham side is one of them".
Champions League
*Update 1 de noviembre de 2017



Champions League
*Update 1 de noviembre de 2017