Álvaro Morata: "This is the first time I've felt like the No.1"
The Chelsea striker admitted that he never felt as important at Real Madrid or Juventus as he currently does under the tutelage of Antonio Conte.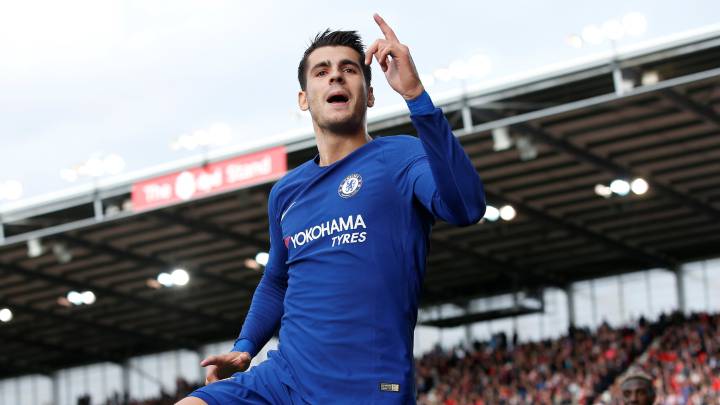 Álvaro Morata spoke to English magazine FourFourTwo about opening a new chapter of his career at Chelsea. The 24-year-old joined the Stamford Bridge club for a fee of around €80 million in the summer, and he is enjoying life under Antonio Conte in west London.
Morata wanted to "repay" Antonio Conte
"After bringing me to Juventus before he joined Italy in 2014, I always thought that we would get back together. He's gone to the death for me," Morata said of the Italian coach.
"His is a huge assist, if you like, for me coming to Chelsea, because I really wanted to renew that relationship with him and repay all the faith that he's shown in me. I've already improved so much under him."
Morata scored 15 LaLiga goals for Real Madrid in the 2016-17 season, yet was limited to just 14 starts as Karim Benzema continued as Zinedine Zidane's striker of choice. The Spain international confessed that he has never felt so highly-value in his career.
"This is perhaps the first time in my senior career that I've started five matches in a row, or felt like the No.1 striker at a club," he said.
"It's a big responsibility being the main centre-forward at Chelsea, because you're the team's referente – the reference point. You support every attacking move, because they look to get the ball into your feet or into the channels."
Chelsea tactics place demand on former Madrid striker
Finally, Morata discussed the tactical demands of playing under Conte. Although it was Conte who signed Morata for Juventus, the coach left the club to take charge of the Italian national team before Morata had the opportunity to play for him.
"The tactical system here is even more complete than when I was at Juventus, which was based on what Conte left behind. It's all about maintaining the team's rhythm and tactics. You don't have much time to think and you must learn quickly."
Morata has taken to the Premier League with ease. He has scored seven goals and provided three assists in 14 matches this season.