Barcelona: Lionel Messi reaches 600 games
The Argentine made his debut for Frank Rijkaard's Barça 13 years ago, and has gone on to make more appearances than all but Xavi and Iniesta.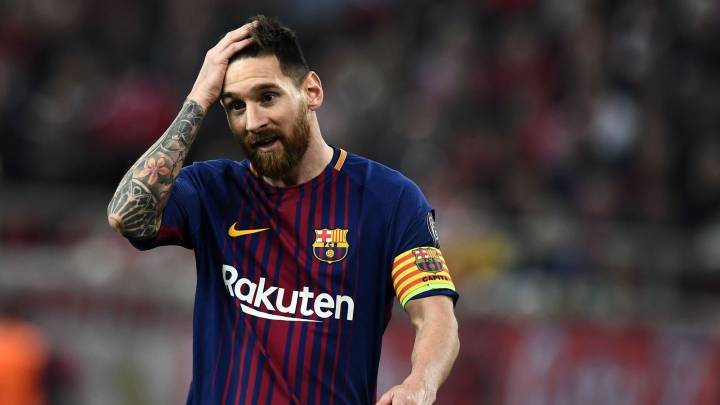 Leo Messi will celebrate another landmark in his extraordinary career when Barcelona host Sevilla on Saturday evening. Almost exactly 14 years after making his debut for the club in a friendly match against José Mourinho's Porto in November 2003, the Argentinean will make his 600th appearance in official matches for Barcelona in Camp Nou, a figure exceeded only by Xavi Hernández (767) and Andrés Iniesta (642).
Messi would go on to make his debut in an official match on October 16, 2004 against Espanyol in LaLiga after a rapid ascent through the youth teams and Barcelona B. At 17 years old Messi was not the youngest debutant in the club's history – that honour goes to Paulino Alcántara, who was 15 when he scored a hat-trick in a 9-0 Catalan Championship game in 1912 – but he swiftly became a fundamental piece of Frank Rijkaard's team and drew the observation from no lesser a player than Ronaldinho that he would go on to greater things than even the Brazilian ball-charmer achieved.
Now the owner of five Ballons d'Or and four European Golden Boots, Messi has scored 523 goals for Barcelona and won 30 titles, smashing scoring records domestically and on the continent in the process.
Messi's breakthrough 2006-07 season
The Argentinean weaved his way into the global consciousness towards the end of the 2006-07 season with two performances that remain career-defining despite his later achievements. The first, on March 10, 2007, was a hat-trick in a 3-3 Clásico contest in Camp Nou, Messi's first treble for the club. The second came a month later against Getafe in the Copa del Rey semifinals and made headlines around the world that for the first time dared to mention the 19-year-old wrapped in an oversized number 19 shirt in the same breath as another diminutive Argentinean deity, Diego Maradona.
It is in comparison to the Cosmic Barrel that Messi's career has often been questioned in some quarters. Without a major senior international title to his name, does the Barcelona forward stand up against his predecessor in the Albiceleste number 10 shirt? Maradona came as close as anyone in history has to single-handedly winning a World Cup in 1986, when he scored the original version of Messi's Getafe effort against England after a little divine intervention from elsewhere, and Messi has often fallen short on the biggest stage. It was not faint praise when he was lauded for a hat-trick against Peru last month that sealed Argentina's place at the 2018 tournament: it was one of the few occasions when, under pressure, Messi has come to his country's rescue.
At club level, there are few outside Portugal and Madrid who argue that there is a better player to have graced this generation. Statistics aside - and there are many that back Messi's claim - is the pure aesthetic of watching the Argentinean in full flow. Few players have ever enjoyed such complete mastery of the ball and it is a talent that unlike simple fleetness of foot does not desert the very best players. Messi's Puskás Award-nominated strike against Athletic in the 2014-15 Copa del Rey final stands as testament to an enduring ability to outfox an entire opposition defence.
Now 30, it is likely Messi will continue to evolve his position and his playing style as the years roll by and he is likely to exceed Xavi's appearance record in due course. But for a generation of football fans, he will always remain the impish winger cutting inside Javier Paredes and slipping the ball through the legs of Nacho Pérez. Few even remember that Getafe eventually won that semifinal tie.