Chance for Real Madrid's struggling strikers
Real Madrid's footballing disasters against Girona and Tottenham Hotspur point to a team that's not only lost their rhythm, but above all bewildered as to how to get the ball in the back of the net. However the situation tonight points to what could be an easy chance of redemption for Cristiano and Benzema, faced with the fragility of Las Palmas, who have shipped 28 goals so far.
Ronaldo not decisive
Zidane's side are sorely lacking the Portuguese striker's normal efficiency - he's bagged just one goal in LaLiga from 40 efforts. He's been moving further away from the area and becoming less effective. He needs to get back to where he prefers to play, and where he's most decisive. Up to now Las Palmas haven't exactly been defensively strong - they've an average of 10 shots against them in their box. Ronaldo should take full advantage.
Ronaldo and Benzema malfunctioning
Ronaldo's partnership with Benzema has been less effective since the French striker came back from injury. There were just 11 passes between the two against Girona and Tottenham. And only two into the area. The pair are currently having little influence on the game and have failed to bother rival defenders.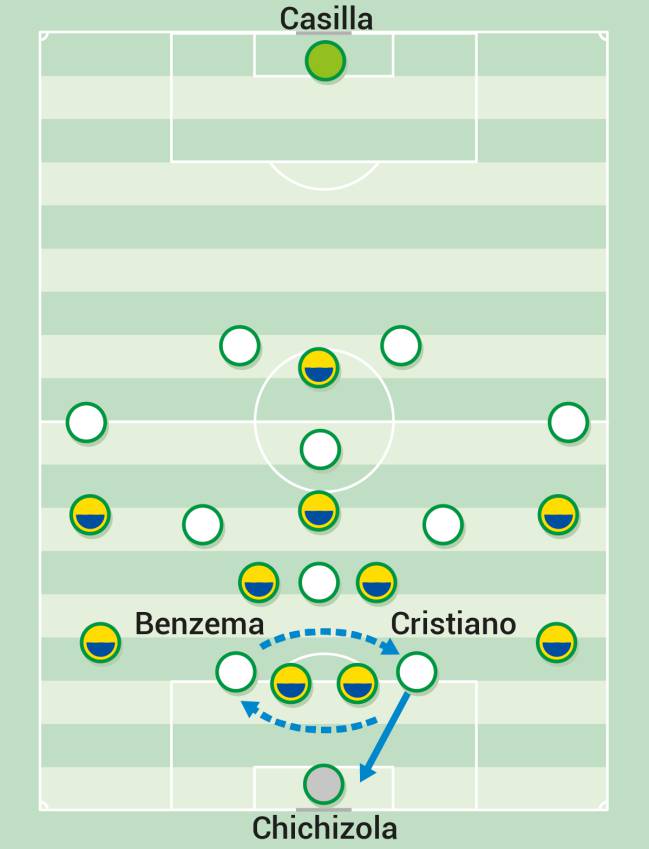 Strength In the middle
To re-establish Ronaldo's importance on the pitch, Real Madrid need to take control of the midfield. Given the current poor performances of Casemiro, Modric and Kroos, it's time for Marcos Llorente and Ceballos who are expected to be the future of the side anyway. Ceballos, who scored twice against Alavés, didn't do enough against Eibar. The current state of the side demands he get more involved in the build-up, moving fluidly to free up Isco in the final third.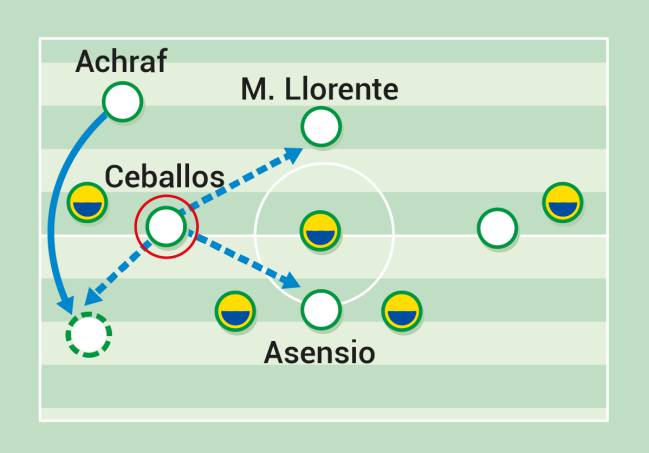 Downward spiral for Las Palmas
The decline of Las Palmas this season is fundamentally down to their weakness at the back, but also because they've lost the spark they had previously under Setién. Their average possession is down 4%. Without the ball they are disjointed with clear problems when under attack.
Double pivot
Ayestarán won't change from the 4-2-3-1 he's decided on. The creativity of the double pivot of Samper and Vicente Gómez is vital for Las Palmas going forward.
Vitolo
Lopetegui's support for Vitolo, with his call up for the Spain side could reactivate the winger who has done little so far. Las Palmas will likely go on the charge down his wing (without forgetting Remy on the other flank) in a bid to test the Real Madrid right back who was expected to be Achraf but would now appear to be Nacho, with Achraf left out of the squad...