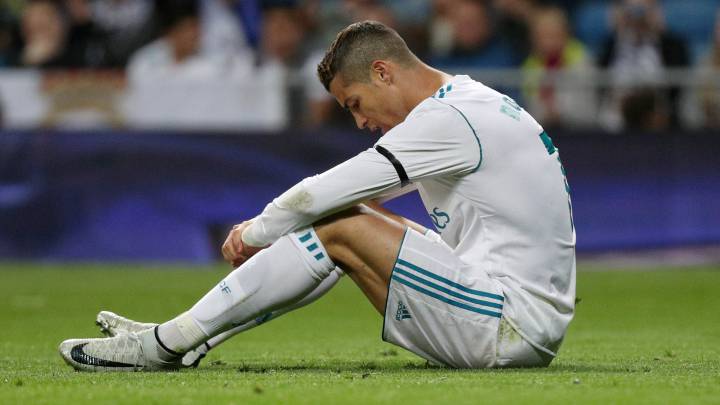 Cristiano has just found the target on one occasion in the current 2017/18 LaLiga campaign and this lack of goals and his renowned perfectionism is eating away at the striker from Madeira. The image of player after providing an excellent assist for Isco to score third goal spoke volumes. The Real Madrid No. 7 trundled back to his own half with his head bowed and barley acknowledged his celebrating team-mates with a frown on his face
This is not the first time we've seen the forward vent his frustration so openly and this time there are no whistles from the frustrated Bernabeu crowd to fuel his exacerbation. Goals in the domestic campaign have dried up for and the statistic of one strike from 48 shots is a testament to his lack of efficiency in front of goal. This contrasts with previous seasons where the Portuguese would score from every 6,43 shots. In the 2014-15 season the player was at his most prolific with 18 goals after 12 jornadas and a goal from every 4,68 shots at the opposition goal-mouth.
Drought
The CR7 goal drought is also being felt by other Madrid squad members as beIN Sports recorded images showed how younger members of the team offered words of optimism during the interval. "Let's do it Cris!", exclaimed Casilla. "It will go in, just be patient", advised Vallejo. Patience is the one thing that the Portuguese striker has little of, something reflected in the amount of times he was uncharacteristically caught off side during the Las Palmas. The five times representing almost 50% of his off-sides during the current season...
In the past, an international break was the player's opportunity to forget about the trials and tribulations of the domestic league, but for this FIFA break, Fernando Santos decided to give his star striker a rest and Cristiano will play no role in the international friendly games for Portugal as they face the United States and Saudi Arabia.
Madrid derby
The next opportunity for Ronaldo to find the target comes in a fortnight with the first Madrid derby to be staged at Atletico's new Wanda Metropolitano stadium. If past experience of league games at the Calderón is anything to go by (seven goals in six derby games with two hat-tricks to boot), it may be Atlético on the receiving end of the wrath of the Portuguese striker.



LaLiga Santander
*Update 6 de noviembre de 2017