Croatia 4-1 Greece World Cup 2018 play-off: match report, goals, action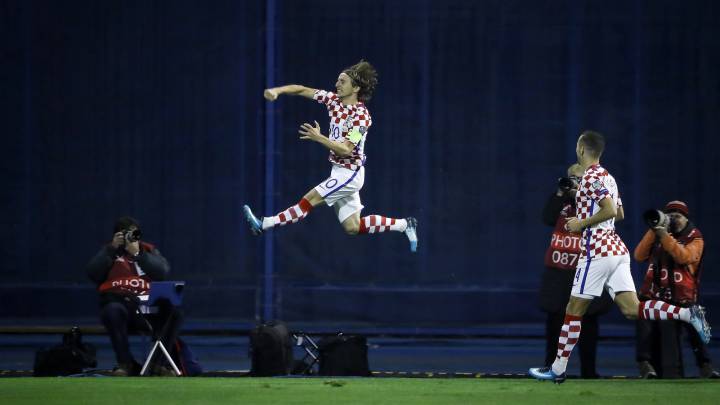 Croatia 4-1 Greece: match report
Croatia cruised to a 4-1 victory over Greece in their World Cup play-off first leg on Thursday to move to the brink of a spot at next year's finals in Russia.
Real Madrid midfielder Luka Modric opened the scoring in Zagreb from the penalty spot in the 13th minute, with Nikola Kalinic flicking in a second just six minutes later.
Centre-back Sokratis Papastathopoulos gave the visitors hope on the half-hour mark, but Inter Milan winger Ivan Perisic powered in a close-range header before the interval and Andrej Kramaric wrapped up a comfortable win for Ante Cacic's side.
Croatia, who finished a disappointing second in Group I behind Iceland, are looking to qualify for their fifth World Cup since 1998.
Croatia vs Greece: as it happened
90'+4'   GAME OVER! Croatia 90 minutes away from the World Cup.
90'+4'   Really frustrating night about to come to an end for Greece.
90'   So close to a second and a lifeline for Greece! Header from Mitroglous is saved and goes out to Papadopoulos but he can only send it straight across the goals! what a chance. 
89' Modric is replaced by Pasalic.
87'   Modric in the wars again. He has taken quite the hiding tonight but has been excellent nonetheless.
85'   Perisic tries to sip past a chellenge but loses out. Greece struggling to get out of their own half now. Croatia just throwing it around with ease. All intensity gone out of the game.
82'   Vlasic replacs Kramaric.
80'   Modric fouled again. Not as cynical this time but still a foul.
78' Modric fouled by Bakesetas and gets booked. Really late and cynical tackle.
78'   Croatia fans happy with the way this one is going. They've been singing for the last five.
75' Kalinic replaced by Rebic.
75'   Corner and Mitroglou heads just inches over the crossbar. 
72' Slim chances but still a glimmer.
72'   Greece do still have a chance as they will play in greece with no Croatia fans.
71'   Nope. That's not going to work. Cross straight to Subasic.
69'   A perfeclt yweighted pass by Modric. He finds Perisic and he blazes over. That's Modric at his absolute best. Lovely find.
67'   Croatia looking for more. Vrasljko with a pullback but nothing comes of it. 
64'   Lovely ball from Modric sets Kalinic away. He feigns and cuts inside before chipping a harmless cross wide.
63'   Corner gets cleared but it eventually comes back in. Papastathopoulos in exactly the same place for the first goal and he heads over this time. 
62' Samaris replaced by Tachtsidis as the former limps off the field.
60'   It's Greece's second corner. They scored with the first.
60'   Greece with a corner. Samaris is down and needs attention as the corner is delayed.
56'   Greece can't keep hold of the ball. Modric's corner comes in and Greece have two chances to clear but give it away twice on the edge of the penalty area. Rakitic strikes a rasper and sees it saved. There's more goals here for Croatia.
55'   Kalinic runs at Greece's defense and Papastathopoulos takes him down. Free to Croatia as they look for more. Kramaric drives  ashot to the near post and Karnezis saves. Greece looking increasingly stretched here.
53'   Greece going to make a change. 
50'   Dangerous ball curling in around the back of Greece's defense. Karnezis comes out and grabs it.
48' GOAL!  Kramaric pokes home. Cross-field pass to Vrsaljko and he chases it down, forces a poor touch from the defender, who tries to chest it back to the keeper and he sneaks in and plays it to Kramaric. 4-1 and Croatia are cruising.
46'   Second half is underway! Geeece immediately concede a corner.
45'+2'   HT in Zagreb. Croatia will be happy with that 45. The goal was soft but they're two goals to the good.
45'+2'   Modric to Rakitic and he clips it towards Perisic. He hits it first time and wide.
45'+1'   Kalinic receives the ball off Rakitic and falls in a heap. He is saying that Papastathopoulos caught his ankle and it looked like he did but very soft free.
44'   Perisic with a pull-back and Kramaric sees his shot saved. Kalinic the same. He thought he was offside. No excuse for that miss but nice saves from Karnezis.
44'   Stafylidis with a lazy pass inside as Greece try to build an attack. Gives it awya and Croatia bak on the front foot.
43'   Ball in behind and Mitroglou stalks it but he's a yard off as Subasic gathers.
41'   Rakitic receives the ball and strikes first time. A low daisy-cutter that drifts wide.
41'   Modric fouled on the right hand side. They start another attack. The Croatians looking comfortable.
40'   Rakitic looks for Vrsaljko, who is flying down the right hand side again.
38'   Another ball in as Karnezis. His defenders bail him out this time and take the ball and clear.
32' Vrsaljko with a lovely cross to Perisic and he heads home! 3-1. Four goals after just 32 minutes. 
31'   Greece looked like they were dead in the water. Croatia proving they aren't the best defensively though either.
29' GOAL! Papastathopoulos header home the corner. 
29'   Zeca wins the ball straight back and sends a pass across goal. Mitroglou is waiting but Croatia put it away for a corner.
29'   Mitroglou moves into a good position and strikes across goal. Looked like he might have been offside but he wasn't, according to the linesman.
27'   Poor from zeca as the ball comes to him and he tries to hit his full-back with a first time pass. Goes ten yards behind him. throw to Croatia.
24'   Rakitic with a lovely, long ball over the top to Vrsaljko. His cross is a little more erratic and Greece manage to break.
22'   Not sure where Greece's defending was for that goal. Everyone said it would be a tense, defensive affair but Greece really struggling to get up to pace so far.
19' Kalinic scores! His third in eight games. Strinic with a neat cross, low and to the front post, and Kalinic is free to tap home. He side-footed it home with the outside of his boot. 
18'   Modric corner and Lovren gets his head to it. Just wide as he throws his head into his hands. Not an easy chance. 
18'   Rakitic out to Perisic and he plays it to Brozovic, who struggles to control before eventually taming the ball. Cross comes in and Kalinic is lurking before winning a corner. 
16'   Uphill for Greece from here, if it wasn't already that. They have no fans in the ground either, which won't help.
13' MODRIC! Goal. He sends it, kind of, down the middle but slightly to the right. Keeper goes the wrong way.
13'   Karnezis has two cotton sticks shoved up his nose as he took a knock to the face.
12'   Apologies, it was Kalinic that the keeper took down. Really poor touch from the keeper that got him into that bind.
12'   Penalty! Modric looks to be stepping up. 
11'   Karnezis takes Perisic out of it in the penalty area. Penalty for Croatia and just  ayellow for the keeper?
8'   Sloppy to start but Croatia the better side. Greece with their backs to the wall and they concede another throw.
7'   Vrsaljko catches an elbow to the face now from Tzavellas as he exacts revenge. It was a shoulder, actually, to the jaw, late on the right back. Sore one but the free will help. he gets up now and checks to see that his jaw is still where it should be. 
6'   Perisic the latest to hit the ground hard. Papastathopoulos the tackler and he wins the goal kick for his side. Perisic checks his elbow to make sure there's no blood and it's not broken. All good as he carries on.
5'   The corner is straight into the mixer. Tt bobbles around and Croatia have a couple of chances but take none of them. Ball is eventually headered to Karnezis.
5'   Modric with two dummies and finally crosses. Corner. 
5'   Tzavellas was on the receiving end of an elbow to the face it seems from that long ball. He is okay to continue though as he wipes his nose and checks for blood. 
4'   Vrsaljko with a long ball and Papadopoulos is strong in the air to concede the corner. 
4'   Modric caught in the hip with a knee by Maniatia. He gets up slowly and Croatia win the free. The Real Madrd man looks to be okay.
3'   Strinic with a longish ball into the middle and Croatia try to take it down. No real pattern early doors.
2'  Kramaric wants a corner but it clearly came off him. He knew it too. His acting skills leaving a lot to be desired with his faux surprise.
1'   We are underway in Zargeb.
A minute's silence now for the passing of Josip Weber. He represented both Croatia and Belgium at international level.
Just 10 degrees celsius in Zargeb tonight. Hopefully, the football will be on fire to offset the cold!
There has been less than 2.5 goals in all eight of Croatia's most recent games and Greece have only been beaten once in their last 13 games. Does this game have draw written all over it? 
Mandzukic ruled not fit enough to start but he's on the bench. You'd have to wonder how Croatia found themselves second to Iceland, with all respect to Iceland, given the talent they have on the field. That midfield is world class. Their attackers are similar and their defense is very good too at international level.
An interesting read about Modric's career in he Croatia jersey.
Greece team news:  Karnezis, Maniatis, Papadopoulos, Papastathopolous, Tzavellas, Samaris, Tziolis, Stafylidis, fortounis, Zeca, Mitroglou.
Croatia team news: Subesic, Vrsaljko, Lovren, Vida, Strinic, Brozovic, Rakitic, Modric, Kramaric, Perisic, Kalinic.
Mario Madzukic could miss the game tonight with a hamstring strain too. Ivan Perisic, who is available and should be a difference-maker, said "The Greeks will certainly be defensive and try as hard as they can to keep a clean sheet, but we have enough up our sleeve up front in an effort to swing the tie our way here in Zagreb."
There will be no fans at the game tonight after Dinamo Zagreb fans stoned a coach carrying away PAOK Salonika in 2010. Croatia fans also caused issues at Euro 2016 and it was decided that no away fans will be at either game. It will probably take the edges off the atmosphere but surely a game with so much at stake will be 90 miles an hour from the off anyway.
Croatia vs Greece live stream online: preview
The last stage of World Cup qualifying starts this weekend with the final names going into the play-off hat this weekend to decide the final line-up for Russia 2018. Croatia and Greece kick-off on Thursday November 8 at 20:45 CEST at Stadion Maksimir before Croatia take the show on the road for the second leg in Greece on Sunday.
There will be no away fans in either stadium after the two football federations agreed it would be best to avoid any more trouble after riots in 2011 between the two sets of fans.
"The leaderships of the HNS and the Greek Football Association have agreed in Athens today that there will be no away fans section in either of the two legs of the World Cup playoff tie between the two teams. Having taken into consideration the risk factors and the security assessments, both football associations have made a joint decision not to sell any tickets to the away fans in either match. FIFA, UEFA and other governing bodies have been notified of the decision," read a statement on the decision.
Croatia
Dejan Lovren is in contention for a start after recovering in time to come on as a sub for Liverpool against West Ham last weekend. Vedran Corluka, Mateo Kovacic and Milan Badelj are all unavailable, however, for Zlatko Dalic.
The home side in the first leg were beaten in qualifying by Iceland, who continue in their rise up the international ranks, but Dalic will be happy with drawing Greece as they look for another route towards qualifying. They lost to Turkey and Iceland as they slipped up in the group stages and drew with Finland too but they hope to put their relatively poor form to the side over 180 minutes against the Greeks.
The Croats have a good blend of talent and it would be a travesty if they did not qualify but their failure to gel as a team and play with the necessary inspiration and intensity hurt them throughout qualifying. Any team boasting the likes of Ivan Perisic, Mario Mandzukic, Marcelo Brozovic and Luka Modric would expect to be qualifying for almost every tournament and despite the turmoil that seems to follow this team around, they will hope to make it to Russia in 2018 and prove their worth in the World Cup.
Greece
Kostas Manolas is suspended for Greece manager Michael Skibbe but he has options with Kyriakos Papadopoulos and Sokratis possibly partnering up in the centre of defense while Petros Mantolas, the left-midfield man will also be missing on Thursday night due to a cruciate knee ligament injury.
Belgium walked their group in first place and with nine points to spare but Greece were the best of the rest with a 4-1 victory against Gibraltar and a 4-0 loss for Bosnia and Herzegovina against Belgium sealing second spot for them.
Betting
There has been less than 2.5 goals in all eight of Croatia's most recent games and you can get over 1.5 for your euro if you take that option. Meanwhile, Greece are undefeated in 12 of their last 13 games and that is almost 3/1 right now with Bet365.