Higuaín "wasn't the ideal striker for Argentina" says Sampaoli
Argentina's coach said he prefers Manchester City's Kun Agüero as the team's reference in attack but his selection for 2018 Russia will depend on "the chemistry" in the group.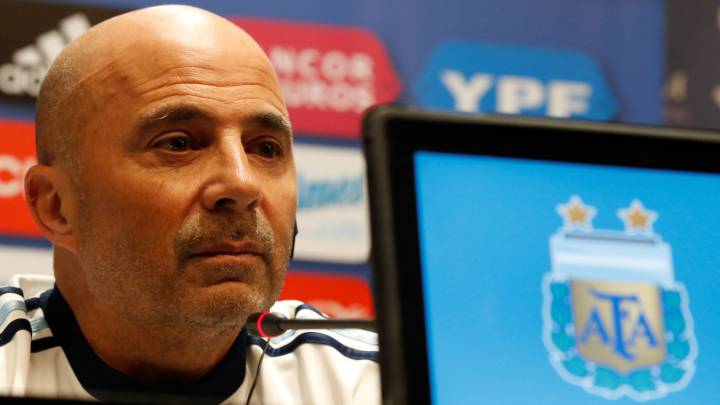 Argentina coach Jorge Sampaoli said today that the election of a centre-forward for next summer's World Cup finals will depend on "the attitude and chemistry" that the three or four options he has in mind have with their team mates.
"Argentina have several great players for the centre-forward position which means that to choosing one will hinge on the understanding they have with the rest of the team", Sampaoli told reporters ahead of tomorrow's friendly against Russia at Moscow's Luzhniki stadium.
Higuaín to be reassessed

Four players are fighting for the three striker positions in the squad that will travel to next summer's finals. Manchester City's Sergio Agüero is the player who Sampaoli has most faith in; Juve's Gonzalo Higuaín is back in consideration after being dropped from the list for Argentina's recent games; Boca Juniors' Dario Benedetto is the coach's third option ahead of Inter Milan's Mauro Icardi, who has been ruled out of the Russia and Nigeria friendlies after suffering a knee injury.
Benedetto to start against Nigeria
Whoever leads Argentina's attack at the World Cup must demonstrate a certain "chemistry" with Lionel Messi; while Sampaoli didn't confirm the team who will start against Russia tomorrow, it is taken as given that Agüero will feature in the XI. "In the short term, we established that Gonzalo (Higuaín) wasn't the ideal solution for the national team. But now we have to re-evaluate his situation, and take another look at him for the long term", Sampaoli explained. "We'll be closely following him, as we do with all of our strikers". Benedetto will start on the bench against Russia but could appear in the line-up for Tuesday's game against Nigeria in Krasnodar.
Sampaoli made it clear that he wants three players for each position and to have his squad settled by March. "The list will be finalized by March because after that, we won't have time to assess other players", he ended.