Denmark vs Ireland European qualifier Russia 2018: match report, goals, action
Ireland and Denmark could not be separated on Saturday night in Copenhagen as they take the show back to Dublin for the second leg.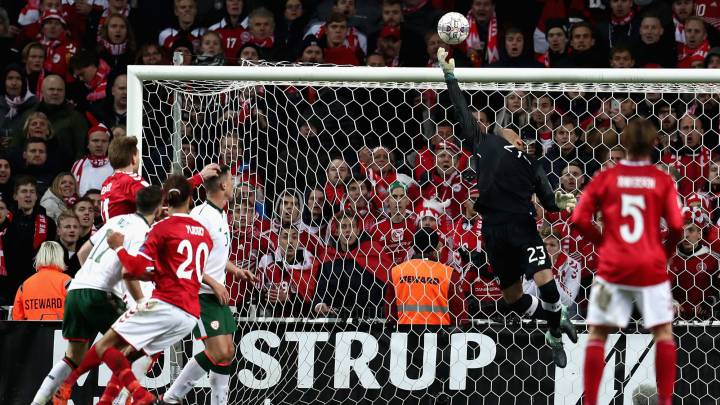 Denmark 0-0 Republic of Ireland: match report
The Republic of Ireland and Denmark played out a drab 0-0 draw in the first leg of their World Cup play-off in Copenhagen on Saturday.
The closest either side came to a goal was when Pione Sisto fired wide in the first half for the hosts, while Yussuf Poulsen saw a 90th-minute header saved by Darren Randolph.
Both sides will be satisfied with the result, as Martin O'Neill's Irish now know victory in Dublin on Tuesday would secure a first World Cup appearance since 2002, but an away goal for the Danes could prove decisive after this clean sheet.
Denmark vs Ireland live stream online: as it happened
90'+3' That's it from Copenhagen. 0-0 and we will see you again in Dublin!
90'+3'   Stryger shoots over the bar. Tries to curl it.
90'+3' Hourihane replaces Hendrick.
90'+2'   Randolphs grabs a cross. Delaney and Duffy collide in the meantime and play stops. Nice chance for Ireland to kill a few seconds. Precious seconds. 
90'+1'   Stryger shoots and Ireland just about get it away. Another corner.
90'   Poulsen heads towards goal and Randolph palms it over. Really good chance for the Danes. Ireland need to be on the ball now for the last few minutes. 
90'   Shane Duffy gets a head on a long ball from the free. Heads into Schmeichel's hands.
89'   Kvist fouls O'Dowda. 
88' Arter replaced by Glenn Whelan.
87'   Ireland being pushed further and further back.
85'   Poulsen rises highest but his header is only down towards the penalty spot and Ireland clear.
84'   Ah come on ref. That's a corner! Long takes a shot and it clearly hits the defender. Goal-kick.
82'   Very sloppy now in the last few minutes. Denmark have a chance to create something outside the box but Eriksen's ball inside is cut out and McClean tries to break but that gets stopped too. Two very average sides here.
80'  Kvist pulled down on the break by Arter. That looked dangerous for Ireland but Arter, fairly smartly or cynically depending on who you are asking, stops the counter.
79'   Poulsen heads out and another corner for Ireland.
77'   Arter fouled by Bendtner as he cleared. The former Arsenal man stood on Arter.
76'   Brady makes a move into enemy territory and looks to be pulled back but the ref says play on. First sign of Ireland doing anything promising. But it ends in failure in the end.
75'   Bendtner's first involvement. A cross that Randolph saves easily.
74' Shane Long coming on for Daryl Murphy.
72'   Bendtner is coming on to the delight of the Danish crowd. Sisto is being withdrawn.
71'   Ireland launch another one forward. Christie wasn't even looking for a teammate there. He just wanted to give it back to Denmark.
69'   Poulsen strikes when he sees a space to shoot. It is always drifting wide but it gave Randolph something to think about.
68' Ireland with another cross and it's hacked away by Denmark. Then McClean wins a throw. Ward ready to launch it towards the penalty area. 
67'   So close. It falls to Clark but it's slightly behind him. He can't control it and Denmark survive. Closest they've come from one of those long balls.
67'   Poulsen leads with his arm and catches Arter in the head. Free to Ireland. Another chance to send one towards the penalty area.
66'   Ankersem with a pass inside that had loads of pace on it. Straight to Randolph as Eriksen tells him to calm down.
64'   We have the first move on the chess board. Poulson replaces Cornelius.
62'   Cross rather. Eriksen set to take it. Headed out and Christie takes a shot by Ankersen straight to the head. He hits the deck. Looked like a sore one and play stops.
61'   Eriksen shot blocked again.
60'   Another corner.
59'   Corner Denmark. Eriksen's cross is blocked.
57'   Great pass into the box from Robbie Brady after Christie's cross from the other side was too long. Denmark clear, not convincingly, but they do clear it.
54'   It arrives in and Duffy is the target again but he fouls. Free to Denmark.
53'   Handball by Kvist and Ireland look to launch another one into the penalty area.
51'   Bendtner is warming up for Denmark. They're still not really up to much here despite Ireland conceding possession.
49'   Clark fouls Cornelius in the air. 
48'   Delaney heads one wide. He collided with Duffy in the air but all is good.
47'   Randolph sends a free forward towards Murphy. He gets a header on it but Denmark win it back and start their own attack.
46'   We are underway for the second half at Parken Stadium in Copenhagen. No changes for either side.
45'   HALF-TIME! No added time at all. Ireland will be delighted with that.
44'   Denmark clear.
44'   All sorts of pushing and shoving going on in the penalty area. Bodies lying all over the place.
43'   Best chance of the game. Christie down the right and nearly beats Schmeichel before Murphy's rebound is chipped towards goal and put out for a corner. Ireland growing into this.
42'   The Fields of Athenry playing in Parken Stadium.
41'   Eriksen looks for Sisto but he misjudges it and doesn't get a touch. Out for a goal-kick to Ireland.
41'   Before it arrives back in and Murphy is offside.
41'   McClean with another cross. Nobody in the box and Denmark clear.
40'   He crosses and sees it go up in the air before chasing that and crossing but it won't fall for Ireland at the edge of the square. Another cross arrives in just after that and Murphy can't get his head to it.
39'   Really good chance for Ireland. McClean chases down a ball on the lef.t 
38'   Chance now for Ireland as Bjelland miscontrols a pass.
37'   Ireland getting pushed back further and further. Eriksen clips one into Ankersen's path and he drives the shot over Randolph's crossbar.
36'   Unless it's a set-piece.
35'   Another Ireland attack, or half-attack, falls short. Denmark not making a bunch out of their own possession but Ireland really don't look like troubling the home side so far.
34'   Best delivery yet but Schmeichel saves under pressure from Murphy.
33'   Murphy takes an elbow to the jaw. Ireland with another set-piece.
32'   Eriksen strikes and forces a save from Randolph. He parries and it falls to Sisto. How did he miss that? He didn't even hit the target as he drags his shot wide.
29'   Ireland will be delighted with this so far. Denmark not really forcing the issue and the visitors hardly under pressure. 
28'   Jorgensen strikes after taking the ball from Eriksen. Nope. Randolph sees it off. 
27'   Brady lets fly. But it's cleared by Denmark. 
26'   McClean receives the ball from Brady and tries to take off down the line. He's fouled and Ireland have a free out on the left.
24'   Sisto out to take the corner. Ireland deal with it.
23'   McClean puts it out for a throw and it comes straight back in on top of them but Duffy heads out for a corner.
22'   Eriksen has an effort from outside the box. He turned onto his left and struck. Just a half a chance.
21'   Denmark with all the ball but they've done nothing with it.
19'   Ireland with another free from deep that they throw towards the penalty area. Shane Duffy the target but Denmark defend it well.
17'   Ireland really struggling to get a foothold in this game.
17'   Denmark enjoying 66% of possession so far.
15'   Denmark break with Cornelius. He can't keep it under control though and he ends up coughing up possession. Ireland clear.
14'   Pione Sisto can't keep the ball in play and Ireland win a goal-kick.
12'   Double save from Randolph! Excellent. Ball comes over to Ankersen and he takes it down like an expert and drives a shot towards Randolph. He saves and the rebound falls to Cornelius and he strikes but Randolph grabs that one too as he scrambles across the line. 
11'   Quiet start for both starts!
7'   Stephen Ward turned upside down and Ireland win a throw, which arrives into the box from Christie but Ireland foul and Denmark have a chance to clear.
6'   McClean with a long and deep cross. Headed away by Denmark and they start another attack. the ball forward comes to nothing and Ireland back in possession.
5'   Direct ball into Cornelius and he helps it on but Randolph saves.
4'   Denmark with all of the ball early on.
3'   Cross arrives in and Ireland manage to half clear it.
1'   Robbie Brady with a free in his own half. He sends it towards the goal. 
1'   We are underway under the smoke from the fireworks. 
We are ready for action!
And now time for the home side. A rousing rendition of their national anthem.
Ireland's national anthem blaring! 
He also thinks Denmark are the more physical side.
Peter Schmeichel, who's son Kasper is playing tonight, says Ireland are predictable: "With Ireland, you kind of know exactly what you're up against, so that makes it a much easier approach. Not an easier game, by no means, but easier to sort of prepare yourself and understand what your job is. Northern Ireland is the same thing – you just know what you're going to get. But Sweden…Sweden would have been perfect."
Many Irish fans wondering where Martin O'Neill got the idea to play so attacking. Ireland and O'Neill were criticised the entire group stages for how conservative they had been. In the biggest game of the year for the team, they have no pure defensive midfielder. This could go either way for O'Neill.
In terms of how safe it is to live in either of tonight's country, Denmark just pipping Ireland, who can't manage to make it into the top 10.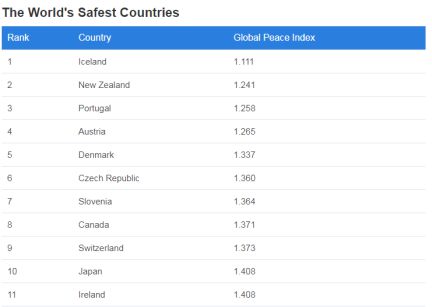 Andreas Christensen, who started in place of David Luiz for Chelsea against Manchester United in the Premier League also misses out. 
Another player missing out is Riza Durmisi, who missed Real Betis' last three games with a muscle injury. He has established himself as an exclelent left-back in LaLiga with the likes of Liverpool looking at buying the player. 
Plenty of LaLiga interest in Denmark's starting XI. Pione Sisto, who has been having a very good year at Celta and Simon Kjaer, who is spending his first year at Sevilla under former Celta boss, Eduardo Berizzo.
Åge Hareide names his side too: Schmeichel, Ankersen, Kjaer, Bjelland, Larsen, Kvist, Eriksen, Delaney, Sisto, Jorgensen, Cornelius.
A fairly clear 4-2-3-1!
Arter and Hendrick in holding midfield.
Here is your Ireland team news: Randolph; Christie, Duffy, Clark (captain), Ward; Arter, Hendrick; O'Dowda, Brady, McClean; Murphy.
Nicolas Bendtner is back in fine form with Rosenborg. He has scored 18 goals in 27 games. Here's what Martin O'Neill said about his former player when asked at the press conference beofre the game: "Yeah he was on loan from Arsenal and obviously a good footballer, a really good player, and when he set his mind to it he was excellent. He had to set his mind to it. He did it often enough for us during the course of that time. I remember one game in particular, it might have been against Liverpool, where he was unplayable, got us three points, and was excellent. Overall, really fine, stopped the side from being relegated. Played a big part in that and did really well."
Thomas Delaney, Kasper Schmeichel, Simon Kjaer, Andreas Cornelius, Peter Ankersenand Nicolai Jorgensen are all a yellow card away from a suspension in the return leg.
 This is Ireland's expected line-up. There are some suggestions that Whelan won't start but he might be needed to cut out the threat from Eriksen. Randolph, Christie, Duffy, Clark, Ward, Whelan, Arter, Hendrick, McClean, Brady, Murphy
It's slightly unfair though as they've given Eriksen a 6 out of 5! He is really good, understandably, but that's a little bit unfair.
Denmark vs Ireland live stream online: the slight favourites over Ireland
In principle Denmark are the slight favourites, despite not being so in the draw. Their football has improved markedly recently, led by Eriksen, who is showing his true capabilities for Tottenham Hotspur. Most of Denmark's attacking play flows through him, and he's well accompanied by players who are also in the big leagues: Sisto, Bendtner and Poulsen. In defence, there's another LaLiga player: Sevilla man Kjaer.
Denmark vs Ireland live stream online: coach playing it cautious, or maybe even boring
However their coach Age Hareide avoids the tag favourite. "So long as they don't score, that's fine. 0-0 would be good and then we'd have 120 minutes to get a goal in Dublin. But we don't speculate, we want to win". If they do it'll be something of a novelty. Since 1985, the Danes have lost the four games they've played against Ireland, the last, in 2007, by 0-4.
Denmark vs Ireland live stream online: big on hopes and dreams
Meanwhile Ireland travel to the Telia Parken with no truly big names since the retiral of Robbie Keane, but they are big on hopes and dreams. O'Neill is well aware of the difficulty the Danes will pose, with their supposedly more illustrious players, but he's confident in Ireland's direct, solid football and will be hoping to cause Denmark trouble at home. Ireland will be without Everton midfielder McCarthy, who is injured, but should have Hendrick and Ward.
Fun fact. The game will be a re-encounter for the two coaches, with Hareide and O'Neill having played together 30 years ago at Norwich. Two old friends, face to face, dreaming of Russia.