INTERNATIONAL FRUIENDLY | RUSSIA 0-1 ARGENTINA
Agüero delivers the goods for Argentina in Moscow
A late goal from Kun Agüero unlocked a stubborn Russian defence on Saturday as Argentina won 1-0 at the refurbished Luzhniki stadium.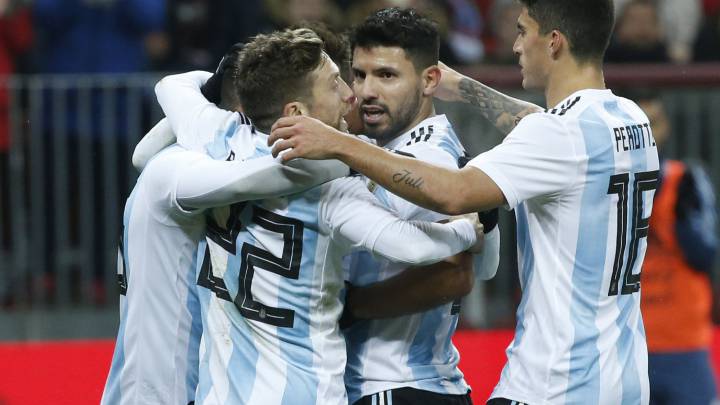 A late goal from Kun Agüero unlocked a stubborn Russian defence on Saturday as Argentina ran out 0-1 winners at the venue which will stage next summer's World Cup final. The goal by the Manchester City forward gave the South Americans a deserved win at Moscow's newly renovated, 81,000-capacity Luzhniki stadium.
Sampaoli praise for Agüero and team effort
"We came here to play against a very disciplined and organized side", Argentina coach Jorge Sampaoli offered afterwards. "We made some mistakes in the first half but in the second we improved. We played a very intense game. The things we've planned did work. We played in a bold, direct manner".
The coach singled out the City ace for his performance. "Agüero played very well; he understood the philosophy of the game and was very active even though he didn't have much space".
Argentina, orchestrated by Leo Messi, seized the initiative early on. Their first meaningful chance came in the 21st minute when Ángel Di María received Messi's pass in the area but Russian 'keeper Igor Akinfeev parried his low shot for a corner. Just moments later, Agüero forced Akinfeev into action to deny his attempt from just outside the box.
Akinfeev keeps Argentina out
Akinfeev was the hero of the first half as he produced another impressive save after Agüero's powerful shot from just nine yards. After the interval Argentina continued to dominate possession and kept Russia's defence under constant pressure but failed to find the net before the 86th minute. Agüero broke the deadlock when he headed in a rebound from his own blocked shot after a sharp break down the right wing and low cross from Cristian Pavón.
"We expected the match to be difficult and that we would not possess the ball or the initiative", Russia coach Stanislav Cherchesov said. "Argentina scored after the referee failed to see that one of their players was offside, but I'd say they deserved the win".
Messi will not fly out with the rest of the squad to Krasnodar for Tuesday's meeting with Nigeria, instead, he will return to Barcelona.
[SELECCIÓN MAYOR] Lionel Messi fue desafectado y no estará en Krasnodar ante Nigeria. Viaja tras la victoria ante Rusia rumbo a Barcelona. pic.twitter.com/MgR6OHlvGR

— Selección Argentina (@Argentina) 11 November 2017