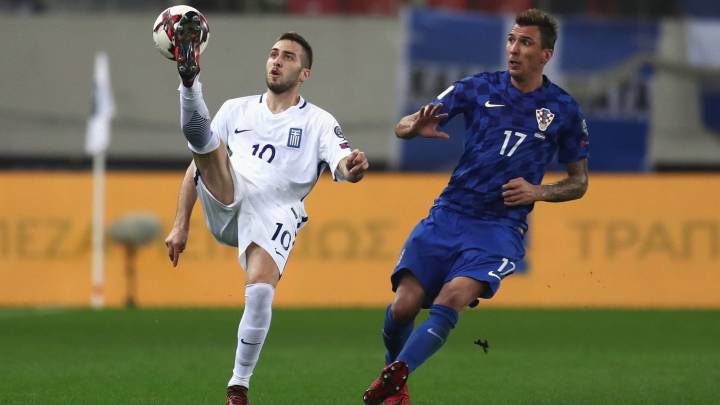 Greece 0-0 Croatia: match report
Greece had all the work to do in the second leg of the World Cup qualifier after losing 4-1 in Zagrab on Thursday night. They needed three goals to come back from that beating but they couldn't even manage one as Croatia managed the game perfectly with everything on the line.
Michael Skibbe made six changes to the side that took to the field in Zagreb including three of his four defenders, one midfielder and two more attacking midfielders. It made little difference, however, as Croatia were unwilling to be adventurous enough to allow the hosts back into the tie.
Greece's greatest weapon in the first leg was from the set-piece as they scored one, and nearly another, from that source. Croatia had done their homework this time as Sokratis, the target more often than not, was surrounded and breathing space around the six-yard box restricted. They barely troubled the travelling Croatians.
In the end, it was a tame effort from Greece at getting back into it and they scarcely challenged Sokratis. They will be happy with how the second leg went despite not looking dangerous themselves as they get the chance to attack all they like next summer in Russia while Greece will be watching at home.
---
90'+2' GAME OVER! Croatia are going to the World Cup.
90'+2' Mitrovic is coming on in place of  Modric.
90'+1'   No. Pelkas drives a shot over. No chance of even getting one, let alone three.
89'   Modric does a really good job of pressing Sokratis to within an inch of his life and forcing a kick up the field. Throw for Croatia.
86'   Strike by Tachtsidis, and he catches it really well but Subasic isn't going to be beaten. Good save.
84'   Greece's goose is cooked.
81' Greece leaving it late but they really can't break through Croatia's back line.
78'   GOAL! But Greece have it ruled out. It was Pelkas who scored it. Ball comes in and Torosidis is offside. He shoots, sees it saved and then it makes its way to Pelkas, who scored. But the play was already dead.
78' Pelkas on for Mitroglou.
75'   We have an injury time-out here as Fortounis is not as fortunate as his name might suggest. He is down and getting his hand looked at along with some magic spray.
73'   Perisic takes one in from the left. He cuts inside and the pulls it back but Greece manage to get it away. 
71'   Not a bad delivery but Croatia deal with it. The damage done in the first leg and Croatia just managing the game now at this stage. 
70'   Lovren bundles Mitroglou out of the way on the way to the ball. Free for Greece.
68'   Subasic gabrs another cross.
66'   Mandzukic fouls Sokratis. He won the ball but maybe his slide was too long and went slightly over the ball. Soft.
66'   Tackles flying in now. Greece lose out and Torosidis wins it back before feeding it inside and the cross is gathered by Subasic. 
65'   Free for Modric now as he takes his sweet time over it. 
61' Gianniotas replaces Bakesetas. Fortounis replaces Lazaros.
61'   Greece break but there was an offside. 
60'   Croatia with a rare break forward but Greece win it back.
58'   Mitroglou strikes from distance. It was always going wide, I suppose, but definitely a chance and he had Subasic scrambling. 
56'   Mandzukic takes a knock to the head along with Retsos, who collided with him. Two men down but the Croatian looks to be worse off. He eventually climbs to his feet rubbing his head and looks to be okay to continue.
55'   Skibbe gestures for a sub to get ready. Not sure yet who it is but we will see very soon. This is a very tame effort to win this game.
53'   Another cross comes in and Mitroglou takes it off his own players' head. He tries to take it down and shoot but the chance goes begging.
52'   Yet another corner and Greece get a head to it. It falls to another at the edge of the box and they want a hand-ball but referee says no.
51'   Greece win a corner. They've had no luck from them tonight. Croatia really well drilled and well positioned to clear any danger.
50'   Strinic fouls again. Zeca this time. A few Greece players looking to get the left-back booked but the ref is noy bending to their will.
49'   Comfortable start for Croatia.
46'   No changes at half-time for either side. Croatia happy enough with how things are going.
46'   We are back underway!
Greece enjoying 62% of possession but just three chances to Croatia's four.
Surely an assault on Croatia's goal for the second half?
45'+2'   Half-time. Expecting an assault on Croatia's goal in the second half! It has to be.
45'+2'   Retsos sends a shot/cross towards goal. It goes harmlessly wide. 
45'+1'   Good cross in from Torosidis. Subasic grabs it and then takes his time to throw the ball on the ground and then clear.
45'   Kalinic fouls Sokratis with the ball rolling dangerously across the penalty area.
44'   Greece forcing the issue now slightly! 
43'   Perisic absolutely rifles one off the post. Keeper had no chance if that crept in. It nearly broke the frame of the goal and I wouldn't be surprised it it was still rattling.
42'   Decent chance. Ball comes across from the right. Zeca heads it even closer to goal and Mitroglou is close to it before Subasic palms it down to himself and starts a counter. 
40'   through ball from Lazaros looking for Bakesetas but there's too much on it and Croatia see it out over the endline. 
38'   Another long ball goes out over the endline. A couple of attackers in the mixer that time but none of them could connect. Subasic being jeered now for taking too much time over his kick-out. 
38'   I understand Greece not wanting to concede aother one but they really need to be more attacking.
37'   Cleared again wuth the head and no Greece players in the vicinity.
36'   Corner. The delivery for the cross was poor but they have another chance now from the corner. 
35'   Lazaros wants a free and a handball against Strinic. He gets it. It clearly was and if he didn't win the free for the handball,the left-back grabbed him after it. Another delivery into the box upcoming.
32'   Torosidis with a cross but that was, well, interesting. He drives it a half a mile wide and over the endline. Looked like it took a defelection but not, it was just the quality, or lack thereof, of the cross.
32'   Free taken short by Modric but it goes out over the endline as Vrsaljko chases.
30'   Sokratis a little over zealous in his pursuit of the ball. Kalinic the man who was wronged again.
28'   Perisic cuts inside, like a reverse Arjen Robben move. He strikes on his right but he drags it wide.
27'   Rakitic with the free that goes way over. Messi doesn't let him take many at Barcelona so why would he be good at them.
26'   Torosidis again involved in a tangle. He runs straight into Kalinic at the edge of the box. Very close to being a penalty but the ref says it's a free. Torosidis needs to rein in his enthusiasm. 
24'   Greece the better side so far, just about, but they need a goal! They aren't really forcing the issue at all. 
23'   Free comes in, is half-cleared and Vrsaljko hits it straight out into the Gulf of Elefsina.
22'   Modric fixes his hair before he gets ready to end it in. Referee tells him to wait though as he has a word with Kalinic and Torosidis. Two men are fired up and pulling and dragging out of each other.
22'   Sokratis fouls Perisic as the ball comes back down. Free from the right. 
21'   Manolas has the crowd on their feet again. He pretends he's going to clear and takes the ball by Perisic before playing it inside. 
19'   Manolas goes through the back of Mandzukic and fouls him. He has a stern word for the ref too as he doesn't agree with his decision. Mandzukic back up and at them.
17'   Chance for Greece now. They send a free towards the penalty area. Cleared! But they're straight back down the field. Ball chested down by Torosidis and Sokratis strikes. Just wide. That wasn't much of a chance but the defender nearly buried it!
15'   Vrsaljko sends a dangerous ball across the box. Karnezis sees it off but a striker coming in there had a handy tap-in for himself.
14'   Another Greece attacks breaks down and Croatia try to break.
14'   Bakesetas strikes but it goes over the bar! 
13'   Rakitic penalised now for using his body in the air. Looked like a push though and that's how the ref saw it.
12'   Zeca is fighting with Strinic at the back post. That looked like a penalty! Stirnic pulled him down. Ref says no and Zeca can't believe it.
11'  As I said, Greece started well, but they need to be better going forward. It's slightly too slow. They need three goals!
10'   Modric fouled by the same man. 
9'   Rakitic tries to make a move forward but that's cut out by Tachtsidis. Throw for Croatia, who are looking more and more comfortable on the ball.
8'   Modric takes his time to make his way over to it. Then Vida pushes a defender in the back and Greece are awarded a free.
7'   Croatia deal with that one. Croatia up the other end and win their own corner. 
6'   Vrsaljko fouls and they have a chance to send one into the box. They scored from a set-piece the last day and nearly had another in the second half.
5'   Greece have started well. Not too much by way of real attacking intent.
3'   Lazaros  looking for some space down the right to swing in a cross but it's not coming and they recycle.
3'   After some good possession, Croatia win it back and the boos from the crowd are heard. Croatia lose it again. Maybe it was the noise.
2'   Croatia sitting back early on. Greee finding their footing.
1'   Modric drives forward and looks for Perisic but Greece win it and clear. Huge roar from the crowd as they go forward for the first time.
1'   We are underway! 
And then the Greek national anthem. They'red fired up. An early goal tonight might send them over the edge!
The Croatian national anthem. No home fans to sing it but plenty of Greece fans, it seems, to drown it out.
    The two teams emerge onto the field.
Croatia and Greece gone back into the dressing room as we await the game. Not the biggest crowd in Karaiskaki Stadium in Piraeus close to Athens. If Greece can manage to pull it off, it would be one of the biggest upsets in history! What a way to book a spot to the World Cup though.
In case you missed it, Switzerland are the latest side to go through to the World Cup. A 0-0 draw in Basel was enough after Ricardo Rodriguez' penalty in the first leg.
Mario Mandzukic also gets the nod having missed the first leg. Luka Modric was taken off in that game near the end and there was concern that he took a knock but he is also fit enough to start.
Six changes for Greece! They change their entire defense except for Sokratis. One man in their deep midfield and two of their attacking midfield. 
Greece XI: Karnezis, Torosidis, Sokratis, Manolas, Retsos, Tziolis, Tachtsidis, Zeca, Bakasetas, Lazaros, Mitroglou
Croatia XI to take on Greece. Subasic, Vrsaljko, Vida, Lovren, Strinic, Rakitic, Brozovic, Perisic, Modric, Mandzukic, Kalinic
Greece's Sokratis is being realistic too. He says, "Of course Croatia has the upper hand now. They have a 90 per cent chance of going through."
Kramaric says, "We have probably done enough as I doubt they can put four or five past us in the return leg, but it's not over yet and we need to score the away goal to make sure." He is being very realistic but also trying his best to guard against complacency. The chances of Greece scoring three without Croatia bagging even one is unlikely.
Kostas Manolas will be back for Greece to try and shore up their defense but it might be too little too late. It will be interesting to see if Michael Skibbe sticks with a back three or revert to a back four for the game today.
There have been over 2.5 goals scored in Greece's last 4 games. 
Still 0-0 in the other qualifying game in the World Cup tonight. Switzerland, however, hold the edge after their 1-0 win in the first leg.
Despite their handsome first-leg lead, the Croatia boss is under no illusions about the need to finish off the job in Greece. Stranger things have happened before.  
For starters, here's the lowdown on how and where to watch tonight's play-off , no matter where you are.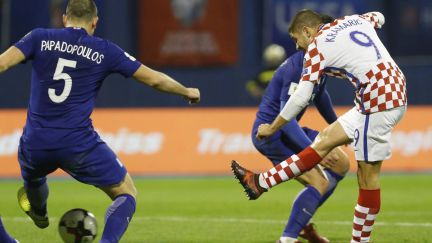 Greece v Croatia live stream online: as it happened
---
Greece v Croatia live stream online: preview
Croatia made short work of Thursday's first leg in Zagreb, racing to a 3-1 lead within the first half hour. Zlatko Dalić's team goes into tonight's game with a three-goal advantage and while they are the clear favourites to stamp their place at the finals, they won't see the tie as done and dusted. Greece lost just once at home in the group stage – by the bare minimum to Belgium with goals exchanged in a rapid-fire, four minute spell in September, and interestingly, at tonight's venue.
Croatia were pipped to top spot in their group by Iceland, and actually ended with a better goal difference. Dalić has only been in the job a few weeks but he has already managed to breathe a new impetus into the side. The team is unbeaten under his short tenure and with their self-esteem sky high after last week's win.
Michael Skibbe's Greece will need to be a little more adventurous than they were in Zagreb last week if they are to post a memorable turnaround. The German coach is expected to do away with his 3-5-1-1 set-up and throw caution to the wind as his side has to attack to have any chance of turning this Play-Off around. The German coach admitted as much in his pre-match press briefing: "Considering the result from the first leg, we have to change our system. I can't enter into any more details – it's a tall order but we have one game to rectify our situation and we will have to play at our very best. Whatever the outcome in Piraeus this evening, ex-Hertha boss Skibbe doesn't feel he will have overseen his last game in charge of Greece, "but we'll see" he told reporters…
Greece team news
Seasoned centre-back Sokratis Papastathopoulos is confident that he has shaken off the ankle injury that forced him to sit out the first leg. Kostas Manolas is available again after serving a one-match ban while left-back Vasilis Torosidis is believed to be over his fitness problems. Anastasios Donis is ruled out with a dislocated shoulder and Petros Mantolas has an ACL tear. Skibbe will make wholesale changes to the side that lost the first leg which could mean opportunity knocks for Dimitris Diamantakos and Valladolid man, Giannis Gianniotas.
Croatia team news
Zlatko Dalić insisted that he won't be going for a defensive approach to protect his side's three-goal cushion. "We'll be treating it as though the score is 0-0". Milan Badelj is out after suffering a Grade I thigh injury and ex-Atleti striker Mario Mandzukić will undergo a late fitness test as doctors will assess the hamstring he pulled in training over the weekend. On a more positive note, Luka Modrić, Ivan Rakitić, Ivan Perišić and Marcelo Brozović are all fighting fit and expected to start.
Greece v Croatia selected betting odds:
For Greece to perform a seemingly impossible heroic comeback and give themselves an excuse to dig out their Russian phrasebook, they must beat Croatia by three goals or more. A 4-1 win would take the game to penalties. That said, the only teams who have managed to do that in past four years were Mexico and Brazil during the last World Cup and Estonia in a friendly which all of their star players were excused from, the bookies have calibrated their odds accordingly. Croatia are 11/4 favourites to become the last European team to book their place at the finals. But miracles can and do happen in football, for Greece to win 3-0 is at 40/1 and 66/1 to win 4-1 and take it to pens.
Bet on Greece v Croatia in the 2018 World Cup Play-offs now