Russia 3-3 Spain: goals, match report, as it happened
Russia
3-3
Spain: match report
Two penalties from Sergio Ramos ensured that Spain will finish 2017 unbeaten. The defender was ruthless from the spot in Saint Petersburg after Jordi Alba opened the scoring, but an emphatic double from Fedor Smolov and Aleksey Miranchuk's close-range finish secured a draw for Russia.
Julen Lopetegui's side travelled east following a comprehensive victory over Costa Rica in Málaga, and the coach named a strong line-up in the Krestovsky Stadium. Marco Asensio was given the chance to shine in a front three alongside Rodrigo and Suso, who made his debut.
Asensio was the architect of Spain's opening goal. The Real Madrid youngster cushioned a long-range pass and whipped the ball towards the near post, where Jordi Alba arrived to nod the ball over Andrey Lunev.
La Roja were soon granted an opportunity to double their lead from the penalty spot. Referee Gianluca Rocchi harshly adjudged Daler Kuzyaev to have handled the ball inside the box, and Sergio Ramos took advantage. The centre-half fixed his gaze on the centre of the ball, stuttered, and planted the ball in the bottom corner.
Fedor Smolov pulled a goal back for Russia shortly before half-time with a well-taken shot that was too precise for David De Gea to prevent nestling in the net.
Six minutes after the break, the hosts drew level. Yuri Zhirkov's cut-back fell kindly for the lively Lokomotiv Moscow midfielder Aleksey Miranchuk to prod the ball in at the near post.
Russian flags waved jubilantly around the blue interior of Zenit Saint Petersburg's impressive home, but the joy was short lived. Sergio Ramos collapsed to the ground after overzealous marking from Georgiy Dzhikiya and, once again, the referee awarded a penalty. Ramos picked himself up and found the top corner to draw level with Fernando Hierro as the defender with the most goals (13) for Spain.
Smolov secured a draw for the home side with a searing drive in to the top corner with 20 minutes remaining in a match that both managers will view with positivity.
Russia 3-3 Spain: as it happened
90'+3' FT. The referee blows the final whistle early. It was an entertaining match, but that late injury to Andrey Lunev rather sucked the late life out of it. 
90'+2'   Lunev is wheeled off on a golf trolley with a bandage around his head, while a pitch invader accosts Gerard Piqué. Midfielder Denis Glushakov will see out the match in goal. 
90'+1'   Rodrigo is receiving magic spray to his knee, which gives an indication of how hard he hit Lunev. 
90'+3'   The fourth official shows three minutes of added time. But by the time Lunev is treated, it could be a fair but more. 
89'   There is a great deal of concern for Andrey Lunev. The Russian 'keeper sped off his line to deny Rodrigo and caught a knee in the face. That was a really, really nasty collision. 
88'   Spain go in search of a late winner. They make it as far as the box, where José Callejón's back-heel is interepted by a Russian defender. 
87' Russia sub: Smolnikov off,  Ignatiev on. 
85'   Smolov has a clear-cut chance to complete his hat-trick. A simple header on a long ball presents him with an opportunity inside the box, but it is running away from him to the left, and his weak shot is thwarted by De Gea. 
82'   Russia sub: Kombarov replaces Zhirkov. 
79'   Both sides trade counter-attacks. Russia's breaks down when Smolnikov fails to find a team-mate with a simple pass. Spain's breaks down when Vitolo can't beat Vasin to Asensio's through-ball. 
77'   Spain are dominating possession at the moment (they've had 62 percent of the ball throughout the course of the match).
76' Russia make a change in defence: Fedor Kudryashov jogs off, and Konstantin Rausch trots on. 
75'   Rodrigo tries to flick the ball round the corner for Asensio to run on to. The Mallorcan is muscled off the ball and Spain make do with a throw-in. 
70'   GOOOOOL! Fedor Smolov scores his second goal with a thumping effort from the edge of the box. De Gea had made smart save from the No.11 moments earlier, but he had no chance with that piledriver. 
68' Vitolo is booked for a wild slide on Smolnikov.
67' One Miranchuk twin replaces the other! Anton comes on for Aleksey. 
66'   Russia are pressing high up the pitch, with the exception of the back-three, who remain deep. That is creating a large gap between defence and midfield that is perfect for David Silva to operate in. 
63'   Ooooh, Rodrigo should have extended Spain's lead. Illaramendi plays a lovely ball in to the path of the Valencia forward. He takes a touch and tries to dink the 'keeper, but Lunev darts off his line to thwart the effort. 
62' Two changes for the home side: Kokorin for Dzagoev, and Yerokhin for Kuzyaev. 
61'   Spain gallop forward on the counter-attack after clearing a Russian corner. Asensio sees Vitolo overlap outside him, but he slightly overcooks the pass and Vitolo shoots behind on the slide.
60' Yet another change... Saúl on for Thiago. 
58' There'll be no hat-trick for Sergio Ramos. He's replaced by Vitolo. David Silva comes on for Busquets at the same time. 
57'   Russia are pushing really high up the pitch. There is plenty of space for Spain to exploit if they can thread the ball through that first line of Russian press. 
54' GOOOOOOL! Ramos stutters in his run-up, but is fluent in his execution. Lunev is rooted to the spot as the ball flies in to the top corner. 
53'   Penalty, again! Spain tease a free-kick in to a dangerous area, Ramos goes down under the grappling hands of Georgiy Dzhikiya, and the referee points to the spot. The guilty Russian player raises his hands to his head. He can't believe it. 
51' GOOOOOOL! Aleksey Miranchuk draws Russia level in scrappy fashion. Neat interplay between Smolov, Dzagoev, and Zhirkov allows the latter to steam in to the box. His cut-back bounces in to Nacho, and sits up perfectly for Miranchuk to poke it in at the near post. 
49'   Alberto Moreno, slightly too keen to make an impression, barges in to the back of Smolnikov and concedes a needless free-kick. 
48' Julen Lopetegui made a third change at half time: Alberto Moreno replaced the scorer of the opening goal - Jordi Alba. 
47'   Asier Illaramendi is wearing some classic black-and-white Adidas boots. I now like Asier Illaramendi a bit more than before. 
46' The second half is go! 
And another one: Callejón replaces Suso, who I had totally forgotten was playing. 
Half time change for Spain: Illaramendi replaces Iniesta. 
Jordi Alba headed Spain in to the lead in Saint Petersburg, and Sergio Ramos scored another from the penalty spot after Kuzyaev was harshly penalised for handball. Fedor Smolov clawed a goal back for the hosts as they ended the half on strongly. 
45'+1' HT. 
45'   One minute of added time, says the fourth official's board. 
44'   Russia are in the ascendancy as the first half nears a close. A couple of shots and crosses are fired in and bounce back out, before the pressure eventually comes to an end with an overhit pass over the top. Spain settle in to their own spell of possession from the goal kick. 
41' GOOOOOOL! Russia reduce the arrears and Fedor Smolov is the scorer. He brings Miranchuk's pass under control with an assured first touch, and jinks on to his left foot before rifling a shot in to the depths of the right corner. Russian flags wave jubilantly around the stadium.
40'   Jordi Alba tracks back diligently to prevent Glushakov latching on to Smolov's through-ball in the box. 
38'   Rodrigo is really good at moving away from his marker and creating time for himself with his first touch. Lovely to watch. 
35'   GOOOOOOL! Ramos strides up, plants his foot firmly, and squeezes the ball in to the bottom corner. 
33'   Penalty to Spain! Daler Kuzyae is penalised for a handball in the box. It looked like it bounced off his shoulder... Nevertheless, Ramos is over it. 
31'   Aleksey Miranchuk receives the ball on the half-turn after Glushakov takes a quick free-kick. The rangy winger strikes the ball sweetly with his left foot, but it slams in to Piqué's thigh. Russia then work the ball out to the left and in to the centre. Dzagoev can't convert at the near post. 
29'   Asensio is felled just outside the box, giving Spain a free-kick in a dangerous position: 25 yards out, right in the middle... Ramos shoots with his right foot. In to the wall! 
25'   Piqué attempts an acrobatic flick towards goal, which was necessary because the cross was behind him. Smart improvisation from the centre-half and his effort is on target. It doesn't have enough power to beat Lunev, however. 
24'   Lopetegui appears to have instructed his full-backs, or at least Jordi Alba on the left, to play 'inverted', as Pep Guardiola has done at Manchester City on occasion. When Spain attack, it is Asensio who is wide, with Alba advancing in a left-central position. My tactical analysis is rudely halted by the fact that Spain are taking a free-kick from the right, which is headed clear by Glushakov. 
23'   Glushakov tries to link up with Smolov on the edge of the Spain box. Best buddies Ramos and Piqué are attentive to cut out the opportunity for a one-two. 
22' It was in fact Busquets who was booked for that earlier swipe at Smolov. 
19'   Dzagoev feigns to shoot before rolling the ball off for Glushakov to shoot low. Too low, as it turns out, as the shot canons clear off someone's heel. 
18' Thiago is the first player to find his way in to the referee's book. His crime is a scything challenge on Smolov after Busquets had failed to fell the Russian striker at the first attempt. 
17'   Zhirkov drives a cross through the box, and four Russian attackers stand with their feet rooted to the flaw as the ball navigates a path through all of them and out for a throw-in. That came after neat interplay in the centre of the park. 
15' Marco Asensio has turned in a menacing first 15 minutes on the left wing. He latches on to Alba's through-ball and wins a corner, which the home side clear after a couple of attempts. 
11'   Rodrigo takes the ball under his spell and spins away from his marker in one fluid motion. The Valencia forward shoots low with his left foot from the edge of the box, but Lunev smothers it. 
9' GOL GOL GOL! Spain take the lead against the run of play through Jordi Alba! Asensio controls a long pass on the left, dinks a nicely-weighted ball in to the box, and Jordi Alba, galloping forward from left-back, nods it over Andrey Lunev. 
7'   Spain are in a real pickle up against the Russian wing-backs. This time Smolnikov threatens on the right, sending a gorgeous low cross in to the space around the penalty spot for Smolov to run on to. The No.11 isn't quite fast enough, and although he gets a touch to the pass, he can't direct it on target. 
6'   Russia use their wing-backs to excellent effect to carve out the first opportunity of this nascent match. Yuri Zhirkov, formerly of Chelsea, finds space on the left and attempts to cut the ball back in to the six-yard box. A well-positioned heads clear as far as Kuzyaev, who takes a touch, leans back, and wedges the ball over the bar. 
5'   Gerard Piqué is lucky to avoid being penalised for a clumsy trip on Zhirkov. 
2'   Alan Dzagoev, who seems to have been perpetually linked to moves away from Russia, takes an early tumble in the box under the challenge of Nacho. No penalty, and the Spain defence clear. 
1' After a rather elaborate countdown, Spain roll this friendly match underway. 
Here come the teams!
The stadium is fairly sparsely populated, which is a shame, as it's gorgeous. A panoramic view from outside the ground shows it lit up in blue with light flickering off the nearby river. 
Spain boast a strong record over Russia since they first met in 1998: played 5, won 4, drawn 1. Russia have scored just one goal across those fixtures, and that came in a 1-4 defeat at the 2008 European Championship. Spain went on to win that competition. 
Spain are undefeated in their last 26 matches. La Roja have not tasted defeat since Georgia inflicted a shock 0-1 victory on Vicente Del Bosque's team in Getafe in June 2016. 
Aleksey Marinchuk is joined in Stanislav Cherchesov's Russia squad by his twin brother Anton. They look set to take over from the Berezutski twins as Russia's familial pairing. 
Lokomotiv Moskow winger Aleksey Miranchuk is one to watch for Russia this evening. The 21-year-old will provide a creative spark and regular service for striker Fedor Smolov. 
Russia XI: Lunev; Zhirkov, Vasin, Dzhikiya, Kudryashov, Smolnikov; Glushakov, Kuzyaev, Dzagoev, Miranchuk; Smolov. 
At the age of 23, this will be a full international debut for Suso, who is flourishing at AC Milan after failing to make the breakthrough at Liverpool. 
Spain XI: De Gea; Nacho, Piqué, Ramos, Alba; Busquets, Thiago, Iniesta; Suso, Rodrigo, Asensio.
Russia's last outing was a 1-0 defeat to Argentina, courtesy of a Kun Agüero header, while Spain gave Costa Rica a good old fashioned tonking in Málaga, knocking five past the Ticos without reply.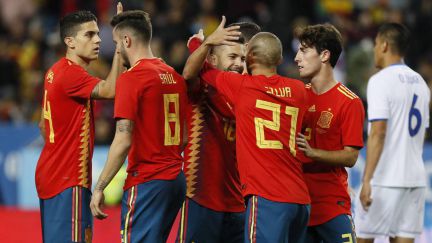 World Cup 2018 hosts Russia welcome Spain to the Krestovsky Stadium for a friendly warm-up for the big occasion. This will be the first time that the sides have met since the semi-finals of Euro 2008, Russia's best recent showing at a major tournament.